Bali, known as the Island of the Gods, is one of the most beautiful places on planet Earth. Bali is famous for its majestic rice fields, beautiful beaches, historic temples, and wonderful people. It's the absolutely perfect place for a honeymoon!
I spent many months living in Bali and absolutely loved it. I traveled all over Bali and the surrounding islands so I definitely know how to plan this trip. I've already planned numerous honeymoons to South Africa, Zanzibar, and Victoria Falls and it's only fitting that I move to Bali which makes for the perfect honeymoon destination.
This itinerary will be slightly different than my Bali Travel itinerary which is more for a casual trip with friends or as a couple. This guide will be for those looking to go on their special trip! A honeymoon means slightly nicer and more romantic destinations, accommodations, restaurants and the like.
Bali is a big place with so many things to see so it's definitely not one honeymoon itinerary fits all. I'll list multiple itineraries depending on the amount of time you have and the different islands around the island! Similarly, if you're also eyeing Thailand, make sure to read my Thailand honeymoon itinerary for ideas!
How many days do I need for a Bali honeymoon?
---
Bali is a huge island first and foremost. It is almost 6,000 square km being 160km wide and 120km long. It is double the size of Luxembourg and larger than the US state of Delaware. Not only is it large, but there are so many different highlights and amazing things to see in this island that you can't hope to see it all with such short time. There are some things more worth seeing than others in my opinion and hopefully this guide will help you choose those things.
For a honeymoon in Bali, I think 1 to 2 weeks is perfect. Of course, if you have more time, that means you can see more things because there are easily enough things to last a month in Bali. For the purpose of this itinerary, I will plan it out as a two week trip. If you have questions on how to structure a trip around your personal schedule, leave a comment below!
Bali does not have idyllic beaches
---
A common misconception is that Bali is a tropical beach destination. Bali is definitely a tropical island and has countless beaches but it does not have the idyllic white sand and turquoise waters that you might think of when it comes to a tropical island getaway. Bali is a volcanic island with a coastline that resembles more of an Atlantic coastline of Portugal than something like Zanzibar.
Bali is a great place for surfing and watching the sunset but it is not a place where you'll find palm trees overlooking crystal blue waters. For this, you'll need to go to the Gili islands or to nearby Nusa Penida.
This is not to say Bali doesn't have a beautiful coastline and picturesque beaches. There are plenty of places to go in Uluwatu with incredible views. All I'm saying is if you're looking for the quintessential beach honeymoon, you're better off visiting somewhere like the Park Hyatt Maldives or Zanzibar.
Planning the Honeymoon
---
Bali is an easy place to plan for. There are an insane amount of hotels and villas for rent. The only question is how to decide where to spend your time and which resorts to stay in!
Where to go in Bali for a honeymoon
Bali is a huge island and offers an incredibly diverse choice of landscapes, hotels, locations, and more. If you have under two weeks for your trip, don't plan to see everything. I lived in Bali for many months and still couldn't see everything. Therefore, I would choose which types of things you want to see. Do you want rice fields and tropical forests? Beaches and upscale resorts? Bohemian vibes with fantastic restaurants and cafes?
In my opinion, for a perfect honeymoon in Bali, you should plan to split your time between ocean and the beautiful inland landscapes. Ideally, you should stay in places that offer beautiful hotels and enough amenities for your special trip. Here are my favorite areas for a perfect Bali honeymoon
Should I visit Canggu on a Bali Honeymoon?
Canggu is the most popular area in Bali for long term digital nomads and residents. It offers countless cafes, restaurants, and other first world amenities. I've met many people that have come to Canggu on their honeymoons and the results are generally mixed.
Most people visit Canggu on their Bali honeymoon because they read it was the best place to be. When they arrive, they come unprepared without scooters or transport expecting it to be a luxurious, resort-like experience. Canggu is not that.
Canggu is known for its long term villas and not so much for beautiful 5* hotels. There are many restaurants and cafes here for you to experience but unless you were planning on doing this for your honeymoon, you might not care about these amenities. Nevertheless, Canggu is where I lived for many months and it might not be "honeymoon" material for some, but others might like to see how life is for all the expats that call Canggu home.
With that said, Canggu is still home to the best restaurants in Bali and without a doubt the best cafes in the world. The cafe scene in Canggu will rival any place on Earth and those are fighting words!
Getting around Bali during your honeymoon
Bali is not a small Greek island where you can zip from one end to the other in 1 hour. Bali is huge. It's almost 4 hours from west to east and 2.5 hours from south to north. Throw in the famous Bali traffic and you have a recipe for disaster. Bali is home to almost 4m people after all!
As I lived in Bali for many months, I did anything and everything on my scooter. A scooter is a way of life in Bali and by far the best way to get around. In fact, most of the main roads are barely big enough for two cars so a scooter is a must if you don't want to sit in traffic all day.
Driving a scooter can be quite a daunting task especially if you've never done it before. Starting off in Bali will test your skills quickly and you might be overwhelmed. If it makes you feel better, my first time ever riding a scooter was in fact while I was in Bali in 2015. I am still alive to tell the tale.
I would recommend renting a scooter to get around otherwise you will simply not see much. Do not rent with the high end hotels as they'll likely charge you 3x the price of the normal shops.
The Final Itinerary
For the final itinerary, this is how I planned the trip. To see our final itinerary, please visit his great travel itinerary spreadsheet. In addition, throughout this post, there will be links to other posts about Bali that I've written for more reading and inspiration.
| | | |
| --- | --- | --- |
|   | Name of Accommodation | Where? |
| Day 1-5 | Ayana Resort and Spa | Uluwatu |
| Day 5-8 | Kayon Jungle Resort | Ubud |
| Day 8-11 | Camaya Bamboo House | Sideman |
| Day 11-15 | Tropical Glamping  | Nusa Penida |
|   |   |   |
Finally, if you would like for me to plan your trip, please contact me and I would be happy to help you with your dream honeymoon or just a regular vacation to the island of the Gods! I've planned many trips for people to South Africa, Greece, Italy, and more already so I have plenty of experience in this category.
Uluwatu or Nusa Dua: Day 1-5
---
After what is likely a long flight, you'll want to relax and get acquainted with the island of the Gods. The southern peninsula of Uluwatu and Nusa Dua provides the best environment to do just that.
Uluwatu is located on the western side of the peninsula and Nusa Dua is the eastern area. This peninsula is known for its beautiful cliffs and picturesque beaches. The largest and more luxurious 5* resort hotels are also in this area.
Hotels to stay in Uluwatu
There are an abundance of beautiful hotels to stay in Uluwatu and Nusa Dua. For the purpose of the honeymoon, I'll list out the most luxurious hotels on offer. This is where the stuff of dreams are made of. Expect to pay a hefty price for these resorts. Prices can easily eclipse $1,000 a night during peak seasons. However, there are always deals to be had here.
Conversely, if you don't want to splurge, then simply visit the many hotels for lunch or a massage. Many of these hotels have open restaurants and spas if you want to treat yourself. Conversely, cozycozy Bali holiday rentals are a great option as well.
Uluwatu Temple
Pura Luhur Uluwatu is considered one of the six most important and most beautiful temples in Bali. Built in the 11th century, the temple is dedicated to the sea goddess Dewi and is said to protect the southern peninsula of Bali from demons. Like Tanah Lot , it is one of the seven sea temples that line the southwest coast of Bali.
To say it straight away: I wasn't blown away by the temple. However, the location on the gigantic cliffs overlooking the sea is fantastic. So fantastic that wedding couples like to be photographed here in front of the sunset. The bad thing is that you can't even visit the actual temple. So it's more the environment that makes the attraction.
Sunset dinner at Jimbaran beach
Jimbaran Beach is famous for its plethora of outdoor seafood restaurants on the beach. They cook seafood in open air grill areas where you can choose your seafood before it is cooked. Before COVID, Jimbaran beach was always packed with locals and tourists alike.
The food is actually quite good depending on which restaurant you visit. I went to The Cuisine Cafe which was delicious.
Ubud: Day 5-8
---
Ubud is the next stop on the Bali honeymoon. Ubud is world famous as a sanctuary for incredible nature, beautiful rice fields, bountiful yoga studios, spiritual retreats and everything in between. It's become an incredibly popular place in recent years and the crowds flock here during normal times.
Ubud city center is a bit too touristy for my liking. There are a few nice temples in Ubud but they won't blow you away compared to some of the other temples around Bali. I like to use Ubud as a central location to see some of the other very beautiful sights in the area.
Where to stay in Ubud?
Ubud is great because there are many amazing luxurious hotels overlooking rice fields with incredible pools. I recommend staying at the hotels slightly outside of the main town. For a Bali Honeymoon, privacy and that feeling of seclusion is more my style. No matter your budget there is something amazing for you.
Here is a list of amazing luxury hotels in Ubud:
Tegalalang Rice Fields
You've surely seen plenty of photos throughout the years with Bali's famous rice terraces. There are so many in Bali but the most popular and most easily accessible is Tegalalang rice terrace outside of Ubud.
You can reach these iconic multi level rice terraces by Gojek or scooter from Ubud. There are many restaurants and cafes overlooking the terraces as it has become quite commercialized in recent years. It is free to walk inside the rice terraces and take photos to your desire. There are also a bunch of Bali swings famous for their photogenic qualities.
These rice terraces are not just for show however. They are actually there to produce rice and you'll find many farmers working the fields. Don't be disrespectful and get in their way just to take a bunch of photos.
Depending on the time of year you visit, the rice terraces will be more green. At the beginning of the season, you'll mostly just find soil and water in the terraces which don't photograph as well.
Jatiluwih Rice Fields
If you think Tegalalang rice fields are nice, you've seen nothing yet. If you want the most beautiful rice fields in all of Bali, you'll need to go to Jatiluwih. The rice fields here are expansive and vast, with sweeping views throughout the valley. Mount Batur and Agung can also be seen from the rice fields.
It's realy not a close comparison between the rice fields around Ubud and Jatiluwih; Jatiluwih is just vastly more beautiful. From Ubud, you'll need to take a scooter roughly 1 hour which is about the same time as it takes from Canggu. You can do this as a day trip from Canggu or from Ubud, it is up to you!
Just look at the beautiful photos!
Karsa Spa
Bali and Thailand alike is famous for its spas and massages. I actually prefer the traditional Balinese massage to the Thai style messages. There is no better place in Bali to get a quintessential massage than at Karsa Spa. The experience you get here will surely be one you'll forever remember while on your Bali honeymoon.
Located just north of Ubud, this spa is located on the rice fields and has some of the most beautiful grounds for a spa I've seen. As soon as you enter, you feel relaxed and at ease with the surroundings. The massage rooms are all outdoor with very inviting baths, showers, and massage beds. The massages themselves are among the best I've had in Bali.
Before COVID, I tried coming here and was told there was a 1 month waiting list for a massage. Yes, one month for a massage! Absolutely crazy but that's how popular the place was.
Sarawasti Temple in Ubud
Saraswati temple Kingdom of Ubud is dedicated to honor the Hindu Goddess Saraswati, the goddess of learning, literature and art. This temple is very beautiful and artistic, so many tourists who come to see its charm, but for purposes of worship. Pura Taman Saraswati has a water garden and lotus pond at the center of its attraction as a tourist attraction.
This temple is decorated with so many fine carvings and inside there Padmasana shrine located in the northeast, but it also contained bale barong, giant masks, statues of Goddess Saraswati and the statue of the devil Jero Gede Mecaling as high as 3 meters in front of the temple.
Campuhan Ridge Walk
The Campuhan Ridge Walk is arguably the best known Ubud trek and with good reason. The sparse crowds and the aesthetically rich vistas remind one of why people from around the world come to Bali. The trail starts at the historical origin of Ubud, the confluence (or Campuhan) of the Wos Rivers.
All in all, the hike can be done in a few hours and offers you splendid views of the rice terraces
Ubud Monkey Forest
One of the most popular and well known activities in Bali is the Ubud Monkey Forest. The Monkey Forest is a natural sanctuary for the Balinese long tailed macaque. Despite the many tourists, visiting the Monkey Forest Ubud is a truly wonderful experience. There are over 600 macaques living in the forest, mostly frolicking in groups, lounging, or annoying (or stubbornly ignoring) tourists.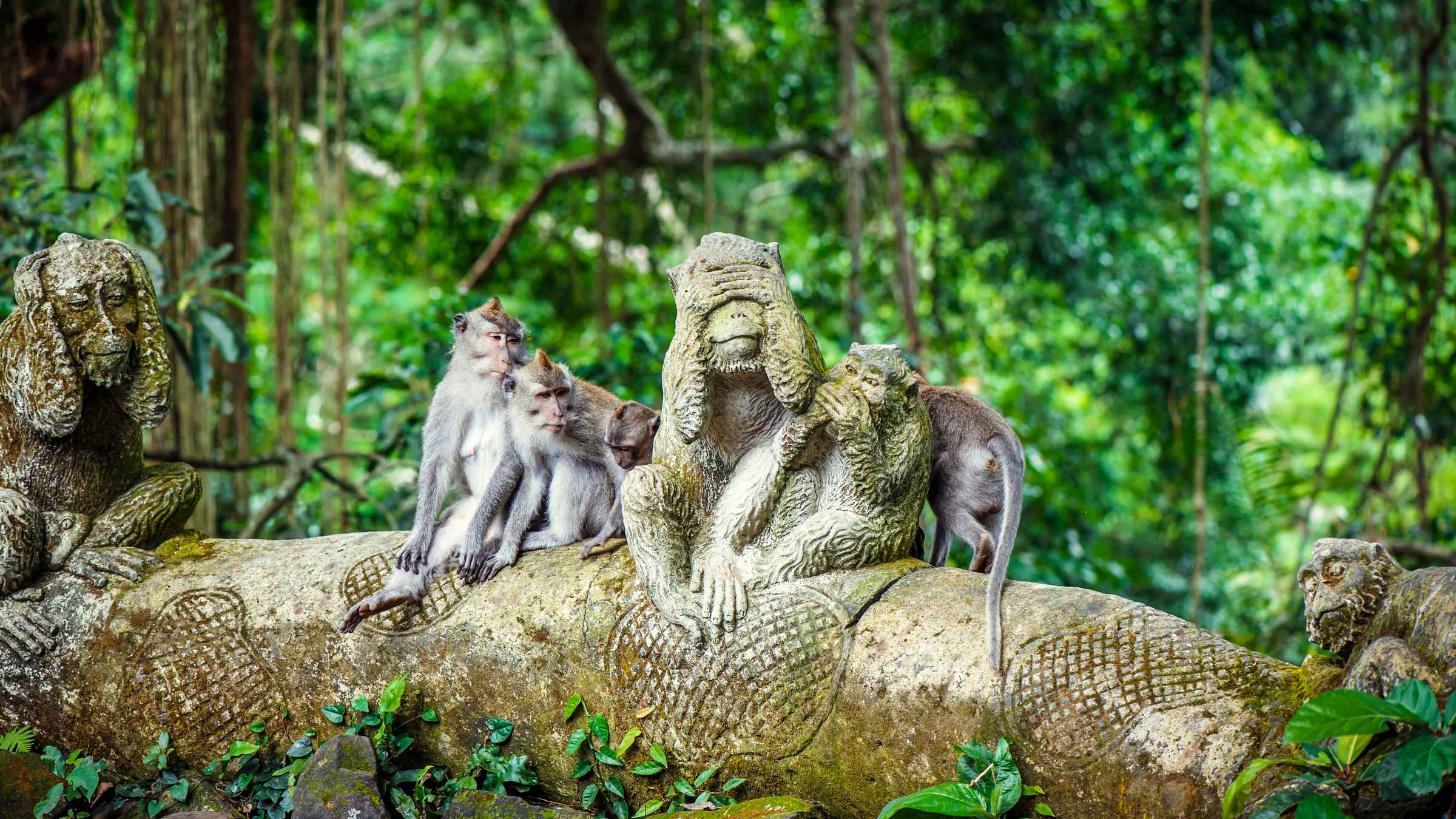 The monkeys in the forest are used to visitors and are not afraid of contact . Which basically means they want to steal something from you. All kinds of bottles, food, hats and sunglasses are very popular, as well as the expensive camera.
Caution is therefore required, because if the monkeys smell prey, they can become rabid . It has also happened that a tourist has been bitten in a duel for the camera.
Alternative: Munduk Plantation
If Ubud is too touristy and not your vibe, then I can highly recommend staying a few nights at the famous Munduk plantation. This hotel in the north of Bali is remote and off the beaten track. The hotel however is luxurious and absoluteyl stunning. The view from the famous infinity pool overlooks the ocean and surrounding jungle.
Sideman: Days 8-11
---
The next stop on the Bali honeymoon trip is to the quaint area of Sideman. This area is like what Ubud was 30 years ago with untouched rice fields and incredible nature landscapes. I absolutely loved staying in Sideman because of the incredible views of the two nearby volcanoes: Mount Batur and Mount Agung.
If you want a beautiful nature experience, make sure to do the early morning hike up Mount Batur and enjoy the incredible views. I would recommend doing this during the dry season as there is higher likelihood of good weather.
Day Trip to the Lempuyang Temple
One of the most popular things to do in Bali is a day trip to the ultra famous Lempuyang Temple.
This temple is located on the far east side of Bali and is a 1h drive from Ubud. You've probably seen many photos of this temple. You can organize this trip with a group tour, or you can simply drive here with a scooter.
The pictures look absolutely insane and a bit unreal. This perfect reflection (is it really water) between these towering pillars with Mount Agung in the background looks like something straight out of Photoshop.
To enter Lempuyang temple, you'll have to pay for a bus transportation at the entrance of the temple. This bus travels 2km up a very steep hill to the famous gates. You cannot do this drive on your own and you must pay for the bus. In pre-covid times, big busses would funnel hundreds of tourists to the attraction. The cost was 50k IDR per person for this bus ride.
Once you arrive at the gates, you'll need to pay another 100k IDR to enter the temple and take the famous photos!
Staying at the Camaya Bamboo House
I spent two nights in the Sideman area staying at the ultra famous Camaya Bamboo House. These houses are famous and have been on numerous travel magazines as some of the most beautiful Airbnbs in the world.
They also made the netbeds famous all over Bali and the photos you can take from this beautiful property are amazing.
This is the ultimate Airbnb and a must do for the quintessential Bali experience. It's a perfect place for a honeymoon because it is incredibly luxurious but also a very unique experience that you can't replicate in many parts of the world.
Nusa Penida and Nusa Lembongan: Days 11-15
---
Bali actually is host to a few smaller islands nearby. To Bali's southeast are the Nusa islands comprising Nusa Penida, Nusa Lembongan, and Nusa Ceningan. I'll summarize the itinerary here but make sure to read my full post on the Nusa islands if you are planning to come here. I think Nusa Penida and the other two islands are perfect for a stop on a Bali honeymoon.
It's a short ferry ride away from Bali and offers stunning beaches that you can't find in Bali. The Gili islands are another popular option for people honeymooning in Bali but I find that the Nusa islands are far more stunning.
Nusa Penida is the largest of the islands and is host to a variety of beautiful sights.
Stay at Tropical Glamping
My favorite accommodation in Nusa Penida is definitely the Tropical Glamping hotel. It is located on the east side of the island near to the famous Diamond Beach. It features the ultra famous and stunning net bed that overlooks the ocean.
Diamond Beach and thousand island viewpoint
Without a doubt, the most famous attraction of Nusa Penida is Diamond Beach. Located on the southeast of the island, you'll need to drive about 40 minutes from the port town to reach this beautiful beach.
Diamond Beach is absolutely stunning. The white sand beach is surrounded by towering limestone cliffs. There are also small rock cliffs all around the beach adding to its stunning beauty.
There are stairs built into the cliffside allowing you to walk down to the beach. These stairs are also where you can take some of the most stunning photos in Bali. You'll also find a Bali swing as you descend the stairs where you can take beautiful photos as you look out into the ocean.
Once you get down to the beach, you'll be greeted with crystal clear blue waters and incredible beaches. The waves can be strong at times so make sure to watch yourself.
This beach can get very busy during normal times with international and domestic tourists alike. The best time to visit this beach is in the late morning before the huge swaths of day trippers make their way over. The beach is beautiful but the waters can get quite rough at times so watch out!
Nusa Penida Instagram Tree House
Located a few minutes from the Diamond beach is perhaps the most photogenic spot in all of Nusa Penida and perhaps even all of Bali.
The Rumah Pohon treehouse is one of the most well known sights in all of Nusa Penida and it was seeing the photos and videos of this tree house that really blew my mind originally when planning my trip to Nusa Penida. I really needed to see what all the fuss was about with this house!
This treehouse is located on the cliffs with one of the most perfect views of the ocean. The Rumah Pohon treehouse is located in the same area as the "thousand island viewpoint" which is just one of the many stunning viewpoints in Nusa Penida. I actually found the views of Diamond beach to be more stunning but you're coming here for the treehouse so that's what you need to focus on.
To get here, you'll need to park at the thousand island viewpoint entrance. You'll pay the 10k IDR to enter the area and walk down about 200 stairs to where you'll finally be greeted with this tree house.
While this picture might look like you're in the middle of nowhere at the most picturesque treehouse of all time, that is sadly not the case. What you don't see from these incredible photos are the people behind it collecting money in order to sit on its steps to take your photo. Yes, you'll need to pay 50k IDR in order to take these photos! This is quite a lot but it doesn't matter because people line up to get their photos taken.
As I visited during COVID, there was no one else here but the two guys told me that in normal times, people would line up for hours in the unforgiving heat to get their photos taken. There would be hundreds of people here waiting to get their photos taken!
The best time of day to visit the Rumah Pohon treehouse is definitely in the morning. The sunrise here is absolutely beautiful and you'll want the rays of the sun to really light up your photo in the morning. They open at 6am and I would highly recommend coming here before 7am to get the best photos!
Kelingking Beach
Kelingking beach is yet another incredible viewpoint that is not to be missed. This actually might be my favorite view of the island and it's not hard to see why this is the ultimate Instagram island.
You'll see absolutely incredible views here of the rocky cliffs extending out into the sea surrounded by beautiful beaches and incredible water color. This place really reminded me a lot of the Ionian islands in Greece but maybe just a little more stunning!
From the top of the viewpoint, you are hundreds of meters above sea level. There are very narrow and steep stairs that lead you down to a beach that is as secluded as it is beautiful.
Bonus days in Canggu: Days 15-18
---
If you have more time on the itinerary, make a stop in Canggu!
Canggu is the bustling expat and digital nomad area that is vibrant and full of life. This isn't the place for your typical Bali experience aka rice fields and beaches but it is certainly the place to be if you want a bohemian lifestyle.
Canggu is the ultimate place for restaurants, cafes, and beach bars. Canggu has an insane amount of amazing cafes serving delicious coffees and brunch style foods with an unmatched ambiance. If you are into taking photos of restaurants and your food, there is no place that will match the opportunities you get in Canggu.
In fact, I would say that Canggu has more beautiful and Instagram ready cafes per square kilometer than anywhere else in the world. Popular places like Suka, Milk and Madu, Crate, Copenhagen, Nook, Avocado Factory and literally countless more will keep you occupied for months.
Stay at the Theanna Villas
Canggu is not your typical honeymoon destination. There are very few 5* hotels in Canggu and it's nothing like what you'll find in Ubud or Uluwatu. However, Canggu is home to numerous beautiful villa hotels. These are standalone houses with private pools. I stayed in many of them and my favorites are the Theanna Villas and Spa.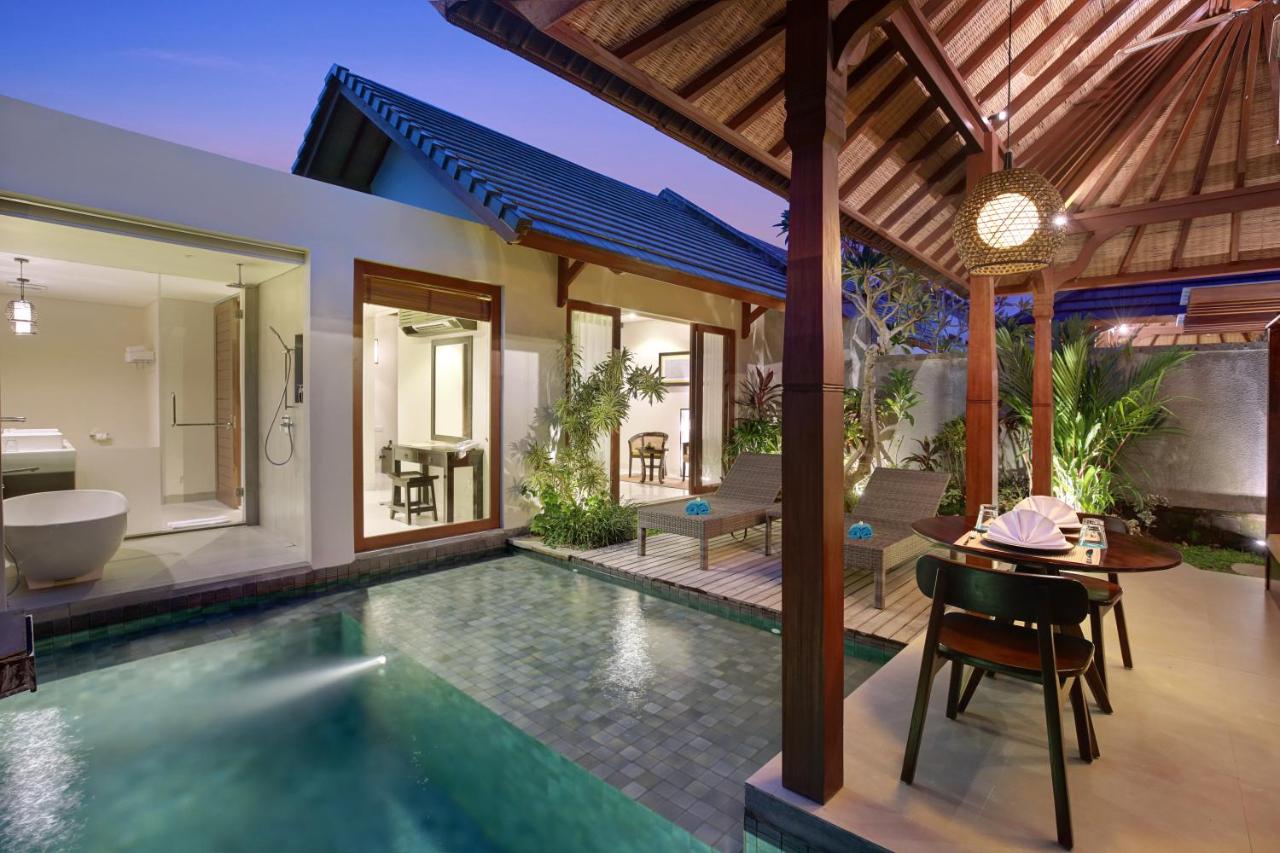 Day by Day Bali Honeymoon Itinerary
---
Here is a breakdown of the day by day Bali honeymoon itinerary
Day 1: Land in Bali and go to hotel in Uluwatu
Day 2: Uluwatu
Day 3: Uluwatu
Day 4: Uluwatu
Day 5: Transfer to Ubud (roughly 1.5 hours)
Day 6: Ubud (Monkey Forest, temples, massages)
Day 7: Visit Jatiluwih Rice Terrace
Day 8: Sideman
Day 9: Day trip to Lempuyang Temple
Day 10: Sideman
Day 11: Nusa Penida (Ferry from Sanur)
Day 12: Nusa Penida
Day 13: Nusa Lembongan and Nusa Ceningan day trip
Day 14: Nusa Penida
Day 15: Back to Bali
Continue Reading: