Someone once said travel is the only thing that you can buy that makes you richer. I totally agree with this. Thinking realistically however, travel is stressful to plan and often times not cheap. Costs shouldn't be what prohibits someone from traveling. It certainly does not for me because I've (mostly) figured out how to travel hack my way into traveling for cheap.
For the uninitiated, it might seem like I'm doing something impossibly difficult, or am just ruining my credit history for life. I get it. People are naturally suspicious of something that seems too good to be true. But in this case, it isn't.
This guide will put it all together in a real and unfiltered way. I've written extensively about how I save money on travel by using credit cards and booking cheap flights. In addition, throughout my travels to almost 70 countries, I've learned the tricks of the trade to travel cheaply and to do it often. I've also learned how to use these benefits to stay in ultra luxurious places like the Park Hyatt Maldives for free. The combination of using credit cards and finding cheap flights has resulted in years of free flights traveling the world.
This guide will include a lot of tips and tricks, and much of what is in here will be things banks never want you to know or see. Nothing here is illegal, merely just taking advantage of the system. This guide will show you how I take advantage of the system so you can replicate it for yourself as well. I've written about these topics in detail in previous posts (with links below) but this travel hacking guide will put it all together in a streamlined fashion. As always, use the comments to ask any questions or offer any additional insights!
So what is travel hacking?
---
Travel hacking involves working within the existing rules set up by airlines, credit cards and hotels, and using them to your advantage to earn free travel including flights, lodging and other upgrades.
I travel a lot and travel costs money.
That's why I travel hack so I can keep traveling
Everyone's tolerance for travel hacking differs but at the lowest level, if you're reading this article, you are interested in free flights or lodging to help you go where you want to go. Perhaps you want to live the high life of the rich and famous by using your points to fly on a $15,000 first class flight for free. Or perhaps First and Business class upgrades might not be as important to you as say just getting to the destination in coach for free as many times as possible.
I only started travel hacking three years ago but since then, I have flown for free ever since and visited nearly 40 countries in the process with no plans of slowing down. I have not paid for most of my flights since I started doing this. In 3 years time, I estimate I've saved somewhere between $20,000 and $25,000 on my travels which includes free flights and free hotels. For the slightly experienced travel hacker, I could have focused all my efforts on redeeming business and first class flights and my savings could potentially be into the six figures.
However, I value quantity of travel as opposed to ultra nice, but unnecessary luxuries. I fly coach on most of my flights, thereby, maximizing how often I can travel for free!
[mk_blockquote style="line-style" font_family="none"]I have probably saved at least $20,000 on flights and hotels in 3 years time.[/mk_blockquote]
►Read in detail about how I always fly for free
Credit Cards and their sign on bonuses
---
Credit cards and their offerings are at the crux of travel hacking. In the United States, credit cards offer more rewards and freebies than any other country, and it's not even close. Cards regularly offer sign on bonuses in 50,000 to 100,000 point range and these sign on bonuses can be worth over $1,000 a piece. Everyone has different starting knowledge and comfort with credit cards so I'll try to keep this as simple and friendly as possible!
A list of all my credit card related posts
If you'd like to see what cards I currently have, see my credit card spreadsheet where I regularly update and list every card I currently own.
Prerequisites to travel hacking credit cards
For starters, to really maximize credit card hacking, you must not carry a balance and must be able to pay your bills on time. If you can adhere to these two things, then you probably also have a high credit score (700+ is recommended) which is imperative to being approved for the higher end credit cards where the real meat is.
If you satisfy these conditions, and have a little bit of can do attitude, proceed onto the next step.
The credit card sign on bonus is the most important thing
The art of travel hacking is opening up credit cards and pocketing the sign on bonus. Unless you have a real business where you are racking up substantial purchases, it will take a long time to actually earn enough points and miles to be of use.
[mk_blockquote style="line-style" font_family="none"]Opening up credit cards and pocketing the sign on bonus is the most important part of travel hacking[/mk_blockquote]
For example, let's look at the Chase Sapphire Reserve that offered 100,000 sign on bonus points when it first released. In order for me to actually earn 100,000 points by just using the card, this would require me to spend $33,333 on travel/food (since it earns 3x on travel/dining), or $100,000 on non travel and dining related expenses. This is a huge amount of money. Let's assume I spent $3,000 a month on dining/travel, it would take me a full year to reach 100,000 points!
The sign on bonus of 100,000 points, however, was deposited into my Chase account after I spent just $4,000 which only took 2 months. After I received this one time bonus, I would of course keep earning points by spending my money on a day to day basis but I will never get a huge one time inflow like that again . . . unless I opened another card with another fruitful sign on bonus.
So unless you actually have some sort of business where you can spend tens of thousands of dollars a month, you will never accrue points and miles quicker than the sign on bonus.
Apply for credit cards with high sign on bonuses
Again, travel hacking with credit cards centers around opening credit cards, but also the right credit cards. Do not go to a Macy's or Banana Republic store and open a store credit card because they're offering 20% off your bill (unless you're making a massive 5 figure purchase). Those credit cards are pure garbage and should only be opened if you have a terrible credit score and need to build up your credit score.
[mk_blockquote style="line-style" font_family="none"]Look for cards that have large sign on bonuses. These will normally carry annual fees but it is more than worth it.[/mk_blockquote]
These rewards can be used to book free flights, free accommodation or both. Normally, to get these bonuses require you to simply open an account, and spend something like $3,000 on the card within 3 months. The best credit cards almost always come with an annual fee of $50-$550 a year, and many of these cards waive the fee for the first year.
DO NOT BE AFRAID OF ANNUAL FEES!
Nothing annoys me more when someone asks me about credit cards and then says, well is there an annual fee? If you're too scared to apply for credit cards with annual fees, then you will NOT be getting anywhere close to the same rewards. It's really not that scary because of the next step.
Close a credit card with annual fee before the fee hits
Some credit cards waive the annual fee for the first year. Others do not. Regardless, I cancel about 75% of my cards because the card is relatively useless after I collect the sign on bonus.
For example, the Chase United Mileageplus card offers 2x United miles when I spent $1 on United purchases, and 1x united miles on everything else. The points earned from the Chase Sapphire Reserve transfer to United at a rate of 1:1. The Chase Sapphire Reserve also earns 3x on travel (which means United purchases earn me 3x Chase UR points, which means 3x United Miles). Therefore, it is always better to just use the Sapphire Reserve. Since I don't ever check a bag, keeping the Chase United card is pointless after collecting the sign on bonus.
[mk_blockquote style="line-style" font_family="none"]I normally close about 75% of my cards that have annual fees[/mk_blockquote]
I put it in the closet and never use it again. For the majority of my credit cards with annual fees, I will cancel the card right before the next fee hits because why pay money for something you're not using?
One very important caveat here is for certain cards, make sure to use the points before canceling. Cards that belong specifically to the bank like the Chase Freedom, Sapphire, Ink Preferred, or the American Express Gold, Platinum, Green etc. earn points specific to the bank. If you cancel your card and you do not have another card on the same rewards program, all existing rewards will disappear. Make sure to use your points before canceling.
Cards specific to an airline or hotel can be canceled, and those miles/points will stay in your frequent flyer accounts with no impact. This is because the issuing bank and the hotel/airline company are separate companies. For example, the Chase Marriott credit card is issued by Chase Bank, but is for Marriott Hotels. Once you spend enough for the sign on bonus, Chase will transfer those points to Marriott and they have no control over those points anymore (as it is on Marriott's platform).
Reopen that card in 24 months
Most banks (except American Express), will allow you to re-open a credit card and collect the bonus on that card after 24 months have passed since you last collected the bonus.
The art of travel hacking centers around opening credit cards, spending enough money to get the sign on bonus, and closing the account before the annual fee hits.
Do this with multiple cards from multiple banks and you're looking at hundreds of thousands of points and miles. This process is also common referred to as credit card churning.
Does opening and closing too many credit cards affect my credit score?
This is the most common question of travel hacking that every single person asks. If you're constantly opening and closing credit cards, doesn't that adversely affect your credit score? People for some reason associate too many credit cards with a ruined credit report. It simply is not true.
Opening and closing credit cards does impact your score slightly, but the impact is small (10% of the big picture). To put it in perspective, I have about 20 credit cards. I also open at minimum 5 new credit cards and cancel 5 credit cards each year. My FICO score hovers between 790 and 810.
[mk_blockquote style="line-style" font_family="none"]Opening and closing credit many credit cards does not impact your credit score as much as people make it out to be[/mk_blockquote]
The most important factor that negatively impacts your credit score is not paying on time. Second is how much your total credit utilization is, and third is your average age of credit. Opening and closing too many credit cards is actually the least impacting part of your credit score.
Having more cards actually helps in the total credit utilization department which I cover in detail on my post below (among many other things). For the purpose of travel hacking, never carry a balance, never close $0 fee card,  and always pay your bill on time.
►Read about whether opening many credit cards adversely affects your credit score
Never close cards with no annual fees
It's almost always best to keep cards with no annual fees. These cards aren't eating into your wallet, and even if you never plan to swipe it, it will benefit your credit score because it will increase your average length of history, and also increase your total credit limits. Just don't do it!
If you have a card that has an annual fee but have had it for many years, and realize that the card is no longer beneficial, the best approach is to downgrade the card to a no fee option that the bank offers. This will allow you to keep all the credit score aspects of the card, but be released from paying the annual fee.
Meeting the minimum spend requirement
In order to collect the sign on bonus for credit cards, it's normal to have to spend $3,000 or more within 3 months. This shouldn't be difficult for most people as it is just $1,000 a month. However, if you do have problems with this, or just want to expedite the process, I've written about it in detail here. It lays out numerous methods that you may not have thought about like manufacturing spending.
Aside from the obvious things like put every single thing you spend on that specific credit card, there are other strategies to help meet the minimum spend requirement. This is the most important step as if you don't spend enough, you won't get the bonus which makes opening the card pointless in many instances.
Applying for Business credit cards as well
After you've applied for a few great rewards cards, it's time to step it up and continue opening cards by targeting the Business credit cards as well. Do you actually need a business to apply for these cards? All those questions are answered in this post about business credit cards.
[mk_blockquote style="line-style" font_family="none"]Johnny Africa generates a few thousand dollars a year. This is more of a business than perhaps half of the people that apply for these cards[/mk_blockquote]
Business credit cards are often mirror clones with a personal credit card counterpart. They offer the same types of rewards and most importantly, a similar sign on bonus. Think of business credit cards as a means to double up the points from the personal version.
In addition, they are advantageous to have as they don't show up on your credit report and don't affect anti-churning rules like the Chase 5/24 rule which I discuss later. Mastering personal and business credit cards will result in a world of rewards and traveling.
Track your credit cards with my spreadsheet
Once you get to be like me and have 20+ credit cards (okay, perhaps you'll never get to my level but anything's better than nothing!), it is almost imperative to keep good track of your credit cards.
Once you get many cards with different annual fee structures, you'll want to use a spreadsheet to track when you'd be expecting to pay these annual fees. In addition, tracking your sign on bonus progress, total credit limit, and average age of credit will also be extremely helpful for your travel hacking needs.
[mk_blockquote style="line-style" font_family="none"]Travel hacking does take a little bit of time and commitment, but it's free money so what do you expect?[/mk_blockquote]
I've created a Google Sheets that's publicly available for anyone to view. This spreadsheet is what I use to track my inventory in real time so it will always have my activity. This spreadsheet has helped thousands of people already so hopefully it will help you too!
► View my credit card spreadsheet here
Have a look at my inventory of credit cards
Lastly, if you need some inspiration. I give annual updates about my credit card activities and what I've applied for, closed out, and are targeting.
There's so many credit cards available on the market these days and many of them allow you to re-apply for the credit card after 24 months and collect the bonus again.
Yes.
You can open a credit card, get the sign on bonus, close out the account, wait 24 months, and rinse/repeat.
I regularly hold about 20 active credit cards, and cancel/open 5-10 credit cards a year.
Chase 5/24 Rule Explained
Chase and AMEX are regarded as unequivocally offering the best cards with the best sign up bonuses in the system. AMEX is lenient and generally will let you open cards without too many restrictions. Chase, is much more stringent. They implemented the 5/24 rule in 2016 as a means to stifle travel hackers like myself. To put it simply:
Chase will not approve you for a new card if you've opened 5 or more cards from any bank in the past 24 months
There are some caveats to this rule however. Chase only counts personal cards to this 5 card limit so almost all business cards do not contribute to this number (which is why I love applying for many business cards). 5 cards might seem like a lot but once you get into it, this threshold will be met in no time.
Chase offers 20-30 different cards and while most of the good ones are subject to this rule, some are not.
Here is a list of every card that is subject to the rule:
Chase Freedom
Chase Freedom Unlimited
Chase Sapphire Preferred
Chase Sapphire Reserve
Chase Slate
Chase Ink Cash
Chase Ink Plus (no longer available for application)
Chase Ink Unlimited
Chase Starbucks
Chase Southwest Plus personal card
Chase Southwest Premier personal card
Chase Southwest Premier business card
Chase Marriott Premier personal card
Chase United MileagePlus Club Card
Chase United MileagePlus Club Business Card
Chase United MileagePlus Explorer personal card
Chase United MileagePlus Explorer business card
The following are not subject to the rule:
Chase IHG Select
Chase IHG Premier
Chase IHG Traveler
Chase Hyatt
Chase British Airways
Chase Iberia
Chase Aer Lingus
Chase Disney
Chase Fairmont No longer available
Chase Marriott Premier business card
Chase Ritz-Carlton
Chase Amazon
Chase AARP
So with that said, this is why I always recommend noobies to open Chase cards first before any other bank. The Sapphire Reserve and the Ink Preferred are the absolute best cards in the business with the best sign on bonuses.
Other benefits of credit cards
The non-cash related benefits from holding a premium credit card is extremely valuable as well. Cards like the Chase Sapphire Reserve and the American Express Platinum give free Priority Pass Lounge Memberships which will allow you to gain access to many great airport lounges around the world (which is a total game changer when you're frequently traveling abroad). They also have benefits like the following and more:
Free rental car insurance
Free baggage insurance if the airline loses your bags
No FX fees
Trip delay insurance: If your flight is delayed a certain amount of time, the credit card will give you roughly $500 for hotels, food, and whatever else
Purchase protection: If you lose or damage something, the credit card will reimburse you the amount
Maximizing How you earn your points
For the pros, I would say that 75% of points/miles come from sign on bonuses, and the other 25% come from maximizing how you use the card. At some point, you can no longer continually open new cards and you'll need to earn points from the cards you already have. How you maximize this is the crux of many many websites and can't be explained in a few sentences. The important thing know here is certain cards are much more useful than others when it comes to spending.
For example, the Chase Sapphire Reserve is my favorite card to use on a day to day basis. It earns 3x Chase points on dining and travel which constitute 80% of my spending habit. However, the American Express Platinum earns 5x AMEX points when used to book flights. Therefore, I would use my Sapphire Reserve for all dining expenses, but only use it for travel expenses that are not flights and hotels (since AMEX earns more). This is just one very simple example among a sea of others.
The banks frequently issue promotional offers like spend $200 at this store, and earn an additional 2000 points. There are also dining portals where you can earn airline miles for just dining at certain restaurants in addition to whatever you earn on your credit card, as well as shopping portals where you can do the same. There are a lot of ways to take advantage of the system when it comes to using your card, but do not forget that the easiest and most lucrative way to earning points is the large sign on bonuses.
How to use the points once you get them
This question can literally be 100 posts on its own. There are countless ways to redeem points and even more blogs that talk about the optimal way to spend points from this bank vs points from that airline. I won't go into details here but to say it all depends on what you're looking to do. 
Personally, I use my points to travel as much as possible. This means I want to take the most flights I can and for the cheapest price. Others in the industry pride themselves on using their points to fly business class but I prefer quantity over quality.  Therefore, I mostly rack up bank branded and airline branded credit cards (like the Chase Sapphire Reserve, American Express Platinum, AMEX Delta Card, Citi AAdvantage card, etc).
The best use of my points is to buy flights using the Chase Ultimate Rewards Portal. Because I have the Chase Sapphire Reserve, this gives me a 50% bonus when I redeem my points on travel related expenses. A $500 flight will cost be only 33,333 points as opposed to 50,000 points with most other reward programs. I sign up for as many Chase cards as I can get to maximize this the awards.
Similarly, I have hundreds of thousands of Delta, American Airlines, and United miles, and use these miles to redeem for flights on the respective airlines and their partners. Often times, the redemption rates are not very good when I redeem them for a economy ticket. I like to see at least a 1 mile to 1 cent redemption ratio (so a flight that would cost $600 normally, would be at most 60,000 miles).
My Favorite Credit Card Resources
Here is a list of my favorite blogs and resources as far as keeping up with the always changing landscape of credit cards. Once you get the basics down, I would follow these guys as they give daily updates on what the newest credit card information being offered. This is their full time jobs and they are experts at how to earn points, redeem points, and everything in between.
Opening up frequent flyer and hotel accounts
---
To get started, it's imperative to open frequent flyer accounts and point accounts with all of the major airlines and hotel chains. If you travel a little already, you'll likely already have many of these. For those that don't but aspire to traveling a lot, opening an account is 100% free for any of these hotels and airlines.
The name of the game is to collect enough of the miles or points associated with these programs to get a free flight or free hotel stay. There are many many frequent travel programs out there and each program has their own redemption rates. For example, a one way flight from North America to Europe is normally 30,000-35,000 miles on many of the major airlines. No matter where your allegiance lies with your favorite airlines, the more miles/points you have, the better it is. Always. 
Here is a list of popular businesses and the credit cards associated with them to get you started
Airline Programs and Cards
Hotel Programs and Cards
Bank Cards
Here is a list of all the credit cards issued directly by the bank that are not tied to any sort of hotel or airline. These are not all of the cards these banks offer, but merely the ones I think are the most lucrative and worth anyone's time. Chase and American Express are by far the most lucrative of the issuing banks as they hold the most valuable points.
Bank points differ from airline/hotel points. The points/miles associated with airlines and hotels are almost always only redeemable with that specific travel program. Bank points from big players like Chase and American Express can be used as a statement credit (so you can book a flight on any airline), or can be transferred to airlines and hotel programs at a favorable rate. Largely, the points from banks are almost always more valuable.
Chase Bank

Chase Sapphire Reserve
Chase Sapphire Preferred
Chase Freedom Unlimited
Chase Freedom
Chase Ink Preferred
Chase Ink Cash
Chase Ink Unlimited

American Express

AMEX Platinum
AMEX Gold
AMEX Green
AMEX Blue Business Plus
AMEX Business Platinum
AMEX Business Gold

Citi

Citi ThankYou Premier
Citi Prestige

Barclays

Barclays Arrival+
Barclays Arrival Premier

Capital One

CapitalOne Venture Rewards
Capital One Spark Cash Business
Capital One Spark Miles Business

Bank of America
Wells Fargo

Wells Fargo Business Platinum
Wells Fargo Propel Rewards
Which cards should I apply for first?
---
The answer to this question is simply as many as you possibly can get approved for. However, I can understand how this would be totally confusing for beginners with maybe 1 or 2 credit cards. If you are serious about travel hacking and maximizing rewards, this is what I would do if I knew everything I do now and went back to when it all started.
First card – The Chase Sapphire Reserve
Without a doubt, I think the Chase Sapphire Reserve is the best credit card out there. It comes with a 50,000 point sign on bonus, earns 3x chase points on travel and dining, and comes with a bunch of extra benefits like a $300 annual travel credit that offsets the $450 annual fee, priority pass, etc. The points are worth 50% more when you redeem it for travel. This is the best the best in the business. This is my "go to daily driver" card, which means it is the card I mainly use when I am not trying to meet the minimum spend requirement for a sign on bonus with a new card. If you have one or two credit cards already, and a solid credit score to boot (open up a free account at Credit Karma to check this, and a 720 is the minimum you should be aiming for), this is the card to get.
If you don't have at least a 720 credit score, then the next best option is the Chase Sapphire Preferred which has a $95 annual fee. This card earns 2x on travel and dining (vs 3x on the Sapphire Reserve) and doesn't provide any of the extra benefits like lounge access but it comes with a large 50,000 point sign on bonus as well. All in all, always go for the Sapphire Reserve first!
Second Card – Chase Ink Preferred, Ink Cash, or Ink Unlimited
I would focus on the Chase credit cards at first because of the Chase 5/24 rule. This rule means you will not be approved for many of the Chase credit cards if you've opened 5 cards of any bank in the last 24 months. The Chase Ink Preferred comes with a 80,000 to 100,000 point sign on bonus which is huge. I would wait approximately 2-3 months after getting the Chase Sapphire Reserve before getting this card.
Third Card and beyond – All American Express Credit cards
American Express offers the most generous sign on bonuses of all the cards. What AMEX offers on their bonuses change frequently so it's best to read up blogs to see what the best bonuses are. However, if you are just starting at this, the thought of another $450+ annual fee card may seem daunting so perhaps the American Express Platinum can be shelved for a later time. I would focus on the Delta AMEX cards as they offer great bonuses in the 60,000 to 70,000 Delta Miles ranges for spending $3,000 in 3 months. Afterwards, I would get the AMEX Gold Business card, followed by the AMEX Platinum.
After AMEX, Citi and Barclaycard are the next best as they offer fruitful sign on bonuses and are easy to get approved.
This is all just a very rough starter guide. The landscape of sign on bonuses change often so it all depends on what is being offered in the current environment and what makes the most sense to you, aka there's no point to open a Jetblue credit card if you don't even envision yourself flying Jetblue.
Should I open cards associated with a travel program or directly from a bank?
Figure out which airlines you like to fly, and then target the credit cards associated with that airline. If you find yourself flying Delta Airlines frequently, then consider opening up the many AMEX Delta offerings that always offer huge sign on bonuses. Also consider opening an American Express Platinum card as this gives free Delta lounge access which has saved me thousands of dollars in meals and drinks that I did not have to purchase at the airport.
If you don't care about the airline, and are just looking for the cheapest flights, then it's better to target the cards issued directly by the banks as the points can be used for anything.
Booking cheap flights
---
Travel hacking is different for everyone. Everyone has their niches and things they are comfortable with. However, every person young and old can agree that finding cheap flights is one of the best things to have. Travel hacking can and does take time, and a lot of that is booking your flight for the cheapest possible price.
Always look for travel deals
The most obvious travel hack of all time is to find cheap flights for when you're traveling. Often times, this means scouring the numerous search engines out there like Kayak, Skyscanner, Momondo etc. But there is an easier way.
[mk_blockquote style="line-style" font_family="none"]The combination of collecting huge amounts of rewards, as well as knowing how to book the cheapest flights makes up 99% of travel hacking[/mk_blockquote]
There are many websites out there that specialize in finding deals and reporting it to the masses. These websites have helped me on numerous occasions with my travel planning. However, this requires you to be more flexible with flight times. Sometimes this means flying on a week day and avoiding friday/sunday travel. Also, let's be clear that if you're flying around busy holidays like Christmas or New Years, deals will almost never exist.
For a list of my favorite websites, I've combined all their Twitter feeds into one on my cheap flights page.
Know what the fair market price is for flights out of your city
Understand the general price range of flights departing from your main city. Living in New York, we have a plethora of airlines flying all over the world. It's kind of unfair but we probably have it overall the best when it comes to flying everywhere in the world. Because I travel so much, and subsequently perform many searches, I've come to have a general idea of how much a flight should cost me.
For example, I know I can always go to Europe for about $400-$500 because Norwegian flies direct from NYC to London, Oslo, Stockholm etc. Anything cheaper than $400, I consider it a good deal. Similarly, I know I can fly to Asia for $500-$600 round trip. The Chinese airlines have really stepped up their competition (especially China Eastern), and I know I can fly to a plethora of Southeast destinations for this price. I fly to the Philippines for diving and paid just over $500 round trip.
Of course, flying around the holidays will always change the prices, but having a general sense of what prices should be will help you plan for your trip.
Use Multiple Search Engines
Nowadays, there are numerous flight search aggregate services (that searches many travel agents at once) and it's advisable to always search multiple engines just to see what the best prices are. For example, I will do a search for a New York to Male, Maldives flight in November and compare the results I get from using Kayak.com, Skyscanner.com, and Momondo.com. I use the same dates, same destinations to get a good comparison.
You can see that the cheapest Emirates flight is $1,010 on Kayak. There is also an option for China Eastern for $896 but the flight duration is less than desirable.
Skyscanner returns the same flight on Emirates but for a price of $981 which is almost $30 cheaper than the Kayak search.
Finally, Momondo gives me a price of $968 for the same flight. This is $13 cheaper than Skyscanner, and $42 cheaper than Kayak. These are my three main search engines and every search is different with no one particular engine consistently better than the other.
Although the savings in this specific example are not that large, it can sometimes result in rather noticeable discrepancies. Why is this the case? Different search engines search for different travel agents who may have different arrangements with the airlines. Also, much of these discrepancies focus on exchange rate fluctuations and sometimes that goes in your favor.
Split flights into multiple legs – Book multiple flight itineraries
This is one of the most underrated and underused methods out there. It's pretty intuitive but the average traveler will not be aware.
Sometimes, it makes sense to split your trip into two separate flights in order to cut down on costs. This is effective when traveling to an international destination, particularly a smaller town within that country.
For example, if you were to search on Skyscanner for flights from New York City to Dakhla, Morocco, the search engines almost always arrange your search so it sits with the same airline or the same airline network (Star Alliance, OneWorld, Skyteam, etc.). Per the image below, you can see that the cheapest fare is just over $900 on
Doesn't seem like a bad price for going to an obscure destination in Morocco right? Well, perhaps there is a cheaper way?
I know that Paris is a hub for travel to its former colonies, Morocco being one of them. I also know that from New York, there are many discount airlines that fly to Paris, and London (two huge hubs for international travel). So let's search for a flight to Paris, and then from Paris to Dakhla, Morocco.
From the below image, there is a direct flight to Paris Orly for $426.

From Paris Orly, per the below image, I can fly to Dakhla for $309 with a layover in Casablanca! Therefore, the entire trip would cost $426 + $309 = $735! This is almost $200 cheaper than if I just flew with Royal Air Maroc the entire way.
Of course, this does mean there are two different tickets which means I will have to go through Immigration in Paris and re-check in for my flight on Royal Air Maroc. Doing split ticket itineraries requires ample stopover time. In my case, there is a four hour layover in Paris Orly on the way there, and 3 hours on the way back which is plenty of time at a smaller airport like Orly.
Also, make sure never to check a bags for any reason when doing this.
Use Skiplagged to skip the layover
Skiplagged is a great little tool for finding flights that you wouldn't otherwise think of booking. The premise of Skiplagged is getting off at the layover destination instead of the final destination because often times you can find cheaper fares this way. For example, a flight from New York to Salt Lake City, Utah might be $300, but a similar flight from New York to Seattle with a layover in Salt Lake City, Utah might be $200.
I've found Skiplagged to be especially useful when traveling around Europe and visiting multiple destinations.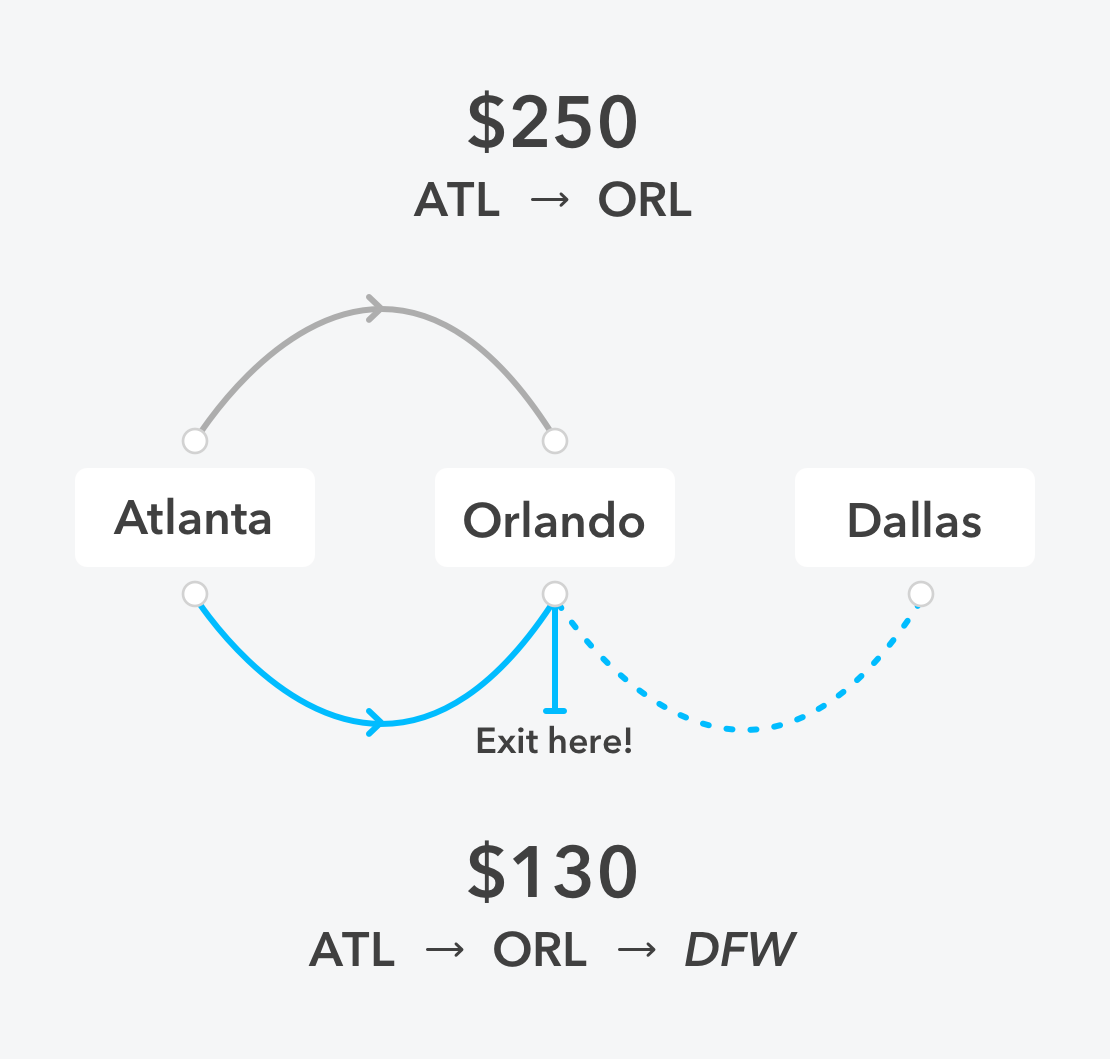 This is a real travel hack as United tried suing Skiplagged over this and United ultimately lost. This hack only works for one way flights and obviously, no checking of bags is allowed.
Finding error fares
Error fares are exactly what they sound like. The airline screwed up and their systems spit out a fare so ludicrous, it doesn't seem real. You may have encountered these at some point in your life already. When you see these fares, you must book it immediately. Airlines can screw up, but they will find it much quicker than you think. 90% of the time, if you book one of these error flights, they will be honored by the airline.
[mk_blockquote style="line-style" font_family="none"]Error fares are the holy unicorn of travel hacking[/mk_blockquote]
Some great examples that I have are booking a round trip first class flight from New York to Guatemala for $600 over New Years Eve, and flying to Egypt for $475 round trip a few years ago.
Be flexible with your travel dates
This is obviously a big if. Most people have specific dates they need to travel around due to work constraints. However, if you're lucky enough where you can travel at any time, then you probably already know everything in this post! If you don't, I would start with the Skyscanner everywhere search feature. You input your destination like normal, but you can choose to search for all dates. Skyscanner will return results for every single day it has information for and from there, you can choose the lowest fares. Even if you have a little bit of flexibility, this is a great feature to have.
Fly on discount airlines
There have never been more airlines around the world because there has never been as much demand to travel as there is today. This is great for us as more competition is always good for the consumer. There have been a breadth of budget airlines that have cropped up offering cheap flights internationally.
Airlines like RyanAir, EasyJet, and AirAsia have always been a part of the fold. I've flown all of these and have positive experiences because at the end of the day.
[mk_blockquote style="line-style" font_family="none"]Discount airlines are fantastic ways to get around for cheap. Don't be scared of them. Also, don't pack so much stuff.[/mk_blockquote]
Norwegian Air has really changed the game for flying internationally from the USA to Europe, and even to the Caribbean with their flights to Guadeloupe and Martinique! I can book flights from NYC to London or Paris for $400-$500 USD round trip. I can even find these fares during the summer. I've flown them numerous times and get say the experience is totally fine and on par if not better than traditional airlines like United, Delta, and American Airlines.
Similarly, I took numerous flights on AirAsia when I was traveling through Southeast Asia. These flights were never more than $50 a flight! The planes are in great condition, the crews are always young and friendly, and did I mention how cheap the flights are? I flew from Singapore to Bali for $30 one way.
Other low fare international airlines have also been around or have cropped up like WowAir, Level, Primera, XL Airways, Volaris, etc. Most of them don't offer any amenities on board like food or alcohol, but for the price difference, I could literally carry out a fine dining meal and still be paying less than traditional airlines!
Fee free ATM Card and Credit Card
---
This is also a no brainer. ATM fees anywhere are the bane of a frequent traveler's existence. You either don't take out enough money and end up visiting the ATM multiple times (and paying multiple fees), or you take out too much and have leftover cash that you need to exchange at an unfavorable rate before you go home.
Simplest solution is to:
Apply for no FX fee credit card which is just about every decent card out there these days
Apply for a no ATM fee checking account like the one from Charles Schwab. Yes, their checking accounts do not incur any ATM fees domestic or international and they reimburse you any fees the ATM may charge you.
Airbnb and Boutique Hotels vs Chain Hotels
---
With the advent of home sharing websites such as Airbnb, it has become much easier to spend less on accommodations than in previous years.
Prior to Airbnb, the only options I knew of were hotels and hostels. Hostels were on the extreme cheap end, but was also geared towards younger travelers. Hotels have higher price points although there are always boutique hotels that were cheaper.
Nowadays, with Airbnb, the ability to stay in someone's apartment has really changed the game. Not only is it generally cheaper, but you get a bigger space than a hotel, and you can stay in the best neighborhoods. I've stayed in countless Airbnb accommodations throughout my travels and I don't see that changing any time soon.
Airbnb also makes it much easier for the solo traveler and the large group travelers. For a solo traveler, being able to rent an existing room in someone's apartment really cuts down on costs. It's easy to find large and comfortable rooms in the central Old Towns of an European Capital for under $75/night!
For long term travelers, Airbnb makes for an incredibly useful communication tool between yourself and the landlords. Almost all accommodations will offer some sort of discount for extended stays and being able to message landlords with the click of a button really simplifies finding and negotiating a good rate, without all the paperwork hassle.
When I do stay in chain hotels
Chain hotels like Marriott, Starwood, Hyatt, and IHG are great for two things in my opinion:
Ultra luxury, over the top experiences like an overwater bungalow in the Maldives or French Polynesia. I would never pay for these stays in cash either, but rather use the many points I've accumulated from the sign on bonuses on hotel credit cards.
One to two night stays in a city and/or airport
Fact of the matter is, most of my travels take me to places where big chain hotels don't exist like when I was diving in Caye Caulker, Belize. Off the beaten path, rustic, and more authentic experiences are what I'm after and I don't see that ever changing. I prefer the ocean over a pool any day.
However, chain hotels are great if I have a flight very early in the morning and I need to stay somewhere close by the night before. This is why I keep four hotel chain credit cards (two from SPG, one from Marriott, and one from Hyatt) as they offer a free night certificate every year. These free night certificates come in handy because they allow me to stay at the hotel (up to a certain category) regardless of what the dollar price is on that given night.
Uber and Car sharing apps
---
Uber has completely revolutionized how travelers get around, particularly in the developing world. Back in the old days, arriving at an airport meant a constant battle with taxi drivers looking to rip you off. Since you don't know the language or the fair market price, it's likely you got shafted in some fashion.
[mk_blockquote style="line-style" font_family="none"]Uber has completely changed how travelers get around. For the better.[/mk_blockquote]
Uber has brought an end to that nonsense. Nowadays, many countries have widely adopted Uber. If they don't, do research before hand and see if there is an in house company that has replicated Uber's model. For example, Uber never got going in China due to their Government regulations but Didi took its place and does the exact same thing.
Regardless of the fact, Uber has set the fair market value of a taxi ride and made it available to any person that has the app. You don't need to know the language, and you don't need to worry about getting ripped off. Always have Uber installed, and do your research beforehand to see if the country your visiting has either outlawed Uber, produced its own car hailing app, or both.
How to be a good traveler
---
I wrote this article up after I visited my 50th country. It is a summary of all the small things I've learned from traveling the world including things that are considered "travel hacking" as well as just live observations made from traveling!