The Digital Nomad life has really taken off in recent years. The COVID pandemic has shown people and companies alike that the days of old in an office are no longer necessary to get things done. The world is your office now and it awaits you. I've been to many different places now to practice the Digital nomad lifestyle and below is a list of my favorite places in the world.
I haven't done the digital nomad thing in all of these destinations but I have visited them all. Each of these cities are some of my all time favorite places to travel and for the ones that I have not worked from, I think they would all work incredibly well for the long term lifestyle. As a digital nomad, most of us want to visit beautiful, exotic, and cheap places so I've taken all of this into account for this list as well!
What makes a good city for digital nomads?
---
There are certain attributes that make a city suitable for a digital nomad. Essentially, it should offer a healthy work-life balance while offering plenty of excitement during your stay. Here are the main attributes that make a city an attractive option for digital nomads:
Cost of living & accommodation
A solid mix of housing or accommodation options as well as a low cost of living is one of the most important factors for digital nomads looking to spend time in a city. The availability of flexible short-term rentals is a big plus-point for any city as it presents more accommodations for those looking to adopt a digital nomad lifestyle.
Internet speed & infrastructure
Internet speed and infrastructure is probably the most important thing a digital nomad looks for. What makes it important is that it is entirely out of your control. Thankfully, most big cities have great wireless infrastructure in the modern times. I love traveling to places to discover that the internet and mobile connection is magnitudes better than "developed nations" and substantially cheaper.
Even if WIFI connections are bad, mobile 4G networks have become strong enough where hotspotting is also an option. This was an absolute must in Zanzibar where the WIFI was god awful.
Amenities
From medical centers and tourist information hubs to parks, beaches, pubs, restaurants, cultural landmarks, and beyond, a city's sights as well as its amenities are vital to its status as a digital nomad-friendly city (these are the things that make a city worth visiting, after all).
Community
Digital nomads are independent but social creatures. The fact that you want to leave your home and just travel to unknown destinations speaks to your personality. However, we are all human and crave human interaction to some degree. Therefore, the community of the city is important as it will dictate how easy it is to make new friends.
Most digital nomad places nowadays have large groups and meetups that make it very easy to meet like minded individuals. This is not just for socializing either as a strong community means you can network and create ideas easier than ever before.
Time Zone
For the modern remote worker, your location is everything. One of the most important things to consider is your time zone. Are you working a job that is tied to US hours? Then living in Bali, Indonesia might be tough because you will be 12-13 hours ahead of the US east coast.
This means you will be burning the midnight oil which is fine if that's what you're into (and many of the coworking spaces in Bali are open 24/7) but this gets quite taxing after awhile. Your social life and ability to meet people might suffer as most people will enjoy the day time hours.
If your job is not time zone sensitive, aka you work for yourself or you work a job without many meetings at certain times, then the world is your oyster!
Visa requirements
Your ability to enter a country and stay in that country for the amount of time you want is incredibly important to consider. Most countries on my list have easy visa requirements. Either they issue visas on arrival or there are no visa requirements at all. There's nothing more annoying than applying for a visa beforehand.
The next thing to consider is the length of the visa. Most countries I've been to issue visas that are 90 days and below. Some countries will allow you to extend this for a fee while other countries will allow you to just leave and re-enter (also called a visa run). Other countries like Georgia issue you a visa for a year. Personally, 90 days are a decent amount of time for me to spend somewhere as I like to move around mix it up. However, if you value a slower pace of life, you'll want to dig into the extended visa options of that country (if any).
Because of COVID, many countries around the world have acknowledged the digital nomad revolution and are making it easier for digital nomads to obtain longer stay visas. Many countries around the EU are issuing digital nomad visas which will allow you to stay beyond the 90 day limit currently imposed. However, the requirements for many of these visas might be out of reach for many.
For example, the Greece digital nomad visa requires you to show proof of earning at least 3,000 Euros a month which might be higher than many people.
Beach vs City?
Another very important criteria you should consider is whether you want a beach destination or a city. Many people have a fantasy of working from the beach with views of the ocean while sipping coconuts. This is definitely one of my favorite things to do so I am certainly not against it.
However, if you're planning to stay many months or even a year in such a place, you might get bored after awhile. I'm not saying after a month, but potentially after 3 months you'll crave city life and may be hard pressed to find it.
There are a few gems of digital nomad locations like Bali that perfectly blend both of these two things together.
Tax implications for digital nomads
---
If you're planning to be a digital nomad, it's advisable to familiarize yourself with the tax implications of such a remote working arrangement with your country of origin and your destination country.
As I am American, I must report worldwide income no matter where I earn it. This responsibility usually doesn't apply to those in most other countries.
Some countries will require you to report taxable income if you're a digital nomad but most countries will waive this responsibility if you are staying for under 6 months. Many other countries have also issued digital nomad visas where you will not have to worry about the tax implications. Make sure to research this ahead of time so you don't get surprised!
Americans and the FEIE deduction
If you're American and planning to work remotely around the world, consider yourself lucky as you are eligible for the FEIE deduction. This deduction essentially states that you can deduct up to $112k a year (this value goes up every year depending on inflation) from your taxes meaning if you make under $112k a year, you will pay $0 in taxes to the IRS.
Better still, if you are working a conventional salaried job in the US but are able to freely travel and work around the world, you can use this deduction to get a lot of money back. This is because a conventional salaried job means your taxes are automatically withheld with each paycheck. With this deduction, you essentially get back all those taxes you've paid throughout the year.
I go into great detail in my post about the FEIE deduction if you also want to save money (hint: just move abroad).
Lisbon, Portugal
---
Lisbon has quickly become the digital nomad hotspot in Europe. Flocks of digital nomads from Europe and America have made Lisbon their (temporary) homes. It's not hard to see why. Lisbon is a beautiful European capital with an incredible amount of history and beautiful traditional architecture.
It's located on the Atlantic ocean and enjoys a temperate climate year round with plenty of sun and the absence of extreme weather on both ends. The cost of living is cheap by European standards (although this is going up quickly) and you can live very well for much less than comparable cities in the US for example.
Lisbon is blessed with a booming startup scene, amazing restaurants, co-working spaces, delicious wine, vibrant nightlife, and friendly people. You are also in the middle of Portugal where you can travel easily around the country. Make sure to read my Portugal travel itinerary to plan your trip.
Lisbon, Portugal Facts
Avg. Cost of Living Per Month: $1,500-1,800
Internet Speed: 9mbps
Visa Length + Price: 90 day visitor visa
Highlights: Beach life, arguably the best digital nomad city in Africa
Downsides: Safety can be an issue, so be smart, internet quality isn't great and can dip when the electric grid overloads
Rating: 4.3/5
Tenerife, Spain
---
Tenerife has quickly become Spain's digital nomad hotspot. While Barcelona, Madrid, or Valencia would be the typical go to digital nomad cities, many people have flocked to the islands for a more scenic work location.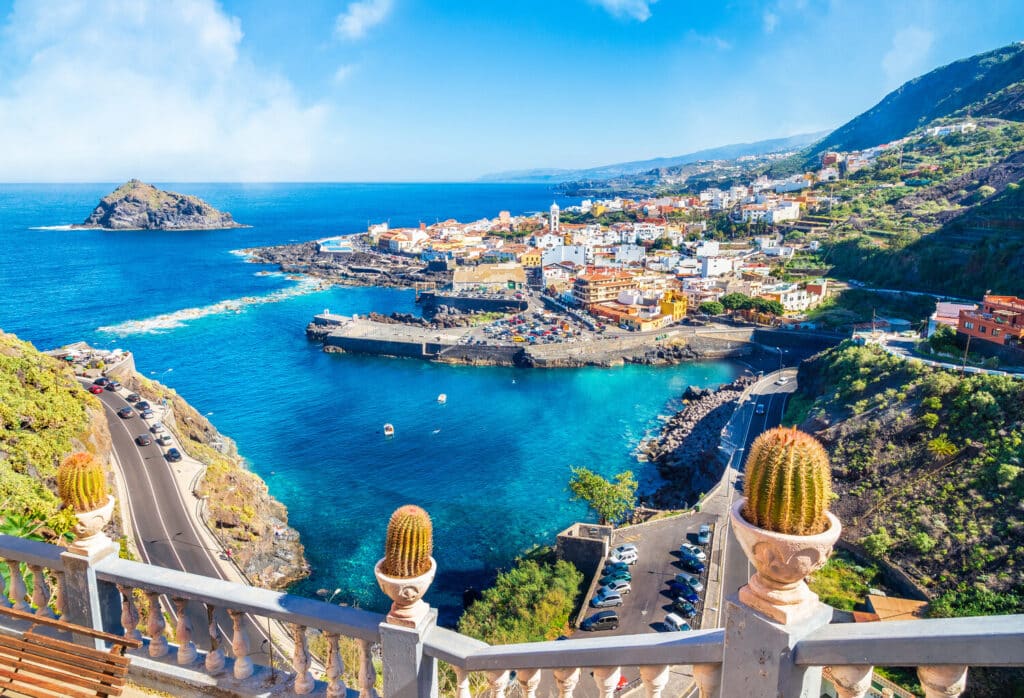 Tenerife offers all of that and then some. Not only is it equipped with some of the most dramatic views you can find, but you'll also find a vibrant cafe culture, great Spanish cuisine, lots of digital nomad groups, and a cheaper cost of living versus the big cities. Tenerife is a bit hard to get to and once you're there, you are not close to much besides the other islands. However, if you're keen for island life away from everything, this is definitely the place for you.
Athens, Greece
---
Greece is probably my favorite country in Europe and Athens is the capital city and de-facto digital nomad destination of choice for me in Greece. Many people are team Thessaloniki which I have also visited but I prefer the capital more. Athens is a very vibrant city full of history, culture, and beautiful views.
It's not the most established digital nomad city in Europe. There are not as many co-working spaces in Athens as other cities in Europe but this is quickly changing. Delicious Greek food, great weather, and friendly people are what will draw people to Athens in the future. Also, Athens is the hub for ferries to the Greek islands which are absolutely beautiful. I wouldn't mind working for some time in a beautiful island like Sifnos but you'll need to pay more money and there isn't much going on there unless you know people (but so beautiful nonetheless).
Athens is also quite cheap as a big city. You can find decent apartments in the city center for affordable prices. Wine and food are generally very affordable by Western standards.
Athens, Greece Facts
Cost of Living Per Month (1 person): $1,200 – $1,600
WIFI/Mobile: 8/10
Visa Length + Price: 90 day visitor visa, Schengen rules apply
Highlights: Historic city with plenty of amazing restaurants, cafes, and lower cost of living. Close proximity to beautiful Greek islands
Downsides: Not the most beautiful city center as far as European cities go
Cape Town, South Africa
---
Cape Town is one of my favorite cities in the world. It is in my opinion the most naturally beautiful city in the world and yes those are fighting words. I lived in Johannesburg for a few years and visited Cape Town every month because I was just so in love with it.
Cape Town is the ultimate southern hemisphere digital nomad destination. It's located in the same time zone as central Europe making it perfect for European nomads, and it is warm for the European winter months.
In addition to being so naturally beautiful, Cape Town is chalk full of amazing cafes, restaurants, bars, co-working spaces, gyms, and the like. Cape Town was a hidden gym for many years but nowadays, the secret is (mostly) out, and many others have discovered that Cape Town offers everything you need for a discount.
Cape Town and South Africa get a bad reputation for being a dangerous place. I'm not saying that there are not dangerous areas in South Africa, but it is largely overblown.
Cape Town, South Africa Facts
Cost of Living Per Month (1 person): $1,500 – $2,000
WIFI/Mobile: 7/10
Visa Length + Price: 90 day visitor visa, Visa runs are possible
Highlights: Most naturally beautiful city in the world, great infrastructure and facilities, vibrant nightlife and dining scene, close to the most beautiful wine country
Downsides: Safety can be an issue but it's not that bad, extreme income disparity (probably the worst in the world)
Chiang Mai, Thailand
---
Chiang Mai has long been a long term expat destination in Thailand. In recent years, it has also become a haven for online workers that are looking for a vibrant but smaller city in Thailand. Chiang Mai offers amazing internet speeds, huge co-working spaces, cafes, gyms, and of course countless Thai night markets that feed all your Thai food desires.
Chiang Mai also has a very affordable cost of living with accommodation options continuously expanding. Accommodations can be found for 3 month, 6 month, and 12 month leases depending on how long you plan to stay. However, as Chiang Mai's popularity has soared, the ease at finding accommodations has also decreased. Nevertheless, there are huge digital nomad groups and gatherings in Chiang Mai (although this has decreased significantly during COVID).
I spent a week in Chiang Mai as part of my Thailand trip and absolutely loved the natural beauty of northern Thailand. There are so many beautiful temples and natural beauty to explore. A Thailand tour while staying in Thailand as a digital nomad is a must to see all the wonderful things the country has to offer.
Chiang Mai, Thailand Facts
Cost of Living Per Month (1 person): $1,000 – $1,300
WIFI/Mobile: 9/10
Visa Length + Price: 30 day visa on arrival, extendable multiple times
Highlights: Amaz
Downsides: Safety can be an issue but it's not that bad, extreme income disparity (probably the worst in the world)
Ko Phangan, Thailand
---
If Northern Thailand is not your jam and you prefer something more tropical, then Koh Phangan is a great option for those looking for ocean vibes in Thailand. I've been to numerous islands around Thailand and I think Koh Phangan is probably the most well equipped for digital nomads.
For starters, there are many Western style cafes here catering to the large existing troupe of digital nomads. During COVID, most of the islands were completely dead but Koh Phangan somehow kept going due to its large contingent of full time expats. Koh Phangan is also full of beautiful beaches that aren't overwhelming. As you are in Thailand, you can find delicious Thai food all over the island for a very affordable price.
Mexico (Oaxaca, Tulum)
---
Mexico is one of my favorite countries in the world. It's a massive country so I've not even seen most of it but from what I have, it is definitely my type of place. Digital nomads are spoiled in Mexico with your choice of vibrant cities like Mexico City, Oaxaca, Guadalajara etc. or beach destinations like Tulum, Puerto Escondido, Cabo, etc. Whatever your style is, you'll find something in Mexico that will fit your taste.
Personally, I love Mexico city and Oaxaca. As a digital nomad spot, I mostly gravitate towards cities and these two have all that I need. Equipped with countless cafes, coworking spaces, and gyms, you have everything you need. Of course, I can't mention Mexico without tacos which are one of my ultimate all time favorite foods. You'll find more than you'll ever be able to handle in these cities.
The cost of living in Mexico is very affordable. You can easily get by on $1k to $1.5k a month. You might spend more in places like Mexico City or Tulum but it all depends on how much luxury you want. Tulum has really become popular in recent years so expect huge crowds of tourists and digital nomads alike which will surely push up prices.
Medellin, Colombia
---
Medellin is one of most popular digital nomad hotspots in South America. The secret of Colombia is out and plenty of people have flocked to Medellin in recent years. Medellin is a naturally very beautiful city with plenty of hillside views.
Medellin is full of coworking spaces like Casa Redonda, Tinkko or WorkAmp where you'll meet plenty of other digital nomads. Cost of living in Medellin is also quite low and you can rent a nice apartment for under $1,000 a month. Look at the El Poblado neighborhood which is popular with tourists, and expats alike.
I'm not a big fan of Colombian food as there is little to no spice but Medellin is an cosmopolitan city with all different cuisines and for a very affordable price.
Antigua, Guatemala
---
Guatemala is my top pick for countries in Central America (sans Mexico). Guatemala has long been a digital nomad hotspot even before the DN movement took over during COVID. Antigua is my city of choice in Guatemala for digital nomads. It's a beautiful old UNESCO town sandwiched between numerous volcanoes adding to its spectacular scenery.
Antigua is an entire city of medieval style buildings with cobblestone streets. The town is equipped with numerous restaurants, cafes, bars, and coworking spaces. Antigua is also very close to Lake Atitlan which has also quickly become a digital nomad hotspot. The lake is absolutely stunning as it is essentially Lake Como of Central America. It can get a little quiet in Lake Atitlan however but if you're into the lakefront lifestyle with yoga, meditation etc. then this is definitely a place you should consider. Personally, I'll stick with the more vibrant life in Antigua!
Bali, Indonesia
---
Without a doubt, my absolute favorite place in the world to be a digital nomad is Bali, Indonesia. I spent many months in Bali during the COVID pandemic as a digital nomad and it was absolutely my favorite place. There are a wide array of reasons why so I will try to explain it to the best of my ability in words.
Firstly, Bali is a warm destination year round. Being able to wear shorts and a tank top every day without worrying is something I really like and value. Even during the rainy season (Dec-Mar), it was still very pleasant. Bali, and especially the areas of Canggu, Berawa, and Pererenan are a digital nomad's dream.
There are an endless amount of beautiful cafes and restaurants that are perfectly set up for digital nomads. I honestly think that the Canggu/Berawa area has the highest concentration of upscale cafes anywhere in the world. If you know of somewhere else please let me know because I don't think it exists. Indonesian food is also delicious and I can't get enough of it. When you're done with local food, you can also find restaurants with all different types of cuisines produced at very high levels.
There are also great gyms with spas (but be prepared to spend big money on this) so it's easy to stay fit in Bali.
Once you're done with the work day, head to the beach where you can have a coconut while watching the sunset and surfers coming in for the day. When you need to get away, you can easily take a weekend trip to Ubud or go on a diving trip to Nusa Penida or Komodo National Park. There are endless possibilities.
Lastly, the cost of living in incredibly affordable. I've written a detailed post about the Cost of living in Bali and you can see exactly how I break down my budget. I live in my own villa with a private pool and pay under $700 a month for such a residence. Everyone gets around with a scooter and something about cruising on a scooter with the warm wind against my face is therapeutic.
Bali, Indonesia Facts
Avg. Cost of Living Per Month: $1,000 – $1,500
Internet and Mobile Speeds: Very good
Visa Info: Visa on arrival available for numerous nationalities, longer stay visas also available like the B211A visa.
Highlights: Beach, rice field views, amazing cafes and coworking spaces, warm year round, very cheap
Downsides: Can't think of much.
Istanbul, Turkey
---
Istanbul is a city that I've returned to time and time again. Located between Europe and Asia, Istanbul is an incredibly historic city with beautiful mosques, architecture, and culture. Better still, it has a low cost of living that has been expedited due to its currency collapse in recent years.
Turkish food is absolutely delicious and you have a world class dining scene in Istanbul. Literally that's one of the reasons I keep coming back to this beautiful city. Istanbul is not nearly as cheap as other cities within Turkey due to its cosmopolitan appeal but it is definitely the place you'll want to spend your time in.
There are an abundance of cafes and coworking spaces in Istanbul but the amount of decent gyms is really lacking.
Istanbul, Turkey Facts
Cost of Living Per Month (1 person): $1,300 – $1,600
WIFI/Mobile: 8/10
Visa Length + Price: 90 day visitor visa, Visa runs are possible
Highlights: Very cosmopolitan city with incredible food, history, and nightlife
Downsides: Traffic and overcrowding (15m people live in Istanbul)
Tbilisi, Georgia
---
The Georgian capital of Tbilisi has quickly become the digital nomad hotspot of Europe. I spent a few weeks in Tbilisi and it's not hard to see why.
Tbilisi offers the most bang for the buck of any city I've ever been to. In fact, it's quite shocking how cheap a city like Tbilisi can be given how developed it is. Tbilisi offers countless restaurants, cafes, co-working spaces, and a plethora of high quality gyms. Tbilisi is also a city littered with history and beautiful viewpoints from the old town. Georgian food is also delicious with plenty of high quality meats, khinkali, and of course the famed khatchapuri.
Within Georgia, you can take easy trips to the mountains or the wine country which is absolutely beautiful. You can even make quick trips to Armenia or Azerbaijan.
Tbilisi, Georgia Facts
Avg. Cost of Living Per Month: $1,000 – $1,200
Internet Speed: 10/10
Visa Length + Price: 1 year visa, easily extendable.
Highlights: Incredible value for money, great food, large nomad community
Downsides: Cold winters and hot summers
Buenos Aires, Argentina
---
Buenos Aires has quickly become a top destination for digital nomads in recent years thanks to its thriving cafe culture, vibrant nightlife, delicious food, artistic scenes, and international appeal.
Buenos Aires is an European city by design and feel, but at a fraction of the price. With seemingly endless amounts of economic crisis, the only thing that that is certain is that the currency will continue to depreciate. If you're from the US or Europe, your money will go very far here and you'll enjoy the best steak at the cheapest prices possible.
From Buenos Aires, you can explore beautiful nearby regions like Mendoza, Patagonia, Iguazu, or even take a short trip to neighboring Uruguay.
Buenos Aires, Argentina Facts
Cost of Living Per Month (1 person): $1,200 – $1,500
WIFI/Mobile: 8/10
Visa Length + Price: 90 day visitor visa, Visa runs are possible
Highlights: Beautiful city with great food, nightlife, and cafes. Amazing for steak lovers.
Downsides: Bringing enough USD/Euro cash to get the best exchange rates
The world is your oyster
---
Hopefully this list will inspire you to take your digital nomad adventures to the next level! If you have other destinations great for digital nomads, please comment accordingly!
Continue Reading: