Located in the heart of Italy's famous wine region of Tuscany is a plethora of quintessential and cute Italian villages. Montepulciano is easily one of the most beautiful and quintessential town in Tuscany. Montepulciano is situated on a hill that the Etruscans once called "Mons Politus," or "Mountain of the Nobles." Montepulciano came to be known as the "Pearl of the 1500's" because it reached its apex under the rule of the powerful Medici Family and for the strong ties it has always enjoyed with Florence. Its most famous for its wines; the most famous is the Nobile di Montepulciano, aptly named after the hill the town is situated upon.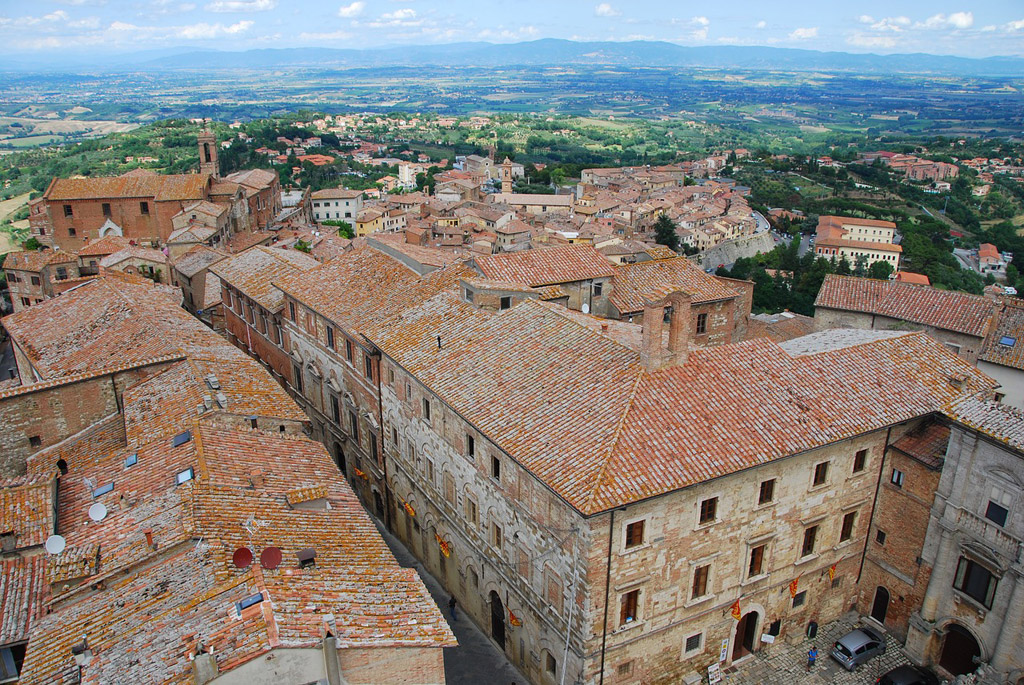 I spent four nights in Montepulciano as part of my greater Tuscany Road Trip Itinerary and used it as a base to explore the surrounding wine regions of Tuscany. Originally, I was concerned about staying in such a popular town but after looking at photos and reading up on it, I was quickly reassured that this would be the perfect base to stay in Tuscany. I am certainly not disappointed.
Montepulciano is beautiful and is the perfect place to come back to after a long day of driving around and wine tasting.
How to get to Montepulciano
---
Montepulciano is not a big city so it's not the most easily accessible. This area of Tuscany is best explored by car. Not only will this allow you the freedom to visit multiple towns and wineries, it will be much faster.
If a car is not an option, don't worry as there are numerous ways to see Montepulciano. There is a small train station outside of Montepulciano where you can arrive from Siena, Florence or even Rome. However, as the town is located at the top of the hill, the train station is located a few km away. There are buses that run regularly between the train station and the historic center.
There are numerous buses from Montepulciano to surrounding towns like Siena, Pienza, or Montalcino. If you don't want to do public transportation or rent a car, then consider taking a day trip from Florence. It's roughly 1.5h by driving from Florence and these day tours will take you to the town as well as wineries in the area. You'll be back in Florence by night time.
What to do in Montepulciano
---
Montepulciano is one of those truly charming and historic Italian towns. It just checks off so many things for those looking for the Italian experience. Located on the top of a hill? Check. Medieval cobblestone streets and impossibly cute buildings? Check. Surrounded by fortress walls? Check. Full of amazing restaurants and wine? Also check.
It's Italy to perfection and I was very glad to have chosen it for my base of operations in exploring Tuscany. I was afraid that it would be incredibly packed with tourists due to its popularity but it was definitely not an issue. There was just enough people where you felt the energy of the town, but quiet enough where you can really enjoy the sights. I did visit during Coronavirus times so this could certainly skew the opinion.
Montepulciano is not that big of a town. It only takes about 20 minutes to walk from one end to the other, and this is factoring in walking up a hill. It's doesn't have the crazy amount of famous attractions like Florence, or even Siena would have. Most people stop in Montepulciano for the day and this is enough to see the town. However, I did stay here for many nights and was able to really explore the town.
Piazza Grande – This is the main square area you see in most of these pictures. In the winter, they have a Christmas market set up with all sorts of gifts and food.
The Duomo or Cathedral dates from the early 17th century and has an unfinished facade although the 15th century bell tower from the old church still stands next to it. Inside is Taddeo di Bartolo's magnificent Assumption of the Virgin triptych painted in 1401 (see photo near the end of the article).
Fortezza — the fortress – It's a beautiful area with a green space and lots of trees to hang out in. It also has beautiful and unique views you wouldn't get elsewhere in the city.
Get out of Montepulciano and go wine tasting
---
If you're coming to Montepulciano, it's likely you have wine on your mind. I certainly did and I made sure to go out and visit the wineries. There are endless wineries in and around Montepulciano that you can reach in minutes. The Tuscan landscape is breathtaking and what better way to soak it in than at a beautiful winery sipping on a delicious glass of Nobile Di Montepulciano?
Admittedly, I wish I had more time in the area to visit more wineries but what can you do!
Bindella Winery
Per the recommendation of my Airbnb owner, he recommended I visit the Bindella Winery for a wine tasting. I was not disappointed. This winery features a large and modern estate that has an incredible view of the Tuscan valley.
I opted for the simple wine tasting of three wines to sample a white, Rosso di Montepulciano, and a Vino Nobile Di Montepulciano to get all the variety. I'm a big fan of the Vino Nobile I must say, but ultimately I liked the Brunello Di Montalcino even more!
Where to eat and drink in Montepulciano
---
There are no shortage of fantastic restaurants and wine bars in Montepulciano. You can expect fantastic restaurants serving local Tuscan fare and winebars with ample offerings of wines from the Montepulciano region. These includes the famous Vino Nobile Di Montepulciano which are the higher end versions of the wines produced in the area.
Prices in Montepulciano are not cheap but I would not consider it expensive either. Tuscany in general is one of the pricier parts of Italy, so don't expect to pay the same prices as say in Sicily or in Puglia.
What to eat in Tuscany
By no means am I an expert in Tuscan food after a week in the region so let's get that out of the way first. Nevertheless, I'm just a big fan of eating in general and I don't hold back when it comes to Italian cuisine. There are certain dishes that are unique to the region that you must try.
The first is the pappardelle con Cinghale. This is pasta with boar ragu. It's a simple dish really but the boat meat is absolutely delicious and goes so well with a wide flat pasta like the pappardelle. The second is anything involving truffles. This region contains a lot of truffles which are then incorporated into the local dishes. Tagliolini Al Tartufo is what you'll want to look for (or anything al Tartufo is good).
Lastly, the region is very proud of their cows and a lot of steak is therefore consumed. Bistecca Florentina is the name here which consists of a porterhouse steak that is three fingers thick. I had this a few times while in Tuscany and it is absolutely not to be missed!
Caffè Poliziano
Definitely the most famous cafe in Montepulciano. Caffe Poliziano has a little balcony with amazing views of the valley. Come here for your morning espresso and croissant while soaking in the Tuscan vibes. Prices here are more expensive but you are paying for the experience as well.
Osteria Acquacheta
This is one of the most popular restaurants in Montepulciano. It's been written up numerous times in various publications making it one of the hardest reservations to get in the summer months. They are famous for their pastas and especially their bistecca Florentina. I came here for a famous steak and had a 1.6kg porterhouse style steak. Absolutely delicious and the truffle pasta as a first course was also delicious. In the end, the price was also very reasonable as I paid €75 for three people.
Rosso Rubino Trattoria Siena
Another cute Italian trattoria on the main strip, this place came highly recommended by my Airbnb host. Sadly, I didn't have enough time to make it to this place but it was packed every night so it has to be somewhat good!
La Pentolaccia
Another trattoria on the main strip. I came here for a delicious dinner with truffles and it is definitely one of the better spots in town.
Lieviti Pizzeria-Beer-Italian food
Of course, sometimes you just need to mix it up with pizza while in Italy. Lieviti is the best pizza in Montepulciano and serves a traditional Naples style pizza (which is of course the best style of pizza). They have a very inviting indoor space as well as outdoor space to enjoy your pizzas. Prices are cheap, as pizzas should be, running between €7-10 for a pizza. Reservations are definitely recommended!
Enoliteca Consorzio Vino Nobile
There are endless wine bars in Montepulciano. I mean you are in Tuscany after all. I wish I had spent more time visiting the numerous cute winebars in the town but I ended up spending most of my days out in the wineries.
I stumbled upon this Enoteca that is a self service wine bar offering all the different wines of the region. You can choose a small or big pour using a cool automated wine vending machine of sorts. Grab a glass here and then make your way out to the terrace where you have an aerial view of Montepulciano.

Continue Reading: