Thailand is a country that needs no introduction to the world of traveling. It one of the most beautiful countries with what is in my opinion the best tasting food out there (and I've eaten lots of food!). Thailand offers everything one is looking in a big trip of any length. The city of Bangkok stimulates all senses with incredible nightlife and street food. Chiang Mai and Chiang Rai in the north offer idyllic natural landscapes and more temples than you can count. Finally, the south of Thailand is famous for its beautiful beaches, many that you may have already heard of like Ko Phi Phi or the full moon party on Koh Phangan.
I've visited Thailand on two occasions now. It is actually the first country I ever visited outside of the countries I lived in as a child. On that trip I mostly visited the islands in the Andaman sea (Phuket, Krabi, and Ko Phi Phi). I came here a second time for over a month spending time in the capital city, Chiang Mai and the area in the north, and finally the beaches in the Gulf of Thailand (Koh Phangan, Ko Tao etc.)
In this detailed itinerary of Thailand, I will run you down the most popular and beautiful destinations in Thailand. This travel itinerary is an amalgamation of cultural wonders, city life, and picturesque beaches. This itinerary is perfect for everyone; from the budget backpackers to the luxury traveler. I've done both styles in Thailand.
This THailand itinerary is a template for your travels
Unlike my other travel itineraries, this post will function a little differently. Instead of an itinerary based on a trip I actually did, this post will list how I would plan trips based on the length of time I have. Because I've spent months in Thailand, I've seen quite a bit and can definitely provide many recommendations for you the traveler. However, I also know that most people do not have as much time as me. Anywhere between one week and three weeks is the perfect time for visiting Thailand. If you have more, then you'll just have more fun!
Where I went in Thailand
---
In total, I spent two months in Thailand over two separate trips. I think anywhere between two and three weeks is the perfect amount of time to spend in Thailand. Keep in mind if you're coming from Europe or North America, you'll spend two days just traveling to and from.
I could easily spend another two months in Thailand because there is so much more to see. The food alone is enough for me to come back and spend a few weeks hanging out on the beach!
Here's a list of the places I visited in Thailand:
Chiang Mai
Chiang Rai
Phuket
Ko Phi Phi
Krabi
Koh Lanta
Koh Lipe
Koh Phangan/Koh Samui/Koh Tao
If these places ring a bell and sound like the places you want to visit, this is the perfect itinerary for you!
How to travel through the Thailand
---
Thailand is a relatively developed country to travel through. The country is not small but not big and is very well connected. There are regular buses, trains, and planes between the main attractions in the country.
Traveling Thailand on a budget
Thailand is one of the most budget friendly travel destinations in the world. It's no wonder that it has become a backpacker's favorite over the past years. I'm not going to sugarcoat it, but Thailand is cheap.
Very cheap if you want it to be.
You can find absolutely amazing food for basement prices if you're willing to eat at the street markets. If you're worried about sanitary conditions or safety, don't worry because these street markets are frequented by foreigners and locals alike. You'll get delicious Pad Thai for as cheap as 40 THB ($1.2) in some night markets. Massages can be had for as low as 300 THB for a one hour oil massage. Accommodation options are plentiful in most of the tourist hotspots ranging from cheap Airbnbs to hostels.
Thailand is the birthplace of the $50/day budget that became so famous for low budget travelers. With $50 you can easily live a good life in Thailand without even really holding back on much.
How to get around THailand?
Getting around Thailand is incredibly easy and again affordable. Thailand is not a small country but it really isn't that big of a country either. From Chiang Mai in the north to Hat Yai in the south is a 2.5 hour flight.
Bangkok, which is likely where many people will start their trips is midway between the south and the north. To get from Bangkok to popular destinations like Chiang Mai and Chiang Rai, you can either take a 1h flight or a 7h bus ride. There are countless airlines like AirAsia, Bangkok Airways, Nok Air, Lion Air that make the regular flight from Bangkok to Chiang Mai. You can find flight tickets for as long as 500 THB at times for a one way flight.
Buses are also a great way to travel around Thailand and this will be your cheapest option usually. However, you'll have to travel long distances but don't be put off as the buses are normally very comfortable.
Similarly, you can also rent a car and drive around the Thailand. With one of the many trusted car rentals in Bangkok, a road trip through the country is also an incredible unique experience.
Similarly, you'll find flights from Bangkok or Chiang Mai to the islands in the south like Phuket or Koh Samui for very affordable prices, and with Samui's popularity as a tourist destination koh samui airport car rental can be very easy . I had all the time in the world to travel but I never looked anywhere else besides flights to and from. Once you get to the islands, there are also ferries that transport you between islands that are nearby. For example, there are regular ferries between Koh Samui, Koh Phangan, and Koh Tao in the Gulf of Thailand.
Best time of year to visit Thailand
Thailand is a year round destination that you can enjoy. However, there are plenty of seasons to be aware of so you can plan for the optimal weather. Generally, November to April are seen as the best months of travel to Thailand. This is because cities like Bangkok and Chiang Mai in the north enjoy milder winter temperatures. By mild, I mean you'll still get the hot 25-32 degree days but the humidity and the extreme temperatures (35+) are no longer there.
Bangkok in the summers when it is super humid and reaching 40 is unbearable and you'll be sweating as soon as you walk out the door. Summer times also brings in a reduction of air quality which can make the cities much more smoggy than normal. On my trip in December, I was able to see total blue skies and no smog during my visit to Bangkok and Chiang Mai.
The islands in the south enjoy split seasons depending which side of the country you're on. The Andaman sea to Thailand's east enjoys the opposite season as the Gulf of Thailand. The best times to visit the Andaman sea (Phuket, Koh Phi Phi, Similan islands, Krabi) are between November and April. Conversely, the best time to visit the Gulf of Thailand (Koh Phangan, Koh Samui, Koh Tao) is April to October.
Thailand has become very touristy
Thailand is one of the most visited countries in the world. The country derives something like 23% of its GDP from tourism. These numbers from 2019 showed that 39m people visited the country. This number of course came crashing down during COVID and has very slowly recovered.
I can't say how tourism will be in Thailand going forward, but I can say that it became a bit overwhelming in recent years with the sheer number of tourists. Beaches in Phuket would be packed to the brim and it was just not so enjoyable anymore. Places like Koh Phi Phi Leh which are completely uninhabited was pretty much ruined by over tourism and became the ultimate expectations vs reality picture.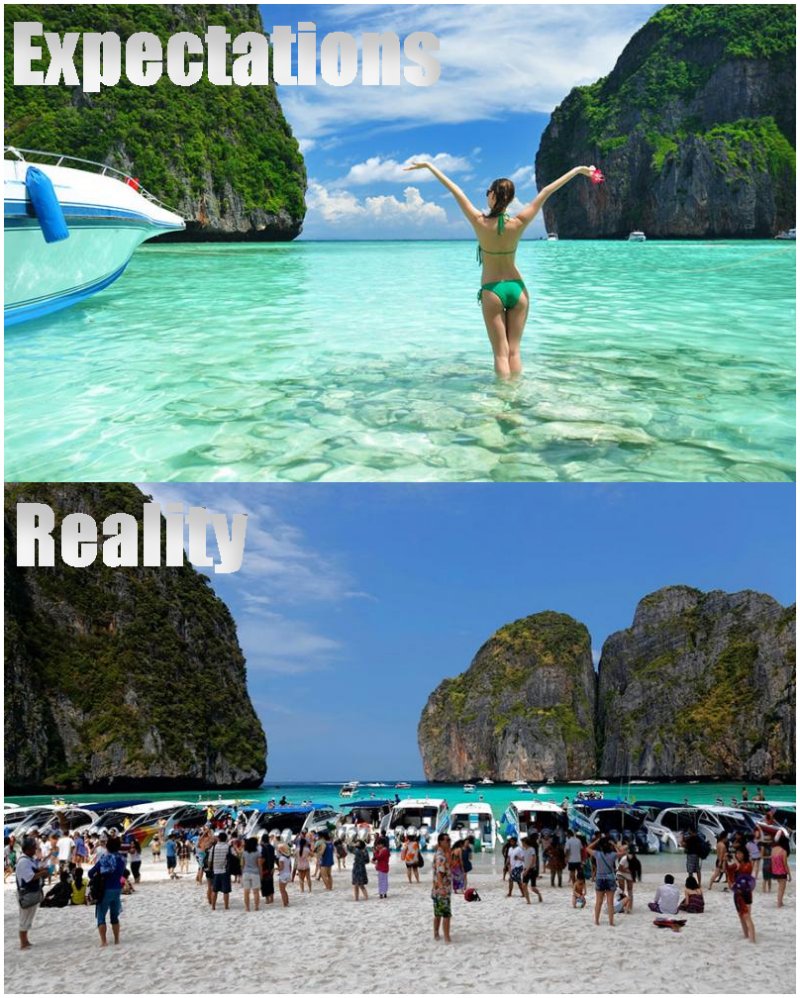 Should I visit the Andaman Sea or Gulf of Thailand?
---
For those planning to visit the beaches in Thailand, the most stressful question becomes which side of Thailand to visit?? Both sides of Thailand are well known and famous for its own things. Both sides are beautiful with idyllic beaches, a good vibe, and delicious food. But are you looking for parties on Koh Phi Phi, or the full moon party on Koh Phangan?
What time of year is it?
First thing you should consider is the time of year you're visiting. Again, the Gulf of Thailand and the Andaman sea enjoy opposite seasons. Nov to Apr, I would opt for Phuket and Krabi as it is the dry season whereas the islands of Koh Samui, Koh Phangan, and Koh Tao are in their rainy seasons.
It's hard to imagine that there could be such a big disparity in the seasons given that the two seas are separated by such a small land mass in between. If you look at a map, the land area is only about 100 km from west to east but you have two completely different weather systems.
This doesn't mean visiting in the wet season will mean constant downpours. I visited Koh Phangan in December during its wet season and only half of the time was it overcast/rainy. The other days were perfectly sunny and warm. Nevertheless, it's just a total crapshoot because locals told me the whole month of November was just constant downpours. You just never know when you are in the tropics!
Which side has better beaches?
This is an impossible question to answer. I've been to both sides and found that both sides have incredible beaches on offer. However, I think the beaches on the Andaman sea side are more unique. The beaches in Krabi are characterized by their huge limestone cliffs. Beaches like Railay and Tonsai beach are incredibly photogenic and picturesque. Koh Phi Phi has the most idyllic beaches, especially if you make it to the smaller Koh Phi Phi Leh.
Further south of Krabi are many other islands like Koh Lanta and Koh Lipe which are much less touristy and even more beautiful in my opinion. Koh Lipe especially is probably one of my favorite islands in the country.
The gulf of thailand side also offers stunning beaches. Koh Phangan is my favorite and Koh Tao is world famous for its scuba diving. Koh Phangan is world famous for its full moon party that happens well at every full moon. Haad Rin Beach is transformed into a huge party that draws in people from all over the world. The party goes until the early morning hours and is epic.
Should I visit the north (Chiang Mai) or the south (beautiful Thai beaches)?
Day 1-4: Bangkok, Thailand
---
The trip starts in Bangkok. Thailand's capital city is where many international flights arrive so it's logical for most people to start their trip here. Bangkok is a city that really stimulates the senses. It is full on with its traffic, people, smells, sounds, and everything else. It can be supremely overwhelming to many people so if you know you are not a city person, I would spend less time here.
However, it is a city filled with incredible food, beautiful temples, and is much more developed than I thought. Watching the Hangover 2 made me realize how terrible of a representation they made for the city.
Bangkok is just one of the best cities in SE Asia. I spent a week here because of COVID protocols and thought I would get super bored after awhile. It flew by and I absolutely loved every minute of it.
I spent most of my time in Bangkok visiting its incredible temples, eating delicious street food, and visiting the seemingly countless rooftop bars with absolutely amazing views of the city. I also took a day trip to the world famous Maeklong train market to get out of the city.
I cover everything in much more detail in my Bangkok travel guide post so make sure to read that if you want more information on Bangkok!
Day 4-9: Chiang Mai and Chiang Rai
---
From Bangkok, the next step is to visit the north. Chiang Mai is one of the most well known destinations in Thailand. It's famous for its beautiful temples, laid back vibe, and delicious northern Thai food. It is completely different to Bangkok and the islands in the south. The weather, people, language, food, culture, and vibe are all different.
Chiang Mai is one of the most beloved cities in Thailand and I'd absolutely recommend not skipping over the north if you have the time. From Bangkok, I took a flight to the city of Chiang Mai in the north. Flights are readily available on numerous airlines and at bargain prices. I paid 700 THB for my flight (~$25).
Temples in Chiang Mai
Visiting the temples in and around Chiang Mai is the main sightseeing you'll be doing. There are countless temples in Chiang Mai that it is overwhelming to visit all of them. I visited at least a dozen temples and after awhile you'll surely get temple fatigue. I've listed the main temples that you must visit while in Chiang Mai below.
Wat Chedi Luang
With a history that is over 600 years old, Wat Chedi Luang is a must-visit if you ever plan a trip to Chiang Mai in Northern Thailand. It's probably the most famous structure in Chiang Mai and is located in the very center of the old city walls.
The name Wat Chedi Luang translates to the Royal Pagoda or the Great Stupa Temple in English. The chedi (pagoda) ruins and the daily monk talks are worth the visit alone. The pagoda is massive at nearly 90 meters high and 40 meters across. It was actually once much larger before being destroyed by an Earthquake centuries ago.
Wat Phra Singh Woramahawihan
Built in 1345, the Temple is located on Sam Lan Road. It houses the North s most revered Buddha statue, Phra Phuttha Sihing which is enshrined in Vihan Lai Kham, a Chapel that features exquisite woodcarvings and northern style murals.
Located on Sam Lan Road, Wat Phra Sing's Wihan Lai Kham is home to Phra Phutthasihing, Chiang Mai's most sacred, Chiang sean-style Buddha image. During the Songkran festival, every April 13-15, Phra Phutthasihing is carried in a parade procession around town so locals can bath the image with scented water, which brings good luck according to a traditional belief.
I found this temple to be incredibly photogenic and if you're going to take Instagram photos, this is definitely the place to do it!
Wat Doi Suthep
In addition to the Wat Chedi Luang, a visit to the mountain town temple of Wat Doi Suthep is an absolute must. Located up the mountains towards Chiang Mai's east, this temple is perched high up on the hill overlooking the city.
This temple is one of the most famous temples in Thailand and is easily one of its most popular. To reach Wat Doi Suthep, you'll need to either take a songthaew from the city, a scooter, or using the Grab taxi app. With a scooter, it's just under a half hour to reach the summit of this temple.
Once you reach the summit, you'll want to take the stair path up towards the peak. There are quite a few stairs here so if you are not able, don't worry, there is also a funicular that makes the journey up for 100 THB. 
Once you're up to the top, you'll see the incredibly immaculate and detailed temple. There is a huge buddha here as I'd come to expect from my Thailand temple adventures. It's not quite as big as the temples in Chiang Mai or the big ones in Bangkok but I really liked that it was perched up so high in the mountains.
Chiang Rai White Temple
Located just outside of Chiang Rai, you will find the most visually stunning masterpiece of a temple in all of Thailand, the white temple. Essentially, this temple is what happens when you have a really rich person who doesn't know what to do with his money. It is a privately owned and created temple by a prominent businessmen paying homage to his religion.
The white temple is incredibly immaculate with the most intricate detailing and views. The temple itself is not large like the temples in Bangkok but it just photographs incredibly well.
The White Temple in Chiang Rai (Wat Rong Khun) is open 7 days a week from 8 am to 6 pm and the entrance fee is free of charge. Make sure to cover up when visiting as well. Girls will be extra tempted to let their inner Instagram influencer out which is expected but they will surely ask you to cover up your shoulders and such.
Chiang Rai Blue Temple
Chiang Ria is full of incredibly beautiful temples and to continue in the theme of the white temple, the next one you'll want to visit is the blue temple. This is the newest temple in Chiang Rai and was definitely built with aesthetics in mind.
The entire temple is painted a immaculate shade of blue with beautiful gold embellishments. It photographs incredibly well and I'd recommend coming here in the morning hours to take the best photos before the crowds come.
Big Buddha Statue Wat Huay Pla Kang
Next up is the absolutely giant buddha statue of Wat Huay Pla Kang. This Giant white Buddha statue is 90 meters high with a viewing window on the 25th floor.
Let the pictures do the talking here!
From Chiang Mai, the next step is to fly to the islands in the Gulf of Thailand. From Chiang Mai, there are direct flights to Surat Thani, a city with easy ferry access to the Gulf of Thailand islands including Koh Samui, Koh Phangan, and Koh Tao.
Day 9-14: Koh Phangan Island
---
Koh Phangan is my favorite island in the Gulf of Thailand. It's famous for the full moon party which was one of the first things I learned about Thailand (sadly enough) but it offers so much more. The full moon party is only in the very south of the island and occurs once a month. The rest of the time, there are ton of amazing beaches, fantastic hiking, and delicious food to eat. Koh Phangan has also become a digital nomad hotspot in recent years attracting a lot of long term stay people.
Rent a scooter from one of the many places in town and cruise around the island in style. This is my preferred way to get around all of Thailand (except Bangkok) and I'd highly recommend it for Koh Phangan.
Full Moon Party of Koh Phangan
The Full moon party is famous around the world for being one of the craziest and epic parties in Thailand. This is literally the first thing I knew about Thailand just from word of mouth. It happens on the night of the full moon so almost every month. It is located on Haad Rin Beach which is actually quite beautiful. It is turned into a huge outdoor beach party on the eve of the full moon.
Bars are full of party goers of all ages (mostly younger let's be honest), sand buckets filled with liquor and mix, and Singha beers on free flow. The party goes to the early morning hours of the day and you can expect to see thousands of people on the beach.
I visited in December 2021 during COVID and this party is of course not happening until further notice!
Where to stay in Koh Phangan
I spent a week in Koh Phangan and traveled extensively around the island. There are many areas to stay in Koh Phangan and I will list those out here.
Haad Rin: This is the bottom tip of Koh Phangan. There are a few resorts here as well as many hostels and budget guesthouses. The full mon party happens on Haad Rin so expect the place to get packed during that period. Haad Rin is far from the rest of the island so I would recommend staying here if you are going to the full moon party, or want to stay somewhere away from everything (and don't plan to leave much).
Thong Sala: The main port town of Koh Phangan is Thong Sala. There are plenty of budget and mid level accommodations in the main town .The night market is in town which provides an array of delicious Thai food for cheap. Thong Sala is also well located in the middle of the west side of the island thereby making it easily accessible to the best beaches and restaurants.
Haad Salad Area: For the best beaches, I loved the area in the northwest of the island. Haad Salad was my favorite beach. This is also the area that many expats stay as there are plenty of charming cafes, restaurants, and long term accommodation here. There are also plenty of dive shops for those looking to visit famous dive sites like Sail Rock.
East side of Koh Phangan: The East side of Koh Phangan is home to very nice beaches with a much more remote vibe. Haad Sadet beach in the Namtok Than national park is incredibly stunning. The views from Plaa's restaurant was absolutely stunning.
Bottle Beach Viewpoint
For the best views of Koh Phangan with an added hike, visit the Bottle Beach Viewpoint in Koh Phangan's north. You can drive close to the entrance point with a scooter and then walk another 20 minutes through the bush to the viewpoint. From the viewpoint, you have a stunning view of Bottle Beach and the Gulf of Thailand!
Visit Koh Tao Island
If you have a few more days, I'd also recommend visiting the island of Koh Tao. It's world famous for its diving although the corals have seen better days with the onset of climate change. Prior to the COVID-19 Pandemic, Koh Tao was known as an absolute factory for open water courses. It was packed with dive schools and the dive and party lifestyle was the way here. It was so overpacked with diving that almost a third of all open water certifications in the world were done in Koh Tao. That is absolutely insane.
The island is much smaller than Koh Phangan and many people prefer this vibe. Koh Tao can be reached by ferry from Koh Phangan, Koh Samui, or Surat Thani. The quickest way to reach Koh Tao from Bangkok is to fly to Koh Samui and take the ferry to Koh Tao.
Thailand Two Week Itinerary: Bangkok, North Thailand, Andaman Sea
---
In this itinerary, I will help you plan a Thailand trip that visits the Andaman sea instead of the Gulf of Thailand as per the above itinerary. Essentially, the whole trip stays the same except for replacing Koh Phangan/Koh Tao with Krabi, Koh Phi Phi, Koh Lanta and the likes.
Day 1-4: Bangkok
Same as the original itinerary as from above.
Day 4-8: Bangkok to Krabi area
If you're visiting the Andaman sea for your Thailand beach getaway, then I would go straight to the Krabi area. There are very affordable flights from Bangkok and Chiang Mai to Krabi which is what I recommend. If you're on a strict budget, you can take a bus from Bangkok to Krabi but that takes the better part of the entire day.
**Skip Phuket
If you're pressed for time (anything under two weeks), I would just skip the island of Phuket. This is entirely based on my personal experience and opinion but I just did not enjoy Phuket. It is incredibly touristy with places like Patong bringing out the worse that Thailand has to offer. There are plenty of luxury resorts in Phuket which is great.
However, I just don't find it as beautiful as other areas in Thailand. Phuket gets all the recognition and fame but I don't understand why. The beaches aren't that impressive and many of the beaches are littered with trash. Again, I would skip Phuket entirely and focus your time on Krabi instead.
Ao Nang and Railay Beach Krabi in Krabi
You can stay in Krabi town, but better yet, stay in Ao Nang as this will put you right along (or very near) the beach. While increasingly busy and pricey, you may want to go to nearby Railay Beach as well. It's the famous Thai beach that has tall karst cliffs on either side. Speaking of cliffs: Krabi is famed for rock climbing, so if you've always wanted to take a rock climbing course, now is your chance.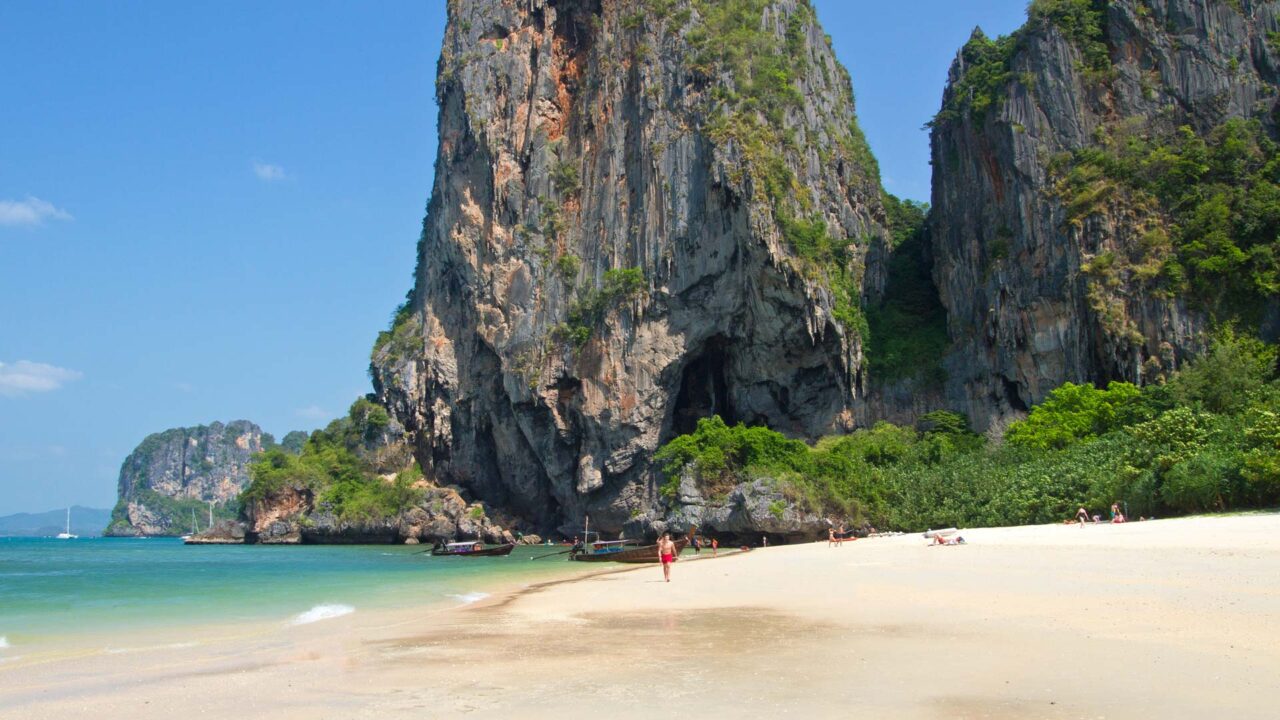 By the way, the local authorities have begun using a ticketing system to control visitor numbers to Railay, and longtail boats are also now only allowed to dock in one area (this is a good thing). Again, Krabi can get very crowded especially in high season, but a lot of people do love the scenery a lot. If you feel it's too busy around these parts, consider escaping to the islands like Koh Lanta, Koh Ngai, Koh Jum, etc.
Day 8-10: Krabi to Koh Phi Phi
Koh Phi Phi is one of the most beautiful islands in Thailand. It is famous for its incredible limestone cliffs shooting out of the ocean as well as the crystal clear blue waters. It is famous worldwide and many of the "famous" pictures of Thailand come from this island.
Koh Phi Phi in recent years has become one of the busiest and most expensive islands to stay in Thailand. It's experienced a pivot to the upscale and with such little real estate, you can expect prices to be inflated. It has also become very developed and almost too commercialized. I visited Koh Phi Phi in 2011 and it was already getting to be a bit too much. On my most recent trip in 2021, I did not visit Koh Phi Phi again but talked to many that have and they have all echoed the same sentiment.
**Visiting Koh Phi Phi Leh
While I think Koh Phi Phi is no longer the paradise it once was, I still think it is great to visit Koh Phi Phi on a day trip or for a short visit. From Krabi to Koh Phi Phi, you can take a ferry that reaches the island in 1 hour.
On Koh Phi Phi, there are two islands, the main Koh Phi Phi don where every stays, and the much more rustic but beautiful Koh Phi Phi Leh. Day trips from Phi Phi Don to Koh Phi Phi Leh are incredibly popular and this is a must do activity. However, I can only recommend this activity during the COVID era because it became way over commercialized.
There would be hundreds of boats visiting the famous Maya Bay on Koh Phi Phi Leh every day. It was simply unsustainable and totally not worth it. The Thai Government even closed it off to visitors for long periods of time.
Day 10-14: Koh Phi Phi to Koh Lanta
You could still make a quick stop there, but I recommend going to Koh Lanta instead for a more relaxed atmosphere. Koh Phi Phi has maybe gotten a bit too popular, while Koh Lanta has more space and more things to see around the island.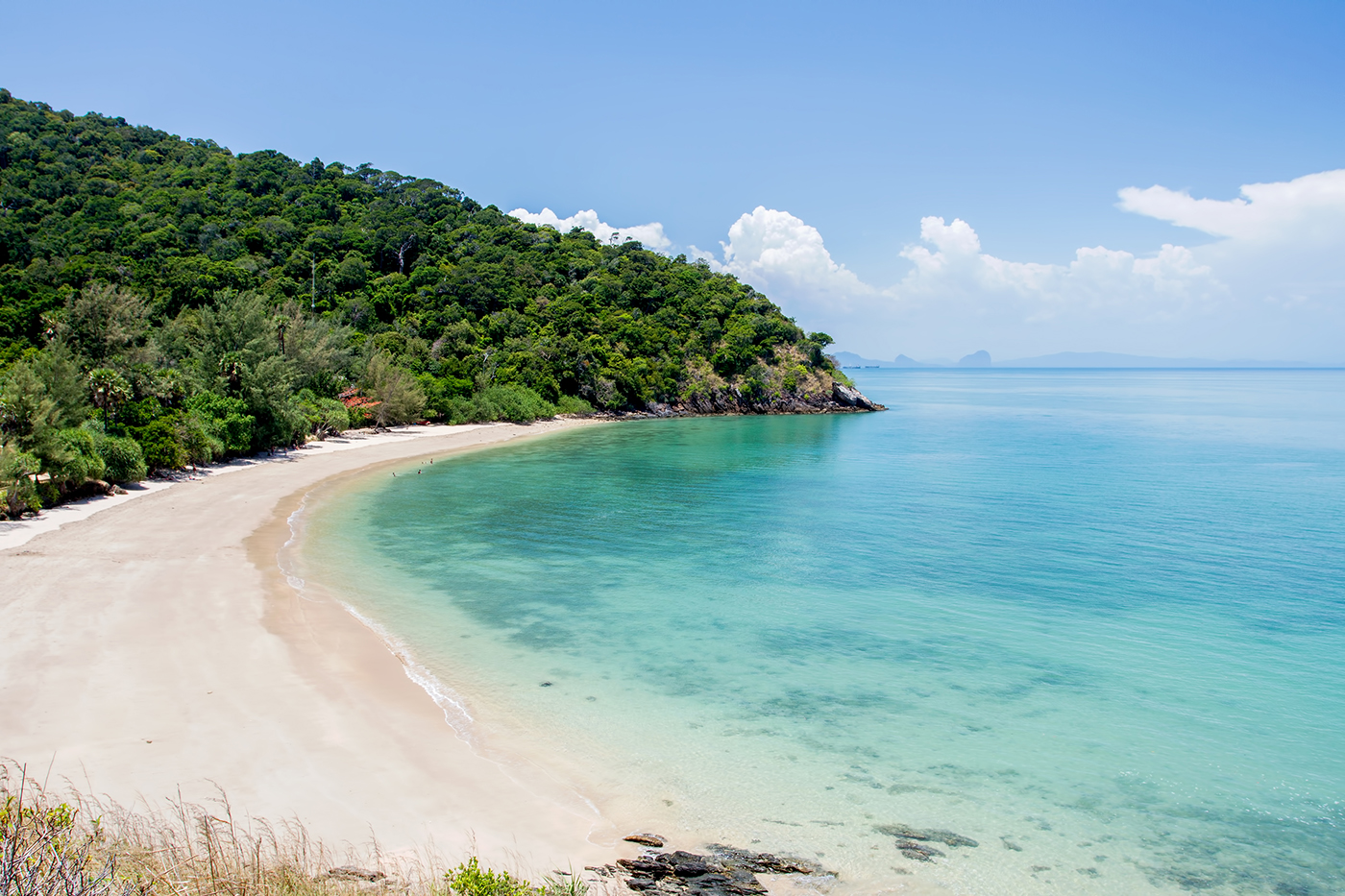 Bonus Island: Koh Lipe
Koh Lipe is one of the hidden gems of Thailand. Located at the southern tip near Malaysia, Koh Lipe is a tiny island paradise that tourists don't know as much about. Its crystal clear blue waters and white sand beaches are perfect for those looking to get away from the typical tourist spots like Phuket and Koh Samui.
Getting to Koh Lipe
Koh Lipe is a bit of a pain to get to as it is so remote. The easiest way to get here is to take a ferry from Phuket. The ferry from Rassada Pier Phuket to Koh Lipe takes 4h including transfers and departs twice daily. The cost is somewhere between 2,000 and 3,000 THB so it is not a cheap transfer to make.
There are also ferries from Koh Lanta to Koh Lipe which will shorten the journey. In addition, many people also come to Koh Lipe from the Malaysian island of Langkawi. This is your fastest route by far but in COVID times this was impossible.
Finally, you can take a flight from Bangkok to Hat Yai airport, and then book a bus/ferry transfer from the airport to Koh Lipe.
Visit the Similan Islands if you want to scuba dive
If you are a scuba diver and want to experience the best diving in Thailand, I would recommend visiting the Similan Islands just north of Phuket. These islands are famous for wonderful reefs, big schools of fish, manta rays and more. You can either experience the Similan islands with a liveaboard or with diving from the shore. Liveaboard of course is the recommended approach to diving in the Similan islands!
Thailand Three Week Itinerary: Bangkok, North, Andaman Sea
---
If you have three weeks or more, then you can really see a lot of what Thailand has to offer. I think with this much time, I would plan a trip that visits Bangkok, the north of Thailand, and more time dedicated to the beautiful islands in the Andaman sea.
Day 1-4: Bangkok
Nothing different here. I would follow the same itinerary as the above section for the Bangkok area. Three full days is enough to see the highlights of the city. If you don't like big city life, then even 1 full day is probably enough. I still think spending more time in Bangkok than not is totally worth it!
Day 4-8: Chiang Mai and Chiang Rai
Same itinerary as the two week itinerary section. The north is a special place and I would not recommend skipping it if you already have so much time.
Day 8-12: Chiang Mai to Krabi
From Chiang Mai, fly to Krabi directly and enjoy your time on the beautiful beaches. Ao Nang and Railay are some of my favorite places in Thailand.
Day 12-14: Koh Phi Phi
From Krabi, take a ferry to Koh Phi Phi to enjoy one of the most beautiful islands in Thailand. It has become extremely touristy in recent years but the natural beauty is unrivaled. Koh Phi Phi Leh especially is a must visit. I recommend getting a private boat to come to this island in the morning before the huge crowds come.
Alternatively, you can skip Koh Phi Phi altogether and spend more time in a place like Koh Lanta or Krabi!
Day 14-17: Koh Lanta
From Koh Phi Phi, go to Koh Lanta which is one of my favorite islands in Thailand. It's less discovered and more laid back than the typical Phuket or Koh Samui areas. The beaches in Koh Lanta are very beautiful as well.
Day 17-Day 21: Koh Lipe
Finally, from Koh Lanta, take a ferry to the smaller island of Koh Lipe. Koh Lipe is probably my favorite island in Thailand. Its small size and extremely beautiful beaches make it perfect for those looking to get away from it all and just relax. Koh Lipe is also less visited than other islands as well.
Thailand Four Week Itinerary: Bangkok, North, Andaman Sea, Gulf of Thailand
---
With four weeks, you can really see most of Thailand. Of course, there are so many little places that people don't know about but for the highlights of Thailand, four weeks is plenty. You could see the islands in the Andaman see as well as the islands in the Gulf of Thailand. This is how I would plan the trip. It would essentially be the same as the three week itinerary above but incorporating the islands in the Gulf of Thailand as well. Koh Phangan and Koh Tao would be my preferred islands to visit. Koh Samui is not worth it in my opinion.
Day 1-4: Bangkok
Same as the itinerary above
Day 4-8: Chiang Mai and Chiang Rai
Same as the the three week Thailand itinerary itinerary above.
Day 8-12: Chiang Mai to Krabi
Same as the the three week Thailand itinerary itinerary above.
Day 12-14: Koh Phi Phi
Same as the the three week Thailand itinerary itinerary above.
Day 14-17: Koh Lanta
Same as the the three week Thailand itinerary itinerary above.
Day 17-Day 21: Koh Lipe
Same as the the three week Thailand itinerary itinerary above.
Day 21 – Day 28: Koh Phangan/Koh Tao
From Koh Lipe, your best bet is to take a ferry to the mainland at the Pak Bara Pier. From the pier, take a bus to the Hat Yai airport which has direct buses to the town of Surat Thani. From Surat Thani, you can take a ferry to Koh Phantan, Koh Samui, or Koh Tao.
If this seems like too much, I can totally understand that and I might even recommend to skip Koh Lipe as the traveling over land might be a bit much.
Continue Reading: