Nusa Penida is a small island located off the southeast coast of Bali. It has become the must visit Bali getaway in recent years as tourism has really exploded. It's an island with unmatched natural beauty above and below land. Its beaches are world famous and the Instagram opportunities are seemingly endless. Below water, you'll find the best diving in and around the Bali area. Mantas, huge schools of fish, and stunning corals are the attraction here. During the right time of year, you'll also find the famous sun fish, or Mola Mola as its known locally.
I spent a week in Nusa Penida diving and exploring the natural wonders of the island. If you're visiting Bali, I would highly recommend a trip to Nusa Penida whether it is just a day trip from Bali, or to spend extended periods of time.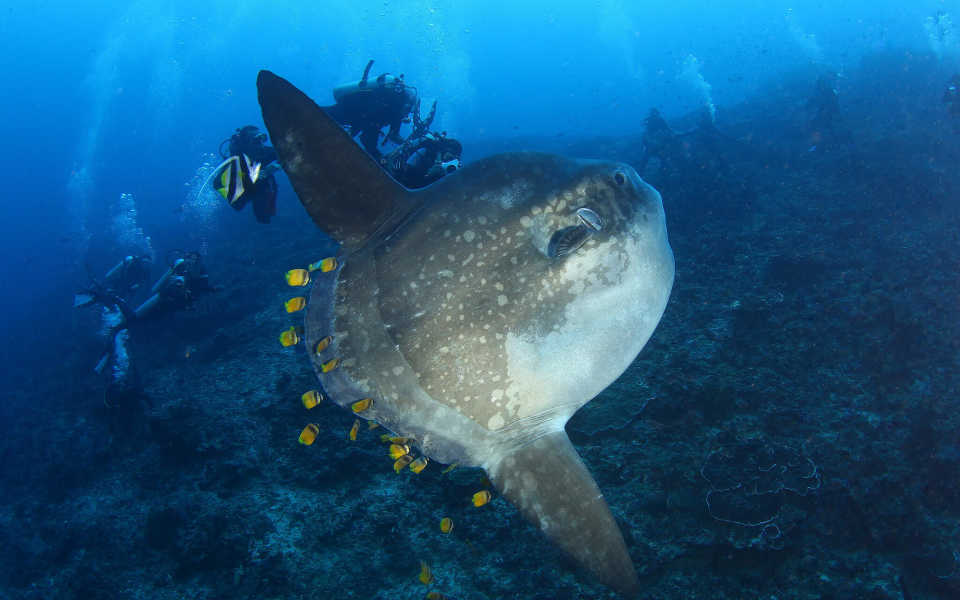 I also spent a day trip from Nusa Penida visiting the smaller Nusa islands of Nusa Lembongan and Nusa Ceningan. I'd highly recommend a visit to these islands if you have enough time on the island. More details on that later in the most!
How Long to spend in Nusa Penida
---
How long to spend on Nusa Penida is really dependent on what you're looking for!
If you are a diver, you'll want to spend at least 4-5 days here so you can experience the great diving the island has to offer, but also leave yourself without enough time to explore the island.
I came here for just under a week diving 4 full days and then exploring the island with another two days. It felt a little rushed at times because I was trying to see everything but it just depends on your travel style.
If you are not a diver and you just want to see the beauty of the islands and take some nice photos, then 2-3 days is enough. I would recommend staying one night on the west side of the island and one night on the east side of the island. You'll need to either rent a scooter or go on guided day trips.
Day trip to Nusa Lembongan and Nusa Ceningan
---
There are three islands in the "Nusa" island group of Bali. Nusa Penida is the largest by far, but to its west lie the islands of Nusa Lembongan and Nusa Ceningan. Both islands are also beautiful in their own right and warrant a visit if you have the time!
From Nusa Penida, there are daily ferries (20 minutes) from the island to Nusa Lembongan and vice versa. Nusa Lembongan and Nusa Ceningan are connected by a small bridge. The ferry tickets are 50k IDR one way and leave at all times of the day.
Nusa Lembongan and Nusa Ceningan are very small islands and you can drive from one island to the other in less than half hour making it a very feasible day trip.
I rented a scooter for the day as soon as I got off the ferry to explore the island. You can find scooter rental shops where the ferry drops you off in Nusa Lembongan right next to the bridge.
Blue Lagoon of Nusa Ceningan
WIthout a doubt, the Blue Lagoon of Nusa Ceningan is the must visit sight of these two islands. Located on the western tip of Nusa Ceningan, you'll find an incredible lagoon surrounded by jagged rocky cliffs and milky blue water. The waves crashing into the rocks are mesmerizing as they are beautiful.
There is also a cafe and restaurant here where you can enjoy your breakfast with some of the best views in Bali. There is also a hotel here that happen to have a large infinity pool and outdoor jacuzzi. As there were hardly any people here during COVID times, I helped myself to the jacuzzi while enjoying these incredible views.
Diving in Nusa Penida
---
Nusa Penida is famous for its diving. In my opinion, thi is the best diving you'll find in Bali. It's superior to diving found on the mainland at places like Amed. Nusa Penida offers an incredible amount of marine diversity and its claim to fame is the ultra rare but amazing Mola Mola.
Best time of year to see the Mola Mola
Many people visit Nusa Penida just to see the Mola Mola. Unfortunately, you'll have to visit during certain times of a year to get a glimpse at these giant and goofy looking fish. Mola Mola season is between June and September every year with some sightings in the shoulder months around the main season.
These months are the dry season in Bali and as such, the temperatures in the water are colder. Nusa Penida is at the crossroads of many different currents and during the dry season, you can expect the water temperatures to dip far below that of what you'd expect to find in a tropical destinations. You can find temperatures as low as 18 degrees sometimes during the dry season which is absolutely insane!
Diving with Scuba Junkie Penida
I've dived with Scuba Junkie in Sipadan, Malaysia and did my divemaster course with them in Komodo. I couldn't go to any other shop besides Scuba Junkie Penida of course and I don't regret it one bit!
Scuba Junkie Penida does a wonderful job of organizing the dives and making sure I saw the best that Penida has to offer. I did 8 dives total which allowed me to get a good understanding of the different offerings of the island.
Overall, the diving here is superb. The coral reefs are in beautiful condition and there is a huge abundance of fish that I wasn't expecting to see.
Manta Point dive site
Manta Point is one of Penida's most famous dive sites. It's a manta cleaning station located on the southeast side of the island. It takes a long time to get to from where the dive shops are located and you'll have to traverse through rough waters.
The dive site is totally worth it however as it is almost guaranteed manta rays during certain times of the year. I saw eleven manta rays when I dived here which was just amazing.
Where to stay in Nusa Penida
---
There are no shortage of places to stay in Nusa Penida. The island has only recently experienced its tourism boom starting from about 2015 and onwards. Guesthouses and hotels of all price ranges have popped up all over the island because of this.
Because of how remote Nusa Penida is, you won't find any of the large resorts that are so commonplace in Bali. However, there are plenty of amazing hotels, guesthouses, and Airbnbs all around the island.
If you're coming to Nusa Penida for scuba diving, then I would recommend staying in the main port town as that is where all of the dive shops are.
A few good options to look at are Blue Harbour Beachfront Villas as well as Semabu Hills Villa.
Tropical Glamping
Without a doubt, my night at the Tropical Glamping Airbnb was one of the highlights of my trip to Nusa Penida. This is one of the most unique properties I've ever stayed in and one of the most Instagrammable accommodations you'll find anywhere in the world. I stayed at the Camaya Bamboo Houses before visting Nusa Penida and this was easily on par with that experience in terms of natural beauty and photo opportunities.
Tropical Glamping is an absolutely amazing wooden bungalow located on the east coast of Nusa Penida near to the famous Diamond beach. This whitewashed bamboo bungalow literally sits at the edge of a cliff overlooking the towering cliffs of Nusa Penida. It's claim to fame is definitely the net bed that is suspended so perfectly over the cliff that it makes it seem like you're hovering in the air.
From the net bed, I could actually see Manta rays swimming in the ocean below which was an incredible experience to wake up to. Yes, I saw seven manta rays at once just cruising along the shallows!
The bungalow itself is decorated with luxury and beauty in mind. The finishes and overall construction were just amazing and so inviting. I only stayed here a night which is probably all you need as there isn't much going on in this part of Nusa Penida. Make sure to book well in advance during normal non COVID times.
What to do in Nusa Penida?
---
Nusa Penida is a fraction of the size of Bali but packs in a ton of beautiful sights to see. I spent most of my time diving around Nusa Penida that I actually didn't get enough time to fully explore the island as much as I'd like.
I did take one night to head out to the east side of the island and explore the various beautiful beaches and viewpoints of the island. If you're not coming for diving, I would recommend staying at least two to three nights to maximize your ability to see everything without rushing through it.
The island is smaller than Bali yes but it is still big enough where you'll need about two hours to drive around the entire island. The roads are small with plenty of turns but the conditions are plenty good enough.
Rent a scooter to explore Nusa Penida
In order to fully explore the island, you'll want to rent a scooter. There is no public transportation whatsoever. There is also no Gojek or Grab so you'll just be relying entirely on sparse taxis if you don't get a scooter.
Don't worry, it is incredibly easy to get a scooter in Nusa Penida. From the main ferry terminal station, there will be plenty of people waiting with scooters ready to rent you one. You can expect to pay between 50k to 100k a day depending on your bargaining skills, time of year, and the duration of your rental. I had a scooter rental for the duration of my stay on Nusa Penida which made exploring the island and visiting the best cafes/bars/restaurants much easier.
Diamond Beach and thousand island viewpoint
Without a doubt, the most famous attraction of Nusa Penida is Diamond Beach. Located on the southeast of the island, you'll need to drive about 40 minutes from the port town to reach this beautiful beach.
Diamond Beach is absolutely stunning. The white sand beach is surrounded by towering limestone cliffs. There are also small rock cliffs all around the beach adding to its stunning beauty.
There are stairs built into the cliffside allowing you to walk down to the beach. These stairs are also where you can take some of the most stunning photos in Bali. You'll also find a Bali swing as you descend the stairs where you can take beautiful photos as you look out into the ocean.
Once you get down to the beach, you'll be greeted with crystal clear blue waters and incredible beaches. The waves can be strong at times so make sure to watch yourself.
This beach can get very busy during normal times with international and domestic tourists alike. The best time to visit this beach is in the late morning before the huge swaths of day trippers make their way over.
Nusa Penida Instagram Tree House
Located a few minutes from the Diamond beach is perhaps the most photogenic spot in all of Nusa Penida and perhaps even all of Bali.
The Rumah Pohon treehouse is one of the most well known sights in all of Nusa Penida and it was seeing the photos and videos of this tree house that really blew my mind originally when planning my trip to Nusa Penida. I really needed to see what all the fuss was about with this house!
This treehouse is located on the cliffs with one of the most perfect views of the ocean. The Rumah Pohon treehouse is located in the same area as the "thousand island viewpoint" which is just one of the many stunning viewpoints in Nusa Penida. I actually found the views of Diamond beach to be more stunning but you're coming here for the treehouse so that's what you need to focus on.
To get here, you'll need to park at the thousand island viewpoint entrance. You'll pay the 10k IDR to enter the area and walk down about 200 stairs to where you'll finally be greeted with this tree house.
While this picture might look like you're in the middle of nowhere at the most picturesque treehouse of all time, that is sadly not the case. What you don't see from these incredible photos are the people behind it collecting money in order to sit on its steps to take your photo. Yes, you'll need to pay 50k IDR in order to take these photos! This is quite a lot but it doesn't matter because people line up to get their photos taken.
As I visited during COVID, there was no one else here but the two guys told me that in normal times, people would line up for hours in the unforgiving heat to get their photos taken. There would be hundreds of people here waiting to get their photos taken!
The best time of day to visit the Rumah Pohon treehouse is definitely in the morning. The sunrise here is absolutely beautiful and you'll want the rays of the sun to really light up your photo in the morning. They open at 6am and I would highly recommend coming here before 7am to get the best photos!
Kelingking Beach
Kelingking beach is yet another incredible viewpoint that is not to be missed. This actually might be my favorite view of the island and it's not hard to see why this is the ultimate Instagram island.
You'll see absolutely incredible views here of the rocky cliffs extending out into the sea surrounded by beautiful beaches and incredible water color. This place really reminded me a lot of the Ionian islands in Greece but maybe just a little more stunning!
From the top of the viewpoint, you are hundreds of meters above sea level. There are very narrow and steep stairs that lead you down to a beach that is as secluded as it is beautiful. You can also take so many beautiful photos here.
Other attractions to see in Nusa Penida
Other must visit attractions if you have time are the following:
Angel Bilibong
Peguyangan waterfall
Where to eat and drink in Nusa Penida
---
Amok Sunset Bar
The most famous sunset bar in Nusa Penida is the Amok Sunset Bar. This restaurant/bar is located up on the cliffs with unobstructed westward facing views of the ocean. The bar also has a large plunge pool as well as these incredibly photogenic treehouses where you can have drinks with a few of your mates.

I came here on numerous occasions because it is definitely one of the best places to see the sunset. Other areas of Nusa Penida have their sunsets blocked by Nusa Ceningan so you need travel further south along the coast of Nusa Penida to really see a good sunset.
The road leading up to Amok Sunset bar is treacherous and you should absolutely not do this with a scooter. Thankfully, they have free shuttle services that will pick you up from the main road to the bar.
Greenbuku Sunset Bar
Greenbuku is another well known sunset bar not far from the Amok. The views here are great but not as good as the Amok in my opinion since Nusa Ceningan blocks a bit of the final sunset moments. However, this place is really big with a pool overlooking the sea. They also have live music here next to their two temple pillars akin to those found at the Lempuyang temple in Bali.
Coco Penida
There are plenty of beautiful cafes and bars in Nusa Penida. My favorite hangout spot was Coco Penida which offered great food and drinks. They have a very chilled lounge area with a beautiful swing that you can sit and take beautiful pictures of the sea.
Nusa Penida Day Trip From Bali
---
Nusa Penida is has quickly become one of the most popular destinations to go on a day trip from Bali. There are countless tour companies that are now advertising for this trip that will follow a set schedule.
The ferries to and from Nusa Penida are scheduled in a way that perfectly allows you to go to the island for a day and come back to Bali by night.
If you are looking to visit Nusa Penida for the day, you can either book an organized tour which you can literally find anywhere. Otherwise, you can totally just do this trip on your own. The only requirement to do this is that you are comfortable driving a scooter. Without a scooter, there just is no way to get to the main sights without a tour.
I would schedule a day trip to Nusa Penida like this:
7:00am – Leave your villa for Sanur ferry station
8:00am – Ferry to Nusa Penida, takes 30-45 minutes
9:00am – Rent a scooter from the pier
10:00am – Drive to the east side of the island and stop first at diamond beach
11:00am – Visit the Instagram treehouse and the thousand island viewpoint. The views won't be as nice here since it's best seen in the early morning
12:00-13:00 – Lunch break
15:00 – Kelingking Beach for photos
17:00 – Ferry back to Bali
How to get to Nusa Penida from Bali
---
Nusa Penida is located just off the southeast corner of Bali. Nusa Penida is a part of Bali speaking the same Balinese language as people on the mainland.
From Bali, it is very easy to reach Nusa Penida. There are ferries that leave from Bali to Nusa Penida multiple times a day. All ferries from Bali to Nusa Penida leave from the Port of Sanur. The duration of the ferry is between 45 minutes to 1 hour depending on the speed and size of the boat.
Bali to Nusa Penida Ferry schedule
There are multiple ferry companies that run this route. The times are constantly changing so there are not many totally reliable time schedules online. When you arrive at Sanur port, you'll see a bunch of different booths selling ferry tickets. Just ask around to get the ferry leaving the soonest.
When I went to Nusa Penida in Jan 2022, the ferries left multiple times a day in the morning and afternoons. I took the afternoon ferry around 14:00. I know for sure there are ferry departures in the mornings around 7am and 8am. These are perfect for day trippers to Nusa Penida (more info on this later).
You'll also find multiple departures coming back to Bali from Nusa Penida. You can search for ferry tickets to Nusa Penida from Bali here.
Cost of the Nusa Penida ferry ticket
The ferry tickets vary depending on the company you choose. I paid 240k IDR for round trip ferry tickets which was cheaper than buying two one way tickets.
The return ticket was flexible as I didn't know how long I wanted to spend on the island.
I would recommend reserving tickets beforehand during high season months. As I was traveling around COVID, there was no problem getting tickets upon arrival.
Continue Reading: