Bali, the island of the Gods, is one of my favorite places in the world for so many different reasons. The perfect combination of incredible scenery, vibrant culture, beautiful rice terraces, and delicious cuisine makes it hold a special place in my heart. I've visited Bali three times now and have even lived in Bali for a few months during COVID times (read about why I love living in Bali). Bali has quickly become one of the top digital nomad hotspots with areas like Canggu and Berawa offering the perfect blend of island beauty and working environment.
Bali is in my opinion the ultimate Instagram island. I don't just say that because of its natural beauty, but because of how beautiful the Balinese people have made some places. If you want to take nice pictures of nature or of yourself, Bali is the one stop shop for you. Just look at this photo in Nusa Penida for example!
Bali is an enormous island to the point that I wouldn't even consider it an island anymore. There is an insane amount of things to do and see that I can't begin to summarize everything in one post. Whether you're visiting Bali for a honeymoon, a standard two week vacation, or planning to stay for longer, this post will help you plan your perfect trip.
How long to spend in Bali?
There is no perfect amount of time to spend in Bali because I literally have lived here for a half year. Bali kind of sucks you in with its low cost of living, high quality of services and goods, natural beauty, and just the perfect scene.
If you're planning to stay for a long time and work as a digital nomad, this post will be great for inspiration but you probably don't need to meticulously plan a trip.
However, if you're planning a vacation to the island of the Gods, then you should plan to stay at least one week. Two weeks would of course be the optimal amount of time to spend in Bali and with three weeks, you can really relax and see more of the nearby islands. I know most people take one to three week vacations around the world so I will help you plan accordingly with this itinerary!
Bali is a huge island first and foremost. It is almost 6,000 square km being 160km wide and 120km long. It is double the size of Luxembourg and larger than the US state of Delaware. Not only is it large, but there are so many different highlights and amazing things to see in this island that you can't hope to see it all with such short time. There are some things more worth seeing than others in my opinion and hopefully this guide will help you choose those things.
Best Time of year to visit Bali
---
Bali is located just south of the equator and enjoys warm tropical weather year round. There are only two seasons: Dry season between April and November, and rainy season between December and March.
The rainy seasons in Bali are not as bad or as extreme as other parts of Indonesia. I think the island being sandwiched between Java and Lombok provide some sort of shelter from the storms. Bali is also not as humid as other tropical destinations I've been which makes it much more enjoyable. Rainy season normally means isolated storms throughout the day with hot temperatures. It rarely just rains for days on end but it can happen.
I've visited during rainy and dry seasons and there are advantages to both. Dry season sees much less rain, beautiful sunsets but with bigger crowds. June to September, and December for the holidays are very busy months for the island. During the rainy season months of January to March, the crowds are less meaning you can enjoy some of Bali's most popular sights with more peace.
Where I went in Bali
---
I lived in Bali for a few months so I was able to explore most of the touristy areas of the island as well as nearby islands. If you only have a few weeks to visit Bali, I'd recommend focusing on a few different areas that I will go over later in this post.
I think if I were to plan a 2-3 week itinerary, it would look something like the following:
How to get around in Bali?
Bali is an island for scooters. There is no public transportation to speak of and everyone uses scooters. Renting a car in Bali is of course possible but a traffic nightmare especially during touristy times.
The roads in Bali are very small and is certainly not big enough for how busy Bali has become. You'll want the ability to park and maneuver freely around traffic which only comes with having a scooter. If you have never driven a scooter before, I'd recommend practicing beforehand as it can get a bit stressful.
If you are not keen to rent a scooter, then you can simply use Gojek which is the Uber of Indonesia to get from place to place. The prices are very cheap. For example, a Gojek from the airport to Canggu is about 100k IDR ($7.5).
Alternatively, if you want to spend a little more, then you should definitely consider a private driver in Bali for the day. A private driver will be able to take you to all the sights you want and stay in the car while you go explore. When you return, you know you'll be comfortable in an AC'd car while it drives you to the next place!
Is it safe to drive a scooter in Bali?
As I've mentioned before, Bali runs on scooters. Everyone uses them, locals and foreigners alike. It's by far the best way to get around the island. Bali traffic is known to be horrendous which I can attest to. People can be slightly aggressive while driving so you really need to be comfortable with your own skills.
Driving a scooter itself is not difficult in my opinion but you must be okay dealing with the traffic and the driving style of Bali. I don't think it is overly crazy but it just depends on yourself. I actually drove a scooter for the first time in Bali. I didn't find it to be too overwhelming and survived to tell the tale.
Day 1-4: Canggu
---
Upon landing in Bali, the first stop to visit is Canggu. Canggu is the bustling expat and digital nomad area that is vibrant and full of life. This isn't the place for your typical Bali experience aka rice fields and beaches. However, Canggu is the perfect place to situate yourself for a few days while getting used to the Bali vibe.
Canggu is the ultimate place for restaurants, cafes, and beach bars. Canggu has an insane amount of amazing cafes serving delicious coffees and brunch style foods with an unmatched ambiance. If you are into taking photos of restaurants and your food, there is no place that will match the opportunities you get in Canggu.
In fact, I would say that Canggu has more beautiful and Instagram ready cafes per square kilometer than anywhere else in the world. Popular places like Suka, Milk and Madu, Crate, Copenhagen, Nook, Avocado Factory and literally countless more will keep you occupied for months. Canggu's cafes are also entirely remote work / digital nomad friendly which I write about in my best cafes to work from in Canggu post.
You might read this and scoff a bit. I did the same thing. But after spending a few months hanging out in Canggu, I didn't want to leave. For the quality and for the price of what you get, you can't find this in many other parts of the world.
Canggu is home to some of the best restaurants in Bali so make sure to read through my list to plan your trip!
Have a drink on Echo Beach
Echo Beach is where all the people hang out for a drink while watching the sunset. This long strip of black sand beach is filled with chilled beach bars and restaurants alike where you can enjoy the sunset.
If you want something with a bit more atmosphere, visit the famous La Brisa beach club for the full experience. Otherwise, simply walk next door to La Brisa and grab a bean bag at any of the surfer bars where beers are a casual 30k IDR and coconuts are 20k IDR.
Take a half day trip to Tanah Lot
If you're staying in the Canggu/Pererenan area, a visit to the famous Tanah Lot temple is a must. The Tanah Lot is one of the most visited temples in Bali. It's located right on the water situated perfectly up rocky steps overlooking the ocean. Tanah Lot means land on the sea which perfectly sums up this temple.
It's not as impressive as other temples in Bali like the Lempuyang temple in the far east but it is easily accessible and its location on the water is unique.
 Tanah Lot is a 20 minute scooter ride from Canggu and is open 7 days a week. I recommend coming here for the sunset as the views of the sun setting over the temple from one of the many littel restaurants is amazing.
Day 4-8: Ubud and the rice terraces
---
After you've had your cafe and beach life in Canggu, it's time to make a move to Ubud. Ubud is world famous for its incredible rice fields, yoga retreats, and spiritual environment. Although it's long been popular, it was probably made even more popular by the movie Eat, Pray Love. Ubud is one of the highlights for most travelers to Ubud and it's not something you should miss.
Tegalalang Rice Fields
You've surely seen plenty of photos throughout the years with Bali's famous rice terraces. There are so many in Bali but the most popular and most easily accessible is Tegalalang rice terrace outside of Ubud.
You can reach these iconic multi level rice terraces by Gojek or scooter from Ubud. There are many restaurants and cafes overlooking the terraces as it has become quite commercialized in recent years. It is free to walk inside the rice terraces and take photos to your desire. There are also a bunch of Bali swings famous for their photogenic qualities.
These rice terraces are not just for show however. They are actually there to produce rice and you'll find many farmers working the fields. Don't be disrespectful and get in their way just to take a bunch of photos.
Depending on the time of year you visit, the rice terraces will be more green. At the beginning of the season, you'll mostly just find soil and water in the terraces which don't photograph as well.
Jatiluwih Rice Fields
If you think Tegalalang rice fields are nice, you've seen nothing yet. If you want the most beautiful rice fields in all of Bali, you'll need to go to Jatiluwih. The rice fields here are expansive and vast, with sweeping views throughout the valley. Mount Batur and Agung can also be seen from the rice fields.
It's realy not a close comparison between the rice fields around Ubud and Jatiluwih; Jatiluwih is just vastly more beautiful. From Ubud, you'll need to take a scooter roughly 1 hour which is about the same time as it takes from Canggu. You can do this as a day trip from Canggu or from Ubud, it is up to you!
Just look at the beautiful photos!
Karsa Spa for the ultimate massage
Bali and Thailand alike is famous for its spas and massages. I actually prefer the traditional Balinese massage to the Thai style messages. There is no better place in Bali to get a quintessential massage than at Karsa Spa.
Located just north of Ubud, this spa is located on the rice fields and has some of the most beautiful grounds for a spa I've seen. As soon as you enter, you feel relaxed and at ease with the surroundings. The massage rooms are all outdoor with very inviting baths, showers, and massage beds. The massages themselves are among the best I've had in Bali.
Before COVID, I tried coming here and was told there was a 1 month waiting list for a massage. Yes, one month for a massage! Absolutely crazy but that's how popular the place was.
During COVID, business here plummeted so I was able to make a reservation on the same day.
Sarawasti Temple in Ubud
Saraswati temple Kingdom of Ubud is dedicated to honor the Hindu Goddess Saraswati, the goddess of learning, literature and art. This temple is very beautiful and artistic, so many tourists who come to see its charm, but for purposes of worship. Pura Taman Saraswati has a water garden and lotus pond at the center of its attraction as a tourist attraction.
This temple is decorated with so many fine carvings and inside there Padmasana shrine located in the northeast, but it also contained bale barong, giant masks, statues of Goddess Saraswati and the statue of the devil Jero Gede Mecaling as high as 3 meters in front of the temple.
Campuhan Ridge Walk
The Campuhan Ridge Walk is arguably the best known Ubud trek and with good reason. The sparse crowds and the aesthetically rich vistas remind one of why people from around the world come to Bali. The trail starts at the historical origin of Ubud, the confluence (or Campuhan) of the Wos Rivers.
All in all, the hike can be done in a few hours and offers you splendid views of the rice terraces
Ubud Monkey Forest
One of the most popular and well known activities in Bali is the Ubud Monkey Forest. The Monkey Forest is a natural sanctuary for the Balinese long tailed macaque. Despite the many tourists, visiting the Monkey Forest Ubud is a truly wonderful experience. There are over 600 macaques living in the forest, mostly frolicking in groups, lounging, or annoying (or stubbornly ignoring) tourists.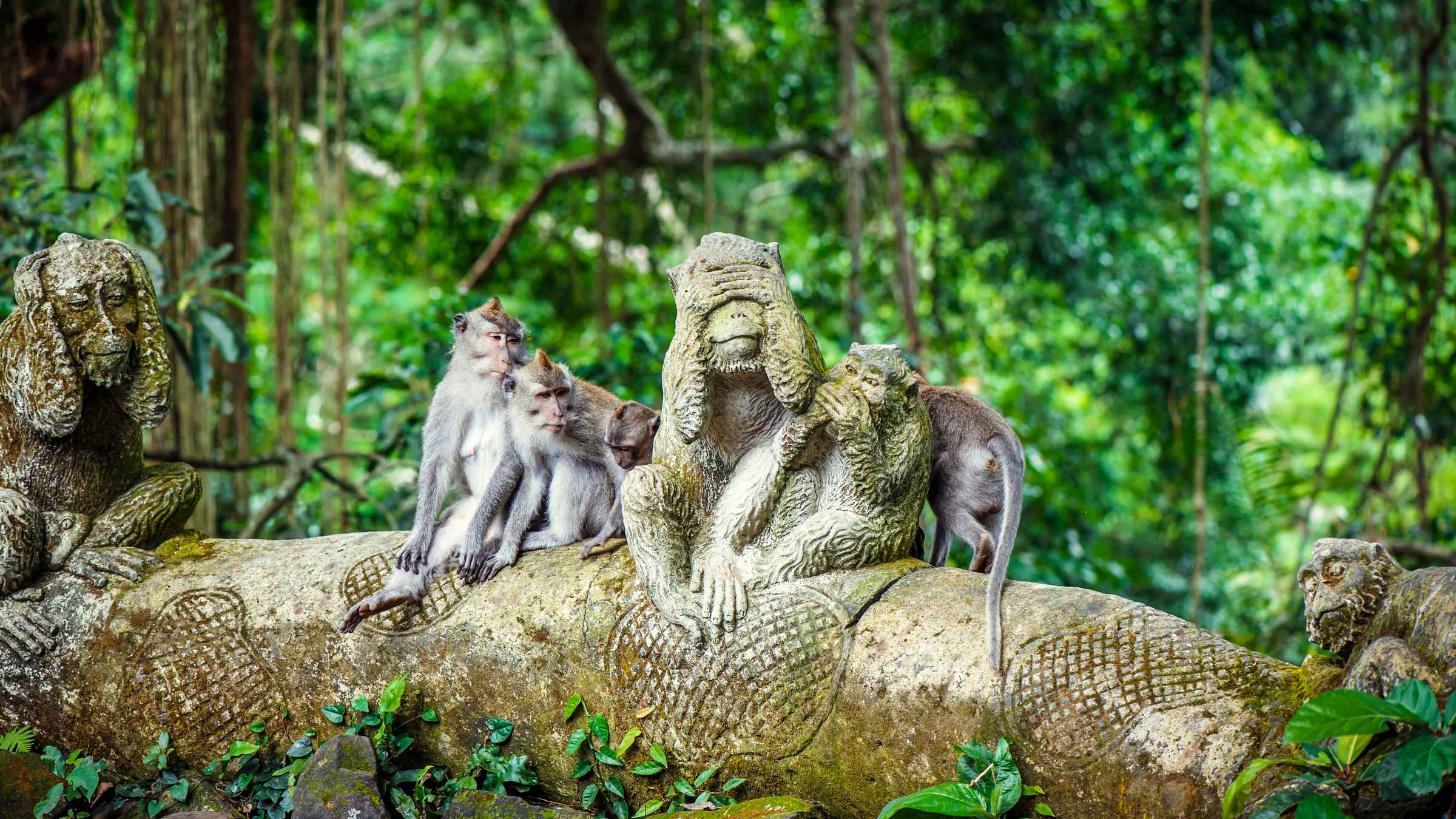 The monkeys in the forest are used to visitors and are not afraid of contact . Which basically means they want to steal something from you. All kinds of bottles, food, hats and sunglasses are very popular, as well as the expensive camera.
Caution is therefore required, because if the monkeys smell prey, they can become rabid . It has also happened that a tourist has been bitten in a duel for the camera.
Before you enter the park, simply hand in any superfluous things at the entrance, make sure to stow your sunglasses, hat and anything else that is dangling on the outside of the backpack inside the backpack. You should be aware that the monkeys aren't toys.
I avoided visiting the monkey forest during COVID times because the lack of tourists has resulted in lack of food (sad) for the monkeys. I've heard they've become more aggressive and with so few tourists, it was just asking for trouble.
Day Trip to the Lempuyang Temple
---
One of the most popular things to do in Bali is a day trip to the ultra famous Lempuyang Temple.
This temple is located on the far east side of Bali and is a 1h drive from Ubud. You've probably seen many photos of this temple. You can organize this trip with a group tour, or you can simply drive here with a scooter.
The pictures look absolutely insane and a bit unreal. This perfect reflection (is it really water) between these towering pillars with Mount Agung in the background looks like something straight out of Photoshop.
Entrance fee for Lempuyang Temple
To enter Lempuyang temple, you'll have to pay for a bus transportation at the entrance of the temple. This bus travels 2km up a very steep hill to the famous gates. You cannot do this drive on your own and you must pay for the bus. In pre-covid times, big busses would funnel hundreds of tourists to the attraction. The cost was 50k IDR per person for this bus ride.
Once you arrive at the gates, you'll need to pay another 100k IDR to enter the temple and take the famous photos!
Taking your famous Lempoyang Temple Photo
Once you enter the temple, you'll see that there is of course no perfectly flooded reflection pool next to the gates. It's just a bunch of people lined up waiting to get their photos taken. There is a photographer in the middle that is taking all of the photos with everyone's smartphones.
He takes a piece of glass and very strategically holds it above your phone's camera lens which creates the illusion that there is a perfect reflection. It's absolutely genius because the photos do turn out ridiculously cool. Whomever thought to do this is a total genius. On par with the treehouse builder in Nusa Penida if I am to compare it.
In normal pre-COVID times, you can expect to wait 2-3 hours for your photo to be taken.
Tirta Gangga Temple
Shortly before the Lempoyang Temple is the famous Tirta Gangga Temple. It was a former palace used by royals in the past. Nowadays, it is famous for its ultra picturesque pond with a seemingly endless amount of koi fish to boot.
There are small platforms where you can walk out into the pond. The fish here are used to people feeding them so they will know to follow you in return for food. Makes for really nice photos.
Day 8-10: Sideman & Selat Area
---
Ubud is the most popular nature area of Bali. It's famous for its ricefields, yoga studios, and tranquility but unfortunately it is also a huge tourist attraction.
If you truly want to get away from it all and be one with nature, then I'd recommend traveling further east from Ubud into the SIdeman area. A few days here and you'll totally forget that Bali is busy and crowded. Most of the island is quite remote and the natural beauty of the island can't e denied.
Staying at the Camaya Bamboo House
I spent two nights in the Sideman area staying at the ultra famous Camaya Bamboo House. These houses are famous and have been on numerous travel magazines as some of the most beautiful Airbnbs in the world.
They also made the netbeds famous all over Bali and the photos you can take from this beautiful property are amazing.
Montana Cafe For a view of Mount Batur
On the way to Sideman from Ubud, you'll pass through the north of Bali which affords you absolutely amazing views of Mount Batur. The best place to view this mountain is from Montana Cafe. They serve amazing breakfasts and coffee with a dead on view of the mountain.
They even have a net bed where you can surely take some very Instagrammable photos overlooking Mount Batur.
Day 10-13: Uluwatu
---
Uluwatu is located in the southern tip of Bali and is one of the most beautiful parts of the island. It offers a totally different vibe compared to areas like Canggu/Seminyak and a completely different vibe to the jungles around Ubud.
Uluwatu is known for its beautiful long sandy beaches, cliffs, surfing, and upscale resorts. Uluwatu is definitely the spot to be if you're looking for the big resorts and upscale hotels.
Visiting the Edge Day Spa
Uluwatu Temple
Pura Luhur Uluwatu is considered one of the six most important and most beautiful temples in Bali. Built in the 11th century, the temple is dedicated to the sea goddess Dewi and is said to protect the southern peninsula of Bali from demons. Like Tanah Lot , it is one of the seven sea temples that line the southwest coast of Bali.
To say it straight away: I wasn't blown away by the temple. However, the location on the gigantic cliffs overlooking the sea is fantastic. So fantastic that wedding couples like to be photographed here in front of the sunset. The bad thing is that you can't even visit the actual temple. So it's more the environment that makes the attraction.
Sunset dinner at Jimbaran beach
Jimbaran Beach is famous for its plethora of outdoor seafood restaurants on the beach. They cook seafood in open air grill areas where you can choose your seafood before it is cooked. Before COVID, Jimbaran beach was always packed with locals and tourists alike.
The food is actually quite good depending on which restaurant you visit. I went to The Cuisine Cafe which was delicious.
Day 13-16: Nusa Penida
---
Bali actually is host to a few smaller islands nearby. To Bali's southeast are the Nusa islands comprising Nusa Penida, Nusa Lembongan, and Nusa Ceningan. I'll summarize the itinerary here but make sure to read my full post on the Nusa islands if you are planning to come here.
For the next part of the itinerary, it is time to take a ferry over to the absolutely breathtaking island of Nusa Penida. I call Nusa Penida the ultimate Instagram island because you'll find beautiful viewpoints everywhere you go.
Nusa Penida is also famous for its scuba diving which attracts Mola Mola and manta rays at different parts of the year. It's not as good as the diving in Komodo National Park in my opinion but it is certainly one of the better places to dive in the world.
Bali to Nusa Penida Ferry schedule
There are multiple ferry companies that run this route. The times are constantly changing so there are not many totally reliable time schedules online. When you arrive at Sanur port, you'll see a bunch of different booths selling ferry tickets. Just ask around to get the ferry leaving the soonest.
When I went to Nusa Penida in Jan 2022, the ferries left multiple times a day in the morning and afternoons. I took the afternoon ferry around 14:00. I know for sure there are ferry departures in the mornings around 7am and 8am. These are perfect for day trippers to Nusa Penida (more info on this later).
You'll also find multiple departures coming back to Bali from Nusa Penida.
Cost of the Nusa Penida ferry ticket
The ferry tickets vary depending on the company you choose. I paid 240k IDR for round trip ferry tickets which was cheaper than buying two one way tickets.
The return ticket was flexible as I didn't know how long I wanted to spend on the island.
I would recommend reserving tickets beforehand during high season months. As I was traveling around COVID, there was no problem getting tickets upon arrival.
Diamond Beach and thousand island viewpoint
Without a doubt, the most famous attraction of Nusa Penida is Diamond Beach. Located on the southeast of the island, you'll need to drive about 40 minutes from the port town to reach this beautiful beach.
Diamond Beach is absolutely stunning. The white sand beach is surrounded by towering limestone cliffs. There are also small rock cliffs all around the beach adding to its stunning beauty.
There are stairs built into the cliffside allowing you to walk down to the beach. These stairs are also where you can take some of the most stunning photos in Bali. You'll also find a Bali swing as you descend the stairs where you can take beautiful photos as you look out into the ocean.
Once you get down to the beach, you'll be greeted with crystal clear blue waters and incredible beaches. The waves can be strong at times so make sure to watch yourself.
This beach can get very busy during normal times with international and domestic tourists alike. The best time to visit this beach is in the late morning before the huge swaths of day trippers make their way over.
Nusa Penida Instagram Tree House
Located a few minutes from the Diamond beach is perhaps the most photogenic spot in all of Nusa Penida and perhaps even all of Bali.
The Rumah Pohon treehouse is one of the most well known sights in all of Nusa Penida and it was seeing the photos and videos of this tree house that really blew my mind originally when planning my trip to Nusa Penida. I really needed to see what all the fuss was about with this house!
This treehouse is located on the cliffs with one of the most perfect views of the ocean. The Rumah Pohon treehouse is located in the same area as the "thousand island viewpoint" which is just one of the many stunning viewpoints in Nusa Penida. I actually found the views of Diamond beach to be more stunning but you're coming here for the treehouse so that's what you need to focus on.
To get here, you'll need to park at the thousand island viewpoint entrance. You'll pay the 10k IDR to enter the area and walk down about 200 stairs to where you'll finally be greeted with this tree house.
While this picture might look like you're in the middle of nowhere at the most picturesque treehouse of all time, that is sadly not the case. What you don't see from these incredible photos are the people behind it collecting money in order to sit on its steps to take your photo. Yes, you'll need to pay 50k IDR in order to take these photos! This is quite a lot but it doesn't matter because people line up to get their photos taken.
As I visited during COVID, there was no one else here but the two guys told me that in normal times, people would line up for hours in the unforgiving heat to get their photos taken. There would be hundreds of people here waiting to get their photos taken!
The best time of day to visit the Rumah Pohon treehouse is definitely in the morning. The sunrise here is absolutely beautiful and you'll want the rays of the sun to really light up your photo in the morning. They open at 6am and I would highly recommend coming here before 7am to get the best photos!
Kelingking Beach
Kelingking beach is yet another incredible viewpoint that is not to be missed. This actually might be my favorite view of the island and it's not hard to see why this is the ultimate Instagram island.
You'll see absolutely incredible views here of the rocky cliffs extending out into the sea surrounded by beautiful beaches and incredible water color. This place really reminded me a lot of the Ionian islands in Greece but maybe just a little more stunning!
From the top of the viewpoint, you are hundreds of meters above sea level. There are very narrow and steep stairs that lead you down to a beach that is as secluded as it is beautiful.
Visit the Gili Islands
---
The Gili islands are a collection of three small islands in the Lombok province just east of Bali. These three islands: Gili Trawangan (Gili T), Gili Meno, and Gili Air are a very popular group of islands that are perfect for getting away from the huge island of Bali.
I felt that Bali at times was just too big and getting from one area to another took forever. I suppose I had prepared myself for an "island" getaway but in reality, it's anything but that. The Gili islands are just what you're looking for in this case.
The three Gili islands are tiny. So tiny that scooters are forbidden on the islands and the only way to get around are by bicycle or horse carriages. Yes, I'm not joking.
The Gili islands are totally different from Bali! In normal times, Gili T is known as the party island with plenty of backpackers, scuba divers, and everything in between. There is a huge selection of bars and clubs on the island that will keep the party going until the early hours.
Gili Meno has become the couples honeymooner island with a more laid back pace of life with the famous underwater statues. Finally, Gili Air is something in between the two islands.
All of the islands have beautiful beaches and is more reminiscent of a traditional beach vacation. Normally, I would never go to Gili T as I'm too old to be partying with college kids until the early morning. However, I did come to Gili T during the COVID pandemic and it was completely dead which made it much more relaxing than in normal times. It was a bit too dead though to the point that there was literally nothing going on. A zombie village almost.
How to get from Bali to Gili Islands
In normal times, there are regular ferries running from Bali to Gili at numerous times of the day. There are departures from Sanur and Pedang Bai with the ferries taking about 2 hours one way.
You can buy your tickets at just about any tourism agent stores or websties. Most tickets will include the cost of the ferry ticket as well as a shuttle transfer to the ferry station. You can expect to pay about 750k IDR per person round trip which includes the ferry ticket and the shuttle transfer.
Bonus: Extend your trip to Komodo National Park
---
If you have even more time to dedicate to Indonesia and are a big fan of scuba diving, then you must visit Komodo National Park. Komodo is world famous for its scuba diving and it is in my opinion one of the best in the world. The amount of marine life, beautiful corals, and manta rays will really blow you away.
In addition, Komodo is as beautiful underwater as it is above water. The mountain and desert landscape juxtaposed with the turquoise water is something special indeed.
I spent a lot of time in Komodo doing my divemaster certification so make sure to read my Komodo Scuba Diving guide if you're keen.
Bonus 2: Extend your trip to Raja Ampat National Park
---
Komodo and Raja Ampat are easily up there as two of the best places to dive in the world. You won't find much better than this in the world. If you've only dived in the Caribbean or Hawaii for example, it literally does not compare whatsoever to diving in Indonesia. Rajat Ampat is one of the most beautiful places in the world and if you get a chance, a visit will surely be worthwhile.
The best way to see Raja Ampat is by a liveaboard that sails through the archipelago visiting numerous dive sites and above ground activities. You actually don't even need to dive to go on these liveaboards but rather just opt to snorkel and participate in hikes instead.
Otherwise, you could easily book a few nights at one of the numerous homestays or eco lodges in the area. From these lodging options, you can book a day trip to the numerous beautiful sights the park has to offer.
Bali two week Itinerary Day by Day Summary
---
Here I will summarize my Bali itinerary on a day by day basis. Again, this itinerary is just one of countless options you have at structuring your tirp.
Day 1: Arrive in Bali, transfer to Canggu
Day 2: Full day Canggu
Day 3: Full day Canggu
Day 4: Canggu to Ubud
Day 5: Stay in Ubud, visit the rice terraces, swing, and town of Ubud
Day 6: Stay in Ubud, visit the rice terraces, swing, and town of Ubud
Day 7: Ubud to Lempoyang Temple Day Trip
Day 8: Sideman
Day 9: Sideman
Day 10: Uluwatu/Nusa Dua
Day 11: Uluwatu/Nusa Dua
Day 12: Uluwatu/Nusa Dua
Day 13: Nusa Penida
Day 14: Nusa Penida
Day 15: Nusa Penida
Day 16: Back to Bali and fly home
Bali 10 day Itinerary
---
If you're visiting for a week and a half, this is still a decent amount of time to see the main highlights of Bali. I would structure my trip a bit differently. Remember, driving a scooter will make everything move much quicker and you'll see much more!
Day 1: Arrive in Bali, transfer to Canggu
Day 2: Full day Canggu
Day 3: Full day Canggu
Day 4: Canggu to Ubud
Day 5: Stay in Ubud, visit the rice terraces, swing, and town of Ubud
Day 6: Stay in Ubud, visit the rice terraces, swing, and town of Ubud
Day 7: Ubud to Lempoyang Temple Day Trip
Day 8: Sideman
Day 9: Sideman
Day 10: Uluwatu/Nusa Dua
Bali Resort and Instagram Itinerary
---
If you're visiting Bali but want more of a traditional resort vacation type of experience, then I would recommend skipping places like Canggu. While Canggu is my favorite to stay for an extended period of time, it doesn't offer the typical vacation vibes that you can get from staying in south.
The most beautiful and luxurious hotels in Bali are in Uluwatu and Nusa Dua. You'll find large resorts like the Istana, The Edge, Bvlgari, Six Senses etc.
Day 1: Arrive in Bali, transfer to Uluwatu
Day 2: Uluwatu Resort
Day 3: Uluwatu Resort
Day 4: Uluwatu Resort
Day 5: Transfer to Ubud
Day 6: Full day in Ubud
Day 7: Full day in Ubud
Day 8: Day trip to Lempoyang Temple
Day 9: Day trip to Nusa Penida
Day 10: Transfer home
Continue Reading: