The Caucasus is a wonderful and relatively less discovered region of the world to travel. I spent over a month traveling the beautiful countries of Georgia, Armenia, and Azerbaijan which was just an amazing experience. From stunning mountains, to beautiful monasteries, delicious cuisine, and warm people, this area has everything to offer interested travelers.
The Caucasus is not a big region. The countries of Georgia, Armenia, and Azerbaijan combined are still smaller than the country of Turkey next door. This region also has one of the most fascinating and complex histories of any region in Eurasia. It was the gateway between east and west during ancient silk road times. In more modern history, these three countries were sandwiched between three historically powerful empires: Ottomans, Russians, and Persians.
If you're planning a trip to these countries, or just one of these countries, this guide is definitely for you. I will go into detail how I planned my trip, what you need to know about the region, and how to plan your own Caucasus adventure!
A list of all my Caucasus Posts:
Yerevan, Armenia Travel Guide
Where I went in the Caucasus
---
I spent almost four weeks in Georgia, Azerbaijan, and Armenia. I spent plenty of time in Tbilisi doing the digital nomad thing but I absolutely loved the rest of the country. I spent just under two weeks traveling through the country which I think was enough. I did my trip via rental car which is definitely the fastest way to see the country (and my preferred). The countryside of Georgia is absolutely stunning and worth a road trip.
These are some of the highlights of my trip to Georgia:
Tbilisi
Mksheta
Kutaisi
Katskhi Pillar
Promethius Caves
Vardzia Caves
Svaneti Region (Mestia and Ushguli)
Batumi
Kakheti Wine region
Kazbegi Mountain Range (Gergeti Church, Stepantsminda town) via Georgian Military Road
Yerevan
Khor Virab, Noravank, Zvartos Cathedrals
Gobustan National Park
If these places sound like places you want to visit, then this is the itinerary for you! There are not many small cute towns to speak of in Georgia, Armenia, or Azerbaijan.. It's not like other European countries where small villages tend to be surprising highlights. Aside from the main capital cities, you aren't really going on this trip to visit cute villages.
What to know about the Caucasus
---
The Caucasus are a collection of small countries but they pack in so much. There is an incredible amount of diversity in the landscapes as well as the culture.
Food in Delicious
My oh my, the food in the area is fantastic. This is one of the main reasons I travel and you won't go hungry in this part of the world.
Khinkali is the national dish of Georgia and it is essentially a soup dumpling. How soup dumplings made it to just this country in this part of the world is one of the fascinating things about history and culture. My theory is that it was brought over from China by the Mongol empire which controlled these lands centuries ago.
Khatchapuri is another very popular dish in Georgia that you must try. Being the gateway between east and west meant you had all the influences of Middle Eastern civilizations which means you can expect delicious grilled meats. Soups, stews, and various other dishes mean you will not go hungry at any point in time.
In Armenia and Azerbaijan, it's all about the grilled meats and kebabs. Lamb is the meat of choice in these countries and eating it with lavash and fresh herbs is one of my favorite things to do. The food is quite similar in the two countries with influences from Turkey, Iran, and Central Asia.
You need a E-Visa to enter Azerbaijan
For some reason, I just had blindly assumed I didn't need a visa to enter any of the three countries. It wasn't until just a few days before I was scheduled to enter Azerbaijan that I realized I needed a visa to enter! Yes you need to apply for an e-visa before arrival on their website. 
The process is quite easy but every Western country needs to apply and pay for this visa before arrival! The price is $20 but you'll need to apply about 1 week in advance to get this price. If you're like me who waited until the last minute, you'll need to pay an additional $30 for a total of $50!
Traveling between Armenia and Azerbaijan
---
This section can probably take up its own post but I will just sum it up in this section. Armenia and Azerbaijan have no relations with each other. They've been in constant conflict over a disputed autonomous territory called Nagorno-Karabakh and just had an actual war in 2020. The war has since subsided but relations remain completely frozen. Unfortunately, this will probably be the case for the near and long term future. I write this post in 2022 but I guarantee in 2032, it will still be the same.
Travel through Georgia
So how do you travel Armenia and Azerbaijan? The only way to travel between these two countries is through Georgia. Georgia is "friendly" with both countries and remains the only viable way to travel between these countries. Therefore, it does make more sense to start in Armenia or Azerbaijan and working your way through the Caucasus (Armenia to Georgia to Azerbaijan).
However, I started my trip in Georgia because that's where they had cheap flights (into Tbilisi). After traveling through Georgia, I took an overnight train to Yerevan (more on that later). I then took a flight back to Tbilisi, spent the night in Tbilisi, and took a flight to Baku the following morning. There is also an overnight train from Tbilisi to Baku but the land borders were closed when I was there due to COVID.
Are passport stamps an issue?
Another commonly asked question is whether having a passport stamp of one of these two countries affects entry into the other. The simple answer is no. Having an Armenian stamp in your passport will not affect your ability to visit Azerbaijan and vice versa. This is like visiting Lebanon where if you have an Israeli stamp, you are banned no questions asked.
I have two passports and ended up using one passport to enter Armenia and the other to enter Azerbaijan which 100% reduced any suspicions. However, I met other travelers that only had one passport and they were able to enter both countries without issue. You might get more questions asked by immigration authorities but it is not against the rules in any way.
The one exception is if you've been to the disputed territory of Nagorno-Karabakh. If you've somehow been able to enter this territory, you cannot visit Azerbaijan ever. You're forever banned.
Planning a Caucasus Road Trip
---
Now that you know Georgia is a small country with incredible diversity of sights and sounds, it's time to decide how you want to plan your trip. First thing is first, how much time do you have to allocate to this wonderful country?
If the answer is one to two weeks, then you'll need to plan your attack accordingly.
Georgia is the bulk of this trip
The Caucasus is three countries I know but not all are created equally as far as sights go. I think most travelers would agree with me that Georgia is the country that offers the most as far as beautiful sights go. There is just a much wider array of landscapes, cities, and sights to see in Georgia. That's why I spent most of my time in Georgia.
For this itinerary, I spent almost two weeks in Georgia (actually about 3.5 weeks since I stayed awhile in Tbilisi enjoying the digital nomad scene), and about 8 days between Armenia and Azerbaijan. I probably missed a lot of things in Armenia and Azerbaijan but unless you have over a month, you'll have to make compromises anyhow!
Buy a mobile sim card
If you're planning to spend some time in Georgia and/or doing a longer trip, I would highly recommend buying a sim card. I spent almost a month in Georgia and I experimented with all of the mobile providers in Georgia.
Magti and Beeline are the only ones you should bother considering. Magti is the best service and it is incredibly cheap. Seriously for 1 week, I paid 5 GEL for unlimited data. That is not even $1.50 for a weeks worth of unlimited data. If you're traveling for two weeks, you're paying 10 GEL!
This will be incredibly hand for you especially when traveling to lesser developed parts in the mountains. The service in the country is generally quite good and the speeds are very fast.
I wrote about Georgian mobile sim providers in detail here.
Rent a car or travel by public transport?
The Caucasus is not a big area so it's very easy and totally doable to do this trip entirely by public transportation. However, you'll probably need more than three weeks to do everything on this list.
For my itinerary, I rented a car in Georgia and it is definitely the best way to explore the more remote parts of the country.
The cost of renting a car in Georgia is about $25-$30 a day with all insurance included. If you are a solo traveler or don't want to spend this much, don't worry, the country is well connected by buses as well as Marshrutka, group van transfers used by locals. I only took a Marshrutka one time which was for a day trip between Tbilisi and Mtshketa on my day trip.
I highly recommend parent.ge for your car rental. I had a great experience with them and they even delivered the car to my Airbnb the morning I wanted to leave.
In Armenia and Azerbaijan, I mostly stayed around Yerevan and Baku and just organized day trips to the surrounding sights.
How are the roads in Georgia?
The roads in Georgia are generally quite good. The main highways used to connect Tbilisi, Kutaisi, and Batumi on the Black Sea are good roads but nothing to write home about. Certainly nothing like the ultra modern roads I saw while traveling Kosovo. As you venture into more remote places like the Svaneti mountain region, the roads become smaller and generally less developed.
However, I've driven on much worse roads like those in Albania heading to North Macedonia. I think overall, the roads in Georgia are in good condition and perfect for a road trip.
Note that if you travel in the winter, snow can sometimes block entrance into the mountain towns like Mestia or Ushguli.
How much do things cost in Caucasus?
Georgia is one of the cheapest countries you'll visit. It's a western country with first world amenities at a fraction of the price. You can get high quality meals and wine here for a very fair price.
Khinkali are the national dish and one large khinkali dumpling is 1 GEL (~$0.30). My dinners always amounted to something between $10-15 which included wine, a large meal and maybe even a started. Accommodations are also quite affordable. Airbnbs and boutique hotels in Tbilisi can be easily had for under $50 a night, with prices even lower the further you're out in the countryside.
Armenia is just as cheap as Georgia with prices for food, taxis, and accommodations very comparable. Azerbaijan is yet also very similar to the other two countries. Baku, however, looks more like Dubai than Tbilisi or Yerevan which makes it really flabbergasting how it can be so cheap. But it is!
Full Caucasus Travel Itinerary
---
The trip starts off in Tbilisi, the wonderful capital city of Georgia. Tbilisi has loads to offer from beautiful historical sights, bathhouses, museums, top quality restaurants and bars, and much more. It's definitely a city you can spend an extended amount of time in.
From Tbilisi, I drive to Kutaisi which has various sights around the town (the town itself is nothing exceptional). From Kutaisi, I drove north to the Svaneti region which is famous for its incredible mountain landscapes. Mestia and Ushguli are the main towns you'll want to visit here.
From the Svaneti region, I drove towards the coastal capital of Batumi. The contrast between Svaneti and Batumi is absolutely one of the wildest things I've ever seen in a day. Batumi is not for everyone but having visited in November during the off season, I actually liked my stay.
From Batumi, the next stop is to drive back east towards to the wine country of Kakheti. Georgian wines are famous worldwide and this is actually the birthplace of wine making. From the wine country, drive north to the Kazbegi mountain region which is another famous mountain region of Georgia. Kazbegi honestly reminds me more of Death Valley than any other mountain range.
From Kazbegi, drive back towards Tbilisi to end the Georgia portion of the trip. From Tbilisi, I took the overnight train to Yerevan, Armenia. You can also take a bus which is actually faster but I wanted the overnight train experience! Yerevan, Armenia's vibrant capital is a fantastic city with so much to do. I actually liked it slightly better for a short stay vs Tbilisi. From Yerevan, I made day trips to the most famous sights nearby like Noravank, Khor Virab, and others. You don't need to rent a car here.
From Yerevan, I took a flight back to Tbilisi but only because at the time of visiting, crossing the land border back to Georgia required a PCR test while arriving by airport did not. So it was relatively the same price but much faster by taking air. I spent a night in Tbilisi before flying to Baku the following day.
Baku, Azerbaijan's capital is a city of complete contrast. Old, new, and very new are on full display in the city and it feels like you're on a different planet compared with Georgia and Armenia. This is what happens when you discover mass oil wealth in such short time! From Baku, I took day trips to the famous Gobustan National Park famous for its petroglyphs and the mud volcanoes. All in all, I only spent 4 days in Azerbaijan.
Day 1-3: Tbilisi City
---
Tbilisi, Georgia's vibrant capital city is where the trip starts. It's easy to write off Tbilisi in favor of visiting Georgia's wild country landscape but that is a mistake. There is so much to see and do in Tbilisi that you could easily spend way more than 3 days. I spent over a week in the capital city to do the digital nomad thing as it has quickly become the digital nomad hotspot in Europe.
It is also the culinary capital of Georgia. Whether you're looking to try the best khinkali in Georgia, or eat delicious grilled meats, there is something for everyone in Tbilisi.
There's a lot to see in Tbilisi. The capital city has seen numerous empires move through over the centuries leaving its mark. Tbilisi is not a "beautiful" city by European standards. You won't see huge museums or cathedrals but I find it breathtaking for its views and history. I will touch on the highlights of Tbilisi, but make sure to read my detailed Tbilisi guide to understand everything the city has to offer including the best places to eat and drink!
Free Walking Tour
As with any city, I always love to do the free walking tour when I get in just so I'm familiar with what's around me. The free walking tour in Tbilisi meets in the Freedom Square every day at noon.
The tour walks primarily around the old town with the guide giving you insider details on things you would never know about otherwise. The tour gave me a good base and understanding of the history of Tbilisi. Personally I found it very fascinating that the Georgian language is completely unrelated to any other family of languages and spoken by no one else. The alphabet looks like a cave painting and is also not utilized anywhere else in the world, not even Armenia to the south. This reminds me of my trip to the Baltic states where it was a similar situation with Lithuanian and Latvian.
We visited a variety of different sights around the old town ending in the sulfur baths area. I highly recommend this tour when you arrive.
Sulfur Baths
Sulfur baths are one of the must visit highlights of Tbilis. The legend tells that the baths are connected with the foundation of Tbilisi. According to the myth, in the second half of 5th century the king of Georgia found the thermal springs. He was impressed with the sulphur hot springs and ordered to build the baths and a city around them. The city was named Tbilisi that means "warm".
The water in the baths comes from mineral sulphur springs which are hot, from 37 to 50 degrees. All the baths are situated below the ground level. The architecture of the houses is traditional Persian, each bathhouse has its own style and features.
I went to the Chreli Abano sulfur baths (there are numerous houses/companies) which is famous for its beautiful blue marble facade. I spent one hour in a room with a hot and cold bath. The smell of the sulfur is initially quite pungent but you get used to it quickly. The water is very refreshing and you can even feel how soft your skin is after a session.
I think one hour is plenty of time to experience it but two hours is better if you want to really relax and get into it. The cost for the specific room I booked was 150 GEL per hour. The smaller rooms are cheaper starting at 70 GEL. The rooms are entirely private and you can order drinks or tea to your room from the front desk.
Holy Trinity Church
Without a doubt, a visit to the Holy Trinity church of Tbilisi is a must. This Orthodox church is the biggest in Georgia and definitely one of the largest Orthodox churches I've ever seen. This church is actually one of the newest churches built of such statue.
The church started construction after the fall of the Soviet Union as a way for Georgia to commemorate their Christian traditions. It was only completed in 2004 and is now visible from almost everywhere in the city. The church is almost 100 meters high and upon first glance, it towers in comparison to the other many churches in the city.
Entrance inside is free and while enormous, it is not that impressive compared to say the church in Mtskheta. The detailing inside is not as pronounced which makes sense given that it is a new church. Nevertheless, it is a must visit attraction!
This is just a fraction of the things to see in Tbilisi. Make sure to read my Tbilisi city guide for the whole coverage!
Day 4-5: Kutaisi
---
From Tbilisi, the first stop on this trip is to towards Kutaisi, the second largest city in Georgia. This road is on the main highway of Georgia and the drive is 3 hours or so.
There are a few stops to make along the way before getting to Kutaisi which is perfect if you start this drive in the morning.
Gori Town, birthplace of Stalin
Since I already visited Mtksheta as a day trip from Tbilisi, the first stop is to the town of Gori, about 1.5h from Tbilisi. Gori is the birthplace of Joseph Stalin, the famous Communist dictator of the USSR. Yes that one! I never knew the guy was Georgian until this moment!
There isn't much to do in Gori as it's just a small local town. It's not so pretty so you don't need much time here. The only thing you do need to do here is to visit the Joseph Stalin museum.
This museum is essentially a shrine to the late ruler of the USSR. It talks about his early history in Georgia where he attended school in Tbilisi before venturing further into Russia.
Katskhi Pillar
I would recommend having lunch in Gori before venturing further. The next stop is the famous Katskhi pillar. This natural limestone column stands tall and alone overlooking the valley of Katskhura. The pillar was only first climed and surveyed by researchers in 1944 and then studied more closely only in the last few decades. The studies conculded that there was an early medieval hermitage dating from the 9th or 10th century BC.
This 40 meter column has a monastery on top that was only built in 2009. While it is active, it's nowhere near as historic as the limestone columns of Meteora in Northern Greece. The Katskhi pillar reminds me a lot of the incredibly dramatic landscape of Meteora. However, you cannot visit the top of this pillar unlike the monasteries all throughout Meteora.
Kutaisi
Kutaisi, the capital of Imereti, is Georgia's second largest city after Tbilisi. Elegant, tree lined streets with 19th century houses stretching down to the banks of the Rioni River, along with several attractive parks, make Kutaisi a very beautiful place to stroll around and take in the many sights.
Kutaisi is nothing like Tbilisi however. While you get a big city vibe in the capital, Kutaisi is significantly smaller with much fewer things to see. The old town of Kutaisi can be seen in about 15 minutes and there isn't much to see here. There are sights to see around the old town like the Bagrati Cathedral but I don't think you need to spend much time here.
I spent two nights in Kutaisi because I wanted to visit the Vardzhia caves the next day. Otherwise, I think one night in Kutaisi is probably enough to see the entire city.
Make sure to visit Palaty restaurant for dinner as this is one of my favorite restaurants in Georgia!
Vardzia Caves
The Vardzia cave complex in south western Georgia is the largest and most impressive of the ancient cave towns in Georgia. Construction first began in the 12th century and continued to expand under Queen Tamar into one of the largest cave cities in the region. At its peak it was home to up to 50, 000 people within its 6000 rooms and for many years it was safe from impending Mongol attacks.
The caves are open every day from 10am to 7pm and costs 7 Lari for the entrance.
It takes roughly 4 hours driving from Kutaisi to reach the caves in the very south of the country. The roads are okay but very windy so you don't cover much distance with your speeds. You only really need about 1-2 hours to see the caves themselves so you can feasibly complete the day trip without much trouble.
Leave around 8am, arrive at noon to the caves. Have lunch in the nearby cafes and then visit the caves for 1-2 hours. Drive back around 14:00 and then be back in Kutaisi for dinner.
For the most part, you are free to roam through the tunnels and in the caves. The Church is one of the places you'll come across at the beginning and then you can make your way through the place at your leisure. At the other side of the complex, you'll find a tunnel that leads to the bottom and loops back to the entrance and ticket office.
Day 6-8: Svaneti Mountain Range
---
From Kutaisi, your next destination is the famous Svaneti mountains. This was probably my favorite part of the entire trip. The Svan region of Georgia is famous for its natural beauty. The mountains, lush landscapes, and towns transport you back in time.
The drive is roughly 5 hours from Kutaisi to the town of Mestia which I chose as my base for exploring the nearby sights.
Prometheus Caves
Along the way to Mestia you'll find the famous Prometheus Caves. These natural limestone caves were discovered in the 1980s and turned into a tourist attraction only recently. The caves are 11km long and 40 meters below sea level. 1.6km of caves are open to tourists.
They are quite impressive with some very unique formations. However, having just been to the Jaita Grotto in Lebanon a few months earlier, it was not as impressive. Nevertheless, the guided tour (done in English and Russian at the same time) was 25 Lari and worth a short stop to break up the drive to Mestia.
Svan Towers
The Svan towers are the symbol of the Svaneti region. These large rectangular brick structures can be seen everywhere in the region. These iconic stone structures were used in medieval times as defense structures against enemy invaders. Each family had at least one of these in their land as fighting and feuds between the tribes were incredibly common. They were also used sentry posts and fires would be lit to inform of impeding dangers.
These towers all look relatively the same. They are about 25m high and 5x5m around. Most of the surviving Svan towers are located around Mestia and Ushguli. They are no longer used for any purpose (even storage) but are kept to honor the history of the people. The youngest tower is over 200 years which makes the fact that they stand so proud after so long an impressive feat!
Drive slowly in the winter months!!!
The roads leading up to the Svan region are windy and ice down very easily during the colder months. Ice forms quite easily and there are not many ice crews working these roads to speak of.
Do not be like me who was driving too fast along a curve and ended up completely crashing my car into the side. I was unharmed but it was quite the scary experience.
Thankfully, the experience with the police and rental car was quite good and I was on my way towards my next destination within a few hours. Everyone that passed also stopped and helped me out even though no one spoke any English. It was quite endearing to see!
Mestia
Mestia is the main town in the Svaneti region. Don't expect a big place however. The main road is only 1-2km. Alternatively, don't expect much in terms of a picturesque cute mountain village. The buildings are mostly built for functional puroses and nothing is too old.
Nevertheless, the town has a handful of restaurants and bars that will keep you entertained as you use it as a base to explore the Svan region. For restaurants, I recommend going to Cafe Laila and Sunseti restaurant and bar. These restaurants serve traditional Georgian dishes as well as typical Svan dishes.
For Svan dishes, make sure to try the kubdari which is a pie stuffed with meat, onions, and spices. It's quite tasty and immensely filling. One kubdari is probably enough for two people and you won't have much appetite for anything else. Nevertheless, it is the national dish of the Svans so a must try.
Drive to Ushguli for the day
Ushguli is without a doubt the crown jewel of the Svaneti region. The famous pictures of the mountain town with the rolling hills and rocky mountain peaks in the distance is from Ushguli.
Most people come here as a day trip from Mestia. You can either join a day tour from Mestia, or catch a Mashruka from the town. The ride is about 2 hours one way through less than desirable roads.
If you're driving a car, I would definitely recommend taking a 4×4, especially if you're not traveling in the warm summer months. The roads are very bad especially the last 10km of the journey. In fact, there really is no paved road to speak of in the last 10km. Just take a look at these photos of the place!
Once you do get to the town however, you knew it was worth it. The views are nothing short of breathtaking. You feel like you're on the edge of the world. The town of Ushguli feels like you've stepped back in time. There are no roads here like there are in Mestia and it makes you wonder how people survive here (especially in winter).
There is a lot of hiking to be done here including the hike to the famous Shkara Glacier. However, if you've seen any other glaciers in the world like in Patagonia, Iceland, or Canada, then this is not really worth it. There may have been a legit glacier here many years ago, but climate change has definitely changed it completely.
Make sure to have lunch at Cafe Koshki with their perfect views of the town and mountains. For even better views, go up to Queen Tamar Castle which has the most iconic views of the valley.
Day 8-9: Batumi and the Black Sea
---
The following day is a long drive from the Svaneti region to the Black Sea coast of Georgia. This drive is long and takes about 5h or so. You're essentially backtracking your way through Zugdidi (which is a good lunch stop) before heading on to Batumi.
The contrasts in Georgia are never more stark
Before I talk about Batumi, I need to just say how incredible and how stark the contrasts are on this day. Driving from Mestia to Batumi literally feels like you traversed countries, time, and planet in the same day. Literally having just been through the Svaneti region where people still live the old ways and paved roads are not a concept in many villages, Batumi couldn't be any more different.
Batumi is widely viewed as the Las Vegas of the Caucusas. As soon as you drive toward Batumi, you'll see the incredible huge skyscrapers, the giant ferris wheel, and the unusual but futuristic looking buildings that dot the skyline. Batumi is ultra developed and you feel like you've stepped forward in time a century. If you arrive at night, you'll notice even more of a contrast given how bright and lit up the city is.
Batumi is the main coastal city of Georgia
Batumi is not everyone's cup of tea and that's understandable. This place attracts huge crowds from around the Caucusus, Russia, and other former Soviet states. In the summer time, it gets very packed and everyone who wants to be seen does it up here. I'm talking old rich Russian dudes with the gold chain and the hot, young, model girlfriend. Then you have all the Instagram partygoers trying to influence their way to the top.
I visited Batumi in November where the temperatures were still warm, but nowhere near the summer vibes that it normally is known for. This also meant the crowds were a fraction of the summer which I liked. To be honest, I actually liked staying in Batumi for a few days. Having an sea escape is refreshing, even though I don't find the Black Sea particularly beautiful. Knowing that the Bulgarian coast (which I spent a lot of time traveling) is on the other side is also quite cool.
To be honest, I just liked walking around the town soaking in the crazy contrast between these ultra futuristic and modern buildings, as well as old Gothic style architecture.
What to see in Batumi
There isn't much to "See" in Batumi. To be honest, the city is quite new and was a big project that started during Soviet times to make this the Vegas of the Black Sea. While Batumi has a storied history that dates back centuries, most of the buildings in the city are built in the last few decades. Even the old and beautiful "European style" buildings are built new.
However, there are a few things to do in this city:
Visit the Batumi Tower: This tower is probably the most recognizable tower in the city. It's the highest building and has a golden ferris wheel sticking out the side of it near the top of the building. Not a joke. It doesn't run as far as I know.
Georgian Alphabet Building: This building is near to the Batumi Tower and is a giant skeletal style building with the Georgian alphabet written in huge letters encircling it.
Cha cha tower: Nearby as well is the chacha tower located in its own park. Chacha for those that don't know is the local brandy spirit of Georgia, similar to that of Rakja in the Balkans. This building's purpose was originally to provide for one hour every week a chacha water fountain serving chacha to everyone. No joke. Sadly, this never happened and now it's just a strange monument in the center of the city.
Where to eat and drink in Batumi
Batumi is a big city so there is no shortage of places to eat and drink. There are plenty of high quality restaurants and the prices are still very affordable.
Batumi is the birthplace of the Ajarulian Khatchapuri. Yes, if you're a khatchapuri fan (how can one not be?), this is the homeland of the Ajarulian style which is by far the most well known style of khatchapuri around the world. The big boat like bread bowls with cheese with an egg on the top is the specialty in Batumi. Mix it all up and you have a delicious hot cheese and egg dip with the fluffiest bread straight out of the oven.
360 Sky Bar: Amazing views and best place to watch the sunset.
Chacha time: Great cocktail bar that specializes in cocktails from Chacha (and other stuff)
Fish Market: Local fish market where you can buy fish straight from the market and bring it to a nearby restaurant for them to grill up.
Stay at the Kartuli Boutique Hotel
There are endless places to stay in Batumi. From the ultra luxury to the most budget hostel. I decided to stay in the Kartuli Boutique Hotel which is located on the 37th and 38th floor of a modern highrise building. This hotel, especially for the price was absolutely amazing. Every room has a balcony and views of the ocean. The common space is very industrial chic and there's plenty of coworking space for those that value this.
They even provided me with a free e-scooter to explore the city! This is only available in the winter months but it was a great way to see everything.
Day 10-12: Kakheti Wine Region
---
Next up after Batumi is the beautiful and famous wine region of Georgia. The drive is a long one from Batumi to Kakheti (roughly 7 hours) so you'll want to start this drive early.
I could spend much more than 2-3 days in the wine region of Georgia but this was unfortunately all the time I had. It's not stupid beautiful like the wine regions of Tuscany or Cape Town, but Georgia's wine region is unique in its own way.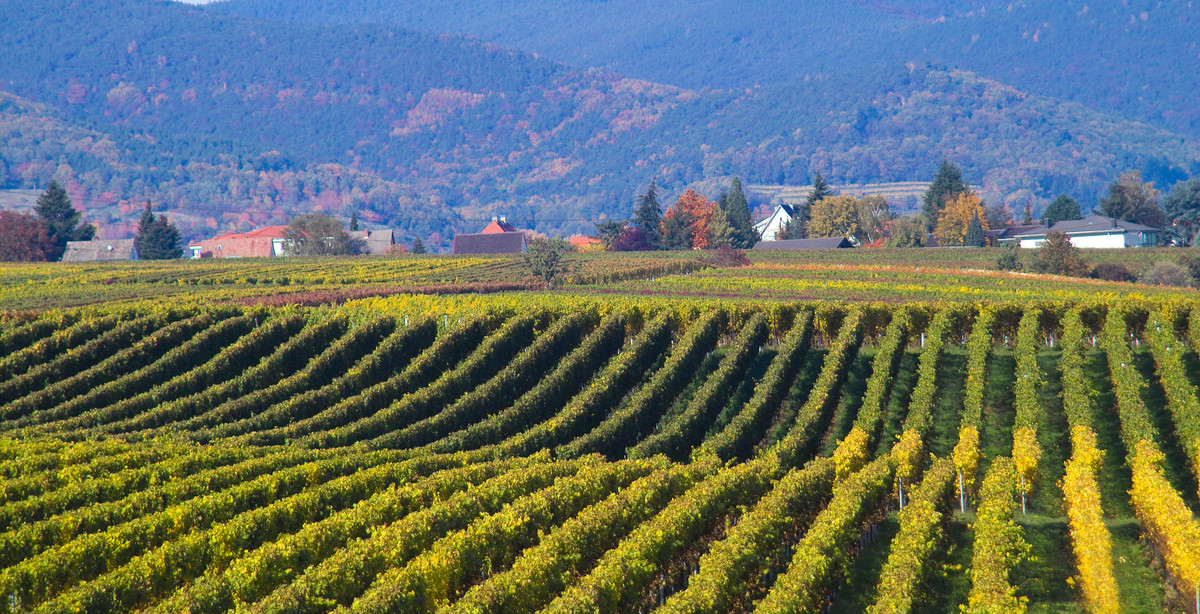 Georgia is the birthplace of wine
The area in the Caucasus including Georgia and Armenia is in fact the birthplace of wine. There are records showing wine was made in these parts some 8000 years ago. I had always heard from the countless wine regions I've been to that they were the oldest, but in fact it is the Caucasus region that holds the crown.
Wine is a way of life in Georgia and you can't go to any restaurants without seeing delicious reds made with saparavi grapes.
Learn how Qvevri wine is made
Traditional Georgian wine is made in a Qvevri. This is an egg shaped vessel meant for storing, aging, and making the wine. This process dates back thousands of years and it is still a common method to make wine in villages today.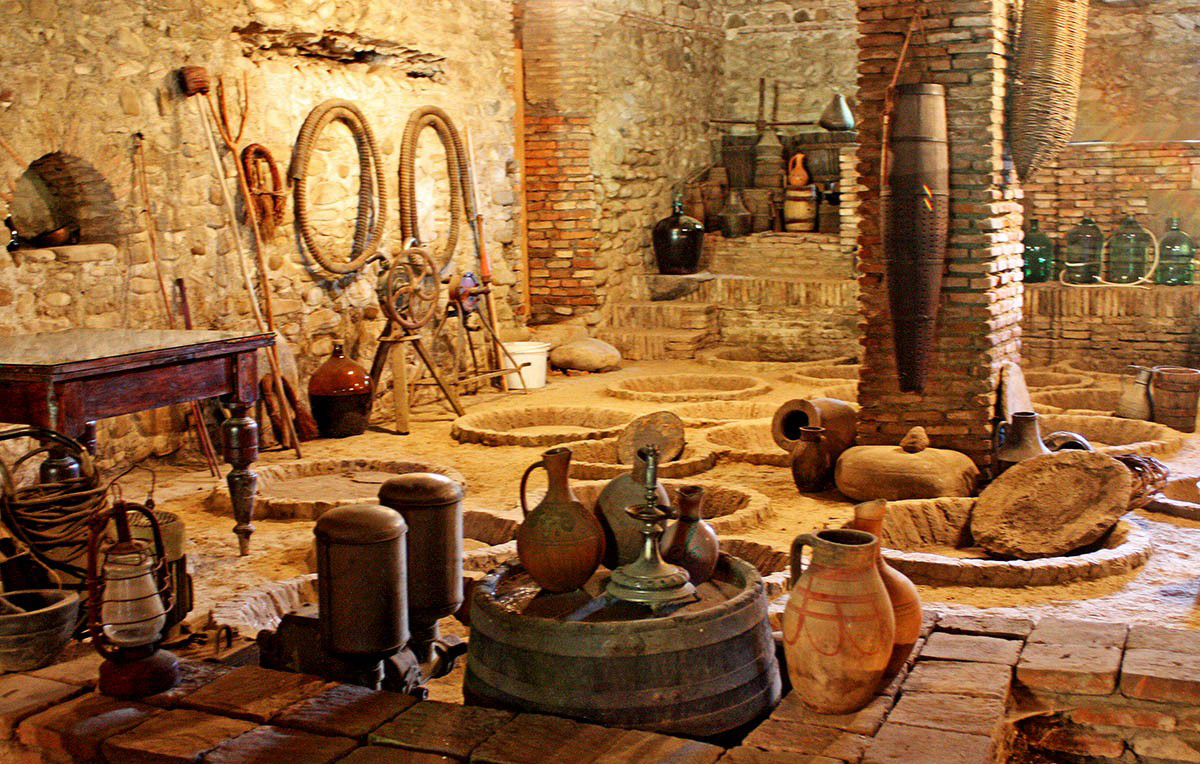 Wine Tasting and Cellar Tour
No matter the various options and things to do in Kakheti, you simply cannot leave without going on a wine tasting and cellar tour.
Crushed grapes with skin and seeds are fermented underground in an earthen vessel for 5 to 6 months before the wine is ready to drink.
Day one in Kakheti surely has to be spent sampling wine and learning about the traditional winemaking process which is passed on by generations and is a vital part of Georgia's history (and now their economy).
Day Trip to Sighnaghi
A gem of the Kakheti region is the lovely city of love – Sighnaghi. With its cobbled paths and pastel-colored houses perched on a hill, Sighnaghi attracts a lot of day tourists.
There are many things to do in Sighnaghi. You can visit the Bobde monastery, eat at Pheasant's tears, walk on/ along the city walks, check out the cathedrals, and more. Sighnaghi is definitely the most picturesque village in Georgia. I thought there would be a lot of historic and picturesque villages in Georgia but that is not the case. I didn't see any village that I thought was pretty until I came to Signaghi. This is where you can get your fix of Georgian architecture at its finest!
Day 12-13: Kazbegi Mountain Range
---
The Kazbegi mountain range is the last and final stop in the road trip through Georgia. From the Kakheti wine region, it is a roughly 4 hour drive to your last destination in the town of Stepantsminda.
The road along the "Georgian Military Highway" is quite scenic and with a few stops you'll wan tto see along the way.
Gergeti Holy Trinity
One of the most iconic sights of Georgia is without a doubt the Gergeti Monastery. Perched up high in the Kazbegi mountains, this old monastery from the 14th century stands stunningly alone. It offers views of the nearby mountains and the towns of Gergeti and Stepantsminda down below.
This monastery stopped having church services during Soviet times but always remained a popular tourist attraction because of its natural beauty. From the town of Stepantsminda, there are endless taxis willing to take you up to the church for a price. Otherwise, if you're driving, it is an easy road up. During the winter months, the roads can be very icy so drive carefully!
The church absolutely photographs beautifully and I particularly loved photographing it from the parking lot getting the mountains in the background. It's just an amazing place.
Stay at the Rooms Kazbegi Hotel
The best hotel in all of Kazbegi is without a doubt at the Rooms Kazbegi Hotel. This upscale hotel has many comfortable hotel rooms with balconies facing the mountains and the Gergeti monastery. The hotel itself offers a huge outdoor terrace, large swimming pool, sauna, gym, and the likes.
The hotel always has an amazing restaruant that serves a killer breakfast. I visited in November and most of all the restaurants in town were closed so I ended up eating here the entire time. I absoluteyl loved the food and had no troubles eating all my meals here.
Day 14: Overnight train from Tbilisi to Yerevan
---
At long last, the itinerary for Georgia is completely. From Stepantsminda, the drive back to the Tbilisi airport is about 3.5 hours. There isn't much to see along the way that you haven't already seen. I had lunch back in Tbilisi and waited it out at a cafe before my night train to Yerevan at 20:20.
What to know about the Tbilisi to Yerevan Train
I took the overnight train to Yerevan from Tbilisi city. This train ride was highly talked upon and I really enjoyed it. The trains have actually been upgraded in recent years and is nothing like the former soviet trains that ran here. It's certainly nothing like my train experience from Belgrade to Bar Montenegro.
The trains leave every day at 20:20 from the Tbilisi train station. It arrives in Yerevan at around 7am in the morning. There is no food or water sold on this train whatsoever so make sure to buy everything before hand.
There are three classes you can book: private rooms (for two people), 2nd class (4 people to a room), and economy which is bunk beds shared with more people. I booked a first class private room and there was no one else in the room with me which was great. I paid 170 GEL one way for this ticket. The economy ticket was much cheaper at 100 GEL.
Note, that you can only book tickets at the train station. You cannot book tickets online for international train travel unfortunately. You can either book the ticket at the Tbilisi train station beforehand, or at the Batumi train station beforehand.
Day 15-18: Yerevan and surrounding sights
---
Yerevan, the capital city of Armenia is often overshadowed by the more touristy Georgian capital of Tbilisi to the north. However, after spending a week in Tbilisi, I must say that I really loved Yerevan. Yerevan is totally underrated as a city and there is so much energy and vibe in this town.
It's a very historic city being one of the oldest continually inhabited cities of the world. Situated along the Hrazdan River, Yerevan is the administrative, cultural, and industrial center of the country. Yerevan saw huge development and expansion in the 20th century as Armenia came under Soviet rule. Nowadays, it is a vibrant city with plenty of restaurants, bars, nightlife and more.
I will list a few of the highlights of the city but make sure to read my detailed Yerevan city guide to get the full picture like a list of all the restaurants I went to. I found Armenian food to be even better than Georgia!
Cascade Monument
The Cascade monument is without a doubt the most popular and well known tourist attraction in Yerevan. It's located near the northern edge of the city center and you can't miss it.
It is a huge pyramid like structure with almost 600 steps that is adorned with numerous modern art sculptures. The monument was built during Soviet times as a way to commemorate the Armenian allegiance to the Soviet Union. The monument never finished due to corruption as the stairs were supposed to extend all the way up to the victory monument.
After the fall of the Soviet Union, more money and work was put into completing the monument as it was such a integral part of the Yerevan skyline. Numerous art galleries, sculptures, and gardens were added to the mix. Nowadays, it's an incredibly popular attraction in Yerevan with tourists and locals walking its steps soaking in the views.
During nice days, you can see Yerevan with Mount Ararat in the background. I think this would be absolutely stunning but sadly, I couldn't see the mountains due to intense smog when I visited.
Free walking Tour
The free walking tours in cities are some of my favorite activities. I love to do these tours when I arrive just so I can get acquainted with the city. Then I can plan where I want to return to as I have a better understanding of the city.
The free walking tour in Yerevan is every day at 2pm and meets at the Republic Square. The guide was quite informative talking about the history of the Yerevan. He also went into detail about the modern day conflicts between Armenia and Azerbaijan, as well as the lack of relations between Turkey. I found the modern day things much more interesting as it relates to how we live our lives now and totally more relatable.
Visit the Armenian Genocide Museum
The Armenian genocide museum is one of those things that you have to visit no matter what you like doing. Similar to the genocide memorial in Kigali, this museum is dedicated to the Armenian genocide at the hands of the Ottoman empire.
The Armenian genocide is probably one of the least known genocides in rent history. Nationalist movements in the Balkans saw them successfully overthrow the Ottomans at the turn of the 20th century. This led to the Ottomans fearing the Armenians would have a similar uprising as the Ottoman empire was pretty much near its end. Before anything could actually happen, the Turks forced millions of Armenian women and children to walk through the Syrian desert without food or water ensuring their deaths. 1.5m Armenians were massacred in 1915 at the hands of the Ottoman empire.
Nowadays, Turkey and Azerbaijan still vehemently deny this genocide attributing it to just standard conflicts of that era. 30+ countries around the world recognize it as a genocide with the rest of the world just taking a neutral stance.
The memorial itself is very impressive. As you enter, you'll see there is a pine tree forest. Each tree was planted by dignitaries of countries that recognized the genocide. The larger trees mean they were planted many years ago with the smaller trees indicating it was recently planted (and hence more recently acknowledged).
April 24 is national genocide day. If you're in Yerevan around this period, definitely consider visiting the memorial and paying tribute to the lives lost.
Otherwise, the memorial is open 365 days of the year and open to the public. The museum itself is open Tuesday to Sunday and admission is free. You can hire an English speaking guide for 5000 AMD.
Noravank Monastery
The next stop on the day trip to Armenia's countryside is the famous Noravank monastery. This is probably the most stunning and beautiful church in the entire country. It is in fact, one of the most beautiful monasteries I've seen anywhere in the world.
It's located high up in the mountains enclosed by red rock cliffs. The setting is absolutely stunning reminding me of the American southwest.
This monastery was built in the 13th century and became one of the largest religious institutes in Armenia. There are two churches here, the first being built in 1216 named St John the Baptist. The second church was built in 1275 and named Surb Grigor Church.
You can take some amazing photos both in front of the churches and from afar. I especially loved the Grigor chuch which has these narrow steps leading up to the chapel.
Day 19: Tbilisi in Transit
---
This day is entirely dedicated for transit. I took a flight back from Yerevan to Tbilisi since crossing land borders into Gerogia required a PCR test when I visited.
Flight from Yerevan to Tbilisi
The flights from Yerevan to Tbilisi run every day on Armenia Aircompany and cost around $85 one way. This flight is less than 1 hour and you might even get a very amazing view of Mount Ararat. The price was reasonable especially after factoring in the price of a PCR test to go by land.
Upon landing, I took a taxi straight to my boutique hotel in Tbilisi to have dinner and sleep before my flight the following day to Azerbaijan. 
Flight from Tbilisi to Baku
The following day, I took the flight from Tbilisi to Baku on Buta Airways. This flight was more expensive at roughly $120. However, there was no other way to get there as the land borders were completely closed during my visit.
Normally, there are night trains from Tbilisi to Baku just like the one from Tbilisi to Yerevan. So if you don't want to spend this money, then definitely book the night train. It is much longer than the Yerevan train as the distance traveled is greater (roughly 12-13 hours).
Day 20-24: Baku, Azerbaijan and surrounding sights
---
I think the best way to describe Baku is that it is the ultimate city of juxtapositions. It's the city with the ultimate contrast between old and new, one I've never seen before. It's the perfect example of what discovering massive oil wealth can do for a country.
Azerbaijan discovered oil at the end of the 19th century and quickly became one of the most influential countries of its time. In fact, near the turn of the century, Azerbaijan produced 50% of the world's oil. Yes 50%! Nowadays, it accounts for under 1% but it goes to show just how revolutionary it was when Azerbaijan discovered oil.
With this newfound wealth, the country rapidly expanded outside the old city walls. They built magnificent parks, buildings, monuments, hotels all in the traditional European style. They literally had oil barons that would vacation in countries like Italy or France, see something they liked, and then proceed to replicate it back at home.
As you walk around Baku, you can't help but be mesmerized by the fact that this city which had nothing 100+ years ago, all of a sudden looks like it could Vienna or Rome. It literally went from 0 to 100 in the span of a few years. Nowadays, as you walk through the streets of Baku, you'll notice how impeccable and immaculate the conditions of the roads are. It is super clean to the point that it just looks almost fake.
It's like Dubai which was also built in the last few decades but with a much larger emphasis on the traditional European architecture (and a fraction of the cost of things in Dubai).
Having just visited Yerevan, Armenia and Tbilisi in Georgia which were "normal" capital cities filled with big city grit, post soviet charm (if you can even call it that), Baku really just blew my mind. I couldn't stop asking myself how this Caucasus country bordering Armenia and Georgia looks like it is from a different world. But that's what oil wealth does for you!
Take the free walking tour
The free walking tour is definitely a great way to familiarize yourself with the city. The tour meets just outside the old city walls every day in the summer (and on demand during off season months). I really enjoyed the tour as the guide explained a lot about this city that is so perplexing especially having visited Tbilisi and Yerevan prior.
I particularly liked getting the guide's views on the Armenia-Azerbaijan conflict as I had gotten a very biased version days before with my guide in Yerevan. The tour takes roughly 3 hours and mostly centers around the old city.
Visit the Heyder Aliyev Cultural center
Designed by the noted architect Zaha Hadid, the building is firm and stunning and one of the signature attractions in Baku. The outer area and park offers a beautiful view of the city. It is recommended to visit the centre before sunset so you can experience both the pre- and post-sunset view of the building.
Walk along the waterfront and enjoy views of the flame tower
Visit the Baku Old City
Designated as a World Heritage Site by UNESCO, the ancient city dates back to the 12th century. Within its confines are enough touristy gems, such as the Maiden Tower, Juma Mosque, Hamam Mehellesi public baths and the Palace of Shirvanshahs.
The old city is incredibly well preserved and you'll find beautiful displays of the traditional architectural styles of Azerbaijan. You'll find iconic narrow streets that meander from one beautiful view to another. It's crazy to think that most of Baku was just within the confines of the old city walls just 100 years ago.
I particularly liked the pictures where I could see old town architecture with the flame tower in the background. It just goes to show how unique and how different the city of Baku is. The combination of old and new doesn't exist like it does in Baku.
Visit the Yanar Dag Flaming Mountain
A must visit sight in Baku is a short drive to the Yanar Dag Flaming Mountain. It's located about 25km outside of Baku to the northeast. Yanar Dag Flaming Mountain is literally just that, a hill that is on fire. Because of the incredible amount of natural gas and oil in the country, there are some areas of the country that have have fires for decades or even centuries.
Yanar Dag in particular has had their fire burning for 50+ years now. The oil reserves in this part of the mountain mean the fire will burn continuously rain or shine. It's not as big as I thought it would be but it was still very impressive to see.
Come here right around night time to see the full effect of the fires. Do not book a tour to visit Yanar Dag but simply use Bolt to come here. I paid about 10 Manat one way for the Bolt to Yanar Dag and told him to wait for me. It only takes about 20 minutes to see everything and the drivers are usually happy to wait for you to collect the return fare.
Day By Day Caucasus Itinerary
---
Here is a day by day breakdown of my trip through the Caucasus. Again, this is simply just how I structured the trip with a rental car. If I didn't rent a car in Georgia, I would add another 3-4 days to the itinerary for taking the public Mashrutkas. Similarly, I wouldn't have minded an extra day or two in Armenia!
Day 1: Land in Tbilisi, explore Tbilisi
Day 2: Full day in Tbilisi
Day 3: Full day in Tbilisi, day trip to Mtskheta
Day 4: Drive to Kutaisi, stop at the Katskhi Pillar
Day 5: Full day to Vardzia Caves
Day 6: Drive to Svaneti region (overnight in Mestia), stop in the Prometheus caves
Day 7: Full day to Ushguli and exploring Svaneti region
Day 8: Svaneti to Batumi drive, lunch stop in Zugdidi
Day 9: Full day in Batumi
Day 10: Batumi to Khaketi (Long day of driving)
Day 11: Full day in Khaketi
Day 12: Khaketi to Kazbegi (Stepantsminda)
Day 13: Full day in Kazbegi
Day 14: Return to Tbilisi, overnight train to Yerevan
Day 15: Arrive in Yerevan, explore the city
Day 16: Full day in Yerevan
Day 17: Full day day trip to Noravank and Khor Virab
Day 18: Full day in Yerevan
Day 19: Fly back to Tbilisi
Day 20: Flight to Baku
Day 21: Full day in Baku
Day 22: Full day in Baku
Day 23: Day trip to Gobustan
Day 24: Fly home from Baku
Continue Reading: