Zanzibar is one of my favorite places in the world. I spent many months living here during the COVID pandemic as it was one of the only places in the world that was open to travelers during the second wave. It's one of the top digital nomad hotspots of Africa and it's not hard to see why. Pristine beaches, delicious food and an incredible island life means there's something here for everyone.
Zanzibar is a tourist heavy island first and foremost. Prices and accommodations here are catered towards tourists coming on short term holidays, Zanzibar honeymoons, and generally an ending to a big safari trip through the Serengeti. There are not a lot of long term travelers and digital nomads on this island compared to places like Bali, which is the absolute hotspot of the world.
For simplicity, I will list all my expenses while living in Zanzibar in USD. While the official currency of Tanzania is the Tanzanian Shilling (~2300 to $1 USD as of Jun 2022), almost all prices around the island will be quoted in dollars with the exception of local restaurants. Dollars are widely accepted in East Africa so it makes sense for me to include this as a reference.
Make sure to read my Zanzibar Travel Guide to understand the island before reading up on this cost of living post.
Zanzibar is cheap and expensive
---
First thing's first, Zanzibar is not a cheap place. In fact, most of Africa is not cheap with the exception of South Africa (which isn't super cheap). Why is that you say/ It's because as a digital nomad or as a foreigner, you have certain standards of living that you are used to. Yes the locals live on very little money and the GDP per capita of Tanzania is barely breaking four digits, but that is only advantageous to you if you are willing to live like the locals. If the answer is no, then congratulations, you are a foreigner.
The problem with Zanzibar is that the island is structurally very undeveloped. You have a lot of high end resorts, guesthouses, and B&Bs along the beach but that's it. There are few cafes, bars, restaurants outside of hotels, and general infrastructure for long term foreigners in Zanzibar. It's nothing in comparison to say Bali or Thailand where not only is it super cheap, but you get first world amenities everywhere you go.
On Zanzibar, you're here for the incredible views and natural beauty. The beaches in Zanzibar are unrivaled and the island life is in full swing. The days are slow and the sunsets beautiful. There are a handful of cafes on Zanzibar in certain areas catered to digital nomads and some of them are incredibly beautiful. I really enjoyed working from my hotels and and cafes while drinking delicious coconuts.
Because everything is catered to short term tourists, prices for accommodations are generally higher than in other places. There aren't many guesthouses that do long term rentals and if they do, the prices always feel like a ripoff. That's just the price you'll pay for living in paradise.
However, once you find the few local restaurants and street food options available to you, it's possible to live quite cheaply.
Zanzibar can be very annoying
---
I will just tell it like it is. Zanzibar is a very beautiful island full of natural beauty and incredible beaches. However, Tanzania is still a poor and undeveloped country and there isn't much economic development for the locals.
When I visited in 2020/2021, tourism was at a standstill so beaches and tourist sights were completely untouched and devoid of the typical hagglers and beach boys. I could walk down the beach by myself and just enjoy the natural beauty of the island. It was absolutely incredible.
I went to Zanzibar in 2013 as well and it was a different experience. While the beaches were beautiful, you were constantly heckled by locals trying to sell you stuff that was of no use. When you said no, they would keep at it for a much longer period than was deemed comfortable.
Everyone else would try and sell you tours, clothes, hotels, or really anything you could think of. In the end, you feel like you are a bit of a walking ATM which is understandable but totally not enjoyable. I suspect once COVID is finished, everything will go back to the old ways.
Long term stay in Zanzibar
---
Unlike Bali, there are no convenient ways to get a long stay visa without having some sort of real job and sponsorship. Thankfully, the tourist visa regime is very simple and generous. You can buy a visa on arrival for Tanzania for $50 USD ($100 for Americans). This visa will grant you 90 days in the country. You can then extend it one time at one of the immigration offices in Zanzibar for an additional 90 days. This means you can stay six months in Zanzibar and you'll only need to visit immigration once.
This is probably enough time for most digital nomads and travelers alike to get a feel of the island. If this is not enough for you, the easiest way is to do a visa run after 6 months. There are cheap flights from Zanzibar to Kenya or to Dubai. Stay in those places a night or two and simply come back to the country.
Cost of Rent In Zanzibar – $900 USD
---
Most of your money will be spent in the cost of rent. Zanzibar like I've mentioned earlier is not a cheap place to stay long term because the options are so limited. There aren't many apartments or long term accommodation options on the island because most things are catered to short term tourists.
If you're coming to Zanzibar, it's likely you'll want to live near the beach because why else would you be here? Your accommodation options are mostly limited to hotels, guesthouses, B&Bs, and the like. There are very few standalone villas or apartments for rent.
You'll end up paying much more in Zanzibar for a basic accommodation versus staying somewhere in Bali or Thailand.
Where to stay in Zanzibar
Zanzibar is a large island. There are numerous areas to be aware of that I go into detail with in my Zanzibar Travel Guide. The port city of Stone Town is where you'll find as close to a city life as you'll get. Stone Town is nice for a day or two visit but there's nothing really going on afterwards. I would get bored quickly living in Stone Town. Of course, not everyone shares the same sentiment. I know plenty of digital nomads that stay in Stone Town precisely because it has so much more infrastructure and things to do.
Therefore, it all depends on the best areas by the beaches. Most of the digital nomads I know stay in the Paje, Jambiani, and the Bwejuu areas. The southeast part of Zanzibar is my favorite area in the island. It's famous for its long and sandy stretch of pristine white beaches, kitesurfing, and various restaurants and bars. You can also easily rent a scooter and ride from place to place in this area.
Nungwi is another popular area with tourists and digital nomads alike. However, it is a bit too backpacker and resort-touristy for me. It doesn't have that laid back and island vibe as much as Paje does. The beaches in Nungwi are absolutely beautiful however so keep that in mind.
What are the average prices of rent in Zanzibar?
Like I said earlier in this post, Zanzibar is pricey. Getting any sort of Western standard of living means you'll need to pay up. There are many guesthouses all throughout the island but they are less keen to do long term monthly rentals and more geared towards daily rentals for tourists.
Average prices for a regular guesthouse starts around $300 a month. This will get you the most basic of rooms with shared bathrooms at a standard that would be near that of a hostel. If you can spend $600, you will find something a bit more comfortable but nothing luxurious. Starting from $1,000 a month you can find rooms and hotels and guesthouses that resemble some sort of comfort and acceptable standard.
Overall, Zanzibar accommodations are mediocre at best. You get very little for your money. Power outages and bad WIFI are also things you can expect on a normal basis. Cost of construction in Zanzibar is notoriously expensive as I learned from the various hotel owners I met. Getting anything done in the country takes forever and cost of land is expensive.
Use Airbnb to find long term stays in Zanzibar
Airbnb is a great option if you're staying for a month or two. You can almost always expect to find great discounts if you are search for monthly rentals and most of the places you'll find on Facebook will also be on Airbnb. However, you will need to pay the Airbnb service fee which is another 10%+ on top of the listing price. It's often times easier just to message people and do it direct to avoid these booking charges.
Often times, if you click into the Airbnb listing, it will tell you the name of the villa/hotel/guesthouse and then you can simply Google them to find their direct contact information.
Mobile Service in Zanzibar – $10
---
Having cell service is imperative no matter where I live. Zanzibar is no different. While there is ample wifi in every restaurant or cafe you visit (some of the local warungs even have wifi!), you just can't substitute having good data.
Zanzibar's wifi is notorious for being unreliable, even at the nicest of hotels and restaurants. Thankfully, data is very cheap in Zanzibar. I got a sim card with Vodacom Tanzania which is the best and most comprehensive network in Tanzania. Getting the SIM card is a straight forward process and once you have it, it's easy to load up on the data.
ON average, I could get data for about $10 for a month of 20 GB data. This is usually enough for me and if I needed more, I could simply top up my credit balance from any of the shops in town and buy data as I needed.
Gym Membership in Zanzibar – $40 USD
---
There aren't many gym options in Zanzibar. Stone Town has a few decent options but don't expect to find much while you're on the other beaches. Even in Stone Town, don't expect to find good quality gyms.
In Paje, there is one gym that everyone goes to called Active Fitness Gym Paje. It's a pretty basic gym but one or two steps above a completely local style gym. It is aesthetically appealing but there's nothing special here. A few free weights, bench rack, barbells, and a squat rack are all you'll find. It's like a large hotel gym if I had to compare. Nevertheless, it is very affordable at 4,000 shillings a day and there are other packages for cheaper if you decide to train for longer.
The gym gets very busy as it is small and plenty of foreigners come into get a pump in.
Dining and Restaurants – ~$800 USD
---
Without a doubt, eating out is the biggest and most variable expense I have in Zanzibar. There aren't many grocery stores to speak of in the area that I stay in and I'm too lazy to cook much anyhow.
Your food budget can be very cheap or very expensive depending on how willing you are to eat local food on the streets.
Local Zanzibari Food
Food on Zanzibar is delicious. It was the crossroads for spice traders back in the days and the food has seen influences from Indian, Arabian, and Western cuisines. The amount of fresh fruits, vegetables, and spices ensure that you won't get bored of your food anytime soon.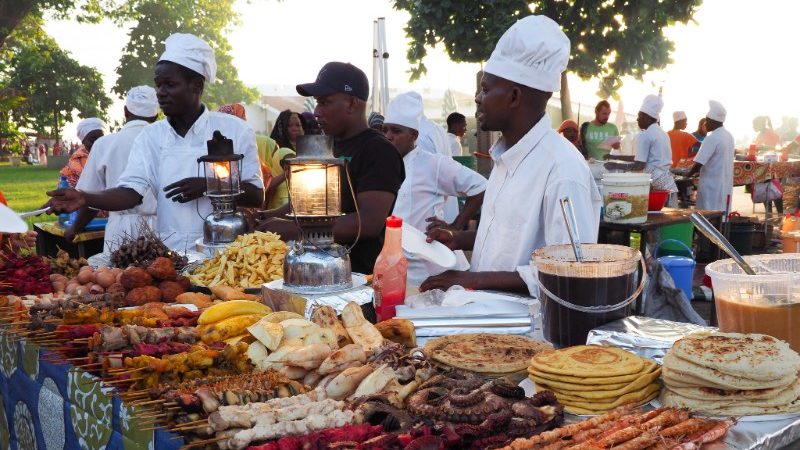 Stone Town has the best food on the island. The night markets and numerous restaurants in town mean there are countless options to choose from. Near the beaches, you can find plenty of local restaurants grilling seafood, and meat skewers called Mishkaki. I had mishkaki all the time and you could get 10 sticks of meat for $2-3 served with ugali which is the local maize meal essential.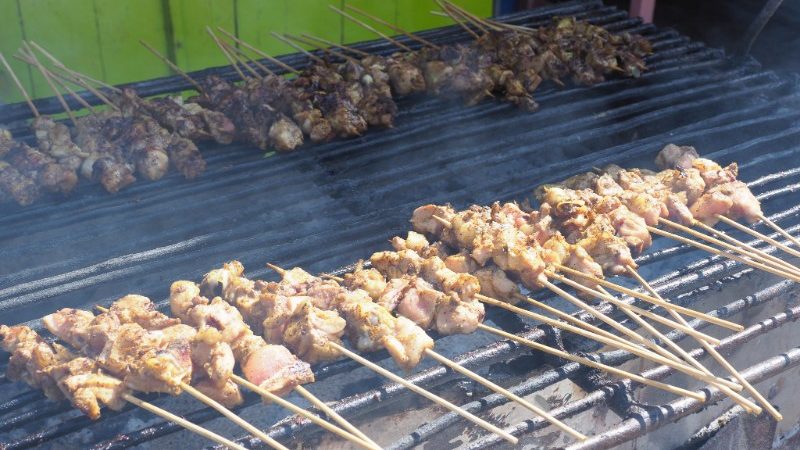 A delicious Swahili style curry with meat at a local restaurant can be had for $4-6. I pretty much ate curries or biryani dishes for most of my meals and when I needed an extra protein boost, a few mishkaki always completed the meal.
Restaurants at hotels and guesthouses
If you're staying near the beach, the restaurants nearby all belong to hotels and guesthouses. These restaurants are catered towards tourists so you can always expect to pay more. There will sometimes be a local restaurant on the beach but this seems to be more and more rare.
You can expect to pay much more at one of these restaurants although they aren't outrageous expensive if you just avoid the fancy hotels. I often times would eat at hotels or Western catering type of restaurants just because it was more easily accessible and there were views of the ocean.
You could expect to pay $10-15 for a meal at one of these restaurants.
Drinks and Entertainment – ~$350
---
There isn't that much to do in Zanzibar as far as nightlife goes. There are a few late night spots in Nungwi and Stone Town but nothing to speak of in Paje. Local beers like Safari and Serengeti are cheap ($2 for a half L bottle) but you can only drink so many of these before you are sick of it.
There are no good cocktail bars to speak of and the places you could find a decent cocktail would be at nicer hotels and restaurants. You could expect to pay $8-10 for a mediocre cocktail if you needed it. Wine is similarly expensive for average wine imports from South Africa. All in all, Zanzibar is not the place for you to drink and enjoy yourself. The better option is to drink coconuts on the beach as you're getting better value for your money (~$1-2 a coconut) and it's healthier.
Things to do in Zanzibar
Zanzibar is great because of the entertainment you can find that doesn't involve partying and drinking. Paje is the kitesurf hotspot of the island and you can rent a kite for cheap. Zanzibar is also a great place to go on a dive and you can find good dive sites all over the island. I would often times rent a kite or go on a dive.
However, the better diving around Zanzibar is definitely on the nearby islands of Mafia and Pemba island. After diving on Mafia island, I didn't do much diving in Zanzibar because it just couldn't compare.
Transportation via Scooter – $120
---
Zanzibar is a big island and if you're staying long term, you'll want an easy way to get around. The local transportation is great to go between places like Nungwi and Stone Town but day to day transportation is much easier by a scooter.
Zanzibar is not as scooter heavy of an island as places like Thailand or Bali, but it's definitely the best option for long term travelers.
Scooters are expensive in Zanzibar. You can expect to pay about $15-20 per day for a rental, less if you have good bargaining skills. The secret is to rent a scooter from an individual that's not tied to the big scooter shops. They are more inclined to rent to you long term for consistent income. It's likely if you stay long enough, you'll know someone that knows someone and will rent you a scooter at a good price.
I rented my scooter which is a simple 125 cc Honda on a monthly basis. You can expect big discounts if you rent long term which is what I recommend you do. Like I said above, I ended up meeting people that knew people and got a great deal on my scooter. I paid about $120 for a monthly scooter rental which is very reasonable I think.
Gas Prices in Zanzibar
Gas prices are not cheap or expensive in Tanzania. Tanzania does not produce its own fuel so nothing is subsidized. However, taxes on petrol are low so you should expect a reasonable price compared to countries in Europe. As of Oct 2020, a liter of gas was under $1.
Adding it all up – $2,300 USD a month
---
In total, I spent about $2.3k a month. I would add an additional $200-300 USD to this budget just as a buffer room to keep me honest. I didn't track everything to the dollar but rather estimated my budget especially for eating out and drinking.
This budget is also during the COVID pandemic so prices are a bit lower overall than they would be during normal times. I also didn't really try to save all that much because this budget was already way below my monthly income coming from my investments as well as my blog income. I could have spent another $1,000 USD easily a month and been well within my budget.
I don't think you need to spend much to live a good life in Zanzibar but again it just depends on what kind of accommodation you want to have. Zanzibar is pretty basic living for long term travelers but opulence and luxury for short term travelers with good budgets.
Whatever life you do decide to live, hopefully this article gives you a general idea of what to expect with costs in Zanzibar!
Trips around and outside of Zanzibar
---
Traveling around Zanzibar is quite easy. I would highly recommend visiting other areas of Zanzibar as well as visiting the nearby islands of Mafia and Pemba.
Mafia Island is the ultimate diving destination of East Africa in my opinion. There is an insane amount of fish life in the marine park of Mafia. Mafia is also home to whale shark migrations and at certain times of year, a whale shark sighting is all but guaranteed.
Finally, Pemba island, north of Zanzibar is one of the least touched islands in Tanzania. It is probably what Zanzibar was 30 years ago and the remote and wild beauty you experience here is unlike anything else. The beaches and diving in Pemba are unreal and among the best I've ever seen.
Continue Reading: