Germany is probably one of the most underrated countries in Europe. While most people think of beer and Oktoberfest when Germany comes to mind, the country is so much more than just that. It's home to 85 million people first of all making it the biggest country in Europe after Russia. The country enjoys a very storied history which lends to beautiful castles, quaint villages, and cosmopolitan cities.
To properly see Germany, you'll need a month or more as there's just too much to fit in. I know most people don't have that much time and most people stop over in Germany for a short amount of time before going to more popular places like France or Italy. However, if you are planning to spend a decent amount of time in Germany, this itinerary will help you plan your trip.
I lived in Germany for many years
---
I lived in Frankfurt, Germany as part of my work experience for many years. I absolutely loved living in Frankfurt as the European lifestyle just way up my alley. One of the biggest benefits of course was being able to explore much of Germany over the course of a few years. Germany has a lot to offer so by no means have I seen everything but for the purpose of this post, I've definitely seen enough to make a quality informed post about how to spend a few weeks in the country!
The Beauty of Germany is outside of the main cities
Before I go into the itinerary, I want to point out that in my opinion, the best parts of Germany are not the big cities but rather the smaller villages and castles which are only accessible by car. Of course there are beautiful cities that are must see like Berlin, Munich, and Hamburg but I don't think they are more of a must see than other big cities in Europe. That's why I think the most unique part of the country lies in the countryside with its beautiful wine country, picturesque gingerbread looking houses and a plethora of castles.
Don't be afraid to wander off the main tracks while traveling through Germany as that's where you'll find the most interesting places. I'll go into detail about some of the villages I've found that I've loved in this blog post.
These are the places I visited in Germany:
Berlin
Hamburg
Cologne and Dusseldorf
Mosel Wine region
Heidelberg
Rothenberg ob der Tauber
Romantic Road 
Munich
Regensburg 
Nuremburg
Dresden
If these places ring a bell and sound like the places you want to visit, this is the perfect itinerary for you! Note that there are SO MANY more villages to visit in Germany but you have to choose your stops wisely when traveling with limited time!
Driving in Germany
---
Renting a car in Germany will ensure you get the full road trip experience. The charm in Germany does not lie in the big cities like Munich, Berlin, or Hamburg but rather in the cute little villages and towns that are off the beaten path. Most of these towns are connected by train but it will take you substantially longer to a plan a trip around the train system versus just having your own car. This is especially true if you want to visit the countless and breathtaking castles in Germany. These castles are located away from the main cities and the only way to get to most of them is by car.
I would definitely recommend renting a car when traveling Germany if you want to get the full experience. The roads in Germany are in top condition and unlike France which has tolls every few kilometers, there are no road tolls anywhere in Germany.
Autobahn rules
Driving in Germany is also one of the highlights of any trip to Germany. It's famous for its Autobahn (literally translates to Car Road) that everyone in the world knows as the ultimate driving experience where no speed limits are abound.
While it is true that there are many stretches of the Autobahn without speed limits, you need to be well aware that there are speed limits on the Autobahn. You need to pay detailed attention to the speed limit signs which change in the blink of an eye. Normally, this goes from no speed limit to something like 120 km/h. Drivers in Germany will drive at 180 km/h and immediately slow down to 120 km/h when the speed limit changes.
Normally, these speed limit changes when you're near to a larger town and as soon as you exit the proximity of the town, you're back to driving with no speed limit.
In Germany, the left lane is purely for passing and super fast drivers. This is the unspoken rule in most countries around the world but in Germany it is no joke. Without a speed limit, you might think you're ripping through traffic at 200 km/h but there will always be a Porche driving at 250 km/h that will come up behind you dangerously fast and honking for you to get into the right lane.
Not everyone drives like a demon possessed however. Average speeds are definitely higher than what you're used to (20-30 km/h more) but given how good the roads are, you don't feel like you're in danger. It takes a bit of time to get used to driving 150 km/h on average but you'll quickly love it.
Getting around in Germany: Trains and Buses
---
If you're not keen to drive your own car around Germany, don't worry. Germany offers a very comprehensive network of trains and buses. Deutsche Bahn is the state owned train operator of Germany. The ICE, or Inter City Express is the main train network that connects the main cities with each other. If you're traveling in the general vicinity of a city like Hamburg or Munich, then you can use the RE (Regional) trains.
The trains are very comfortable and go up to 300 km/h (although this doesn't happen often). If you're visiting from the US, then you are in for a treat because the quality and comfort of trains in Germany blows anything you'll find in the US out of the water.
Trains are expensive in Germany
The train system in Germany can be very expensive. A standard train fare from Frankfurt to Munich for example will be around €30-40 one way. This is only if you book well in advance. If you wait until the last minute, the trains can easily be doubled the price. Make sure to book your tickets well in advance!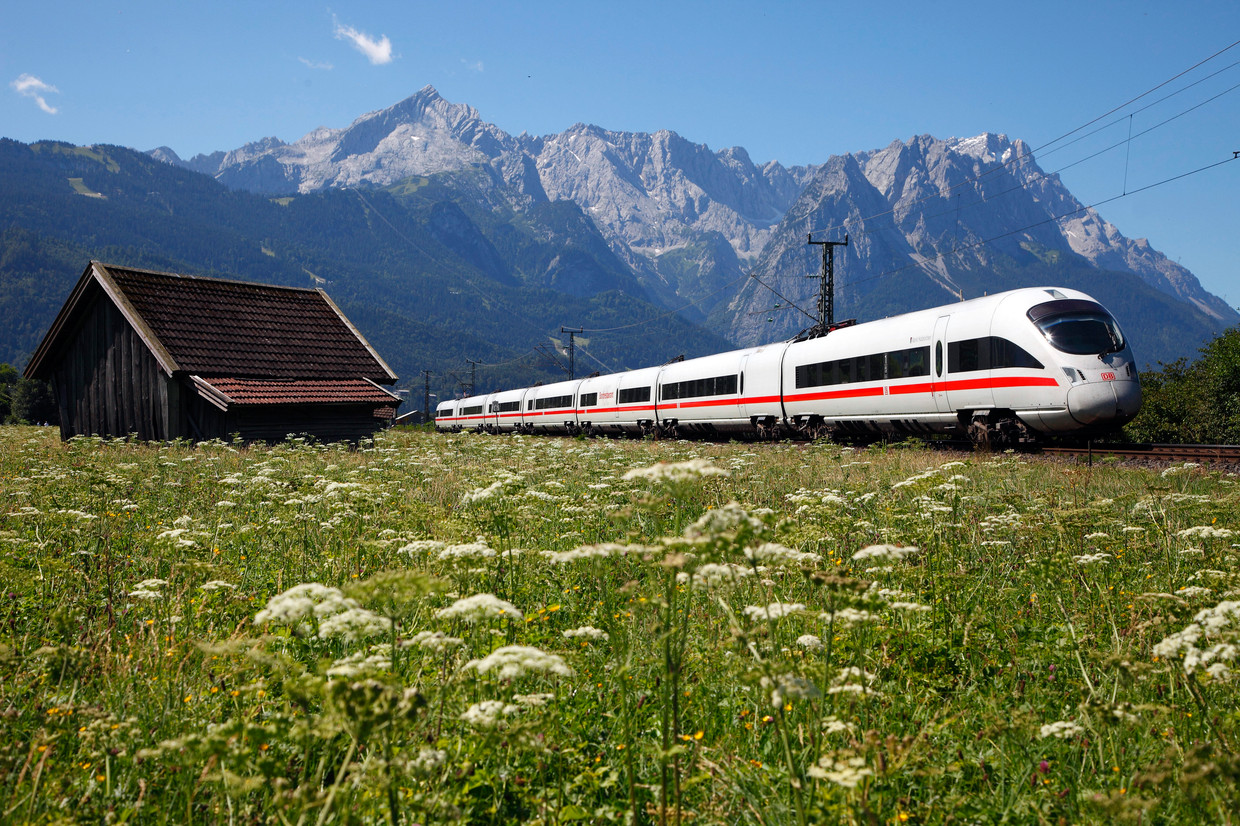 In addition to the Deutsche Bahn, there are other private train carriers like Flixtrain which is part of Flixbus. Generally, you can expect cheaper tickets on this train system. Unlike airlines which charge you for every extra little thing, trains are generally flexible when it comes to luggage and such so there isn't that much of a difference in service.
Unlimited Ride passes
The Deutsche Bahn offers an all you can ride pass for all trains in Germany. If you know you will be taking many trains throughout Germany, it might make sense to buy one of these tickets. There is also a discount if you are under 26 (Youth ticket). For example, the cost of a 15 day youth ticket is €350 which could pay for itself if you're taking last minute train rides around Germany. I've seen train tickets over €100 for a one way fare!
Flixbus for buses to get around Germany
Flixbus is my main way to take buses around Germany. Flixbus has a huge network of buses all around Germany as well as other countries in Europe. You can find fares for as low as €5 one way. Of course, given that buses are cheaper, you can expect it to be much slower than a train as well. For example, the fast ICE train from Frankfurt to Munich takes 3 hours. The bus on the other hand is 5 hours if not more depending on the traffic.
If you're on a budget, I would definitely stick with the bus system and take the trains whenever you find a good deal.
When to visit Germany?
---
Germany is an amazing place to visit in the warmer months. Long days, sunny weather, and greenery abound makes Germany pop. In addition, life in Germany is all about socializing outdoors. Drinking in public is as part of the culture as pasta is to Italians. The energy completely shifts in the warmer months and people go from depressed to happy in an instant.
I would recommend coming to Germany between the months of May and October. April can be good too but it is variable so it's all based on luck. July and August are the peak travel months in Germany and you can expect to pay the most money. These months also attract the most tourists from Germany and abroad. Streets will be packed and restaurants full so plan accordingly.
Visiting Munich in the late September/Early October time period is great if you want to enjoy all that Oktoberfest has to offer. Otherwise, if you are not planning to imbibe heavily, you can expect to pay 3-4x the normal rates for hotels.
If I had to pick a perfect month to visit Germany, it would be late May or mid September. The weather is still great during these months but without the crowds. There are many wine festivals in the Rhein and Mosel regions in September which is one of the most unique experiences you can have in Germany.
Visiting in Winter
I don't recommend visiting Germany in winter as it is just not pleasant. I can't sugarcoat it. If you want beautiful mountains and skiing, it's better to go to Austria or the Dolomites in Italy which I think is the most beautiful skiing in the world.
The only time I would recommend coming to Germany when it is cold is late November to mid December. During this time, Germany hosts its world famous Christmas markets throughout the country. Literally every city, town, and village will have their own Christmas market serving gluhwein (mulled wine), typical foods of the region, and other festivities. Germans invented the Christmas markets (and if they didn't, they sure do them the best) and I would visit Germany just to go Christmas market hopping!
Full Germany Travel Itinerary
---
This itinerary starts in Frankfurt, the financial hub of Germany. While I lived in Frankfurt for many years and absolutely loved it, you don't need much time in this city. In fact, if you skipped Frankfurt, you probably wouldn't be missing out on much.
From Frankfurt, the first stop is a visit through the Mosel Wine region. This is Germany's most picturesque wine region and is famous for its Reisling, Grauburgunder and more. There are countless other wine regions in Germany (it's not all beer let's get that out of the way) but I think the Mosel is the most beautiful. It's full of beautiful little villages, vineyards along the slope of a hill, castles galore, and more.
From the Mosel Region, the next stop is up through Cologne and Dusseldorf, two of Germany's oldest and charming cities. From Cologne, take a visit north to the city of Hamburg which is completely different than the Germany you'll find in the south. Hamburg is a beautiful port town that became extremely wealthy during medieval times as a port of trade for all Europeans.
From Hamburg, the next stop is Berlin which is home to the parliamentary buildings, the Brandenburg gate and a party culture that you won't find anywhere else in the world. Berlin is well worth visiting for a few days.
From Berlin, you can make a stop in Dresden, Eastern Germany's most beautiful city along with stops in very picturesque areas of the Sächsische Schweiz forests (Saxony Swiss) and make a stop at the beautiful Bastei bridge.
From Dresden, it's time to drive down through Bavaria and make stops in the famous town of Nuremberg and Regensberg. From here, the trip goes through the Romantic Road with beautiful villages to stop in like Rothenburg ob der Tauber, Bamberg and more.
Finally, the Bavarian capital of Munich is a must stop for any travelers through Germany. From Munich, you can take plenty of day trips to beautiful Bavarian mountainside villages or even make a day trip to Salzburg and see the other beautiful towns in Austria like Hallstatt and Zell am See.
Finally, if you're ending the trip in Frankfurt, you can stop in Heidelberg along the way from Munich to Frankfurt.
All in all, this trip takes 3-4 weeks. Of course, I know many people don't have this much time to dedicate to a Germany trip so I will go into detail how to plan a one week trip or two week trip later on in this post.
Germany can be done as a circular itinerary
The good thing about Germany is that if you want to explore the whole country, it can be done easily as a circular itinerary. Frankfurt and Munich are the biggest airports in Germany so if you fly into Frankfurt, you can drive clockwise or counterclockwise, visiting the main spots and end the trip in Frankfurt. Conversely, you can do the same with Munich.
Alternatively, you could book a flight into Munich and out of Frankfurt, or into Munich and out Berlin depending on what you're looking for.
Day 1: Landing in Frankfurt and exploring Frankfurt (optional)
---
The trip starts in Frankfurt. Again, I lived in Frankfurt and loved it but it is perhaps not the best tourist city to visit in Germany. Frankfurt is beautiful in its own right but it's not "traditional German" beauty if that makes sense. Nevertheless, if you are coming here for the day, make sure to see the main sights of Frankfurt for the day. Otherwise, proceed to the next step in the itinerary.
Explore the Altstadt (Old Town)
Close by St Paul's Church, Römerberg is the hub and jewel of Frankfurt old town. Also destroyed during WWII but since lovingly rebuilt, the square is surrounded by classic German architecture including Frankfurt City Hall. The town square is filled with restaurants which spill out onto the square on a summer's day; in December, Römerberg plays host to the Frankfurt Christmas Market. But even on a less picturesque occasion, the visitor can't help but be dazzled by the stunning, chocolate-box architecture and buzz of the square.
The double-decker Frankfurt sightseeing bus departs from the street between St Pauls Church and Römerberg if you feel like taking the weight off your feet – or if the German weather thwarts yours plans for the day!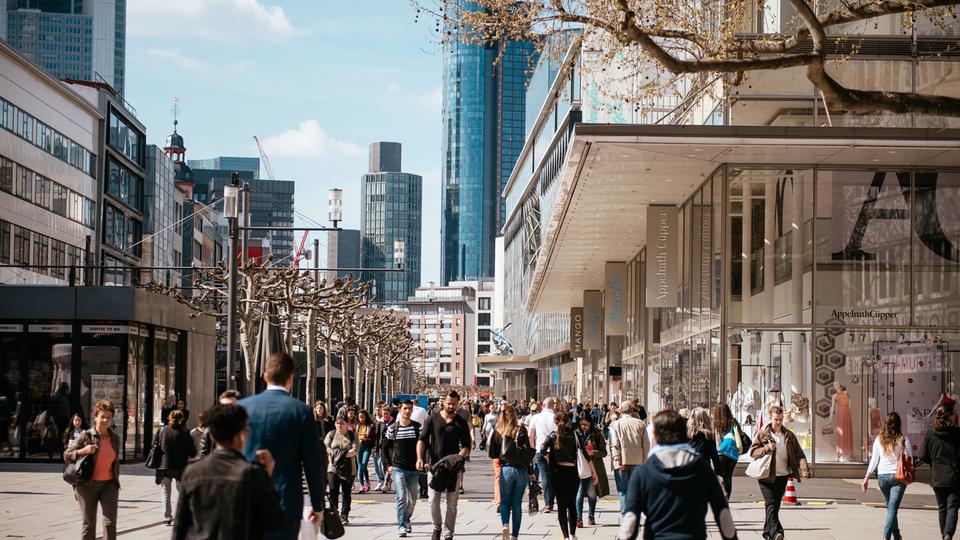 Dom – Frankfurt Cathedral
A short walk eastwards through narrow, picture-perfect streets takes you to Domplatz and the Imperial Cathedral of St Bartholomew. This Roman Catholic Church, built in the Gothic style, was also gutted by fire during World War II (spotting a theme here?), but extensive restoration makes it hard to imagine. However, you'll see pictures of the area surrounding the cathedral and it was completely decimated.
Ornately decorated inside in the Catholic tradition, and a stark counterpoint to some of the plainer Lutheran churches of the city, it is well worth a look inside. Entrance is free, or visit during one of the concerts or church services for added atmosphere. The cathedral is filled with statues and other artwork which will dazzle the visitor.
Day 2-4: Rhine and Mosel Wine Region
---
From Frankfurt, drive westward towards the famous wine province of the Rheinland Pfalz (also Rhineland). This is the largest and most famous province for wine making in Germany and within the country are numerous different wine regions. My favorite one is by far the Mosel. The villages and vineyards along the Mosel River are the most picturesque in all of Germany.
You'll find the most quaint villages, beautiful vineyards, gorgeous hikes, and amazing castles. My favorite castle in all of Germany is in the Rhineland Pfalz in the Burg Eltz. Here are some of the highlights of this trip.
Geierlay Suspension Bridge
The first stop is to the Geierlay Suspension Bridge. This is not really wine related but I think it is one of the more unique things to do in the area. From Frankfurt, it is roughly 2 hours driving to the Geierlay Suspension Bridge.
There isn't much to do here besides visit the bridge. From the town of Morsdorf where you can park your car, it's a rougly 15 minute walk to the bridge. The bridge itself was modeled after the Nepalese suspension bridges and is one of the largest in Germany. It doesn't serve much purpose as far as I know but just as a foot bridge with breathtaking views.
Make sure to read my Geierlay blog post for more details and pictures!
Cochem Town
Cochem is one of countless ridiculously cute villages in the Rheinland region. It is one of the larger villages and is definitely home to all the tourists, but it is worth seeing in my opinion.
The beautiful Cochem castle perched at the top of the hill is home to its own vineyards. You can drink wine in the castle with views of the Mosel river. The town itself is also just ridiculously cute and screams everything Germany.
I'd recommend a hike up to the castle, which is no more than 10 minutes to soak in the views. I've taken a tour of the castle as well and it is worth the €5 or so. There are English tours every hour and it lasts for roughly 30 minutes.
There are also restaurants and wine bars right next to the castle where you can yet drink more wine while admiring the views. You are in the wine country, so why not?
Burg Eltz Castle
Next on the list is one of my favorite castles in the world, the Burg Eltz.
It's a roughly half hour drive from Cochem to the quaint little village of Moselkern. From Moselkern, it is another 5-10 minutes drive into the woods where this castle is.
This castle is special because it is literally located in the middle of the forest, away from any civilization. It is impossibly picturesque and looks straight out of a fairy tale. In the summer months, the castle is open from 9am until 5pm with tours of the castle happening regularly. While I never bothered to go on a tour there, there are two restaurants where you can enjoy a glass of local white wine from the region. Plus you're drinking wine. Inside a castle. Doesn't get much better than that.
As for pictures, the best time to get those incredible pictures without anyone in them is to come during the winter months, or wait until the castle closes (after 5pm) when all the swarms of tourists leave. Then you can grab photos like this.
Make sure to read my Burg Eltz guide if you want to know more about its history and see way more pictures!
Beilstein
There are countless villages in the Mosel that will charm their way into your heart so the list here is endless. As you drive along the Mosel, it's a safe bet that most of the villages you stop by will be beautiful and picturesque. Beilstein is one of my favorites. It has among the most beautiful streets and houses I've seen. It almost feels too beautiful and too fake for it to be real.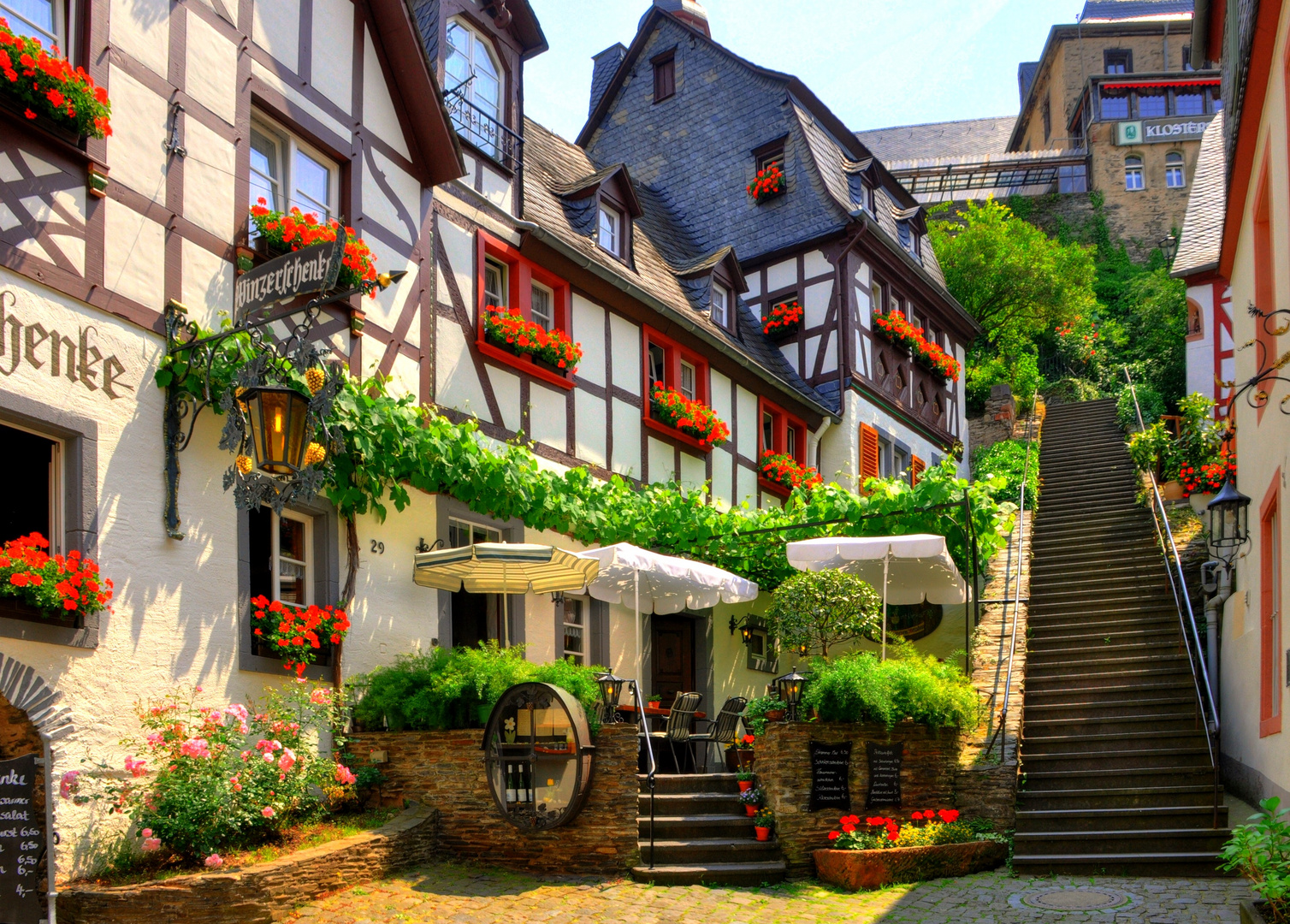 Rudesheim
Finally, the last stop of the day will be in the Rudesheim. The town has a number of notable vineyard sites planted mainly to Riesling, seven of which are classified by the VDP as Grosse Lage: Rosengarten, Kirchenpfad, Bischofsberg, Berg Rottland, Berg Roseneck, Berg Kaisersteinfels and Berg Schlossberg. Most of these are on the south-facing slopes above the town, but the best sites are on the banks above the Rhein river, to the west of the town itself.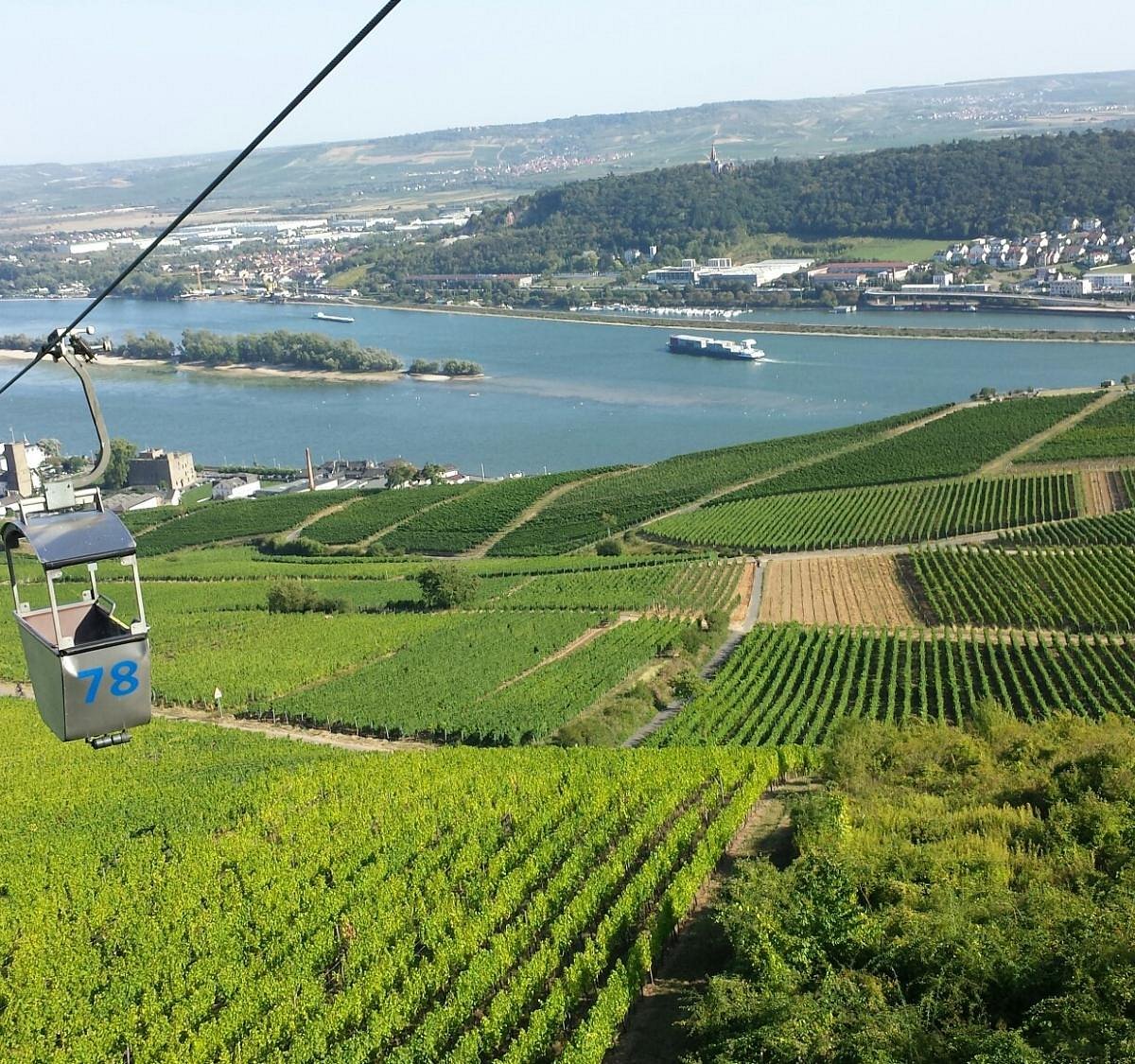 The main attraction here is the cable car that takes you from the cute old town to the top of the hill in the heart of the vineyards. The views on this cable car are out of this world.
The cable car doesn't just stop at the top of the hill at the Niederwald monument. It keeps going throughout the Rhine region all the way to Assmannshausen but I'd recommend saving this for another day as it involves multiple cable cars, hiking, and the like.
Day 4-7: Cologne and Dusseldorf
---
From the Rheinland Pfalz, drive north to the cosmopolitan cities of Cologne and Dusseldorf. Cologne is the bigger of the two but they are both located 30 minutes from each other making them great stops to visit.
Dom of Cologne (Cathedral)
Without a doubt, no visit to Cologne is complete without a visit to the famous cathedral of Cologne. This enormous structure stands a ridiculous 160 meters high with impeccable detailing inside and out. It's absolutely massive inside and incredible to behold. This church took 600 years to build and is one of the largest Gothic churches in the world.
Almost completely destroyed during WWII, the cobbled streets of Cologne's Old Town is a lovely place to walk around. Spot ancient Roman ruins in carparks or stop by one of the many bars for an afternoon beer.
Day 7-9: Hamburg
---
From Cologne, Hamburg is the next stop on the list. There are many smaller towns in between the two cities that are worth visiting but for the purpose of this itinerary, we will visit Hamburg.
Hamburg is called the "gateway to the world," due to its bustling port and trove of canals. As Germany's second largest city, it's also home to many cultural attractions that I'll touch upon shortly. Though Hamburg is a bit on the pricey side, you get what you pay for – a unique and unforgettable cultural experience.
Unlike most other German cities, Hamburg doesn't have a medieval old town or castle plucked from the pages of a fairytale. But what it lacks in old architecture, it makes up for with its modern, maritime, and industrial core.
Walk inside the world's largest warehouse district
If you're visiting as a day trip and only have time to see one thing in Hamburg, make sure it's the Speicherstadt. This is the world's largest warehouse district, and undoubtedly one of the coolest things to see and do in Hamburg.
The Speicherstadt: A UNESCO World Heritage Site
Not only is the Speicherstadt incredibly photogenic, it's also fascinating to learn about. This complex of brick buildings was constructed between 1883 and 1927. At the time, Hamburg was a thriving international port, and needed warehouses to store goods, such as coffee and spices. It was built as a free zone, where people could trade things freely without having to pay taxes.
Discover Hamburg's new urban district, HafenCity
Looking for cool things to do in Hamburg by the water? Check out HafenCity.
Hamburg's HafenCity, which encompasses the Speicherstadt, is one of the largest and most impressive urban development projects. It's situated on the site of old port warehouses, many of which have been converted into modern high-rises, cafés, museums, and urban spaces.
Admire Hamburg's magnificent Rathaus (City Hall)
If you're looking for cool things to do in Hamburg in the heart of the city, this is it.
Contrasting to Hamburg's miniature wonderland is the city's magnificent Rathaus, or City Hall. This grandiose building, built in the neo-Renaissance style, has nearly 650 rooms and is 367 feet (112 m) tall. It houses the city's parliament, senate, and mayor, and is a top tourist attraction in Hamburg. You can enter the building for free, and take a guided tour to learn more about the exhibitions inside.
Day 9-12: Berlin
---
Berlin is the next stop on the itinerary. The German capital is very different than the other stops on this list but a must visit in my opinion. Berlin mixes the old with the new which is fitting considering half of it was under Western German rule and the other half was under Soviet Rule. When the Berlin wall came down in 1989, both sides reunited but you can still see the strong contrasts between the two regions to this day.
Berlin is famous for its nightlife and art scene. The nightlife here is probably the craziest I've seen with parties on average going well into the morning hours. I couldn't keep up and mostly called it a night around 4am which was just when some things started going.
Reichstag Building
This century old building is the German parliament building. It's an impressive building that was severly damaged in WWII and reconstructed in the 90s, and now is a can't miss sight within Berlin. There is a large glass dome at the very top of the Reichstag that was completed during its renovation that offers an awesome 360 degree view of the Berlin landscape (although I think the best views are at another site).
Brandenberg Gate
Likely Berlin's most iconic sight is the former city gate. It was built in the late 1700s and was the sight of many historical events, including being half destroyed in WWII. Even today, it serves as the grand entrance to the city, and you are bound to find many of your fellow tourists here. There's not much to do here besides take pictures, maybe have a beer, and enjoy the view. At the end of the day, how much time can you really spend at a gate, even as grandiose as this one?
Holocaust Memorial
This, the Brandenburg gate, and the Berlin wall were the only sights I really knew of in Berlin before visiting. A short walk from the Brandenburg gate, the Holocaust museum serves as a somber reminder within this beautiful city that atrocities were committed, and to never forget. The memorial consists of 2711 concrete slabs of varying sizes, and are arranged in a grid pattern that likens this place to a claustrophobic labyrinth. Nevertheless, it's a cool walk and a great photo opportunity. There is also a subterranean underground museum with free entrance which reveals the painful and disturbing history of the Holocaust victims. The museum also has a database of all the victims and visitors can go on their computers and search for names.
Berliner dom
Located near the TV tower, the Berliner dom is a huge renaissance cathedral that really sticks out among the more contemporary and modern buildings that surround it. It's a beautiful building that is worth a visit inside. There is an entrance fee of 7 euros which is steep considering I've been to countless free cathedrals around Europe but this one is worth it. Not only is the interior fantastic, but the views panoramic views of Berlin from the top are brilliant.
Victory Column and the Tiergarten
From the Holocaust memorial, walk through the Tiergarten, a huge public park in the middle of Berlin (like Central Park in NYC), to the Victory Column. This tall structure was  constructed in the mid 1800s to commemorate the Prussian victory in the Danish-Prusian War. It was originally built near the Reichstag building but was moved to its current location before WWII and therefore, came out unscathed by its destruction. It's quite the impressive building, and the views from the top are the best in the city in my opinion. Unlike the TV tower, there is no elevator here. Instead, narrow and windy stairs are the only way to get to the top of this 70 meter high structure. Totally worth it however!
Berlin Wall
Easily one of Germany's most famous sights is the Berlin Wall. We all know the Berlin wall was used to divide Berlin in two during the Cold War (Eastern half under the Soviets, and Western half under the Germans) and it came down in 1989, signaling the end of the Soviet Union. Nowadays, what's left of the wall can be seen at the East Side Gallery where artists from all over the world have left their creative stamp on this 1.3km stretch. What was once a symbol of repression and war is now a monument to freedom. There are some truly unique pieces and I spent a solid hour taking in all the art. Beautiful views of the Spree river can also be had as well.
Day 12-15: Dresden
---
Dresden is one of my favorite cities in Germany. Dresden is part of the old Eastern Germany before reunification in the early 1990s. Much of the city was destroyed during the war but the reconstruction effort has been incredible. Nowadays, the architecture in Dresden is among the most impressive of Germany.
Wonder aimlessly in Old Town and admire the architecture
One of the best things to do in Dresden Aldstadt and get a sense of the city is to just drift freely and soak in the beautiful baroque architecture. It's nothing short of a miracle given how the city was carpet bombed by Allied forces , completely reducing the city to rubble by Allied forces. ( Killing thousands of people in the process..such a sad story ) So, the city you see in front of your eyes is a complete reconstruction. One of the highlights of the walk around the Aldstadt is a stroll up Augustusstrasse to admire the 'Furstenzug' : the world's largest porcelain mural. Created by alchemist, Johann Friedrich Bottger , the mural depicts the 35 princes, counts and kings from the House of Wettin.
DRESDEN FRAUENKIRCHE
The Frauenkirche is one of the greatest Baroque achievements and it is considered a masterpiece of European architecture. Destroyed during the WWII, the church was reconstructed and reopened to the public in 2005. Today is a protestant church which hosts services, recitals and ecclesiastical music. It's also an important venue for concert performances. With so much to learn about its history and architecture, Frauenkirche is one of Germany's most well-known sights. We recommend that you take an audio guide tour or book your guided dome climb. From the top, you can enjoy fantastic panoramic views over Dresden.
Bastei Bridge Day Trip
No trip to Dresden is compete without visiting the beautiful surroundings of the Sächsische Schweiz area. My favorite place among the castles and wineries surrounding Dresden is the Bastei Bridge. This place looks something out of a Lord of the Rings movie and even among the other beautiful bridges in Germany, this one stands out. I would recommend visiting the Bastei bridge around sunset for the best photos and colors.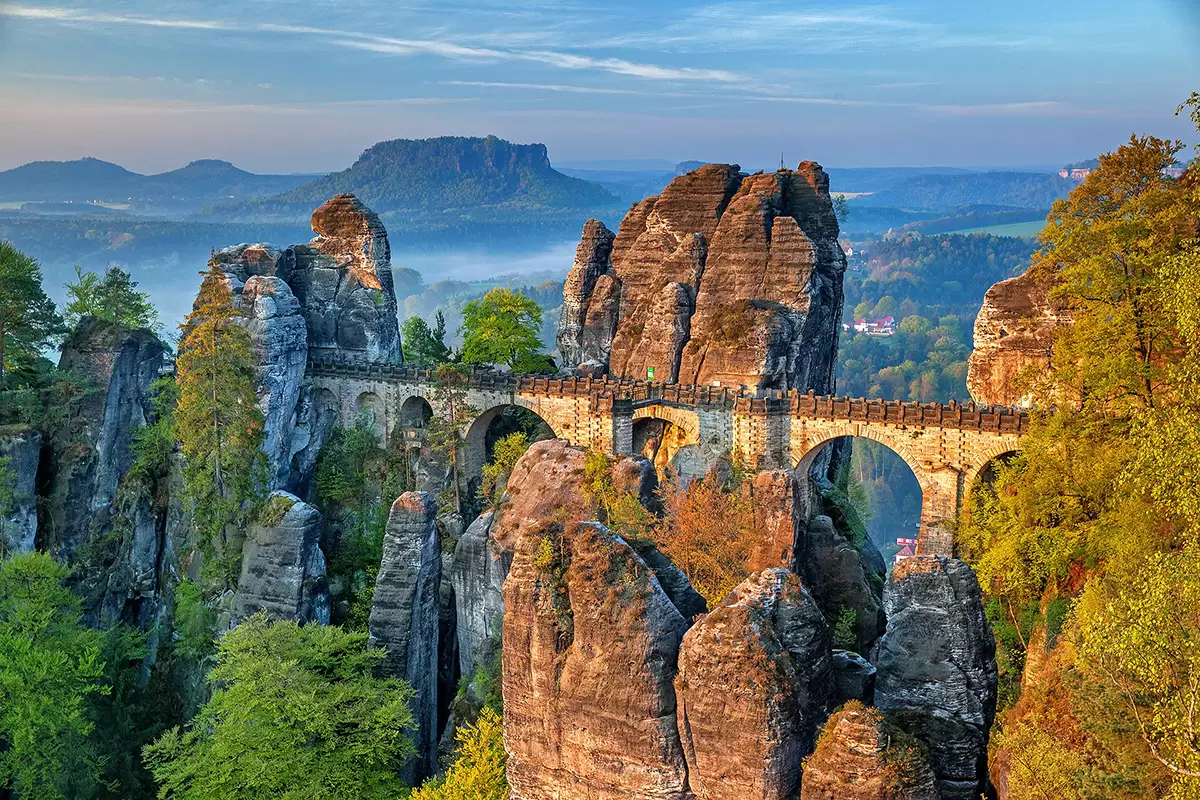 Day 15-18: Nuremberg and Regensburg
---
From Dresden, it's another 3 hours driving to one of the most historic cities in Germany, Nuremberg. This city has roots before 1,000 AD and was used as the main base for Nazi rallies and conventions during WW2. Similarly, when the war was over, Nuremberg was the famous site of the trials which saw hundreds of high ranking German officials tried and many sentenced to death.
Explore Königstrasse and St. Lawrence Side
St. Lawrence side of Nuremberg or Lorenzer Seite, named after its principal church St. Lorenz, is a portion of historic Altstadt that is situated south of the Pegnitz river.
The most popular section in the city, a must to be explored for its famed Frauentorturm and Handwerkerhof Alt Nürnberg districts are two enclaves of beautiful old half-timbered homes known for traditional crafts. Vom Bahnhofplatz the busy Königstrasse leads north-west towards Neuenburg's Old Town.
Highlights of the historic Old Street are the St Mary church from the 1560s with its magnificent stained glass.
Nuremberg Central Market
The Nuremberg hauptmarkt is the city's central market square and one of the busiest places in town. It's here that you'll find the weekly farmers' market, as well as stalls selling everything from flowers to grilled sausage.
The square is also home to the famous Christmas Market, which draws visitors from all over the world. Towering above the market square is the Frauenkirche, a beautifully ornate church that dates back to the 14th century. With its cobbled streets and charming Bavarian buildings, the hauptmarkt is the perfect place to soak up the atmosphere of this historic city.
Visit the famous Kaiserburg Castle
Kaiserburg Castle is a hilltop castle located in the city of Nuremberg, Germany. The castle was originally built in the 12th century and served as a fortress for the Holy Roman Emperors.
Over the centuries, the castle has been expanded and renovated several times. Today, it is one of the most popular tourist attractions in Nuremberg. Kaiserburg Castle offers stunning views of the city below, and its grounds are home to a variety of historical artifacts.
Visitors can also take a tour of the castle's rooms and chambers, which have been painstakingly restored to their original appearance. If you're interested in learning more about Germany's rich history, Kaiserburg Castle is definitely worth a visit.
In addition, the Castle offers stunning panoramic views of the Nuremberg. You can see the cathedrals, beautiful houses, rivers, and other buildings from this highest of points in the old town.
Day 18-20: Rothenburg Ob Der Tauber
---
No trip to Germany is complete without visiting one of its most well preserved and more picturesque towns. Rothenburg Ob Der Tauber is one of the most famous places in Germany and for good reason. It was completely unscathed by the war so the entire medieval city center is fully preserved in its traditional Bavarian charm. The buildings here just scream to be photographed year round.
Rothenburg's charm lies in the fact that you don't need to research in advance or plan your itinerary for the day. Once you arrive, you can't help but me captivated by the amazing streets and buildings. You can just stumble from beautiful street to beautiful street and have a great time.
The Plönlein
Without a doubt, this is Rothenburg's most famous little area. Any pictures you see of medieval German towns or of Rothenburg will likely be of the Plonlein. A bright yellow timber house is sandwiched between cobblestone streets, colorful buildings, and two watch towers. It doesn't get much more picturesque than this!
I would highly recommend coming here in the morning hours before the crowds come alive. We stayed the night in Rothenburg mainly because we knew the best time to see the town would be in the early morning. We were not wrong. We arrived in the Plonlein around 7:30am and it was completely empty!
The City walls
The old fortified walls of Rothenburg ob der Tauber are well preserved and filled with amazing towers. The walls wrap around the entire town and you can walk the entire length of it. I'd highly recommend doing this as it is free and gives you fantastic views of the town. The walls stretch of for seemingly forever and I felt like I was on some Game of Thrones movie set!
In total, the walk is two to three kilometers and we walked on the bridge for a good half hour. I think sunset would be fantastic here as you can see the colors bouncing off the colorful rooftops of the town.
Day 20-24: Munich and surrounding areas
---
Munich is the final stop in the itinerary. Munich is probably the most popular city in Germany. Oktoberfest alone ensures that Munich receives the most foot traffic of any German city due to its annual 6m visitors. I have been to Oktoberfest and it was probably one of the best weekends I've had in my life. I won't go into the details of Oktoberfest in this post but just be prepared to spend 3x the normal price for accommodations.
Viktualienmarkt
Okay, now you can seek lunch and the day's first beer! Dine like a local at Viktualienmarkt, Munich's central market. There are plenty of food stands to buy traditional Bavarian street fare like German sausages and pretzels. Grab a cold one and cozy up to some new friends at one of the shared tables. I thoguth the food was pretty damn good here and ended up eating a few times. For breakfast, I came here for the weisswurst (white sausage) and pretzel, a true Bavarian breakfast.  For lunch I would have haxe sandwiches. All washed down with top quality German beers as you'd expect. Filling. Cheap. Delicious.
Hofbrauhaus
The world famous German beer hall is a great stop for lunch or dinner in Munich. Yes this place might be the biggest tourist gathering in all of Germany, and you'll be hard pressed to  find any Munich residents at this place but so what? The experience alone is worth the visit. As soon as you walk in, you feel like you're where you should be to experience proper Bavarian culture.  It's best to come here with a big group, and thankfully I had met a group of Aussies in Salzburg a few days before that were keen to have dinner here.
This place might be a bit intimidating for solo travelers (particularly should you be sitting next to a loud British group celebrating their stag weekend in Munich) but as soon as the beer, and large ones at that (1L only), get flowing, everyone's here to have a good time and dance to the live Bavarian music.
Plus most people here are tourists that are seeking the same experience as you are so whatever that might be, everyone's a little friendlier and happier at this place. Oh, did I mention that the beer helps?
Marienplatz
Probably the most recognizable attraction in Munich is the Marienplatz square with its famous Glockenspiel. The town hall is the epitome of Gothic architecture with gargoyles and statues all over it. Come here right before noon and there will be a show of dancing figurines on the building as well. I was here right after Bayern Munich won the Bundesliga and there was a huge celebration in the square. Thousands of Bayern fans and tourists alike were here to celebrate the victory.
Englischer Garten
Not sure why these are called the English Garden but this is one of the largest urban public parks in the world (larger than Central Park in NYC). On a nice day, this place is definitely worth a visit. It's a long walk through this place but they do have some cool attractions within the park like the artificial stream where you can surf, and of course a beer garden at the Chinese Tower for those that need a break from all the walking. I was thirsty and went to a convenience stand near the beer garden and they wanted to charge me 3.50 euros for a small bottle of water. Out of principal, I just could not bring myself to spend that much on a bottle of water so I did what most people would do, and ended up getting a beer at the beergarden that was larger volume for the same price.
This place is also famous for its nudity. Yes, nudity. It's famous for people sunbathing fully in nude. I cannot confirm or deny this claim as it wasn't warm enough during my visit to warrant such a wardrobe. Nevertheless, for those looking to check being nude in public off the list, I would start by coming here.
Neuschwanstein Castle
One of the most popular day trips from Munich is to visit the beautiful Neuschwanstein castle. This is probably the most famous castle in Germany and by far the most visited. It is after all what certain Disney movies modeled their castles after.
Make sure to read my detailed post about Neuschwanstein if you're planning to visit. You can either drive or take a train to this breathtaking village with the most stunning of castles.
Germany Itinerary Day by Day
---
This is my Germany itinerary on a day by day basis to summarize everything that I wrote. I will also give you some ideas for other itineraries depending on your allotted times!
Remember that I lived in Germany for a few years and this itinerary is just based on everything I did and how I would properly spend a set amount of time in Germany. Here are numerous options below to help you with your trip.
Germany Circular Itinerary – 3 to 4 weeks
Day 1: Arrive in Frankfurt (or any other city)
Day 2: Visit the Rheinland Pfalz region and specifically the Mosel valley
Day 3: Wineries, Burg Eltz, Castles, etc.
Day 4: Drive to Cologne
Day 5: Cologne/Dusseldorf
Day 6: Cologne Dusseldorf
Day 7: Hamburg
Day 8: Hamburg
Day 9: Berlin
Day 10: Berlin
Day 11: Berlin
Day 12: Dresden
Day 13: Dresden
Day 14: Nuremberg
Day 15: Nuremberg/Regensberg
Day 16 Rothenburg Ob Der Tauber day trip
Day 17: Munich
Day 18: Munich
Day 19: Munich
Day 20: Freiburg
Day 21: Freiburg
Day 22: Heidelberg, fly back from Frankfurt
Germany Travel Itinerary – 1 Week major cities
Day 1: Arrive in Munich
Day 2: Munich
Day 3: Munich/Neuschwanstein
Day 4: Munich to Berlin flight
Day 5: Berlin
Day 6: Berlin
Day 7: Berlin to Dresden day trip
Day 8: Fly home
Germany Travel Itinerary – 1 Week Bavaria south
Day 1: Land in Munich
Day 2: Munich
Day 3: Munich/Neuschwanstein
Day 4: Drive the Romantic Road stopping at Rothenburg ob der Tauber, Dinkelsbuhl etc.
Day 5: Drive the Romantic Road stopping at Rothenburg ob der Tauber, Dinkelsbuhl etc.
Day 6: Wurgburg
Day 7: Bamberg
Day 8: Back to Munich
Continue Reading: