Greece is without a doubt my favorite country in Europe. The combination of its fascinating ancient history, beautiful ruins, stunning beaches, and the most picturesque islands with its white house blue door combination makes it the ultimate travel destination.
I've traveled extensively throughout Greece from the Cyclades islands, Ionian Islands, Athens, the north of Greece and more so I think I'm perfectly fit to help plan the one week Greece trip of your dreams.
Greece is not a big country by land mass but it packs an absolute punch with the amount of places to visit. Whether you're a history buff wanting to soak in the ancients sights of Athens, or a beach bum with dreams of searing blue beaches, there is something for everyone. Greece is a magical place and one week is simply not enough to see everything. Nevertheless, I will help you with your trip as much as I can so you can get the highlights and then start planning your trip back to this beautiful country!
Where to go in Greece for one week
Again, one week in Greece is simply not enough to see the whole country so you'll have to be strategic with where you go. For the purpose of this itinerary, I'll give multiple options of how to plan your trip.
The most popular destinations in Greece are in the Cyclades islands. These islands are some of my favorite places to travel in the world. Famous for their famous and impossibly picturesque white houses with blue window frames, the Cyclades is a must visit in my opinion.
With a one week itinerary to travel through Greece, I would recommend starting off in Athens and then visiting two Cyclades islands. You don't want to rush your trip through Greece because it's all about enjoying your time and going slowly with the Greek way, aka eating amazing food, sipping on wines with views of the Aegean, exploring the nature side of the islands, and simply relaxing.
My other Greece Posts
I've spent extensive time traveling through Greece so make sure to read my other Greece related posts!
How to travel between the islands?
---
Well there is no island hopping without a way to get between the islands. Thankfully, Greece has one of its most extensive and serviced ferry system in the Cyclades.
Ferries are the only way to get between islands. In the summer months, they run frequently with multiple ferries coming into an island per day. There are multiple companies to choose from which is great for keeping costs reasonable.
Some of the most popular islands have airports like Mykonos, Santorini, Milos, Naxos etc. where you can fly into from Athens or international destinations. However, there are no flight routes (that I know of) between the islands, so you will not find any flight between Mykonos and Santorini. This is because the distances are so short that flights don't make sense as well as there being an extensive ferry system to cover this.
Ferries in the Cyclades are generally quite big ships and are very comfortable. I took ten of them so I've experienced all different types of boats and for the most part, I am pretty satisfied. Most ferries start from Athens and make a route where they stop at different islands. You are essentially hopping on and hopping off depending on your point of origin and destination.
There's so much to know about the Greek ferry system that I've written an entire post dedicated to this topic. Make sure to read that so you know what to expect when you arrive!
Is one week enough time to visit Greece?
One week, or 7 days in Greece (or 8 days in Greece if you're lucky) is a decent amount of time to see some things in Greece. However, there is simply way too much to see in Greece for you to see so much. I spent two months traveling the Cyclades islands alone and that is just one group of islands among many!
With one week in Greece, I would recommend keeping it simple and choosing only a few islands along with Athens. I am a big proponent of visiting the capital city of Greece but I know that want to skip the big city and go straight for the islands. My rule of thumb is to spend 3-4 days per island just so you can have ample time to explore and relax. 2 days is too rushed and just the logistics of getting into an island by ferry will eat up your free time.
Therefore, if you are combining with Athens, then only choose two islands. Otherwise, three islands could work.
Alternatively, you could also spend a week traveling through the north of Greece. This itinerary would start in Thessaloniki and visit the ultra picturesque Meteora which you've surely seen dreamy pictures of.
One week in Greece – Day 1-2: Athens
The ancient capital of Greece is the first stop on the 1 week Greece itinerary. It's likely you'll fly into Athens and it would be a total shame to skip the city if you're already here. The city is not only chalk full of famous historical sights but it is just an amazing city with so many amazing restaurants and bars. I would recommend at least 2-3 nights in Athens to get the proper experience.
For a list of everything to do in Athens, make sure to read my What to do in Athens guide. Here is a summary of a few of the top highlights you must do while you're in Athens!
Acropolis
Acropolis Museum
Ancient Roman Agora
Hadrian's Arch
Temple of Zeus
National History Museum
Lycabettus Hill
Walk around Monastiraki
Temple of Poseiden day trip
Acropolis
Without a doubt, the main sight of interest in Athens will be the Acropolis. This is one of the original seven wonders of the world and is one of the most well preserved ancient Greek monuments in the world.
The name Acropolis is Greek for the highest point in the city (Akro means high, and polis means city). Essentially, every town in Greece has an Acropolis because it is just the highest point in the town but of course Athens is a bit more famous than that.
The Acropolis consists of the Parthenon which is the iconic ancient Greek temple that is pretty much the only picture necessary to describe Greece, various other temples, and theaters. It's very impressive and will check off all the boxes for your Ancient Greek fix. However, in the end, I'd still say the Pyramids of Giza were much more impressive.
You can spend a lot of time here depending on how into the history you are but generally I think 1-2 hours is enough. During the summers, you can expect a large crowd at all times of the day. The best way to avoid the crowds is to come here in the very early morning or stay until it closes.
It's hard to take a bad photo here so shoot away!
Admission Cost: €20 in the summer months, €10 between Nov and Apr
Opening Hours: Monday to Sunday From 8am to 8pm
*You can purchase the Athens Pass for €30 which will allow you to visit numerous sights in Athens including the Acropolis. Definitely worth it if you plan to do most things.
Roman Agora
The Agora, while not in the Acropolis, is a must visit sight as well. It's the most well preserved Ancient Greek temple in all of Greece. After seeing the Acropolis which is almost half gone, the Agora offered a glimpse of what these buildings looked like fully standing.
The Agora, translating to "a place of gathering", was once dotted with statues, shops, markets, schools and it was the place Socrates used to lecture his young disciples.
The whole complex only takes about 20 minutes to see but is well worth the visit especially if you've purchased the Athens Pass.
Visit the Plaka and Anafiotika
The most unique part of Athens has to be the Anafiotika neighborhood. This neighborhood is located right at the base of the Acropolis with perfect views over the city. It features houses built in the traditional Cycladic style that you'll find on beautiful islands like Mykonos and Santorini.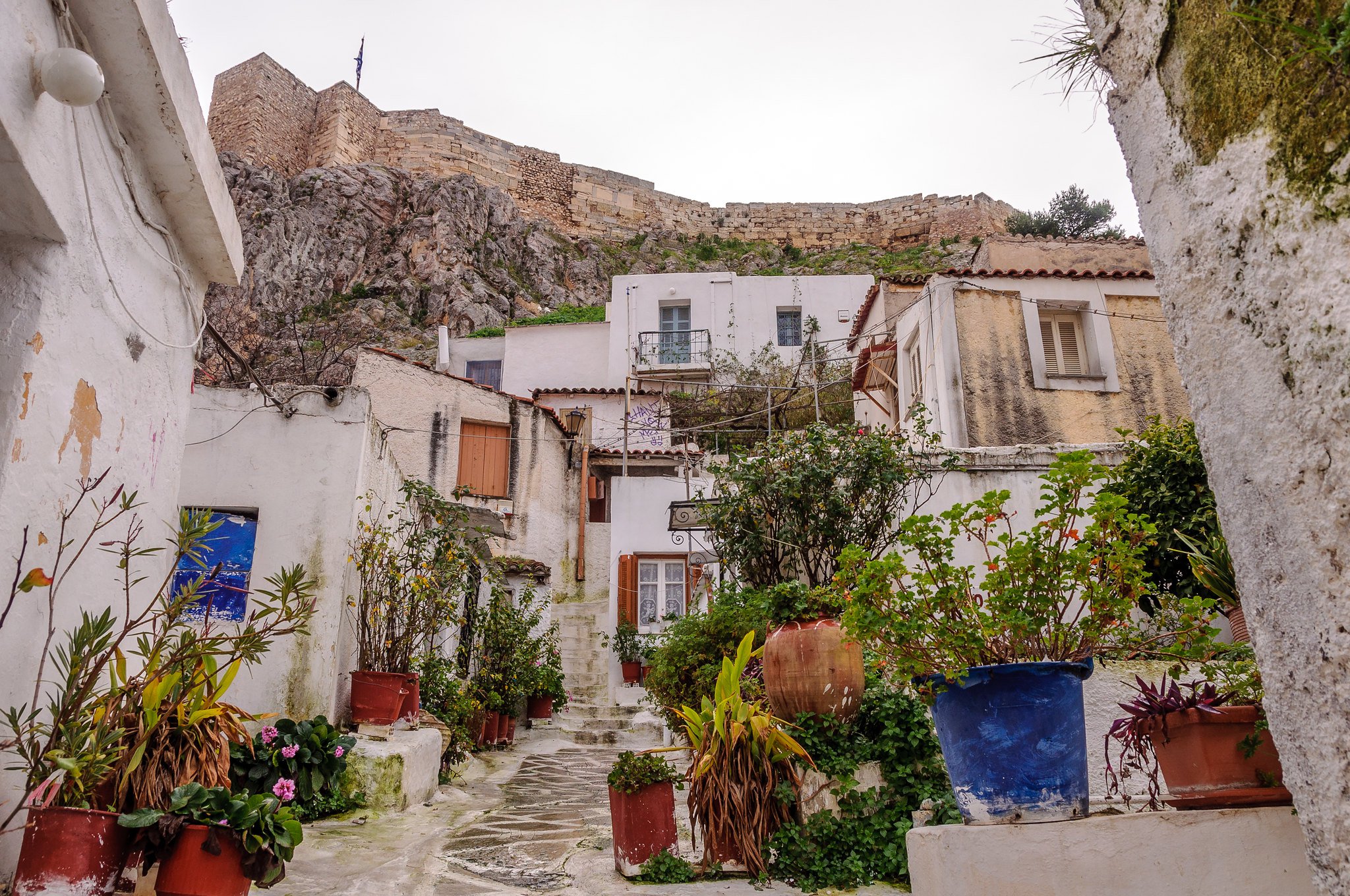 I love the Cyclades and everything about the islands so what a surprise it was when I could find the iconic white stone houses in the middle of Athens! In the early 19th century, King Othon hired the best builders from Greece to refurbish his palace. These builders came from the Cyclades and from the island of Anafi (hence the name). The king let the builders stay at gifted them land nearby to the Acropolis where they build homes for their families in the traditional style.
You can find the neighborhood high up in the Plaka district of Athens and it's the perfect place for some nice photo opportunities. You'll have to walk through Plaka to get to the Anafiotika neighborhood. Along the way, stop for a quick coffee on the idyllic steps of the Plaka at Klepsýdra or Dióskouroi and soak in the Athens air.
Enjoy rooftop drinks with views of the Acropolis
For golden hour, head to one of the many rooftops in Athens with beautiful views of the Acropolis. This is one of my favorite things to do in Athens as I think the view is absolutely beautiful.
The best bars to do this are A For Athens and Couleur Locale. Both bars serve great drinks with a laid back vibe looking out at the Acropolis.
Dinner in the city
Finally, to end a great day, enjoy a delicious dinner of Greek food out in the city. There are countless Greek restaurants in Athens ranging from local but vibrant restaurants to upscale and fancy. Monastiraki and Psyri have endless restaurant options for you to choose from.
Head over to a place like Lithos Taverna, Bandiera, or Maiandros and feast away. Greek food is known for its fresh ingredients, generous portions, and delicious flavors. It's very easy to overdo it because you want to try everything.
If you still have energy after dinner, go enjoy a cocktail at one of the world ranked cocktail bars at places like Baba Au Rum or the Clumsies!
Odeon Theatre Show
If you are visiting in the summer, make sure to book a show at the Odeon Amphitheatre which was one of my favorite things in Athens.
Free Walking Tour
I'm a big fan of free walking tours in cities and Athens is no different. The free walking tour I did here was incredibly informative and I learned things that I definitely would not have learned if I hadn't gone.
We walked by all the main sights and got lots of stories from the guide about Greek culture, history, and food. We even visited a neighborhood adjacent to the Acropolis that is a little mini Cyclades within the city. I had no idea this existed but really it felt like I was walking through a village in Milos. This is because builders from the Cyclades were known to be the best and were brought in to construct a lot of the official buildings back in the day. They settled near to the Acropolis and were allowed to build in whatever fashion they wanted.
Olympic Stadium
I had totally forgotten Athens was the home for the 2004 Olympics (and of course the original Olympics). They built this giant stadium modeled in the traditional sense for the opening and closing ceremonies in 2004.
It has since been largely unused and just a relic from that those games. I'm not sure why they wouldn't use such a beautiful structure but I guess it's the same reason they don't want to reconstruct any of the Ancient buildings?
Nevertheless, it's largely just a giant stadium in the middle of the city nowadays that tourists can visit. It is €5 for the entrance fee and you can walk around the stadium to your desire. There weren't many visitors at all during the times I visited so you can bet on taking some fantastic photos.
Mount Lycabettus
Don't miss a visit to Mount Lycabettus which is the ultimate sunset spot in my opinion. It's near to the city center and can easily be reached by foot or taxi. You can either take a cable car from the entrance for €5 or walk yourself to the peak. From the entrance of the cable car, it is only about 200m to the top and is not a difficult hike.
The views here are simply stunning as you can really grasp just how massive of a city Athens is. You can even see the Mediterranean from the viewpoint.
There is a cafe and restaurant here where you can buy cocktails to enjoy the view. The restaurant is very expensive but could be worth it if you're keen for some nice views!
One Week in Greece – Day 2-5: Mykonos Island
---
From Athens, I flew to Mykonos where I spent the next three nights. Mykonos is probably the second most visited island after Santorini and is famous for its beautiful Chora (the main town) and its beach clubs. With one week in Greece, this is a great island option to start your Cyclades adventures.
Mykonos felt like the gathering place of the European Jersey Shore crowd mixed with all the semi-pro influencers you can find. Most times it felt like people were going that extra step to look better than they normally would. It's like the Miami of Greece in a sense. Everything is also priced accordingly and you can expect to spend 2-3x more for almost anything in Mykonos versus the other islands in the Cyclades.
Nevertheless, it's easy to avoid this by simply staying away from the fancy beach clubs and that whole vibe. The Chora is absolutely beautiful to walk around during the day when people are nursing their hangovers from the night before.
It's everything you're looking for in that typical Cycladic village with its perfectly manicured cobblestone streets, white houses, and blue doors. I also really enjoyed the sunset from the Armenistis lighthouse as well as from the 180 degree sunset bar (even if the cocktails are €18).
One Week in Greece – Santorini: Days 5-8
---
Finally, the last part of the one week Greece itinerary ends in the beautiful island of Santorini. If you are debating between Mykonos and Santorini, make sure to read my post comparing these two most popular islands.
Santorini is the most famous and most visited island in all of Greece, and maybe even the world. This is the ultimate in stunning views and photo opportunities. For the ladies, make sure to pack your favorite dresses and a sufficiently large hat which is key.
Even if you've never heard of Santorini, there's a high chance you've seen a photo of its iconic blue domes floating around somewhere. Mykonos has become the defacto upscale party island of Greece whereas Santorini has become the mecca for romantic couples trips, honeymoons, and influencer photo sprees.
Santorini is unlike the other islands in that it was formed by a volcanic eruption thousands of years ago. The entire island nowadays is built on the remnants of lava hardening in the sea. The island is very beautiful in that all the houses were built on the clifftops that descend straight into the sea allowing for dramatic effects.
The main towns of Santorini are Fira and Oia with the latter being the famous town that everyone takes photographs from. I would recommend one of the beautiful resorts in Oia or if you want exclusive privacy away from all the madness, stay somewhere in between Fira and Oia.
Santo Winery
No visit to Santorini is complete without visiting the world famous Santo Winery. Santorini is widely regarded as the best wine growing island in all of Greece thanks to its rich volcanic soil (remember, Santorini is the remnants of a large volcano explosion thousands of years ago). Santo Winery is the largest producer on the island dating back to the 1940s.
Santo Wines has a large compound nearby to Fira town and it has perhaps the most stunning scenery that any winery in the world could hope to have. It's literally in the middle of the Santorini crescent and offers completely unobstructed views of the sea.
The estate is set up with a modern interior perfect for wine tasting as well as numerous large outdoor patios for you to enjoy the breathtaking view. Santo Wines is actually popular for weddings and who could blame them?
We did a wine tasting here which included 12 of their wines (6 red and 6 white) for roughly €40. I actually thought this was crazy expensive considering I had been getting wine at restaurants for €4 for a half liter. Nevertheless, the wine here is of top notch quality but in reality you're mostly paying for the view. The view is absolutely out of this world and is a must visit for this reason alone.
The sun sets directly in front of the estate so it's a hugely popular place for sundowners. A reservation is an absolute must if you want to come here for the sunset. Even during coronavirus times, this winery was packed full. If you come in the summer months in normal times, I'd make a reservation at least a week beforehand. Otherwise, you can still come here during the daytime without much issue. The sun is super hot so most people wait until sunset to come here in big numbers.
Do the Fira to Oia hike
If you want to mix up the Instagramming and upscale dining with some physical exercise (light of course), look no further than the hike from Fira to Oia.
I'm not sure I would really call this a proper hike as more of a long walk. It's not very challenging as the terrain is novice and almost all of it is done on paved road. Nevertheless, if you want to get a good feel of what Santorini has to offer in terms of views and landscape, the hike from Fira to Oia is it. Fira is located in the center of the island while Oia is located at the northwest tip. Doing this hike essentially means you've walked half of the island. Not only will you be able to see the breathtaking views Santorini is famous for, but you'll also walk through some of the lesser known towns in Santorini (which are also very worthwhile).
The hike can be done at any time of the day as there is no entrance fee you need to pay. You simply start in Fira, Santorini's capital, and walk along the edge of the town until you find the start of the footpath that goes towards Oia. You can see Oia from Fira so really if you're just walking along the sea towards Oia, you're going in the right direction. If all else fails, just ask someone!
I recommend starting from Fira because the hike towards Oia is slightly less of an incline than the other way around. Of course, you can hike from Oia to Fira as well but just be prepared for more uphill. The next two towns are Firostefani and Imerovigli which are almost like suburbs of Fira and are on this footpath (you can't miss it). Both are much lower key than Fira and because they are not as easily accessible for the swarms of cruise ship tourists.
To return to your starting point, simply take the frequent bus that goes between the two towns. This bus leaves every half hour so you will never have to wait that long. Alternatively, if you're staying in Oia, take the bus to Fira first, and then walk back home. I'd recommend doing this hike in the morning hours as the sun can be very unforgiving after 11am.
The walk is approximately 10kms (6 miles) long and will take you through a variety of landscapes along the way. Make sure you set aside a decent amount of time to complete so you are not in a rush. Generally, it should take between 3-5 hours depending on fitness level, stops and the temperature.
The path changes terrain from everything such as loose scoria, concrete, sand and rocks. Good walking shoes with plenty of support is a must.
Day by Day One week Greece Itinerary breakdown
---
Here is a breakdown of the day by day itinerary for spending one week in Greece.
Day 1: Land in Athens and explore the city
Day 2: Half day in Athens, afternoon flight to Mykonos
Day 3: Full day Mykonos
Day 4: Full day Mykonos
Day 5: Mykonos to Santorini by ferry
Day 6: Full day Santorini
Day 7: Full day Santorini
Day 8: Flight home from Santorini (either direct or through Athens)
What If I don't want to visit Mykonos or Santorini?
If visiting Mykonos and Santorini are not at the top of your list, what other islands should you consider? I know Mykonos and Santorini get all the recognition and the FOMO from first time Greece visitors but I can absolutely assure you that there are much more beautiful islands in the Cyclades to visit at a fraction of the cost.
For the purpose of a one week Greece itinerary, I will recommend you to choose from the following islands:
These are some of my favorite islands in the Cyclades and they are easily accessible from Athens by flight or ferry (depending on the island).
A popular option to to replace Mykonos and Santorini would be to combine islands like Naxos and Paros. Milos and Folegandros is another great option. Finally, Naxos and Amorgos might be my favorites. Amorgos is probably my favorite island in the Cyclades and definitely the most breathtaking.
Continue Reading: