Germany is known for its countless festivals all over the country. Whether it's Oktoberfest, the Carnival in Cologne, or the most iconic Christmas Markets of your life, there is something for someone all the time. Let's just say it like it is, the German's love to drink and have a good time. What better way to achieve this than to have everyone meet at the same place stocked with copious amounts of wine and German comfort foods, all for very reasonable prices?
Frankfurt has been my home for awhile and like any other German metropolis, has countless markets throughout the week where you will always have a good time. These are always stocked with good wine from the region, beer, delicious foods, and a farmers market of sorts. On the weekends, people are out drinking and having a good time. The day drinking game in Germany is very strong, and these markets and festivals definitely help fuel that.
There are also numerous themed festivals throughout the year, primarily in the warmer months, that pretty much do the same thing as the above sentence. I've made sure to go to as many as I can and if you're visiting Frankfurt or planning on moving here, prepare yourself for a good time always. These are all the markets (that I know of) in Frankfurt, and they are in all different neighborhoods. Read my Frankfurt neighborhood guide to better understand the differences!
For those planning or thinking of moving to Frankfurt, make sure to also read why I absolutely love living in the financial capital of Germany!
If you are planning or are moving to Germany, make sure to also read about my experiences living in the country.
This post is all a part of my guide to living in Frankfurt, Germany where I list out all the things you need to know as an expat in Frankfurt and Germany.
Regular Markets in Frankfurt
---
The first part of this guide will be the regular markets in Frankfurt. These are pop up farmers markets, food stalls, and booze tents that occur on a regular basis (weekly or multiple times a week). Many of these markets run year round, even in the winter months as opposed to the bigger festivals that are generally running for a few days in the warmer months. Some markets are more boozy and upbeat than others, but you'll be sure to find a very diverse selection of fresh produce, cheeses, breads, and warm foods on display.
Kleinmarkthalle
In the market hall Kleinmarkthalle Frankfurters gather for a chat over a glass of wine, for a meal or a pleasant browse. The Hessian speciality of 'Grie Soß', a local herb sauce, comes as highly recommended as many other national and international delicacies are on offer. If local German cuisine is not what you fancy, there are plenty of Italian places, seafood, Spanish, and even Asian food stalls selling delicious meals. Kleinmarkthalle is also a farmers market selling delicious local produce, meats, cheeses and breads. Germans are all about fresh ingredients and you can find it on display at this market hall in the Innenstadt.
On the weekends (and also during the week but mainly during the weekends), the small outdoor square turns into a big day drinking party of sorts. Numerous wine tents are set up offering local wines to thirsty patrons. The cost of wine here is about €4 a glass and don't worry, German pours will always be adhered to which means 0.2l really means 0.25l.
When I first moved to Frankfurt, and still occasionally, I came here almost every weekend and had a grand old time. I can't recall how many glasses I'd have but it would be at least a bottles worth. It seems like much of the Frankfurt crowd comes here on a Saturday afternoon and it is one of those scenes, but surprisingly not in a bad way. However, if you are the type looking for a good time and a good party afterwards, then the Kleinmarkthalle to Butze Bar combo cannot be beaten on a Saturday.
Location: Hasengasse 5-7, 60311 Frankfurt am Main | Operating Hours: Every day except Sundays 08:00-18:00
Sudbahnhof Market
Every Tuesday and Friday, a local farmers market is also hosted by Sudbahnhof giving you a very local connection to the area.
Location: Diesterwegpl., 60594 Frankfurt am Main | Operating Hours: Every Tuesday and Friday 08:00-18:00
Bergerstrasse Market
In the neighborhood of Bornheim, every Wednesday and Saturdays there is a market on the main Berger Strasse. It's a smaller market in comparison to Kleinmarkthalle or Konstablerwache but it is a solid neighborhood option for those living in the area. Expect lots of fresh produce and breads as well as one of my favorite wurst stalls. If you don't the craziness of Kleinmarkthalle on a Saturday, come to this market instead!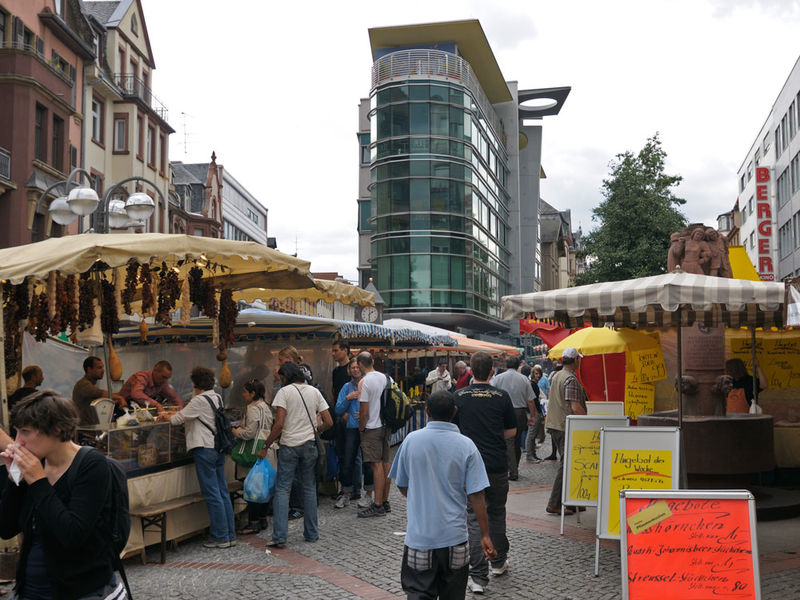 Location: Bergerstrasse beginning at the Bornheim U-Bahn station | Operating Hours: Every Wednesday 08:00-18:00 and Saturday 08:00-16:30
Konstablerwache Market
Right at the heart of Frankfurt, on its most famous shopping mile – the Zeil, is the Konstablerwache. This is where the locals flock on Thursdays and Sundays to buy fresh groceries, flowers and enjoy a chat over a meal. The culinary desires of the market's visitors are catered to throughout the day, and the delicious regional, national and international delicacies on offer will delight any foodie's taste buds.
I've been here on a lunch break on Thursdays and it's always busy but still plenty of space to get what you want. Saturdays, it is usually a party but not to the degree of Kleinmarkthalle next door. Nevertheless, this is my go to Thursday after work option for outdoor market style drinking. They always have plenty of Apfelwein stands that serve the Hessian drink into the evenings.
Location: Konstablerwache Plaza by the S-Bahn station (hard to miss) | Operating Hours: Every Thursday 10:00-20:00 and Saturday 08:00-17:00
Schiller Market
Schiller Market is located in the Innenstadt and the market runs every Friday. A wide variety of fruit and vegetable stands that all have an enormous selection. These stalls are broken up by butchers, bakers, and a variety of other stalls. Might be one of the best markets in Frankfurt!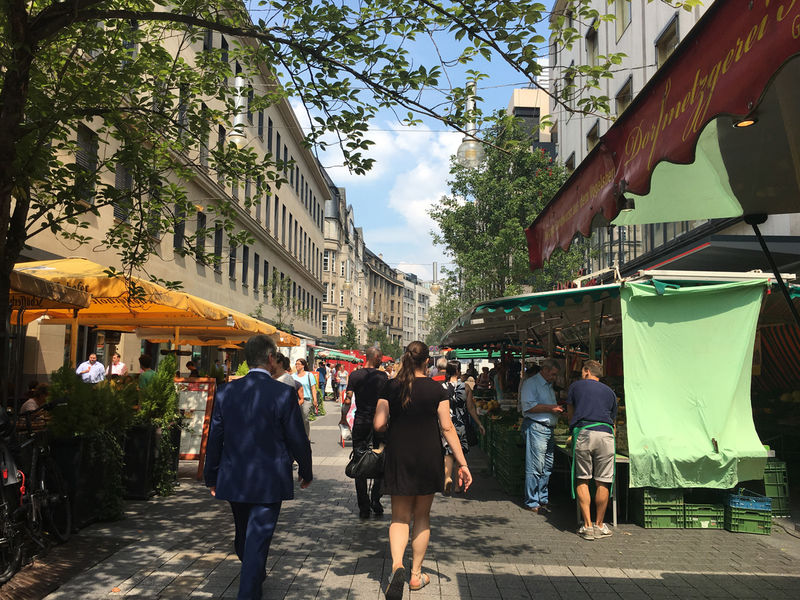 Starting in the early afternoon, people will congregate here from the nearby banks and financial centers and it becomes a solid Friday post work drinking event.
Location: Schillerstraße 2, 60313 Frankfurt am Main | Operating Hours: Every Friday 09:00-18:30
Kaisermarkt
Kaisermarkt is a bi-weekly market in the Bahnhofsviertel on the main Kaiserstrasse just outside of the Hauptbahnhof. You'll find the standard Rollanderhof wine tents as well as numerous food stalls. There is one stand here that serves delicious game meats like wild boar and venison wursts. This is definitely one of my favorite stands of all the markets but I've only managed to find them at this market.

Location: Kaiserstrasse starting from the Hauptbahnhof | Operating Hours: Every Tuesday and Thursday 09:00-19:00
Friedbergerplatz
Friedbergerplatz is actually a very unassuming and not particularly attractive square with some nearby restaurants and a trinkthalle. However, on Fridays during the summer months, it turns into a huge party. The square becomes packed with people drinking and having a good time on the square. From about 16:00 to 20:00, you will have your traditional wine stands, food stands etc. set up for you to purchase alcohol.
From 20:00 onwards, everyone brings their own booze and continues the party. It's definitely a younger crowd at this event unlike the other markets where it's literally the entire spectrum. It's a bit of a meat market at the Friedbergerplatz but hey, my outdoor drinking prowess has been suppressed for so long living in the US so it's still a good time for me regardless.
I've been here a handful of times and it's a great way to spend Friday after work with your friends enjoying the sunset, which happens very late in Frankfurt. Police swoop in around 22:00 and promptly kick everyone out so the nearby residents can sleep and the cleaners can clean. In true German fashion, the square is completely cleaned within an hour like nothing had even happened.
Location: Friedbergerplatz in Nordend | Operating Hours: Every Friday from 16:00 to 22:00
Festivals in Frankfurt
---
The festival months generally are from May until October, with of course the Christmas markets in late November and most of December. These festivals usually run for a few days to a week and occupy an area of the inner city. Some are more popular than others and some are definitely more crazy than others. I've managed to go to most of the festivals and to be honest, they are all somewhat similar but they are always a good time.
You can always expect there to be a few wine tents serving large German sized pours of wine for cheap (€3-4 for 0.2l), the usual suspects for German festival foods like wursts, flammkuchen, meat sticks, as well as various international cuisines. You might ask why the hell would I want to go to a crazy get together and be packed in with so many people. I asked myself the same question. Most "festivals" I've been to back home are accompanied with crazy queues to get expensive drinks, mediocre food, and just a overall meh vibe. The festival culture in Germany is totally different and yes you are with a lot of people, but for some reason it is not bad at all. Perhaps it's the €3 wines that make you happy to be around people, I'm not sure. Either way, I love them all.
Rhinegau Weinfest
In the late summer of each year, the Rheingau winegrowers in the Fressgass' present over 600 wines and sparkling wines. The Rheingau wine market is one of the major culinary events in the Main metropolis, with more than 400,000 guests attending this event. Already in 1978, the first Rheingau wine market took place and was then consciously established in Frankfurt's noble promenade, since only the colloquial name "Freßgass'" stands for the tradition of this street as a place of epicurean delights. The concept of this market is the merger and direct contact of winegrowers with consumers and consumers.
The range of wine stands ranges from the finest wines to light and sparkling summer wines. In addition to the Rheingau dominating Riesling also wines are served, which were obtained from alternative grape varieties. The Rheingauer wine market renounces a framework program, since only the communication and the consultation discussions stand in the foreground. Thus, this event has become a meeting place where winegrowers can get into conversation with the guests as well as the guests.
The festival takes place at the beginning of September and runs for about a week. It is also in the same location as the Fessgass fest that runs in May. Loads of people come out for this festival and it is always as good time as well.
When is it: Every September
How long is it: 1 week
Fessgass Fest
The people of Frankfurt have known it for a while: with the Fressgassfest in May, spring has really arrived in the city. Traditionally, it is one of the first street festivals of the year and every year attracts the friends of the sophisticated taste into the "Große Bockenheimer Straße" between Börsenstraße and Opernplatz. With its long-standing traditional shops and gastronomic offers, the Fressgass' is almost predestined for a chic and at the same time relaxed and atmospheric street party. Here is strolling, listening to the best sounds, tasting a fine drop or the guests can be spoiled culinary with specialties and treats. And it's a good opportunity to talk to each other easily. In addition to various music performances are also promotions for young and old on the program.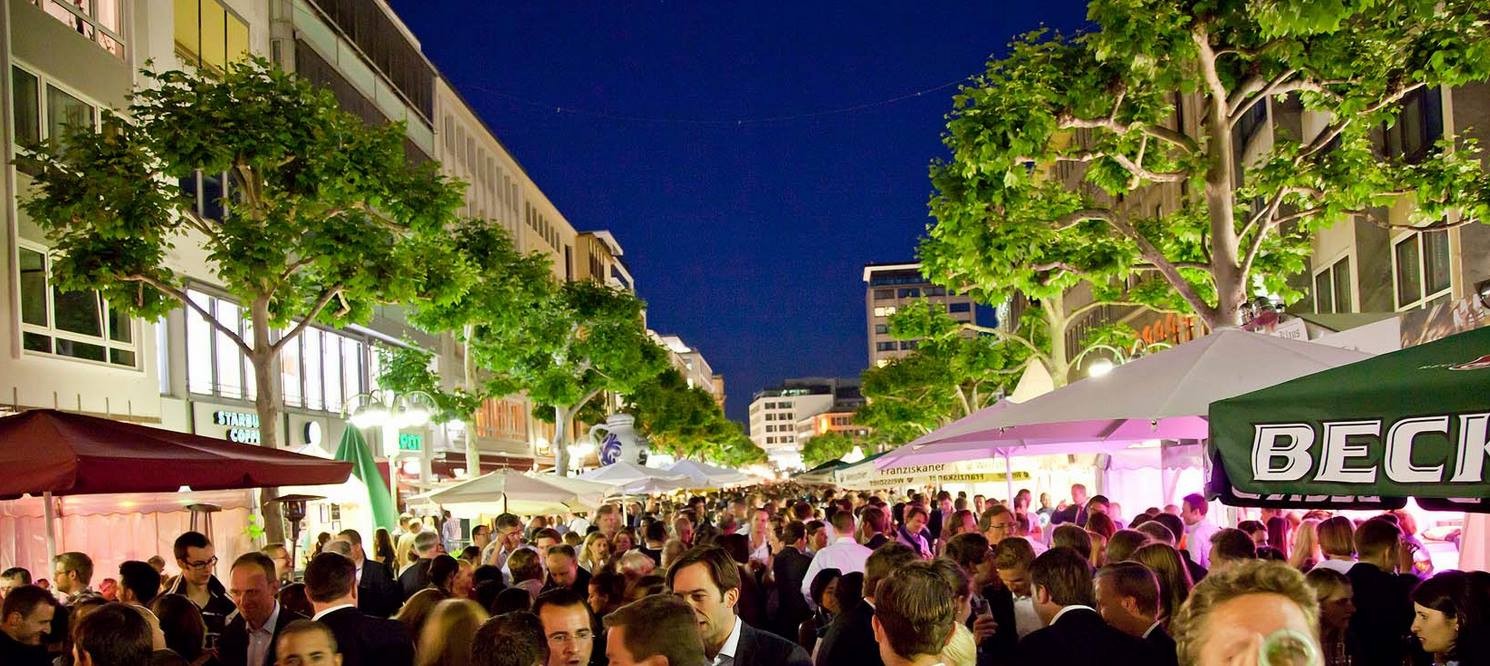 When is it: Every June
How long is it: 1 week
Grunesauce fest
Also this year the popular competition for the green sauce with its 7 herbs takes place. As always, 49 restaurateurs from Frankfurt and Rhein-Main will dig deep into the herb bed and present their green sauces. Host Anton Le Goff, accompanied by his band, awaits numerous guest artists and of course his old friend and meat sausage lover, the Hilde from Bornheim. Every evening, the audience tastes 7 different sauces, in addition there are classic potatoes and eggs, a free choice of drinks and of course the coveted voting card for the all-important choice: who makes the best green sauce?
If you do not want to wait until the evening, you can enjoy delicacies from around the world in a market around the festival tent: from Handkäs' with music, over green gravy and tarte flambée to sushi from the band with "Grie Soß" all under the sign of 7 herbs.
When is it: Every June
How long is it: 1 week
Apfelwein Fest
It already has a tradition in Frankfurt: the cider festival. At the Frankfurt Roßmarkt, everything revolves around the Hessian national drink.
In Hesse, the cider, which is also called "Ebbelwoi", has been a popular drink for centuries. Many drink it pure, but it is also very popular with mineral water or lemonade. Numerous Kelterers from the region will offer the traditional "Stöffche" from old apple varieties as well as modern mixed drinks and cocktails with cider. At the same time, the owners offer a colorful supporting program with live music.
When is it: Every July
How long is it: 1 week
Museumsuferfest
The Museumsuferfest is one of the most important and largest art and cultural festivals in Europe, attracting up to three million visitors each year to Frankfurt's Main Bank. With this folk festival, the city celebrates its Germany-wide unique Museumsufer, because a significant museum after another joins each other like a string of pearls on the banks of the Main. From classical painting to modern sculpture and architecture to the medium of film, the Frankfurt museums offer an impressive spectrum of national and international art and cultural history.
Without a doubt this is the biggest and most crazy festival of the year. BOTH sides of the Main river from Gallusviertel to Ostend are packed with food stalls, wine tents, concert stages, etc. There are all types of foods from West African to Filipino on offer at this festival. All of this culminates into a huge fireworks spectacle on the last day. Secure a spot on the Frankfurt Iron Bridge for the best views! If you're in town for this festival, would definitely recommend a visit.
When is it: Every August
How long is it: 3 days (Fri to Sun)
Bahnhofsviertelnacht
Without a doubt, this is my favorite party of the year. It's just one night on a Thursday in mid August when the entirety of the Bahnhofsviertel turns into a big block party. They close down all of Kaiserstrasse as well as adjacent streets for this party. All the food stalls and wine tents that you can expect at the other festivals will be in full swing here. As well, all the nearby trinkthalles and grocery stores will have plenty of booze to supply a good night. The festival ends around midnight but the party continues late into the night at one of the many bars and clubs in the area.
If you're feeling adventurous, then definitely venture to the slightly sketchy Taunusstrasse where all of the brothels, strip clubs, and other seedy joints have their version of a block party where strippers are dancing on platforms on the street.
When is it: Mid August on a Thursday
How long is it: 1 Day
Bergerstrasse Fest
The lower Berger Straße, between Bethmannpark and Höhenstraße, is an attractive shopping and shopping mile with small shops, cozy sidewalk cafes and trendy clubs. Various cultures characterize this almost Mediterranean street scene and once a year a multicultural big event takes place – the Bergerstraßenfest.
The traditional festival, again organized by the IG "Untere Bergerstraße" eV, attracts thousands of visitors from the entire Rhine-Main region. The adjacent restaurants and bars put their benches and tables out onto the street and offer international food and drinks. In the afternoon there are cakes and coffee and a children's program, in the evening cocktails, cider and beer. Several live music venues provide musical entertainment and a non-stop cultural program.
When is it: Every July
How long is it: 3 days (Fri to Sun)
Mainfest
It is one of the great summer highlights and is the only Frankfurt city center festival to showman style. At the Mainfest, visitors not only get gastronomic variety, but also a large selection of rides, carousels and scores. This makes it a classic folk festival for the whole family and attracts several hundred thousand locals and foreign guests each year.
Traditionally, in these days the Main is recognized as the important lifeline of the city. When the Dreikönigskirche on the southern bank of the Main was consecrated on 23 July 1340, the main fishermen celebrated a festival and thanked "their" river. With wine from the justice fountain, "Ochs am Spieß" and folk amusements like goose plucking, duck fishing and Fischerstechen it was an event for the entire population. And some customs have held until today, because the Mainfest opened with wine from the justice fountain. Also the "Fischerstechen" takes place again. In this lance tournament on the Main, the participants try to push each other out of the boats, which the audience always pursues with excitement and enthusiasm.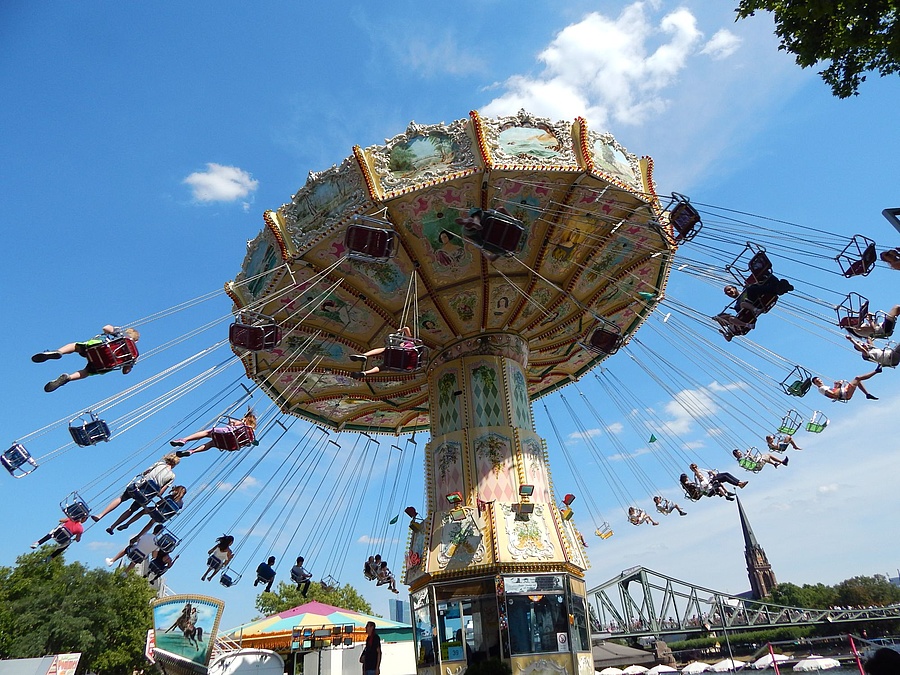 The crowning glory of the Mainfest is the fireworks on Monday evening. Thousands of guests line the banks of the Main and the bridges as the superlative sky spectacle spills over the water, accompanied by numerous boats decorated with lanterns and bathing the Main in a romantic light.
When is it: Every July/Aug
How long is it: 3 days (Fri to Sun)
Schweizer Strassfest
Every summer, the Schweizer Straße in Sachsenhausen transforms into a long festival mile, which attracts locals and guests from all over the surrounding area. Between Gartenstraße and Textorstraße the businessmen of this shopping street will once again spoil the guests with delicious gastronomy and traditional specialties. Schweizer Strasse enjoys a good reputation among gourmets with its exclusive delicatessen shops, a variety of restaurants, bistros, cider houses, cafes and trendy bars.
In addition to this multitude of stalls, the various stages for music and shows are particularly popular.
When is it: Every June
How long is it: 3 days (Fri to Sun)
Christmas Market
The festival season ends in September and there's a dry spell until late November when the Frankfurt Christmas market opens. Germany is famous for its festivals and Frankfurt's rendition is absolutely amazing. While I'd still highly recommend visiting the smaller towns to get a more intimate and picturesque experience, the Frankfurt Christmas market is not to be overlooked. So many stalls serving Gluhwein, hearty German food that is absolutely delicious on a cold December night, and plenty of room to socialize and have a good time.
The eye-catcher is the stately Christmas tree, which shines through thousands of light bulbs every year. During the official opening ceremony, the tree will be lit for the first time. Until the last day of the Christmas market there is an interesting program with Advent concerts, tower bubbles from the Altan der Nikolaikirche, the Christmas market of the Frankfurt artists and the Frankfurt city ringing on Saturday before the 1st Advent from 16:30 to 17:00 and on Christmas Eve from 17:00 to 17:30.
I've been an avid frequent customer of the Christmas market in Frankfurt so make sure to read my detailed post covering everything related to this market!
When is it: Every November/December
How long is it: 4 weeks or so (closed Sundays)
Continue Reading: