Frankfurt has been my home for some time and I absolutely love it. I wrote about all the reasons I love living in Germany's financial capital, and surprisingly the food scene is one of them. While Frankfurt will probably never be a "foodie" destination, I am totally okay with that because that means I can go to all the restaurants here and still afford it.
Truth be told, Frankfurt is totally underrated when it comes to dining. Being the most culturally diverse and most international city in the country, all cuisines have solid representation. You can have Thai one night, Italian the next, Ethiopian following, and Brazilian after that without issue. In fact, German restaurants which you may think is everywhere, is actually more difficult to find! But don't worry, there are plenty of brauhaus in Frankfurt so that is not an issue. On top of great food, Frankfurt is a wine city and there are countless amazing wine bars to choose from as well.
For those planning or thinking of moving to Frankfurt, make sure to also read why I absolutely love living in the financial capital of Germany!
If you are planning or are moving to Germany, make sure to also read about my experiences living in the country.
This post is all a part of my guide to living in Frankfurt, Germany where I list out all the things you need to know as an expat in Frankfurt and Germany.
My Frankfurt Restaurant Guide
---
There are countless restaurants to choose from and even I can only go to so many restaurants at at time. However, I keep a list of all the restaurants I go to using my restaurant list tracker. At the time of writing this in October 2019, I've been to over 100 restaurants in Frankfurt. There's at least another thousand or two in Frankfurt so by no means is this list the definitive list. This list is merely the places I have been to and the ones I liked the best!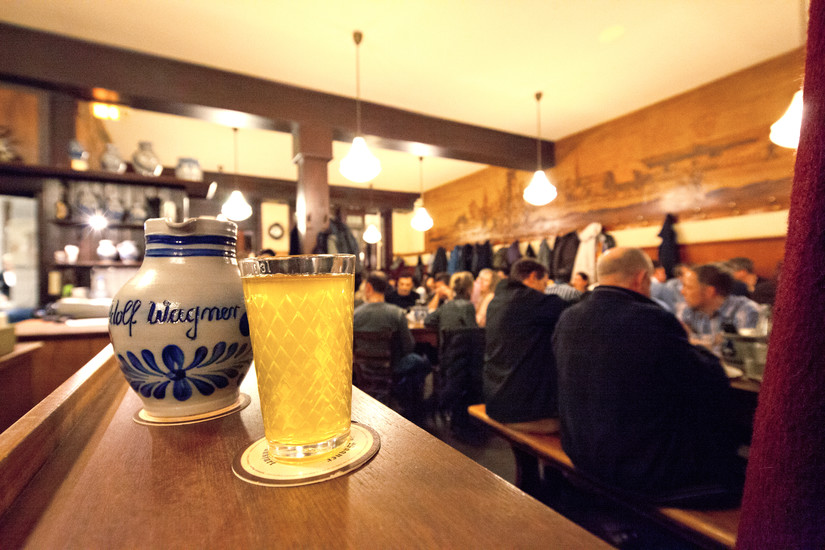 This post will not be just the fanciest and most expensive restaurants as I firmly believe there is no such correlation between good tasting food and price paid. This list will change in the coming months as I visit more and more restaurants
Thai Food in Frankfurt
---
Amazingly, there is a huge abundance of Thai and Vietnamese food in this city. In fact, I've not even more Thai food in my life outside of visiting Thailand. One of my favorite things about Germany is the abundance of duck at a very low premium. Expect to pay under €10 for a main dish at most Thai restaurants in Frankfurt, even with duck as your main entree.
Toh-Thong Thai
One of my go to Thai places. Located around the main train station, this is a great Thai restaurant that I like to go to before taking a train somewhere.
Phuket Thai Imbiss
Located in the Innenstadt, this very casual street food style Thai spot is one of my go to options when needing a quick Thai fix. They have ample outdoor seating and make delicious crispy duck.
Green Thai
If you want a slightly more upscale vibe but still affordable prices, Green Thai is your spot. Located around the Konstablerwache, this place has a very inviting interior with a great drinks selection. This is a perfect Thai restaurant to go out with friends.
Thai Eck Imbiss
This might be my favorite place to get Thai food. There is no ambiance here at all as it is literally just a mom and pop take out Thai restaurant with a few outdoor seats. The food is the highlight however as this is the type of place you'd want to eat good Thai anyway. They have the tastiest dishes here in my opinion with very low prices.
Thai Imbiss Pattaya
Another very casual and no frills take out Thai restaraunt. Thai Imbiss Pattaya has a lot of big time reviews and the food definitely matches. It is located in the Bahnhofsviertel and is mostly a take out restaurant with a few seats inside and outside.
BKK Thai
BKK is a newer Thai restaurant that opened up during the Pandemic. It's a Bangkok style street food restaurant that has many delicious rustic dishes that aren't found in other Thai places. They have a big outdoor space on Oeder Weg with a very millenial hip vibe.
Krapao Thai Bistro
There is just no shortage of Thai restaurants in Frankfurt. Krapow Thai in Nordend is one of my favorites and has legit real recipes. The flavor and ingredients are as traditional as you can get. The Pad kee mao here is one of my favorites and it is in fact one of the only places to get this dish in Frankfurt!
Italian Food in Frankfurt
---
I think Italian restaurants are the most abundant of all cuisine types in Frankfurt. I mean who doesn't like Italian food? I'll admit I've not eaten at as many Italian restaurants since moving here because I figure I can just take a weekend trip to Italy like the Dolomites or in Puglia!
Ristorante Italiano Trattoria i Siciliani
This is one of the highest rated Italian restaurants in Frankfurt. I can certainly see why. The food here is from the Sicilian region and is tasty. It is located in Sachsenhausen nearby the Main so you can enjoy views of the river on nice days.
La Dolce Vita
The atmosphere is quaint and authentically Italian looking. The patio is beautiful and would be a lovely place to sit in the warmer months. This is a great neighborhood Nordend Italian restaurant.
Superbros Pizza and Pizza Montana
Many of the Italian restaurants in Frankfurt make pizza but if it's good pizza you're after, look no further than Superbros and Pizza Montana. These two restaurants dish out authentic Napoli style pizza with their super hot wood ovens that stay true to the style.
Pizza Montana, located in the Bahnhofsviertel was the first store before a few employees went out on their own to open Superbros in the Nordend district. Both places serve the same delicious style of pizza with different toppings. As far as I know, these are the only two places in Frankfurt that serve authentic Napoli style pizzas which in my opinion are some of the most tasty.
Prices are also very reasonable at around €9-10 per pizza. Superbros has a better environment in my opinion as they have a fully stocked bar dishing out cocktails and Aperol Spritz.
Eissalon Firenze
Of the countless ice cream and gelato shops in Frankfurt (Germans love their ice cream in the warmer months), this is my favorite. Their gelato is definitely the best of all the ones I tried.
Greek Food in Frankfurt
---
There are a ton of Greek options in Frankfurt as you'd expect from the countries being relatively close to each other. Most Greek restaurants have your standard greek
Omonia
This is one of my favorite restaurants in Nordend. It has a great atmosphere with plenty of indoor and outdoor seating. The food is also great. The prices are slightly higher but is well worth it.
Megaron
Megaron is another delicious Greek restaurant in Nordend that serves delicious food. I had their octopus which was very asty.
Taverna Serres
Aplo Foods
For a quick and easy gyros or souvlaki, Aplo foods in the Innenstadt is my go to spot. They have chicken and pork gyros/souvlaki pitas for under €5. It's nothing fancy but sometimes you just want a pita and this is the best place for it.
Balkan Food in frankfurt
---
After spending a few weeks traveling through the absolutely beautiful Balkan countries, I've come to very much enjoy their cuisines. I could eat their meat and cevapcici dishes every day. Thankfully, there are plenty of good options in Frankfurt for those looking to taste the flavors of the Balkans.
Marjan
A wonderful place. Warm, very good value for money with huge portions, excellent food, consistently good service. Outside in summer, inside in the winter, and a great location in Sachsenhausen. What's not to like? The portions are huge and the prices are very reasonable. The vibe of this place is also amazing.
Balkan Grill
One of my go to spots in the Bahnhofsviertel, Balkan Grill is perfect for a quick casual meal of cevapcici or other grilled meat dishes. I've eaten here dozens of times and the €8 plate of 7 cevapcici with Balkan bread is delicious.
Una Cevapcici Grill
Another great Balkan option in Bornheim that is very casual and cheap. They focus on their cevapcici and do it very well.
Best Burgers in Frankfurt
---
Like any major city in the world nowadays, there is no shortage of American style hamburger joints. Obviously I will not include fast food chains that we all know because they are mostly terrible and you don't need be to tell you about them. Instead, these are my favorite burger joints, some more gastropub-like than others. Burgers in Frankfurt have not reached the disgusting price levels that they have in some cities in the US thankfully so you can expect to eat comfort food for cheap.
Der Fette Bulle
Der Fette Bulle (the fat bull) is definitely the millenial hipster burger joint. The location in the Bahnhofsviertel is definitely more busy than the one in Nordend but both make delicious burgers at a very reasonable price (under €10 mostly). They also offer beers, wine, and various sides to go along with the burger.L
Heroes Burgers
Heroes Burgers located in Bornheim is well known but one of my favorite spots for burgers in the city. The restaurant itself is tiny and mostly meant for a quick grab and go burger but that's all you need sometimes. Prices are also quite reasonable at around €10.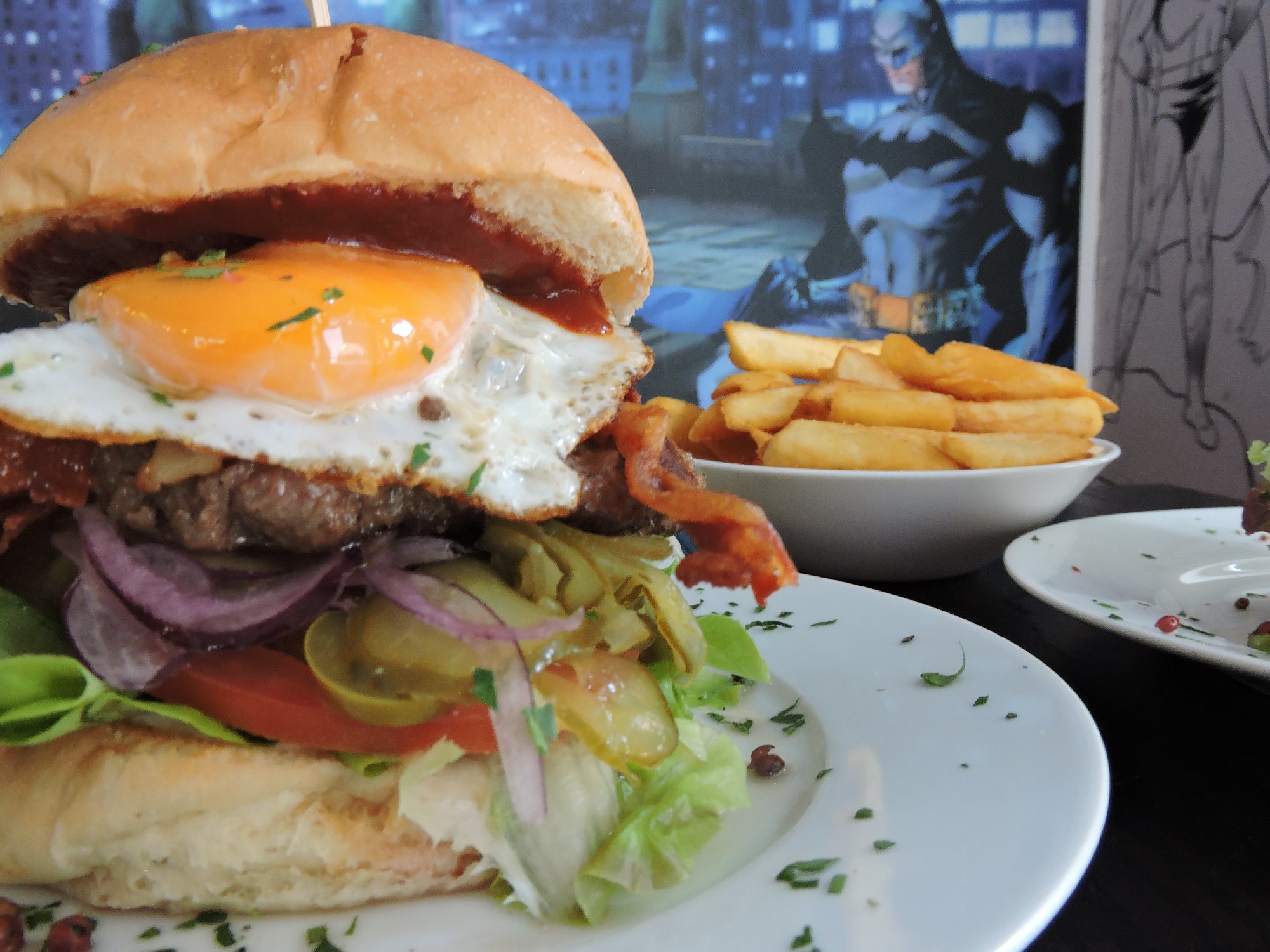 Jamy's Burgers
It's all about the philosophy of sourcing the very best ingredients here and Jamy's Burger pride themselves on it. The end result? A wonderfully fresh, non-greasy burger that quite simply melts in your mouth as you eat it. One to be enjoyed with friends.
Burger Baby
A supers simple and small stripped-back burger bar, where the focus is very much on the food. You can sit in and eat at the counter or get them to go (as many people do) and eat outside. They also deliver – hallelujah. 
Their portions are generous with a focus on pure quality and simplicity of toppings which is a good thing.
Vietnamese Food in Frankfurt
---
There is definitely not shortage of Vietnamese food in Frankfurt. Surprisingly, Vietnamese and Thai food are probably the cuisines I eat most now that I live in Frankfurt.  Here are some of my favorite options.
Guc Pho
Without a doubt, this is the best Vietnamese in the city. Located in the Innenstadt, which is not a hot spot for good restaurants, Guc Pho has the tastiest Vietnamese food around. They had mostly a traditional menu with a few tweaks but they do everything masterfully. It's ranked as one of the best restaurants on TripAdvisor and for good reason. Make sure to make reservations on weekend nights.
Quan Van
Located in Nordend, Quan Van has a very nice outdoor area for warmer months. Their tamarind duck is one of the tastiest duck dishes I've had.
Ong Tao
Great atmosphere in this authentic restaurant. We saw a lot of Vietnamese expats there as well, which suggests the place is the real deal. They're open late every night, which is very convenient. The only reason I did not give them five stars is that they're dishes lacked dynamic flavor compared to many other restaurants I've been to.
Pho Ha Noi
In the lovley food lovers paradise neighborhood of Frankfurt, Pho Ha Noi is a pleasant find. Generally "Asian food" is lumped together and adjusted to the German taste buds. This is a Vietnamese Pho house through and through. The owners are absolutely charming and friendly. The facilities are clean and it's a family or solo child of place. Nice outdoor seating too!
Middle Eastern Food
---
With a huge Middle Eastern immigrant population, there are absolutely no shortage for Middle Eastern foods in Frankfurt. Whether it's Turkish, Israeli, Afghani, Iranian etc. there is something for you. I can't even begin to choose all the spots in Frankfurt so I will just leave this list here as it is and add to it later on.
Aroma
Aroma is a locals favorite serving some of the best hummus and falafels. Located in Nordend, Aroma is just a corner stand with a few outdoor seats. It serves Israeli style pitas with different veggie options, falafel, shwarma, and hummus. The prices are also great at €5-6 per pita.
Schandis
There are a few Persian restaurants in Frankfurt (and I love me some Persian food) and Schandis is probably one of the best sit down options in the city. Located in Nordend, Schandis is a slightly upscale Persian restaurants with reasonable prices for the ambiance.
Babam
Babam is the more casual millenial version of Schandis. It's run by the same family as Schandis and the food of course is fantastic. It is located in the Banhofsviertel and has a more casual vibe. The prices are also cheaper than Schandis.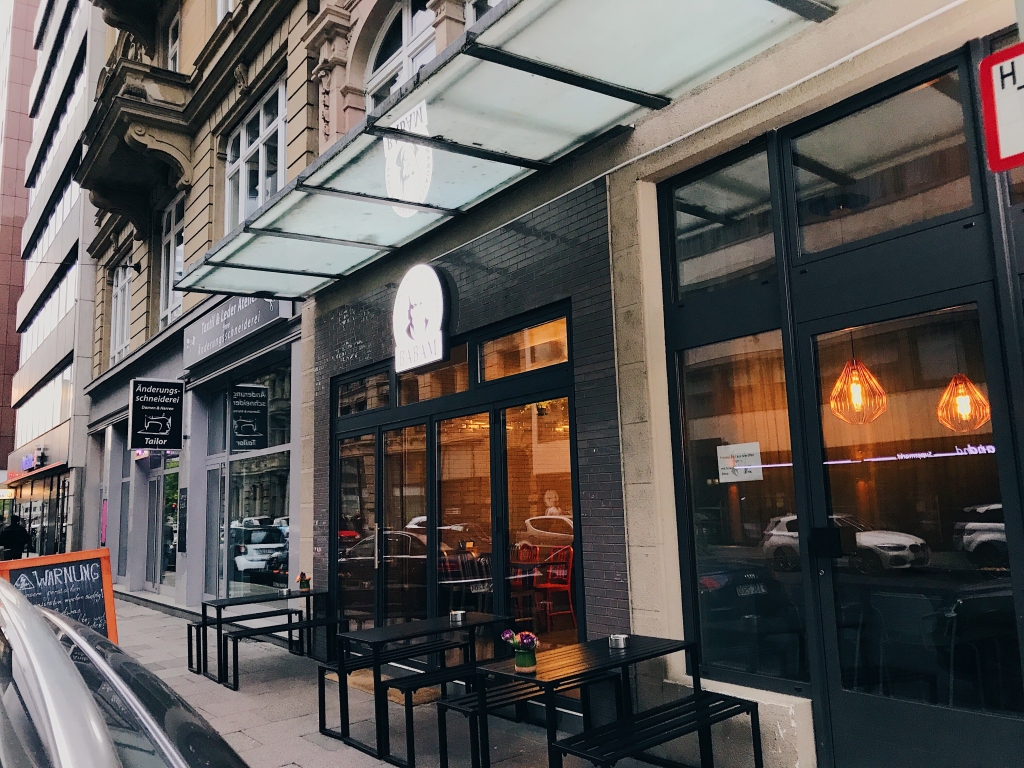 Donerland and Pizza
There are countless doner shops in Frankfurt and to be honest, they are mostly okay and serve the same type of food. However, I'm a big fan of Donerland in Nordend. Their pitas and breads taste freshly made and the meat is tasty. Their portions are also huge and for €5 for a durum, it is a great deal.
Chinese Food in Frankfurt
---
Expect to have many Chinese food options in Frankfurt as well. Not quite as popular as Thai from what I've seen, there are sitll numerous good options for Chinese food.
Pak Choi
Pak Choi in the Banhofsviertel is probably my favorite Chinese restaurant. They have all sorts of Chinese options with a good representation of somewhat authentic Szechuan food and spicy cuisine.
Selera Malaysian Restaurant
This is one of the few Malaysian restaurants in Frankfurt. It is more of a Chinese-Malaysian restaurant than purely Malaysian but it is to be expected. However, you can find delicious hawker style classics like Char Kway Teow, chicken rice, roti canai, Nasi Lemak and more.
Hofchen Chinesisches Restaurant
One of the best Chinese spots to eat Sichuan style food. The food here is authentic, spicy, and extremely flavorful. The inside is already very nice and definitely more of a new age Chinese restaurant feel.
Madame Mei
This is a trendy Cantonese style restaurant located in the Innenstadt and a perfect place to go with a group of friends. They serve dim sum classics as well and is quite tasty.
Kowloon City
One of the few places in the city that serve dim sum on the weekends. It's not blow your mind dimsum you'll find in Hong Kong but it definitely hits the spot.
Das Nudel Ding
One of my favorite spots for Chinese style la mien noodles in Westend. Very affordable and great food.
Aunty Zhong
Located near the Hauptbahnhof, this is another place that serves delicious noodles.
Japanese Food in Frankfurt
---
Japanese food is not Frankfurt's forte but there are definitely enough options here to satisfy your cravings for sushi, ramen, katsu and more.
Matsuri
One of my go to sushi spots in Westend. Very unassuming authentic sushi counter inside a beautiful Altbau. Prices are very reasonable for the quality!
SuperKato
This is my go to sushi spot in Frankfurt. Located in the Innenstadt, this unassuming grocery store & sushi shop combo serves fantastic authentic sushi rolls for a cheap price. This place gets packed for lunch for the professionals crowd.
Moriki
Moriki is your upscale, vibey modern Japanese fusion style restaurant in Frankfurt. It's located nearby to the Deutsche Bank towers in Westend so you can expect a certain crowd there. The food is quite expensive too. It's not my favorite because I think Japanese food does not need to be altered in any fashion but it is a good restaurant to go for a nice dinner out.
Maruyasu Hauptwache
Located underground in the Innenstadt, Maruyasu is a countertop sushi joint serving fantastic sushi in the most casual of environments. Prices are also great.
Muku Ramen
Muku is definitely the best ramen shop in Frankfurt. Located in Sachsenhausen, this ramen shop gets really busy. A reservation is definitely recommended but I was able to get in on a weeknight without one. Their ramen is about as close as it will get to the real stuff with a thick flavorful broth and perfectly al dente noodles.
Ramen Jun
This is my second favorite ramen option located in Westend. To be fair, there is not nearly that many ramen shops in Frankfurt as there could be. However, I'm not sure ramen mania has taken over Frankfurt as much as it has in many other big cities around the world.
Fine Dining in frankfurt
---
Frankfurt is not known as a destination for fine dining but there are a few restaurants here that have Michelin stars so there is something for those looking for the high end stuff.
Heimat
Located near the Innenstadt, the atmosphere is lively but cosy, the service attentive and, the food well it is titillating. The wine list is enormous championing German wines as well as wines from around the world. Be sure to have a wine flight with your food as the recommended wines perfectly compliment the dish. We have found the portion sizes to be just right, and you also get complimentary bread and amuse Bouche. On long summer evenings it is nice to sit out on the terrace albeit on a busy road.
Gustav
Gustav is a one Michelin star restaurant in Westend serving modern German fare. This restaurant epitomises the contemporary preference for healthy, traditional ingredients with a contemporary creative flair. It offers Modern European cuisine referencing regional German cooking in an elegant setting, that is neither snobbish nor complacent. The restaurant's modernist décor is the perfect setting for multi-course tasting menus that reinvent traditional, less-known cuts of meat, obscure herbs and arcane cooking techniques. Genius with an old soul and today's design values.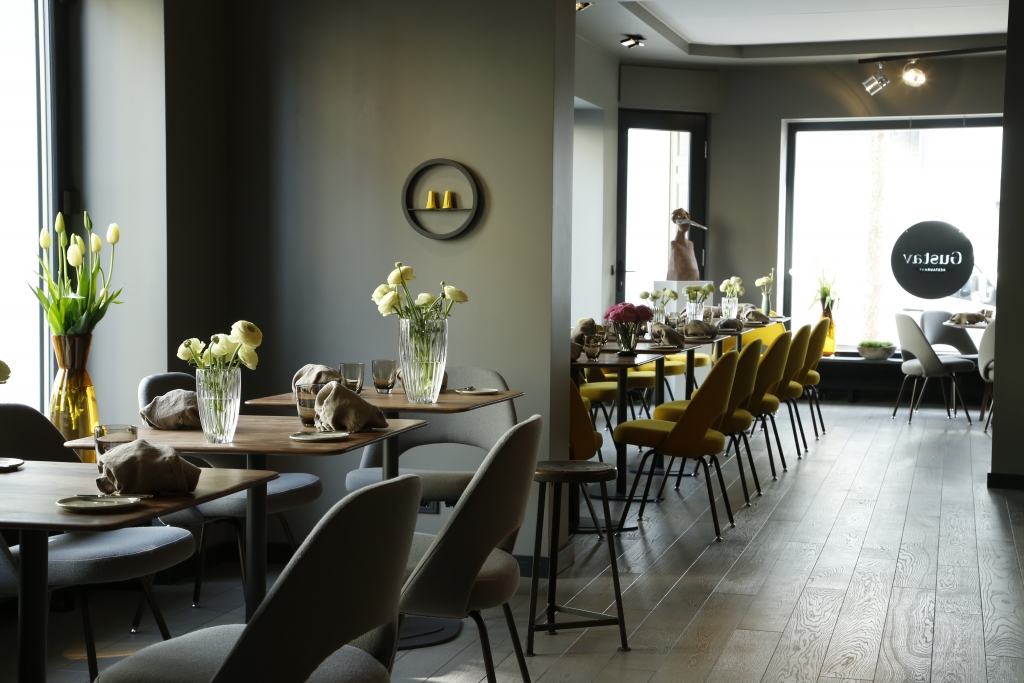 Steakhouses in Frankfurt
---
Being a finance city, you'd expect Frankfurt to have plenty of solid steakhouse options. While it does not have steak culture of New York City, there are still plenty of places to get delicious beef. The quality of the beef in Europe is generally higher as well.
Maindiner
Located in Sachsenhausen, this is the first steakhouse I visited. They do numerous cuts from numerous regions and the prices are reasonable for steakhouse standards. It is very tasty and is highly rated!
Surf and Turf
This is definitely one of the power lunch and/or upscale steakhouses with loads of Bankers in Frankfurt. It is located in prime Westend and as the name suggests, is known for good steaks and seafood. The prices are on the higher end as you'd expect with a porterhouse for two costing more than €100.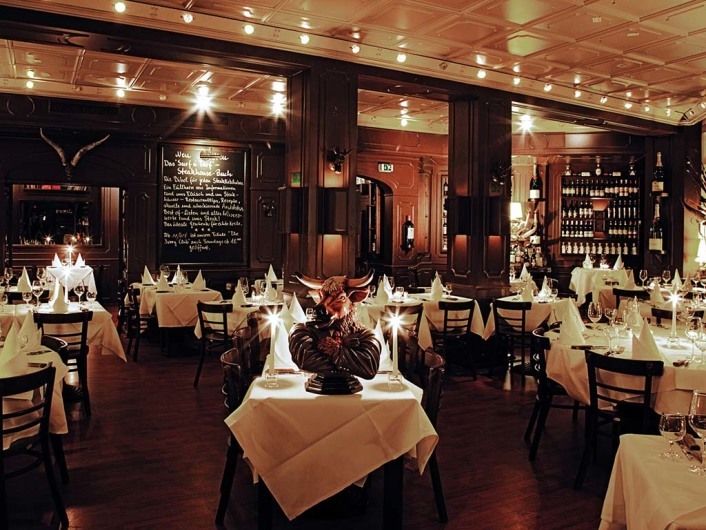 German Restaurants in Frankfurt
---
Of course you can't have a post about foods in Frankfurt, Germany without German food. The German restaurants in Frankfurt will have an emphasis on the local Hessen specialties like Frankfurter wursts, grune sauce (green sauce), and Apfelwein (apple cider). German food is actually not always the easiest food to find in Frankfurt being such an international hub. Sachsenhausen has the most German restaurants of any neighborhood.
I'm not a German food connoisseur by any means but sometimes you want a good hearty meal and that you know German food will deliver on that. If you're visiting Frankfurt or Germany for a short time then a visit to a German restaurant is also in order.
Apfelwein Solzer
If you want to experience local flair and local food do not miss this restaurant in the Frankfurt district of Bornheim. They have all the Frankfurt delicacies and have one of the best schnitzels I've ever had. I've had a lot of them.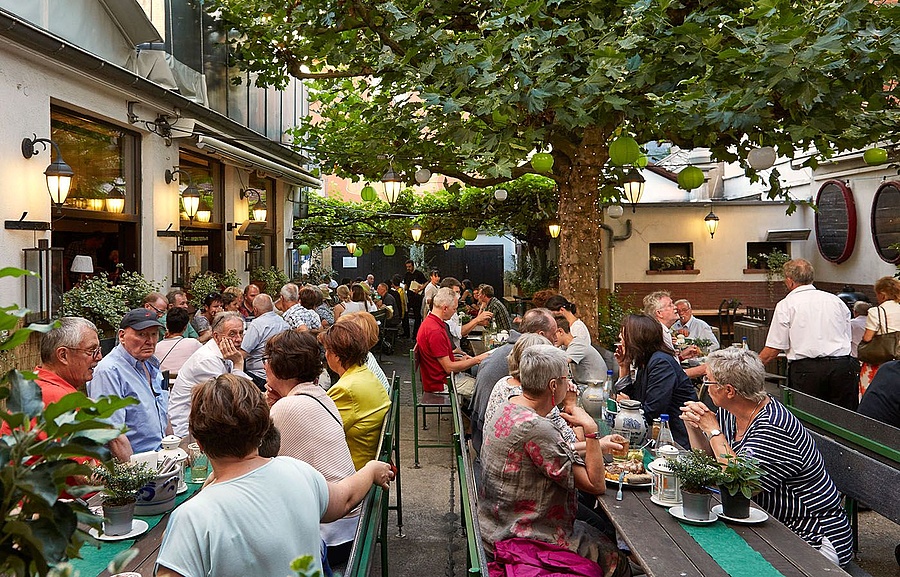 Adolf Wagner
This is probably the most popular and well known of the German restaurants in Frankfurt. This is definitely a strong tourist spot but not overwhelmingly so like the Hofbrauhaus in Munich. They actually accept credit cards which is almost unheard of in German restaurants.
Fichtekraenzi
This restaurant in Sachsenhausen has a large outdoor space as well as your traditional German restaurant ambiance.
Ebbelwoi Unser
Another Sachsenhausen German restaurant, this place is a great place to meet friends. It is also located next to the
Wirtshaus im Ostend
This is somewhat of a modern take on a German restaurant. The inside is a bit more plush and the menu a bit more gastropub style German than traditional German. The food is delicious though.
Latin American Food
---
If I had to pick one weak area when it comes to Frankfurt restaurants, it would have to be Latin American. There just simply are not that many restaurants, especially not ones from Mexico which makes sense as most of the immigrants here do not come from that part of the world. Nevertheless, you'd think with all the kebab shops roasting meat on spits, one of them would just replace the meat with pork, add some pineapples and make tacos al Pastor! I'm already missing Mexico City where I went to 10 taquerias in 2 days. 
El Pacifico
El Pacifico is a baha style Mexican restaurant with some Tex Mex. Any Mexican restaurant that serves a hard shell taco is not really Mexican in my mind. Located in Bornheim near to the Bergerstrasse, this restaurant always has a solid crowd of people enjoying the tacos and happy hour drinks.
Fonta di Santiago
This is probably one of the only Mexican restaurants in Frankfurt. The tacos are tasty and they make the tortillas in house. The prices are a bit expensive for tacos but this is not Mexico after all!
Miraflores
This is my go to Peruvian restaurant in Nordend. They serve a tasty ceviche as well as a delicious lomo saltado. While it is not quite like eating in Lima, the food is perfect for those looking for some Peruvian in Frankfurt.
La Preferida
Same as above but this restaurant is in Sachsenhausen. La Preferida also has a good menu of Peruvian classics.
African Food in Frankfurt
---
There are tons of African immigrants in Germany, particularly from east Africa so you can expect delicious Ethiopian/Eritrean options.
Im Herzens Afrikas
This restaurant, whose name translates to mean 'in the heart of Africa,' offers a different kind of cuisine from the usual European fare. The menu is East-African and in general, you eat these dishes with your hands. The large platters are designed for sharing, with everyone receiving a portion of bread with which to scoop up the rich flavors. The decor is also designed to complement the cuisine with sand on the floor and richly colored wall fixtures. Although there are traditional tables and chairs, this restaurant also offers the option of eating while seated on soft cushions on the floor. Book in advance as this place is invariably popular.
Continue Reading: