Bangkok is one of my favorite cities in Southeast Asia. The Thai capital is one of the central hubs to travel to and from Southeast Asia with plenty of cheap flights to other nearby destinations. It's likely that as a traveler, you'll end up here at some point on your journey through the continent. While most people might just use Bangkok as a stopover to other destinations within Thailand, it's a mistake to not spend at least a few days in the city!
My first trip to Thailand was in 2011 and I was one of those people that decided to skip Bangkok in favor of the beaches. Part of this might have been because of the Hangover 2. It painted Bangkok in such a primitive and grimey light that it absolutely did not do the city justice.
I visited Thailand again in 2021 during their COVID reopening and this time I did not make the same mistake twice. I spent a week in Bangkok and absolutely loved it. Part of this might have been because there were far fewer tourists in the city making exploring the temples incredible. However, this also meant the city famous for being an assault on one's senses was just a shell of its former self. The famous nightlife scene was near non-existent and the traffic jams the city was famous for no longer seemed so unbearable. I visited Bangkok as part of my month long Thailand trip where I went to beautiful places like Chiang Mai and Koh Phangan.
Bangkok is a city of new and old
Bangkok really surprised me in just how modern and developed it is. The Government has spent a lot of money in recent years modernizing the city and really bringing it into the future. I was particularly impressed with just how clean the city was. Even the street markets were much cleaner and more orderly than I thought. Then you have the modern skyscrapers of Sukhamvit that make Bangkok feel more like London than Thailand.
Bangkok has an insane amount of skyscrapers. I always knew it was a big city but never knew just how big the skyline was. I visited countless rooftop bars which I will write about later on in this post.
Visiting Bangkok, Thailand during COVID
---
I came to Thailand in December 2021, in the middle of COVID. Thailand had just reopened in November 2021 with its very effective sandbox program.
Entry into Thailand was quite easy with its Thai Pass functionality. Applying for the Thai pass before entry was very easy. Simply upload your vaccination records, information about your flights as well as passport and you're good to go. I received a QR code within a few minutes of submitting my application and that was it.
The only requirement is that you take a PCR test upon arrival and quarantine in a Government approved hotel (SHA hotel) until the results are completed. I booked the PCR test and airport pickup with my hotel at the SO/ Bangkok. Upon arriving at Bangkok international airport, I was picked up by a driver and taken to a hospital where I got a PCR test. I waited in my hotl room for about 3 hours and received my negative test.
After I received my test, I was pretty much free to do whatever I wanted in Bangkok and Thailand. I could travel anywhere in the country and travel to my liking!
Thailand does take its COVID procedures quite seriously. Masks are worn inside and outside with people all conforming to the mask requirements. Everything is mostly open with a curfew before midnight. Of course, this is subject to change at anytime!
How to get around in Bangkok
---
Bangkok is a relatively large capital and you'll want to familiarize yourself with the different ways of getting around. There is a metro and bus system that connects the main stops in the city along Rama V road. This will take you from places like Lumpini Park all the way to the temples.
From Bangkok Airport to the city
From the Airport, I used the Grab App which I will explain below. The price from the airport to my hotel at the SO/ Bangkok in Lumpini Park was about 300 THB ($9). I didn't bother trying to figure out the buses or public transportation option because at these rates, it's too cheap to consider anything else.
Download the Grab App for Bangkok Ride Hailing
In olden times, I would have done more to familiarize myself with the metro, but nowadays with ride hailing I just don't find it necessary anymore.
Download the Grab App which is the SE Asian equivalent to Uber. It's the ride hailing app used all over Thailand, Singapore and Malaysia. Grab is readily available all over Bangkok and you'll find thousands of cars ready to pick you up.
The price for a grab taxi from the famous Wat Pho temple to my hotel in Lumpini Park was around 100-120 THB (~$3-4). This was quite a long journey at almost 7km one way. This just goes to show how cheap using ride hailing is in Bangkok. If you're a solo traveler, you can even use the GrabBike where you will ride on the back of a scooter. The rate for a GrabBike was around 50-60 THB for the same trip ($1.5-$2). I mostly used GrabBike while traveling through Bangkok because it was cheaper and much faster during times of traffic.
In order to use Grab, you'll want to get a Thai sim card. These are also very affordable and I have a detailed post about how to get a Thai sim card. 
What and where to eat in Bangkok
---
Bangkok is one of the ultimate culinary delights of the world. Thai food is my favorite cuisine out there so being in Bangkok meant I could eat to my heart's content. If you like Thai food, you have come to the right place and you'll never go hungry.
I spent most of my time eating Thai food at the street markets. There are countless Thai street markets in Bangkok serving various forms of Thai food. The prices are incredibly cheap. You can get a delicious Pad Thai with shrimp for 40 THB at some places. I never spent more than 200 THB on a dinner and this is me overeating at numerous different places.
I tried finding more upscale Thai restaurants with a nice ambiance but the non Michelin star options are far and few between. I think this has to do with the mentality that Thai people don't care to spend big money on Thai food when they can get delicious options on the street. I'm not sure, but this is just my opinion.
I will mostly focus on street food in this section and the various places I visited.
Thip Samai for Pad Thai
No visit to Thailand is complete without visiting the famous Thipsamai. This is the holy grail of Pad Thai restaurants and is featured on every food network and blog out there.
Come here for dinner on any given night and you'll see a line snaking down the street. During normal times before COVID, you could see the chefs crafting their magic on the street but nowadays, it's all done inside. The main item here is Pad Thai with shrimp. In fact, it's pretty much the only thing you can order here so you know they mean business.
The Pad Thai here is incredibly unique and succulent. It's much creamier than other Pad Thais I've had, featuring a very rich shrimp flavor. The cook then blasts an egg over flaming heat before finally wrapping the noodles inside. Top it off with fresh chilies, peanuts and a splash of lime for the ultimate Pad Thai experience.
It's definitely an experience everyone needs to have while in Bangkok. You don't need to come here every day because you can find other Pad Thais for half the price and a fraction of the wait time.
Price for the original Pad Thai is 120 THB.
Pad Thai Kratong Thong
For another famous and delicious Pad Thai, visit Pad Thai Kratong Thong. It's located right next to Wat Pho and is on the way from Wat Pho to the ferry that takes you to the Temple of the Dawn. This is a perfect stop in between temples to chow some delicious Pad Thai and Green Curry Fried Rice.
The Pad Thai with Shrimp is served on a delicious crispy edible shell. The noodles are a more standard approach to pad thai unlike Thip Samai's heavy use of shrimp paste. I really liked both versions and for 90 THB, you can't go wrong with this dish.
Jay Fai Michelin Star Restaurant
Jay Fai is probably the most famous street food vendor in all of Bangkok. Her restaurant is located right next to Thip Samai and you'll see equally crazy long lines waiting for her food. In fact, often times she does not even do walk ins anymore because her food is so in demand. Reservations can be booked a month out!
She started as a humble street vendor elevating traditional Thai dishes in her own way. She earned a Michelin star and then became incredibly popular being featured on Netflix's Chef's Table.
I came here for lunch as you can walk in without reservation. I waited about 45 minutes for a table which was fine as I just grabbed a beer from the 7/11 down the street and watched the master cook. During my visit, Richard Quest from CNN was filming a show here.
Her dishes start at 600 THB for a typical dish like Pad See Ew and up to 1,000 THB for her ultra famous crab omelet which is packed full of juicy crab meat. I got the Pad Kee Mao with shrimp as well as the crab omelet. Her dishes are incredibly tasty and I'm not surprised she has the Michelin Star and the world wide acclaim that she does.
A lot of people like to complain about how expensive her dishes are. They are of course much more than you'd pay in other street vendors but she also uses incredible ingredients. The prawns here are giant tiger prawns were are pricey no matter where you go in Bangkok. In addition, she has such a cult like following now that she could probably double her prices and still attract the same crowds.
Thai Food at Samranrat (ร้านอาหารตามสั่ง สีแยกสำราญราษฎร์ )
Don't feel like waiting for Jay Fai or Thipsamai? Simply walk down the same street and you'll find a big street stall with amazing local Thai dishes. After eating Thipsamai, I was still a bit hungry so I came here for round two. I tried their Pad Thai as well and absolutely loved it. It's definitely cooked in a vastly different style vs Thip Samai but full of flavor.
I even tried their fried rice with seafood which I admit was probably a bit too much in the end. The things one must do when eating their way through Bangkok…
Yaowarat Night Market
Yaowarat Night Market is located in the heart of Chinatown featuring hundreds of food stalls making Thai/Chinese cuisine. Walk down Yaowarat street at nights and you'll find it packed with thousands of hungry locals and tourists alike.
You'll find all the foods you can want here like delicious pork skewers, grilled calamari salad with chilies, seafood, crispy pork, and even insects! Yes you can try fried insects like grasshoppers, centipedes and even scorpions.
Yaowarat is probably one of the most touristy street markets in Bangkok. It has a healthy mix of locals and tourists yet it has a very inviting atmosphere. Nothing is too intimidating and there's nothing too out of the ordinary. Throw in beautiful neon lights and chaotic traffic, and you have all you need for a quintessential experience. If you're white and not sure if you're about the street market life but want to give it a try, start at Yaowarat!
There are a few things I can really recommend at the Yaowarat Night market.
Nai Ek Roll Noodle
Located in Chinatown, this Nai Ek is probably the most famous restaurant on Yaorawat street. At least, that's what the long lines would tell you. This place serves delicious crispy roast pork as well as other pork delicacies. The pork belly here is absolutely diving with soft juicy meat accompanied by the most perfect crispy skin.
Even during nights when the night market wasn't running, there would still be long lines of eager diners waiting to feast on their famous pork. This is definitely a must visit when in the Chinatown area.
Price for the roast pork is 100 THB.
Grilled Squid Stall
A few meters down from Nai Ek Roll Noodle is the famous grilled squid stall. There are numerous other vendors that sell the same thing but this one always has a huge line which has to mean it's good.
They have a huge stall with a giant charcoal grill heating up dozens of squid satays. After the squid has been cooked to perfection, they serve it in a cilantro salad topped with their home made chili sauce (extremely spicy but flavorful). The combination is incredible and you're sure to want more.
Prices for squid is 60-100 THB depending on the part of the squid.
Seafood at Fikeaw
Fikeaw is one of the most popular vendors at the Yaowarat night market by far. There is always a queue waiting to eat his delicious seafood dishes. He is famous for creating massive flames from the ultra hot woks while he cooks. It's quite a spectacle and perfect for photos and Instagram stories.
I had his prawns with garlic and chilis and it was absolutely delicious. I also tried his morning glory sauteed vegetables which was again fantastic. The prices here are higher than you'll find elsewhere in the market but it's to be expected given how popular he's become.
Sam Yan Breakfast Market
There are just no shortage of street markets in Bangkok. The next one up is the famous Sam Yan breakfast market. It's open from 6am until lunch time. The busiest times are between 7am and 9am so I would visit during these hours to see the crowds and get the freshest food.
There is a wide array of Thai and Chinese style dishes here, as well as fresh juice stands, dessert stands (with mango sticky rice), and numerous stalls selling raw seafood.
Jek Pui Curry Rice
Jek Pui is one of the most famous places to eat delicious Thai curries. Located in Chinatown in a back alley, this place is down and dirty street food at its finest.
They have a few different curries including green curry with chicken, red curry with beef, yellow curry with pork, and penang curry with pork. I opted for the Green curry as this is the spiciest and it was so delicious. You're served with rich flavorful curries over rice topped with Chinese sausage and chilies.
Everyone eats the curries on red stools sans table. It's pretty funny to watch but it's just casual street dining at its best. The curries are unbelievably affordable at 40 THB per plate and delicious.
The stall is open from 3pm to 8pm. Get there early!
Kor Panich Sticky Rice
One of my favorite Thai desserts and probably one of my all time favorite desserts (after the Austrian Kaiserschmarnn of course) is mango sticky rice. Think fresh, juicy mangoes served with succulent sticky rice topped with a sweet coconut cream sauce. This is literally one of the most delicious things you can eat and anyone who has had this can attest.
Mango Stick rice comes from the North of Thailand (think Chiang Mai, Chiang Rai) so it's harder to find in Bangkok than you think. You really need the freshest and most delicious mangoes to make this dish possible which is why it's hard to find even at the most high end of Thai restaurants in say New York. If you have crappy mangoes, this dish will fail.
Kor Panich is probably the most famous place in Bangkok to try mango sticky rice. They are located on an unassuming street with no dine in options available. It's entirely done on a take out basis but the end result is incredible.
Price for this sticky rice is 120 THB. This is on the high end of mango sticky rice but you're getting the best of the best!
Bang Lamphu Tom Yum Kung
This place is the ultimate restaurant to try the famous Tom Yum Soup. If you've never had Tom Yum soup outside of Thailand before (it is quite a popular dish available in all Thai restaurants outside of Thailand), then you absolutely cannot leave Bangkok before trying some.
Tom yum is one of the most traditional and popular dishes in all of Thailand. It's a soup based dish made with prawns, mushrooms, lemongrass, kaffir limes, galanga, chilies, and other delicious ingredients I probably don't know of. It's a combination of hot and sour with a delicious seafood flavor. It's one of my favorite Thai dishes and Bang Lamphu is the place to eat it.
It's located on a street with many other hawker stands in an unassuming street front setting. The soup is huge with big chunks of shrimp, crab, calamari and who knows what else. Pair it with rice and you have yourself a perfect lunch for 160 THB.
What to do in Bangkok
---
Bangkok is a city with endless amount of things to do to keep you busy. From the nightlife to the night markets, to the beautiful Thai temples, you'll have something to keep you occupied for many days on end.
I spent most of my time during the day visiting the countless temples in the city, followed by eating my heart out at various night markets and street food vendors. Somewhere in between all this, I visited the countless rooftop bars that Bangkok is famous for. Yes the rooftop bar scene in Bangkok reigns supreme over any other city that I've visited.
Grand Palace of Bangkok
Without a doubt, the Grand Palace of Bangkok is the ultimate must visit sight in Bangkok. It's the pride of joy of the Thai people and it's not hard to see why. It's been the residence of the king of Siam since the late 18th century. It's also been the home of the Thai King, Royal Court and the administrative seat of government for more than 150 years.
This palace lives up to its name and blows the word grand out of the water. As soon as I entered this place, my jaw dropped at the sheer amount of incredible Thai temples, statues, and other architectural feats. Everywhere you turn is just another incredible building. I particularly love the Thai architecture and you get the full on display here.
The things that stand out most to me about Thai temples are the Nagas. Nagas are mythical serpents that guarded Buddha during his meditation in the forest in northern India, and often appear on handrails at temple entrances. You'll also see nagas decorating temple roofs, the tail at the roof peak and the body winding down to the head, rising at the roof edge.
Emerald Buddha Temple
Inside the Bangkok Grand Palace is the ever famous Emerald Buddha temple. This temple houses the ultra famous Emerald Buddha. Although it is tiny in comparison to the other huge golden Buddha statues, it is important in the history of Thailand in that whomever possessed it in the past, found legitimacy for their rule.  Thus kings throughout the region have desired to have the Emerald Buddha preside over and bring good favor to their capitals.
Wat Pho Temple
Wat Pho is the largest temple complex in Bangkok. It's incredibly stunning, although not as mind blowing as the Grand Palace. It's located next door to the Grand Palace and across the river from the Temple of the Dawn. This area of the capital is definitely the temple hotspot with the three most famous temples within short walking distance from each other.
Wat Pho was built in the 16th century before Bangkok was made the capital city.
It's well worth having a look around the entire temple compound. Wat Pho's chapels and stupas feature thousands more Buddha images and golden statues, in addition to many Chinese sculptures. Wat Pho is also a great place to experience a traditional Thai massage. Indeed, the temple is site of one of the country's top schools for massage therapy and other traditional Thai healing practices.
Leaning Buddha Statue
Without a doubt, the main star of Wat Pho is the temple of the leaning Buddha. This temple houses an enormous golden Buddha statue lying down on their side. The statue is ridiculous large at over 40 meters! It takes up the entire temple and one of the largest buddha statues in Thailand.
Temple of The Dawn
Wat Arun, also known as the Temple of the Dawn, is located on the west (Thonburi) bank of the Chao Phraya river. It's probably the most picturesque temple in all of Bangkok just because of how massive it is. The central spire is a whopping 80 meters tall which makes it largest in the city.
It's located just due west of Wat Pho and there is a passenger ferry that connects the two temples. This way you won't need to walk across the bridge to get between the two. This ferry is 4 THB one way.
The temple is normally packed full of tourists but visiting during COVID meant that it was mostly empty. I just found the structure to be absolutely mind boggling especially with the incredible attention to detail that you find with every structure. Just the sheer amount of mini statues carved into the temple is incredible. The amount of time and manpower it must have taken to construct these structures is beyond me.
Wat Arun was envisioned by King Taksin in 1768. It's believed that after fighting his way out of Ayutthaya, which was taken over by a Burmese army at the time, he arrived at this temple just as dawn was breaking. He later had the temple renovated and renamed it Wat Chaeng, the Temple of the Dawn.
The temple is smaller than say Wat Pho so you don't need to spend a lot of time here.
Khao San Road
Khan San Road is one of the most famous streets in Bangkok, and probably not for a good reason. It is the incredibly packed, touristy, loud, and party central street of Bangkok. It's an entire road full of bars packed to the brim with people (in non covid times of course).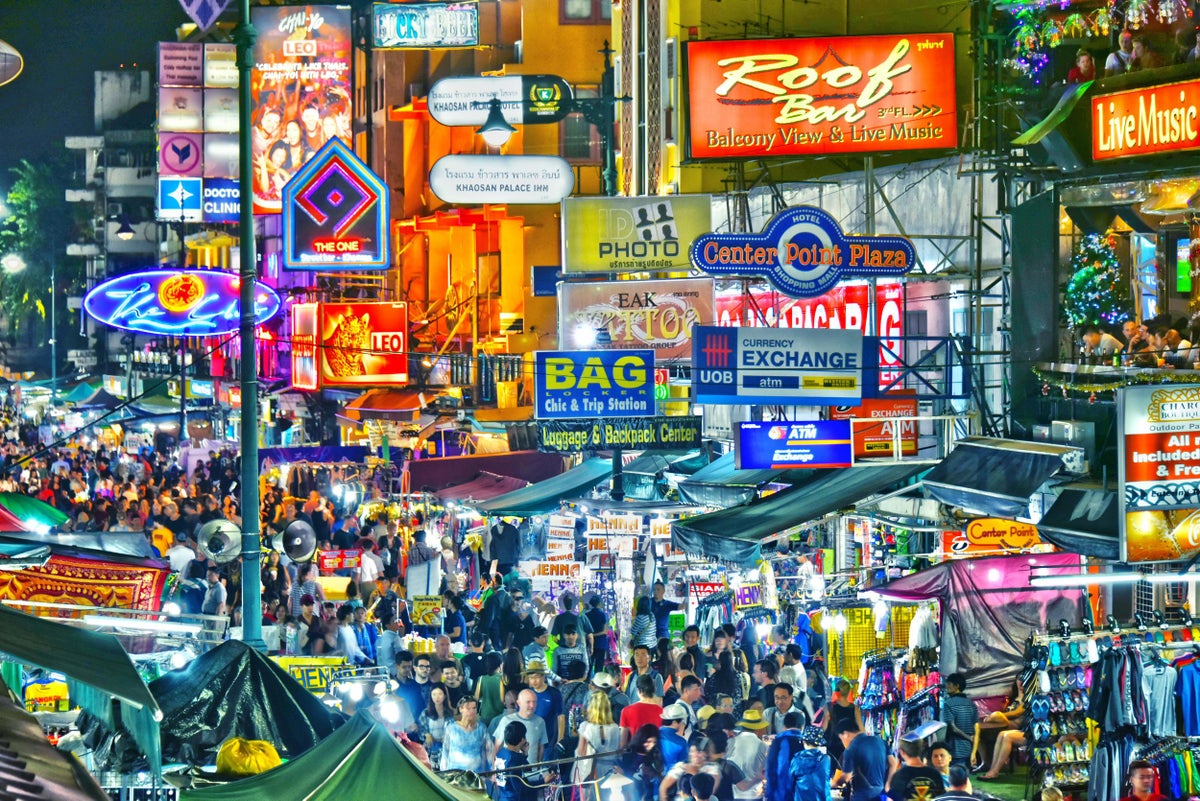 Each bar/restaurant is pumping their music as loud as humanely possible. Your eardrums will surely need a visit to the ENT doctor after a night out on Khao San Road. This will especially be amplified with the insane amounts of Singha beers and low quality shots you'll take during the night.
I visited during COVID (Dec 2021) and it was a shell of its former self. The bars were open and there were a few people here and there but the main street was mostly empty. You could walk from one end to the other without stopping. I was told this is something I never would have been able to dream of doing in old times. Probably for the better, these places are terrible and not worth your time.
Patpong Road
Patpong Road is the other famous street in Bangkok famous for its ping pong shows, bars, and neon lights. Mostly it's famous for its ping pong shows because there is much better food to be had elsewhere.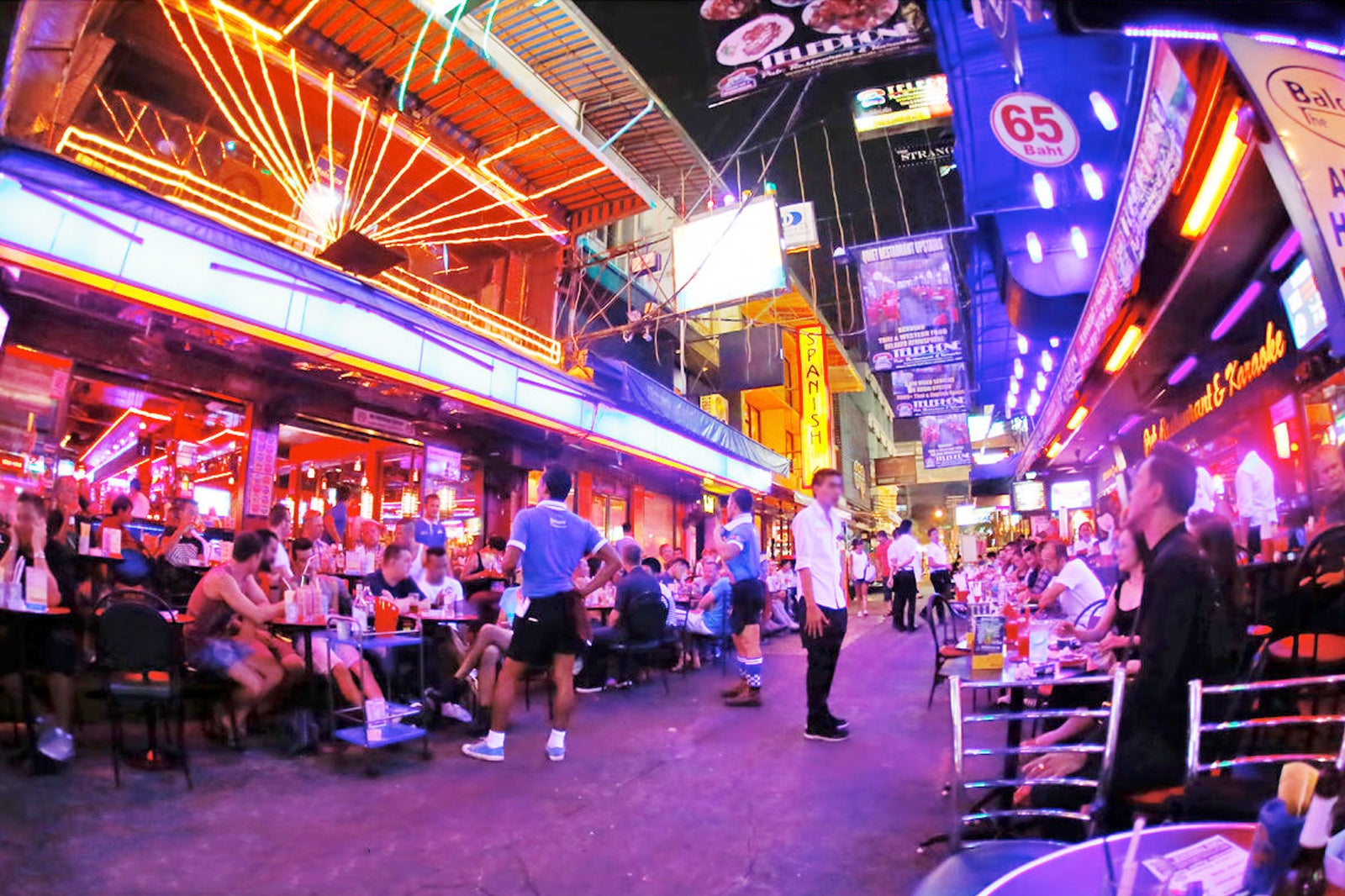 Sadly, Patpong road was mostly dead during COVID because of contact restrictions. There was nothing happening here while visiting in December 2021 and who knows how long this will take to change!
Visiting the famous rooftop bars of Bangkok
---
There's no better place to have a drink and enjoy the stunning Bangkok skyline than at one of the many rooftop bars in town. Bangkok has incredible rooftop bars and the view is stunning. I would visit at least one of the rooftops on this list just to get a glance of the Bangkok skyline.
The prices for cocktails at these rooftops are not cheap. I had become too used to the incredible prices of cocktail bars in the Balkans but this is not the case in Bangkok. Expect to pay 400 THB+ for a decent cocktail ($12+), and much more in a place like the Lebua hotel which is the famous setting for the Hangover 2.
I would just think of the price you pay for a cocktail as the entry admission for a beautiful rooftop panoramic view of the city. You get a free cocktail as part of the journey! Make sure to reach my detailed Bangkok rooftop bar guide if you are keen to visit!
Lebua Rooftop Bar
Without a doubt, the most famous rooftop bar in Bangkok has to be the Lebua Hotel Skybar. It is the rooftop bar featured in the Hangover 2 which has skyrocketed its fame and recognition worldwide.
This bar offers sweeping 360 degree views of Bangkok's skyline and has one of the most unique architectural styles of any rooftop bar I've seen. Tuscan style pillars, a water fountain, and a grand golden dome highlight the rooftop terrace of the Lebua skybar. It is quite something to behold and it's no wonder it's one of the most sought after bars in Bangkok.
What to know before visiting the Lebua ROoftop bar
The Lebua rooftop bar is unlike other rooftop bars in the city. It's by far the most upscale and expensive bar in the city. There is a strict dress code to enter the skybar. No shorts are allowed and women cannot wear beach style flip flops. The bar gets incredibly packed and busy because everyone wants to take their Instagram photos and soak in the Hangover 2 style views.
None of these things applied when I visited because it was right after they reopened from their COVID lockdowns. I came on a Friday night in Dec 2021 and there were hardly any people. Really it felt like I had the place to myself which was just mind boggling. The bartenders told me in normal times it would be completely packed and you'd have trouble getting a decent place to sit. There would be no way for me to get the type of pictures that I did.
In fact, the staff outnumbers the guests 2 to 1 the night I came. I felt like I was saying sawadee kap over and over again because everyone was greeting me constantly.
Prices of drinks at the Lebua Rooftop Bar
If you're visiting the Lebua, prepare yourself to spend some serious cash. This is the most expensive bar I've ever visited in my life. It's more expensive than the drinks at the Marina Bay Sands in Singapore or even my Cavo Tagoo drinks in Mykonos.
The price for cocktails start at 1,000 THB. Yes no joke, each drink is 1,000 THB ($30 USD). Thankfully, tip and taxes are already included in this price but this is twice the price of every other rooftop bar I visited in Bangkok.
I had an Negroni which was quite good but at $30, you'd hope it would be one of the best you'd have. Again, just think of paying this price as the cost of doing business. You're visiting this beautiful rooftop for the views. The admission fee is $30 USD and the price includes a delicious cocktail.
I will say that of all the bars in Bangkok, the Lebua had the most Instagrammable views by far. The Golden dome is just so unique and stunning that you can't really take a bad picture.
Of course, this is likely because I visited when no other tourists were in Thailand so I was extremely lucky. In normal times, expect huge crowds and no opportunities to take stunning photos at the sunset hour!
Vertigo Bar at the Banyan Hotel
The Vertigo Bar at the Banyan hotel is absolutely stunning. The views from the 60th floor are completely 360 degree views with multiple floors of dining and bars.
The rooftop bar consists of two levels; one for dining, and a smaller platform a floor up for the bar. If you're just drinking, proceed to the bar and grab a seat facing the sunset. The view here is absolutely incredible. You have complete and panoramic 360 degree views and a dead on view of the sunset. The view of the restaurant in front was also quite nice.
I ordered a gin based cocktail here that was quite good but not exceptional. They also have house beers which you can buy for 300 THB. 
Cocktail Prices: 350-450 THB
Address: 21/100 S Sathorn Rd, Khwaeng Thung Maha Mek, Sathon, Bangkok 10120

Octave Bar at the Marriott Hotel
The Octave Bar at the Marriott Hotel is probably the most relaxed of the bars I visited. The rooftop is spacious and has many seating options, with a view to die for.
The 360 degree views from this bar are stunning but not as beautiful as the Banyan hotel in my opinion. The drinks were acceptable but nothing to write home about. I came here for the sunset before walking next door to the Tichuca rooftop to meet a friend.
Cocktail Prices: 350-450 THB
Address:2 Soi Sukhumvit 57, Khwaeng Khlong Tan Nuea, Khet Watthana, Krung Thep Maha Nakhon 10110
Tichuca Rooftop Bar
Tichuaca Rooftop bar is located right next door to the Skybar of the Marriott Hotel. Unlike other rooftops which mostly consist of tourists taking photos, this is definitely the rooftop bar that locals and tourists alike come to party and have a good time.
It was by far the most lively and busiest bar I visited while in Bangkok. It's not difficult to see why. Located almost 50 floors up, you have 360 views of the entire city. The main floor is equipped with rustic wooden chairs and Tiki themed decorations and lights. The music is pumping and Bangkok's finest are having a good time here. There is another platform two floors above the main bar with a smaller more intimate bar overlooking the main bar.
The drinks here, priced around 350-400 THB, were the best drinks I had in any of the rooftop bars in Bangkok. They have legit bartenders that know how to make a drink. I was not so impressed with the cocktails from the other bars but this place was an exception. I ended up drinking way too many old fashioneds and negorinis while at this bar but what a great time it was.
Cocktail Prices: 400-450 THB
Address:T-One Building 8, 46th Floor, ซอย เหมวงศ์, Phra Khanong, Khlong Toei, Bangkok 10110
Hi-SO at the SO/ Bangkok
The Hi-SO bar at the SO/Bangkok hotel where I stayed for a week is also highly recommended. I stayed at this hotel for a week so I was able to visit the rooftop bar on multiple occasions.
The SO/ Bangkok is great because it is located right adjacent to the Lumpini Park. This park is like the Central Park of Bangkok and offers a different type of view versus all of the other rooftop bars. The view of Lumpini park and then the Bangkok skyline behind it is beautiful.
The view here isn't 360 degrees however and if you don't have one of the seats on the edge, then your view isn't that great. However, one floor above the Hi-SO bar is the Cassette Bar which is a standalone bar operating separately from the SO/ Bangkok. This bar has even better views in my opinion and is definitely a place that Bangkok's finest come to party. I frequently saw big groups of people join the elevator with me as they were heading up to the bar.
Cocktail Prices: 350-450 THB
Address:2 North, S Sathorn Rd, Bang Rak, Bangkok 10500
Mahanakhon sky bar
The Mahanakhon building is the highest building in Bangkok. At 318 meters, this skyscraper stands out (literally) among the insane amount of other skyscrapers in the city. The building itself is quite unique as well as you can see from the pictures.
The building is famous for its rooftop sky walk. This is a glass floor 80 floors up where you can see directly below you into the Bangkok streets! This glass floor is huge and is a great place to test your fear of heights as well as taking amazing photos.
There is a casual bar here that serves affordable drinks. I had a Singha beer for 190 THB which is at least 100 THB cheaper than the other rooftop bars in Bangkok.
There is another restaurant & bar a few floors below the top floor which has more upscale drinks and food. I never ended up visiting this bar because I spent the entire time in the open air deck at the very top. I heard the drinks and food at this restaurant are actually quite delicious however.
You'll need to pay 580 THB to visit the top which includes access to the famous sky walk glass floor. Even if you don't plan on visiting the sky walk and only want to eat at the restaurant, you'll still need to pay this price.
Cocktail Prices: 400-500 THB
Address: 114, 1 Naradhiwas Rajanagarindra Rd, Silom, Bang Rak, Bangkok 10500
Rooftop Bar at sala rattanakosin Bangkok
Every other rooftop bar on this list belongs to a big hotel and is located way up in the sky. The views are generally of Bangkok's skyline which is beautiful in its own right.
However, after visiting so many of the stunning temples around Bangkok, I wondered how amazing it would be if there was a rooftop with views of the temples over the sunset. Every city has big skyscrapers, but no other cities have stunning Thai temples. Turns out there is an option!
The Rooftop bar at the Sala Rattanakosin Hotel is the place to be. This Boutique hotel is located on the Phraya river and has dead on views of the beautiful Temple of the Dawn. You also have views of the huge Wat Pho.
The drinks here are slightly cheaper and while they are not that great, you're here for the views beyond anything else. There are also a handful of other rooftop bars next door to the Sala hotel in case you wanted to try something else. They all have the same beautiful views of the Temple of the Dawn.
Cocktail Prices: 300-350 THB
Address: 39 Maha Rat Rd, Phra Borom Maha Ratchawang, Phra Nakhon, Bangkok 10200
Where to stay in Bangkok?
---
Bangkok is filled amazing hotels, hostels, and Airbnbs. As I visited during COVID, I had to go with a SHA approved hotel. Thankfully, the hotels were plenty cheap during my stay and I went with a hotel that had one of Bangkok's most famous infinity pools.
The SO/ Bangkok was absolutely incredible. The infinity pool had perfect views of Lumpini Park and the Bangkok skyline. I would highly recommend staying here as you get exclusive access to the pool which was hardly used during my stay.
The rooms were also very spacious with high ceilings and great views of the city. The breakfast was superb although expensive and you can have something for a fraction of the price on the streets. The onsite gym was also complete with machines and free weights for a good workout.
Make sure to read my detailed review of the SO/ Bangkok if you are keen to stay here!
Day trip to Maeklong Train Market
---
If Bangkok is becoming too much for the senses, I don't blame you! It's a huge city with too much for the senses and sometimes you just need a break.
Look no further than a trip south to the Maeklong Train market and the Amphawa Floating Market.
The Maeklong Train Market is a famous open air market built on both sides of an active train track. A train actually drives through these tracks multiple times a day and the street vendors scramble to bring their goods and products out of the way before the train comes. It's quite wild and makes for some amazing photos or videos.
Watching the Maeklong train
The train was punctual on the day I went but I've heard from others that it can often times be delayed. You'll want to position yourself strategically for when the train comes because you'll only have a short window to take photos and such.
The street vendors prepare long before the train comes by bringing their tables inside their shops, as well as carrying and boxes inside. They left some of the boxes out near the train track which made very concerned but it turns out these boxes were the optimal height for the train to pass over.
The train drives very slowly so to make sure it doesn't run over anything but the street vendors definitely know what they're doing. The train honks numerous times because adventurous tourists are eager to get a picture with them standing in front of the train. When the train passes you by, you can really get a feel for just how tight of a squeeze it is and again ask yourself how did such a market ever get established in what seems like a less than ideal setting.
Floating Market of Amphawa
The Amphawa Floating Market is one of the most famous floating markets in Thailand attracting thousands of tourists on the weekends. Fresh seafood is grilled on traditional Thai boats before being served to hungry tourists and locals alike.
The Amphawa Floating market is a very popular floating market beloved by locals and tourists alike. This market happens on the weekends (Fridays to Sundays) with the busiest times around the lunch hour.
The market is absolutely massive at almost 1km from end to end. The market is located on both sides of the Mae Klong River with a handful of bridges connecting the two sides.
Both sides are home to countless restaurants, small vendors, souvenir shops, and more. It is quite the spectacle on the weekends to see the hordes of people walking through the market
Restaurant on the boat
Perhaps the most iconic part of this market are the make shift restaurants on the traditional Thai fishing boats. These boats are perched up all along the market and serve grilled seafood directly from the boat. They usually have a small seating area where you can sit in front of the boat with your feet in the water.
The water isn't particularly inviting so I wasn't so keen to do this but plenty of others did! Don't worry, there are many brick and mortar restaurants in the market as well where you don't need to be so adventurous.
Take a river cruise
There are countless sightseeing boats as well that will take your for a short ride through the Maeklong river. The prices are generally quite cheap at 50 THB per person. The ride lasts about half hour before returning you to the market.
Continue Reading: