Are you ready to spend the liveliest days in New York City? Oh, unfortunately, you have only one day to get the most of this Big Apple city! If you have been there before and couldn't roam around every nook and corner of this city, this one day might be your vital chance to recuperate your older vibes. No issues. 
As the New York itinerary requires at least 4-5 days, you can acquire the Big Apple's seamless taste in just one day! All you have to follow is this 1-day Big Apple itinerary to enjoy all the preeminent sites in NYC. Also, if it's your first business trip to NYC for one day, this city will never disappoint you! 
Some Place Recommendations to Stay in NYC
Do you need more boutique-style arrangements? Your one-day accommodation must be in Archer Hotel, NYC. But after you land in NYC, you should avail of the services of

LuggageHero

, which is the most adjacent and commodious locker to preserve your precious luggage. 

For a little bit more luxury and grandeur, Hyatt Place Midtown South would be the best one-day place to stay. It's situated two blocks from the Empire State Building and in the vicinity of the Herald Square subway stop.
One Perfect Day in NYC Itinerary
Rockefeller Center
There are plenty of rooftops in New York to soak in the amazing views of the Big Apple. The Empire State building is the most famous and iconic. The Freedom Tower is the highest, and there are even trendier ones at the new Hudson Yard Edge rooftop.
However, my favorite rooftop is and always has been the Top of the Rock. It's as iconic as the Empire State building but with a much superior view of the city. You are actually in the middle of the city being located on 50th street and 6th Ave and you have complete unobstructed 360 degree views. It's also completely outdoor without the annoying fences that the Empire State building imposes. All of this, with a wait time half that of the Empire State building!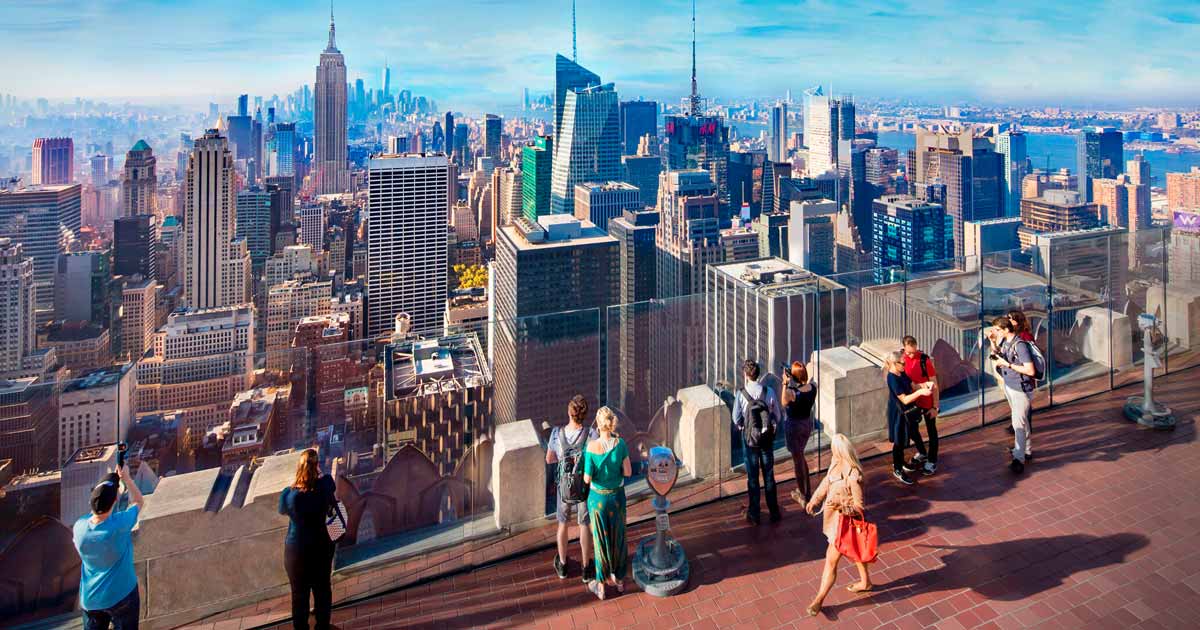 Statue of Liberty
It's almost everyone's bucket list place to visit right after landing in NYC. To visit the Statue of Liberty, you need to purchase your tickets beforehand when you want to go to its crown! On the other hand, if you don't want to set your foot in its crown, you can also buy a "Reserve" ticket to have the picturesque views of lower Manhattan and this lady Liberty while enjoying the cruise. 
9/11 Memorial
Almost every traveler loves to start their day with Lower Manhattan, where this 9/11 Memorial is the necessity for your great one-day itinerary in NYC. However, the significance of this place is a tribute to remembrance of the people killed in a terrorist attack on a fine morning of 11th September 2001. 
This place is worthy of incorporating in your one-day trip in NYC. It remains mainly open for the tourists and all the locals every day, and you have to pay the entry fee to the museum. But if you are lucky enough, entry fees will not be imposed on you on Tuesday from 5 pm, although the tickets will be distributed on a first-come basis. 
Battery Park
Facing the New York Harbor, Battery Park is a great place to visit, especially if you have kids with you. After reading a review about the SeaGlass Carousel in the park, our kids got so excited about stopping by. Even Tony got on the carousel with our youngest!
Another notable attraction in Battery Park is the Castle Clinton. What used to be a fort is now the park's main attraction. Its history as an aquarium is also shown by the bioluminescent design of the SeaGlass Carousel.
If you have places to go to after your visit in Battery Park, you can go to the southeastern part of the park and pick a mode of transportation to bring you to your next destination.
 Go to a baseball game
Nothing is more iconic in New York than a summer afternoon at a baseball game. Iconic stadiums like Yankee Stadium and Citifield for the Mets are as New York as possible. While Baseball itself is a boring sport in my opinion, the experience of going to a stadium and drinking beers with other fans is a must do experience in my opinion.
Tickets are not very expensive for baseball games since there are so many of them a year. For your tickets, you can buy at hellotickets.com for the best deals and prices.
Walk across The Brooklyn Bridge
The Brooklyn bridge is one of the most iconic places in New York and probably the most iconic bridge in the US after the Golden Gate Bridge in San Francisco. Walking across the bridge from lower Manhattan to the Dumbo area in Brooklyn is a must do for a day trip.
The walk is about 20 minutes from one side to the other and can be done by foot or by bike. Make sure to not walk in the bike lanes! Take plenty of photos (my favorite are of the Manhattan side) and soak in the magical views.
When you've reached Brooklyn, walk around the Brooklyn Bridge Park and have a pizza at the ultra famous Grimaldi's pizzeria!
Walk through Central Park
New York is so jam-packed with exciting destinations that just a turn of your head will lead you to seeing another one. Bounded to Fifth Avenue is the Central Park a green paradise in the middle of a busy city.
Take a break from the bustling streets by stopping by Central Park. Among all the destinations on this list, this is the most family-friendly for me and the most picturesque by far. The park's top spots are the museums, playground, the green space and the horse-and-carriage rides. All of these are also kid-friendly activities.
Other Essential Things to do on One day in the Big Apple
Do you love to spend maximum time visiting the renowned Statue of Liberty and stop by in Ellis Island? Along with these two outstanding locations, you might be enthralled doing an accompanied pre-ferry tour of Battery Park. 
On the other hand, if you stay for a few more days, a sunset cruise in NYC harbor will be a must-do thing. Lastly, you can directly head to any of the aforementioned locations after you visit NYC while leaving your baggage at LuggageHero Grand Central without fretting about its loss.   
Continue Reading: