Zion National Park is one of the most popular (if not the most popular) park in all of America and is an absolute must when visiting Las Vegas. The views from the canyon trail overlook is one of the most iconic photos and viewpoints in all of America.
If you're planning to visit Las Vegas and have ambitions beyond blowing all your money at the casino, visiting mediocre clubs, and being swarmed by millions of people, then visiting Zion National Park in Utah should be #1 on your list. Of course, from Las Vegas you are spoiled for choices because you can visit also Death Valley to the west but for this post, I'm focusing on Zion National Park.
This post is also a subset of my greater Zion, Bryce Canyon, Grand Canyon, and Antelope Canyon itinerary.
Best time to visit Zion National Park
---
Zion National Park is a great place to visit year round. The national park enjoys hot but not overbearing temperatures in the summer and cold weather in the winter months. Each season brings about it different colors, views, and unique charms so I can recommend visiting Zion at all times.
The best times of year to visit is probably in the spring months when the flowers are just blooming, as well as the fall months when temperatures have cooled and the huge crowds have dispersed. Summer months are the most packed as families pack into the park but that shouldn't be a deterrent either.
How many days are needed to visit Las Vegas and Zion National Park?
---
Las Vegas to Zion National Park is 150 miles and takes 2.5 hours to reach. Given how large Zion is, I would recommend spending at least one night here so you don't have to rush anything. Two nights would be ideal as it would give you time to recover from the hikes to relax and enjoy the area before attempting more hikes. You are crossing state lines from Nevada to Utah and sometimes there will be a time zone change depending on the time of year.
Las Vegas to Zion National Park Day Trip
Zion National Park is an incredibly popular day trip from Las Vegas. In fact, if I had to choose one place to go out of all the amazing places within driving distance of Las Vegas, it would probably be Death Valley but Zion is definitely a close second.
You can definitely do this trip in a day and I will go into detail about this later in the post.
How much does Zion National Park cost?
---
The entrance fee for Zion National Park is $35per car. This price is good for 7 days meaning you can stay inside the park at one of the many hotels for a week. You can also purchase an annual entrance pass for $70 which allows you to visit as much as you want and as many times as you want in 1 year.
Make sure to have the ticket visible on your car at all times otherwise you will be fined!
Free Entrance Days
Fees are waived at Zion National Park on the following days:
Jan 17, 2022: Martin Luther King, Jr. Day
Apr 16, 2022: First Day of National Park Week
Aug 4, 2022: Anniversary of the Great American Outdoors Act
Sep 24, 2022: National Public Lands Day
Nov 11, 2022: Veterans Day
Day 1: Driving Las Vegas to Zion National Park
---
Zion National Park is one of the most famous national parks in the country. With over two million visitors a year, this was a great start for the trip.
From Las Vegas, it is a 150 miles to Zion National Park and the drive takes roughly 2.5 hours. There are a few stops along the way that are definitely worth stopping. I won't go into all of them as this itinerary isn't meant to be more than a few days. I would highly recommend stopping for an hour or two at the Valley of Fire National Park.
Valley of Fire National Park – 10am
Located roughly 50 miles up the road from Las Vegas, you'll find Valley of Fire State Park. Don't let the fact that it's a state park fool you. The oldest and largest state park in Nevada, this place is awesome! When we were there in December, there were very few people in the park, even though the weather was perfect for hiking.
While talking to locals, we were told that the park is pretty low-key all the time — for some reason, it's not on people's radar. But it should be! We had so much fun exploring this beautiful park. With 40,000 acres of Aztec sandstone, petrified trees, and ancient petroglyphs, there's a lot to explore here. After a stop in the visitor center to watch the film and get a little backstory, we decided we had to check out the Fire Wave first.
Starting at the trailhead, it's about a 1.5-mile hike that took about an hour. The park has this hike rated as moderate and I would agree. There is some tricky climbing involved, but it's not too tough. And the reward is spectacular. You'll see the incredible wavy formations that are out of this world! This and the Rainbow Vista Trail were our favorite spots.
But there are quite a few others that are not to be missed if you have the time. While we spent about 4 hours here, you could easily spend more or less time depending on your schedule. If nothing else, take the Valley of Fire Scenic Byway through the park. It's really spectacular with awesome views at almost every turn. A bonus for us was the bighorn sheep we spotted right up by the road! The park is open year-round from sunrise to sunset. From Harry Reid International Airport, get on I-15 North to Exit 75 and Valley of Fire Highway.
Arriving in Zion National Park – 1:00 pm
Like all the parks in this area, Zion National Park is very organized and developed as far as the tourist infrastructure goes. There is a shuttle that runs through Springdale to pick up people to drop off at the entrance of the park.
We parked our car near the entrance since we arrived so early. Within the park, there is another free shuttle that regularly runs to/from the 8 stops in the park.
Since we only had a day here, we wanted to hit up the most famous and iconic areas: Angel's Landing, and the Narrows. For the shuttle, this was the Grotto and the Temple of Sinawava stops.
Angel's Landing Hike – 2:00 pm
After getting off at the Grotto stop, we proceeded to hike straight up to the top of the mountain for the famous Angel's Landing views. We read numerous blogs as well as heard from many people we met how difficult the hike was. We packed loads of water, and were expecting a strenuous hike. In reality? This hike was easy.
Perhaps, it's because I had just hiked up Montana Picchu in Peru, which at 8000m was much more difficult. The hike up Angel's landing offered some amazing views make no mistake, but we were up in less than 1 hour.
Near the top, there is a hike along a very narrow ridge with nothing but air on each side. This can be quite scary because you are literally semi-tight roping across the ledge of the mountain with only chains to hold on to. For those scared of heights, I would not recommend this! Walking along the ridge itself wasn't that difficult, but there's no reason to speed through this part of the hike as a misstep will almost surely result in falling towards where Angel's don't live.
Once we got to the top, the views were absolutely stunning! There's a reason this is one of the most famous hikes in the country. The views of Zion Canyon are hard to beat. There were a ton of people at the top but we managed to find a somewhat isolated spot to eat lunch and just soak in the views. After 1 hour or so, we hiked back as we still had the Narrows hike afterwards. Most people thought we were crazy to hike both Angel's landing and the Narrows in one day but I've done far worse in my travels.
Update 2022: Lottery system for Angel's Landing
Starting in 2022, the Angel's landing hike will only be open for those that have permits. The new permit system will ensure that the hike does not get overcrowded as that has been a big issue as of late.
It's not a complicated process to get the permits, but it will require you to plan ahead which can be annoying if you're trying to make it a spontaneous trip. Given how high in demand Angel's Landing is, you'll need to apply for your permits at least 1-2 months ahead of time. For example, the permits for June-Aug open in April. First come first serve.
Visit the NPS website for Angel's Landing permits to book your slot.
5:00pm – Canyon Junction Bridge for sunset
The sunset at canyon junction bridge in zion national park is one of my favorite spots in southern Utah. It's a great spot to watch the sunset, but also just a fun place to hang out with friends and family.
The view from this spot is amazing. You can see the Virgin River as well as other parts of Zion National Park. There are picnic tables at the top of Zion Canyon for those who want to stay for awhile and enjoy the view.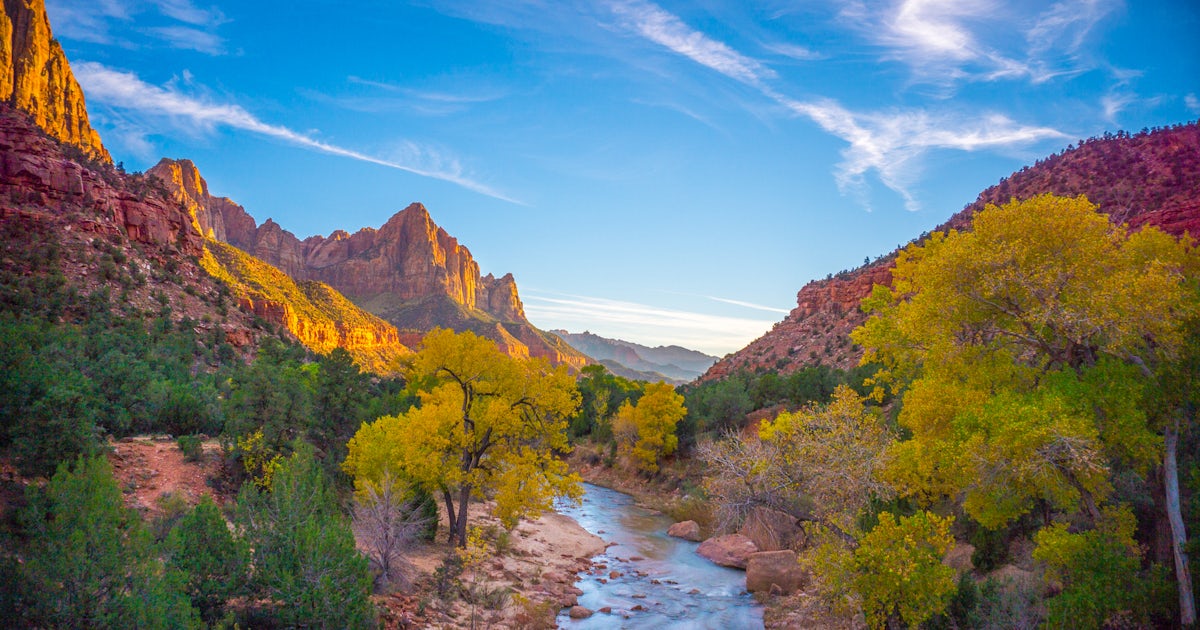 Day 2: Zion National Park
---
Day 2 is a full day in Zion National Park. The two highlights of this day will be the Narrows and the Observation Point hike.
The Narrows Hike – 8am to 11:00am
We took the shuttle two more stops to the Temple of Sinawava stop at the very end of the shuttle route. This is the beginning of the Narrows hike which is basically walking in between the canyons of Zion National Park. There's a flowing stream throughout the entire hike and you're basically walking in knee to waist deep water the entire time. Our lack of planning really festered here as we did not have the right shoes or pants.
The park actually rents waterproof shoes for this specific hike but we decided we were too cool for that (for whatever reason), and we ended up hiking in our sneakers. We saw other people that were doing this too, but after that first dip in the somewhat freezing water, I knew it was going to be a rough hike. The water is not warm in October but eventually, my feet either lost feeling or got used to the cold water and I wasn't as bothered.
The current was strong however, and there were times I almost slipped on the rocks which would have resulted in me swimming.
The entire hike reminded me of the Canyons in Isalo National Park in Madagascar. In fact, all of Zion National Park and much of the American southwest reminded me of Isalo. The rock formations, colors, and even some of the foliage were all similar in nature. However, Isalo does have numerous species of lemurs to look at which of course, Zion does not!
This is an out-and-back hike. We hiked for 2-3 miles through the cold water until we couldn't handle it anymore. I heard there were a few great stops if we went further into the Narrows but that will have to be for a better prepared day!
Observation Point: 2pm to 5pm
One of the best hikes you can take is Observation Point, which offers amazing views of Zion Canyon far below.
The hike starts near the park's south entrance and follows the East Rim Trail up to the summit. The route is approximately 8 miles round trip with 1,100 feet of elevation gain. Because it's such a popular trail, you'll usually find other hikers on this route during peak season.
The first half of the hike follows what seems like an endless series of switchbacks through brush before entering a narrow canyon that leads to Observation Point. Near the end of this section, you'll pass Angels Landing, another great hike that offers even better views than Observation Point from its summit.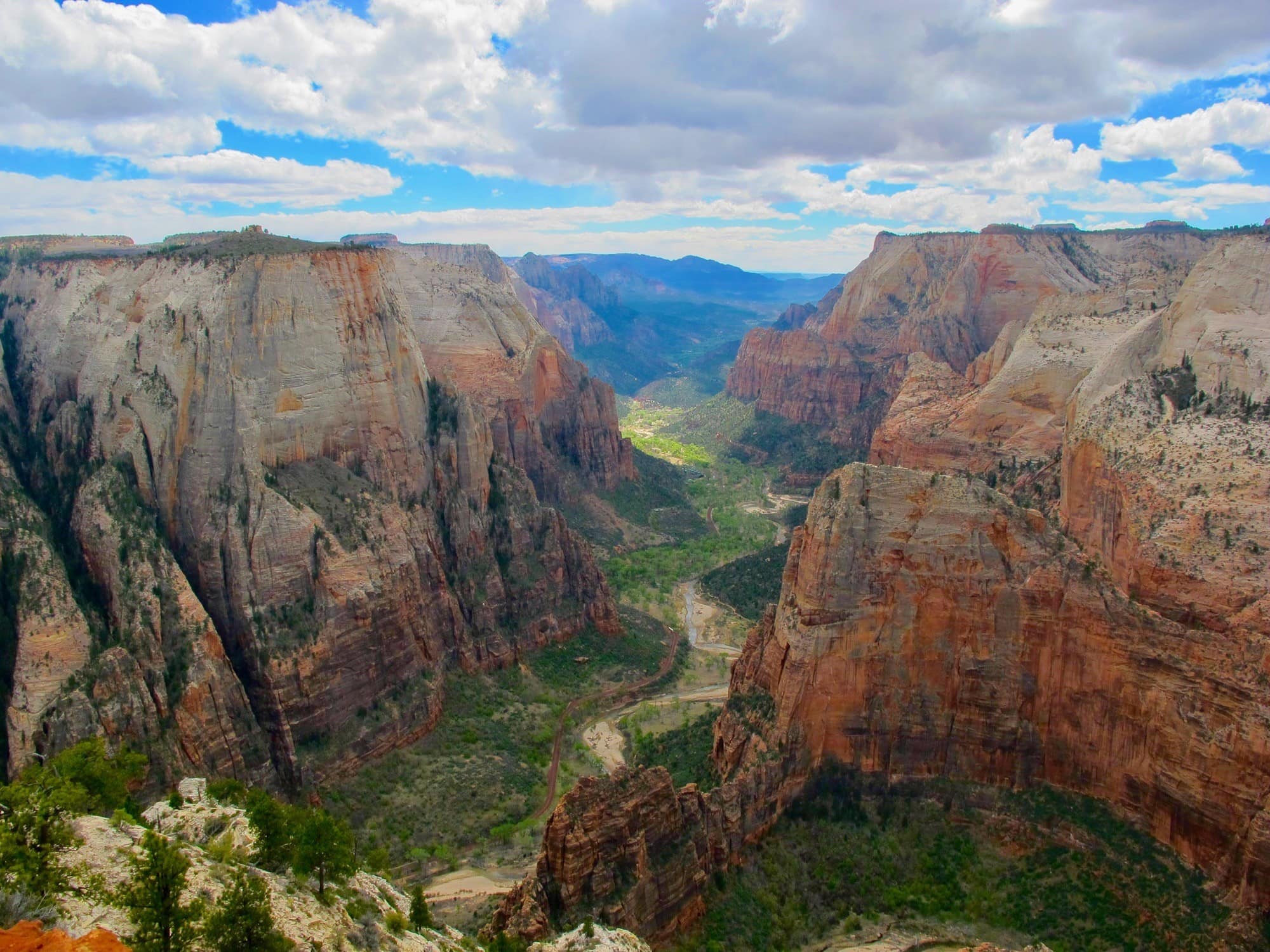 Once you reach Observation Point after about 3 hours on trail, you'll see why it's one of Zion's most popular hikes: The view from here stretches across almost every corner of Zion Canyon and shows off areas that aren't accessible by car or foot otherwise.
Day 3 Afternoon: Red Rock Canyon
---
After visiting Zion National Park, it was time to exit the park and drive towards Las Vegas. If you didn't visit the Valley of Fire, now would be a good time to visit it.
Red Rock Canyon National Park information
Red Rock Canyon National Conservation Area is a spectacularly scenic area in the Mojave Desert, just west of Las Vegas, Nevada. The park has beautiful hiking trails and some great rock climbing spots.
Red Rock Canyon is one of my favorite places to hike in Southern Nevada. It's very popular with locals, but not so much with tourists. This means that you'll find less people here than other areas like Valley of Fire State Park or Hoover Dam (although it is still crowded). It also means that you'll have the opportunity to see some really cool wildlife like coyotes, rabbits and even snakes!
There are several hiking trails within Red Rock Canyon NCA that range from short 0.5-mile loop hikes to longer hikes that cover nearly 7 miles round trip. All trails are clearly marked with signs at each junction so you never get lost (as long as you pay attention!).
If you're visiting during the warmer months (April-October), I highly recommend bringing sunscreen and water because there isn't much shade here. However, if you're visiting during winter months (November-March), be prepared for cooler weather since temperatures can drop below freezing at night!
Red Rock Canyon Scenic Loop – 2:30 to 5:00 pm
Red Rock Canyons really reminded me of the Isalo National Park in Madagascar. Sure there are no lemurs here, but the canyons, rock formations, and colors are exactly like the canyons hike in the Isalo National Park.
Because Antelope Canyon is located in Navajo territory, it is 100% mandatory to book a tour through the local operators in the area. The cost is around $30 per person. All tours essentially take the same route walking through the slot canyons. There are two areas, the upper Antelope canyon and the lower Antelope Canyon. I elected with the upper canyon but I'm told both will blow your mind (and I believe it).
The light beams in Antelope Canyon are, to me, what makes this place is so unforgettable. They only occur at certain times of the day and only last for a short while but when they shine through the openings up top it's truly a sight to see.
Las Vegas to Zion National Park Day Trip
---
If you don't have two nights to visit Zion but still want to see it on a day trip, then you've come to the right place.
Zion is very popular as a day trip from Las Vegas. There are many tour companies in Vegas that will organize the trip but it's probably cheaper just to rent a car and do it yourself.
The day trip won't give you the full experience of Zion but you'll definitely see the highlights. Make sure to bring plenty of water and snacks for this trip as Zion National Park is barren once you arrive.
This is how I would structure a day trip from Las Vegas to Zion National Park:
6:30am: Leave Las Vegas and drive 2h to Zion Valley
8:30am: Arrive at Zion National Park and start hiking the Angel's Landing hike
11:30am: The hike takes roughly 1 hour so finish by this time.
12:00pm: Lunch break
1:00pm: Walk the Narrows hike
3:00pm: Observation Point
4:30pm – 6:30pm: Drive back to Las Vegas
Continue Reading: