Sedona is a beautiful city in Arizona that is known for its stunning red rocks. There are many things to do in Sedona, from hiking and biking to exploring the local shops and restaurants. Whether you're looking for a relaxing vacation or an adventurous getaway, Sedona has something for everyone.
I've been to Sedona twice, once as part of a multiple day trip to Zion, Bryce, Grand Canyon, and Antelope Canyon, and the other trip as a solo trip only visiting Sedona. I think Sedona is probably one of the most naturally beautiful cities in America and is well worth a visit for anyone doing a trip to the southwest. You never run out of things to do in this incredible area. While the other highlights of the American southwest are remote and devoid of civilization, Sedona is the perfect place to go after you've visited amazing places like the Grand Canyon to also combine beautiful scenery with city life.
This list will focus on the top things to do in Sedona and will be the perfect blog post to help you plan your trip to this amazing town.
Here are 16 of the most amazing things to do in Sedona, Arizona.
Where is Sedona, Arizona?
---
Sedona is a city in the Verde Valley region of Arizona. It is about 100 miles north of Phoenix and 100 miles south of the Grand Canyon. The city is surrounded by red rock formations, which are part of the Mogollon Rim.
While Sedona itself is a beautiful city, the top things to do in Sedona are actually located outside of the main city just a shot drive away. Having a car is a must while visiting Sedona just like most of the rest of America.
West Sedona
This is where you will find numerous hotels and restaurants and have access to some of Sedona's best hikes.
Uptown Sedona
Uptown Sedona is located north of the intersection of Highway 89A and Highway 179 (the "Y"). Uptown Sedona feels more urban and crowded than West Sedona, and during the busy season, the roads and sidewalks get very congested. This is where you will find some of Sedona's best restaurants and shopping.
The Y
The "Y" This is the intersection of Highway 89A and Highway 179. Oak Creek Canyon Located north Highway 89A, Oak Creek Canyon is a forested, shady canyon and it looks and feels a lot different than Sedona. Hike the West Fork Trail and/or visit Slide Rock State Park.
Village of Oak Creek
The Village of Oak Creek is located a short drive south of Sedona on Highway 179. Visit Cathedral Rock, chapel of the Holy Cross, and Bell Rock (Bell Rock is a must do)and have brunch or dinner at some of Sedona's highest rated restaurants. If you are traveling on a budget, this is a good place to stay…hotels are cheaper here than in Sedona.
Cottonwood
Like the Village of Oak Creek, Cottonwood is just a short drive from Sedona. It is an off-the-beaten-path destination, with lower crowds and lower priced accommodations. It's also a hub for the Verde Valley Wine Trail…so don't miss Cottonwood if you like the idea of adding a winery or two to your trip to Sedona.
When is the best time to visit Sedona Arizona?
---
Sedona is a beautiful place to visit all year round. However, if you're looking for a certain season, there are some things to consider.
Spring: This is when the wildflowers start blooming, so it's a great time to see them in all their glory. You'll also find plenty of tourists here in springtime because it's peak season for hiking, biking and other outdoor activities.
Summer: The desert gets really hot in summertime (so does the rest of Arizona), but if you want to beat the crowds, this might be your best bet. The heat also drives most people out of town at this time — which means less traffic and fewer crowds at museums and shops.
Fall: Fall is another good choice for visiting Sedona because temperatures are milder than during summer months but still warm enough for outdoor activities like hiking and biking. Plus, fall brings beautiful leaf colors that add a lot of color to the landscape around town!
Winter: Winter isn't exactly known as an ideal time to visit Arizona — but if you're looking for solitude or some peace and quiet away from other tourists, winter may be the best for you. It doesn't snow often in Sedona, but when it does, it's an absolute magical experience.
Pink Jeep Tours
---
Pink Jeep Tours are the most epic experiences you will have when visiting a city in a new location. This is one of Sedona's most popular attractions. These 4WD tour tours take you on a wilderness tour to explore the glowing lava rocks that surround you. These are great opportunities to experience breathtaking landscapes that you would never get otherwise.
Even though I have only visited Sedona once, it is absolutely required!!! There is a wide variety of trips that can be overwhelming. The most popular tour is the "Born & Arrow" tour, which is the most extreme offroad adventure named after the popular Jimmy Stewart Films.
You can find the Pink Jeep Tours office in the middle of Sedona on the main road. They have a big office with their signature pink jeep and offer a variety of different tours from off-roading, helicopters, train rides, horse rides and more. Beware of the prices Pink Jeep Tours advertises on its storefront however. They are severely discounted because you are required to sit through a time share presentation.
Otherwise, you can expect to pay $70-$100 per person for a standard Jeep tour through the beautiful red rocks.
Sunset from the Sedona Airport Overlook
---
One of the best places to see Sedona's red rocks is from the Sedona Airport Overlook. This is a great spot to watch the sunset and see the city lights come on. The Sedona Airport is located just outside of town, so it's easy to get to.
The Sedona Airport Overlook is located on Highway 89A, about 3 miles from the Sedona city center. There is a large parking area at the overlook, so you don't have to worry about finding a place to park.
The best time to visit the Sedona Airport Overlook is in the evening, around sunset. This is when the lighting is the best and you can see the city lights come on.
Down the main road from the Airport overlook is the Sedona Hiking Trail overlook which offers an even more panoramic view of the valley. It's a simple 5 minute hike up to the top but you get some of the best views of the valley.
Sedona Heritage Museum
---
Sedona Heritage Museum is a good place to visit for families who want to explore its ever-expanding history. After all, this treasure was placed into the National Register of Historic Places.
See ongoing and evolving exhibit collections that showcase cowboy culture and wine heritage. Later, see the set for more information regarding the filmmaking era in Sedona.
Kids will enjoy museum gift shops where souvenirs about the exhibitions and agriculture are displayed. This museum pit-stop can be a great experience for a child at age 12 and above in Sedona.
The Sedona Heritage Museum is located in Uptown Sedona on Jordan Road. The museum is open daily from 10am to 4pm. Admission is $8 for adults, $5 for seniors and students, and free for children under 12.
Slide Rock State Park
---
The Slide Rock State Park in Sedona, Arizona is a fun place to hike and swim in the summer. It's one of the most popular things to do in Sedona. The park has a natural water slide that you can slide down into the cool water below. There are also many other activities on site like horseback riding, picnicking and other hiking trails.
Slide Rock State Park is surrounded by the beautiful natural scenery you see everywhere around Sedona and there's nothing more beautiful than taking a summer swim in the waters here. The water temperature is very pleasant in the summer months and is the perfect way to cool off. Once you reach October and beyond, the water might be too cold for the average person.
It's important to note that this park is not just for those who want to enjoy the water slide. There are plenty of other things to do if you don't feel like getting wet or slippery! Here's what you need to know about this great location:
Slide Rock State Park is located off Highway 179 just north of Sedona. It's only about four miles from downtown Sedona, making it easily accessible by car or bike.
There is no fee for parking at Slide Rock State Park, but there are fees for some activities like horseback riding or swimming in the pools (see below). If you want to pay for your entrance fee ahead of time online, check out their website here . Otherwise just stop by when you get there and pay at the gatehouse entrance along Highway 179 just south of Oak Creek Canyon Road at mile marker 14.
Explore Cathedral Rock
---
A natural sandstone formation which holds a title of being Arizona's most photographed landmark, Cathedral Rock represents an evidence of Mother Nature's flawless artistic talent and beauty. This is one of the ultimate things to do in Sedona.
Cathedral Rock is named for its shape, which resembles a cathedral dome. The summit has been formed by erosion over time and has an elevation of 1179 feet (358 m). There are several trails that lead to the base of the formation or up to the top. T
he most popular trail is approximately one mile long; it starts near Bell Rock at Cathedral Trailhead and ends at about 1/4 mile below Cathedral Rock with a steep climb up some exposed rock surfaces to reach the top (hikers must be careful not to fall).
While you can still visit the attractions at your own pace, many local residents recommend a biking and hiking trip that provides a chance to experience the wonder of this place, including revealing buckets of knowledge about the region and their energy – the vortex.
Cathedral Rock's walking trail is less than 1 mile long and is an ideal route for anyone of any age. The best time to visit Cathedral Rock would be in the morning or evening, as the Arizona sun can get quite hot, especially during the summer.
The trailhead parking lot is open year-round from sunrise to sunset with no overnight parking allowed. Visitors may park at either end of Cathedral Rock Road but should not block driveways or roads when parking on private property.
Cathedral Rock Trail
Hiking Cathedral Rock Trail in Sedona, Arizona is the most popular hike and one of the top things to do in Sedona. The trailhead is located at the end of Cathedral Rock Road, 4 miles north of Uptown Sedona on State Route 179.
The trail is a 1 mile round trip that takes you to the top of Cathedral Rock where you can enjoy views of Red Rock Canyon and Oak Creek Canyon. There are several other trails that branch off from this trail so there is plenty to explore once you reach the top.
I thought this hike was absolutely stunning and incredibly rewarding for how easy it was.
Chapel of the Holy Cross
---
One of the most impressive sights in Sedona, Arizona is the Church of the Holy Cross. This architectural beauty is buried in red rocks and perfectly molded onto landscapes. It is a very unique monument and probably one of the only modern day churches I've seen built into the rocks of the surrounding landscapes.
The view from the top is incredible! The Chapel is based on an artist by Marguerite Brunswig Staude. She dreamed of building an actual chapel in 1956 after numerous changes of plan due to WWII. Of all the best things to do in Sedona, a visit to the Holy Cross chapel is not only super easy but also a must.
It had been conceived with the help of architect and entrepreneur Richard Hein. You can't breath at the door and look at the enormous enormous Crucifix which faces the huge windows that look across the rock walls in Sedona.
Of course, the Chapel of the Holy Cross doesn't compare to places like Petra in Jordan or the famous white Monastery of Hozoviotissa in Amorgos but it was still a big surprise to me nonetheless.
Red Rock State Park
---
The Red Rock State Park is a beautiful place for families and children to enjoy the nature. Plus, visiting this park will take you into Arizona's biggest sights – Cathedral Rock. Hike the Eagle's Nest Loop, and get the view at the top of the park. Please come visit the park visitor center to see Moonlit hikes, guided natural walks and local history. Several Junior Ranger programs are available at the park from 6 years old to 12 years old.
The park is located in the heart of uptown Sedona, and is easily accessible from the city center. The best time to visit the park is in the spring or fall when the weather is cooler.
The park is open daily from 8am to 5pm. Admission is $9 per vehicle.
Mountain biking in Red Rock State Park
Red Rock Canyon is an amazing mountain biking destination. The area is known for its numerous trails, which are great for all skill levels. If you want to try something new and exciting, this is the place to go. You'll find everything from technical single track to smooth and easy trails that you can cruise on. The trails are well marked with signs so you should have no problem finding your way around.
Red Rock Canyon has three main trailheads: West Fork Trailhead, Village Trailhead, and Red Rock Loop Trailhead. West Fork Trailhead is located on Highway 179 about 10 miles north of Sedona. Village Trailhead is located on Highway 179 about 3 miles south of Sedona, just past Oak Creek Lodge & Cabins North Roadhouse Restaurant & Saloon (formerly known as Red Rock Brewing Company). Red Rock Loop Trailhead is located further south on Highway 179 just before the junction with State Route 89A (which leads into Tlaquepaque).
Devil's Bridge Trail
---
Devil's Bridge Trail is a popular trail located in Sedona, AZ. The trailhead is located at the Devil's Bridge picnic area located just off of Highway 179.
The Devil's Bridge Trail is a short and easy hike along the base of the red sandstone formations. Hikers are treated to spectacular views of Cathedral Rock, Bell Rock and Courthouse Butte as they make their way along this trail.
The Devil's Bridge Trail is approximately 2 miles round trip with an elevation gain of about 200 feet. It can be done in less than an hour, but those who have time may want to hike further down into the canyon or explore other trails in the area.
Devil's Bridge itself is a natural bridge made from red sandstone that was carved out by water erosion over thousands of years. The bridge is only visible from one side, which makes it difficult to see from above or below it. Hikers must climb down into the canyon to reach Devil's Bridge itself, but there are plenty of other things to see along the way!
Red Rock Scenic Byway
---
The Red Rock Scenic Byway is a 65-mile route that runs from Sedona to Flagstaff and provides scenic views of the red rock country of Sedona, Oak Creek Canyon, and the San Francisco Peaks. The byway is made up of U.S. Route 89A, State Route 179 and State Route 89A. It's not something you really need to plan to visit as it's just a stretch of road but it's definitely one of my favorite things to do in Sedona.
The Red rock scenic byway begins at the Village of Oak Creek with stunning views of the red rocks rising above this community in Oak Creek Canyon. In Oak Creek you'll find some great dining options as well as several hiking trails and waterfalls.
Continuing north on SR179 you'll see several campgrounds along the way including Rainbow Campground where there are showers, restrooms, picnic tables and outdoor grills available for use by campers.
After leaving the campground you'll pass through Slide Rock State Park which offers not only swimming but also pools created by water running down through lava rock creating natural slides that are perfect for sliding down into the cool waters below! The park also has picnic tables, restrooms, showers and playgrounds for children all within walking distance from your campsite which makes it a great place to spend an afternoon!
Boynton Canyon
---
Boynton Canyon is one of the most popular hiking areas in Sedona. The trail takes you through beautiful slot canyons and up to a view of the red cliffs that make this area so special. The trail starts out near a parking lot on Boynton Pass Road and it is about 5 miles round trip with about 700 feet of elevation gain.
The trailhead for Boynton Canyon is located just north of downtown Sedona at the west end of Boynton Pass Road (FR 305). There are no signs marking this road, so you'll have to look carefully for it on your map or GPS device.
The hike  at Boynton Canyon starts out with a fairly easy climb up a sandy wash, but after about 1/2 mile it starts climbing more steeply up a rocky canyon. This is where you will find your first views of the red cliffs towering above you.
After about 1/2 mile from where you started, there will be another fork in the road (there are actually several forks along the hike). You want to take the left fork and follow it up into Boynton Canyon itself. As you look up into Boynton Canyon, you will see a large rock wall on your right side with a cave-like opening in the middle of it. This is where you want to go! There will be several more forks along here as well, but just follow your nose until you get there! The cave entrance is pretty obvious once you see it and there is no way to miss it!
As you can see, this canyon offers some of the most beautiful photo opportunitiesi you can take in Sedona. It's a lesser known place among the things to do in Sedona but it is well worth it!
Sunset Crater Volcano National Monument
---
With a name like Sunset Crater Volcano National Monument, you might expect to find a huge mountain here — but that's not the case. The volcano's last eruption was about 1,000 years ago, and what remains is a crater that's about 800 feet deep and three miles wide.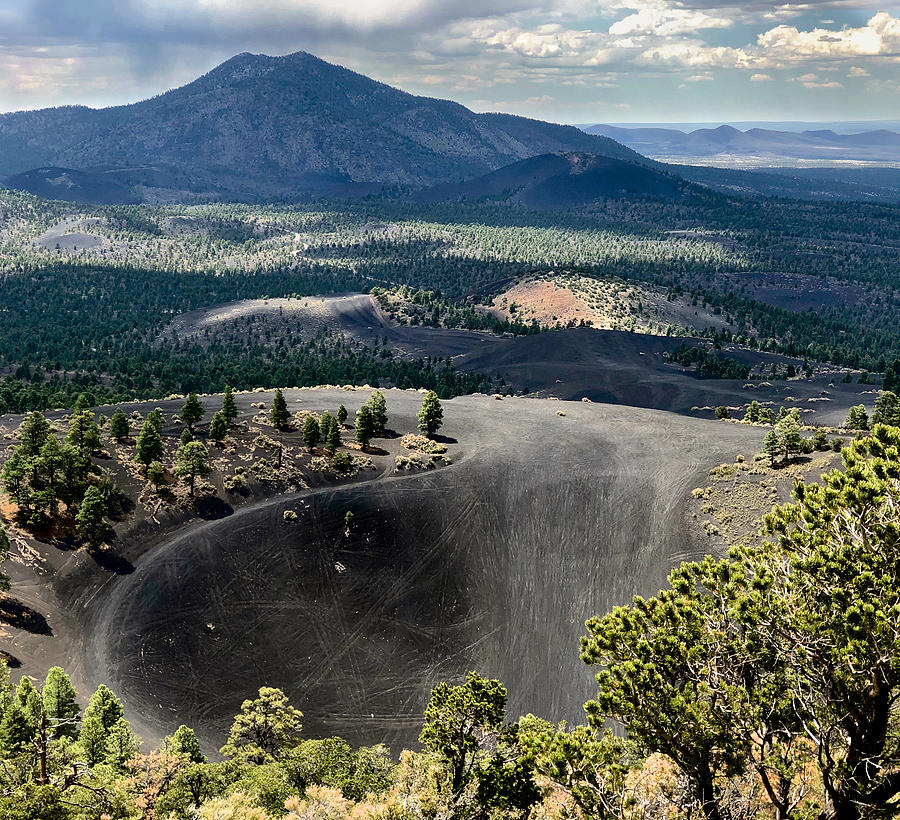 Sunset Crater Volcano National Monument is located in Northern Arizona near Flagstaff. It is one of the most accessible volcanoes in the United States because it is on public land within the boundaries of the national forest, offering spectacular views from a variety of angles.
The monument was established in 1924 to protect this volcanic feature and its surrounding area as well as its cultural resources including petroglyphs (rock art) created by native peoples long before Europeans arrived in North America.
The monument contains two volcanic craters: Sunset Crater and Kana-a-din Mountain (formerly known as Knaack). Both craters were formed by eruptions approximately 1,000 years ago when the area was inhabited by Native Americans. There are no hiking trails into or around either crater; however, there are excellent views from pullouts along Highway Alt 87 south of Flagstaff.
The monument is open daily from 8am to 5pm. Admission is $5 per person.
Hike to the top of Bell Rock
---
Bell Rock is the most popular hike in all of Sedona, and it's easy to see why. This trail is a short loop that climbs up through red rock, which makes for spectacular views at every turn.
The trailhead is right off of 89A just north of town. There are many parking spots available there. The trailhead is marked with signs and plenty of signage along the trail as well.
There are two trails that lead up Bell Rock: the Beaver Creek Trail and the Bell Rock Pathway (the one we took). Both trails meet up at the top and provide different views of Bell Rock and the surrounding area.
We started out on the Beaver Creek Trail because we thought it would provide us with better views than the Bell Rock Pathway. After about 20 minutes, we realized that this wasn't true and switched over to take advantage of some other areas that weren't accessible from down below (this was because there was so much traffic on this path).
Once you get to the top, there are several different viewpoints where you can stop to take pictures , enjoy the stunning rock formations, or enjoy a picnic lunch if you brought one with you (because there aren't any restaurants or snack stands at the top of Bell Rock).
Day Trip to Antelope Canyon
---
If you're already in the area and haven't already visited Antelope Canyon, this is a must do.
It's become infinitely more popular in recent years as social media and high end photography have really been able to highlight the beauty of the slot canyons. Created by rushing and powerful water, Antelope Canyon was discovered many centuries ago by Najavo tribes and given the English name 'Antelope' due to the many antelope that grazed here during the winter season.
Because Antelope Canyon is located in Navajo territory, it is 100% mandatory to book a tour through the local operators in the area. The cost is around $30 per person. All tours essentially take the same route walking through the slot canyons. There are two areas, the upper Antelope canyon and the lower Antelope Canyon. I elected with the upper canyon but I'm told both will blow your mind (and I believe it).
The light beams in Antelope Canyon are, to me, what makes this place is so unforgettable. They only occur at certain times of the day and only last for a short while but when they shine through the openings up top it's truly a sight to see.
Tours run regularly on the hour, and more often during busy seasons. Tours last over an hour and there's minimal hiking involved. Just follow the path, and enjoy the incredible views. This place is a photographers heaven, and there are tours specifically for those looking to take the best photos.
Wine tasting in Sedona
---
Wine tasting in Sedona is a great way to enjoy the beauty of the Red Rocks and the surrounding area. There are several vineyards that offer wine tastings, so it's important to plan your day around visiting one or two of them.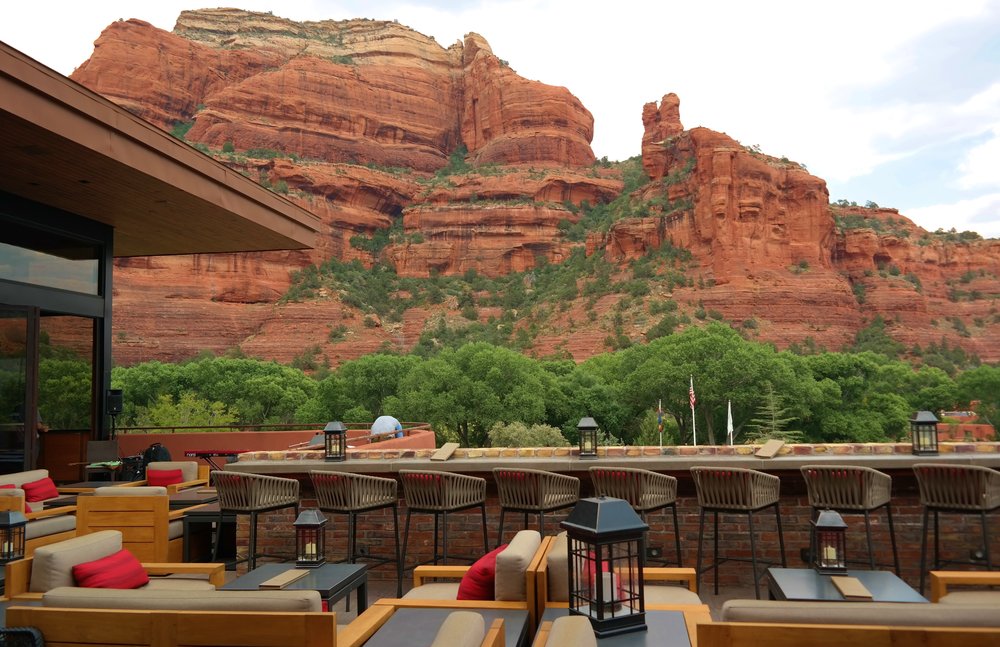 There are two general locations for wine tasting in Sedona: The Village of Oak Creek and Uptown Sedona.
The Village of Oak Creek is located along Highway 179 at the entrance to Oak Creek Canyon. There are many wineries located here and it's a great place to stop if you're driving through town on the way from Phoenix or Flagstaff.
In Uptown Sedona, you can find many restaurants with large patios that overlook their own vineyards and offer tastings. This is a great place for lunch or dinner after a day of hiking or other activities in the area. My favorite place is Sound Bites Grill which has unmatched views of the surrounding area.
Wine tasting at Oak Creek Vineyards
Wine tasting at Oak Creek Vineyards is a great way to spend an afternoon or evening. The winery is located in Livermore Valley, which has become known as one of the premier wine regions in California.
The vineyard offers visitors the opportunity to sample over 20 varieties of wines from their selection of more than 150 wines from around the world. They also have a gift shop where you can purchase wine by the glass or by the bottle, as well as other items such as wine gift baskets and cookbooks.
Visitors can enjoy their beverages on the patio overlooking the beautiful oak trees that line the property, or inside where there are tables set up for groups as well as individual seating. There is also an outdoor patio area that overlooks one of five ponds on the property.
Take a Hot Air Balloon Ride in Sedona
---
The hot air balloon ride in Sedona is an unforgettable experience and one of the best things to do in Sedona. The first thing you will realize is how quiet it is. There are no motors, no noise, no distractions. You are floating over the beautiful land below enjoying the incredible scenery and taking pictures like crazy.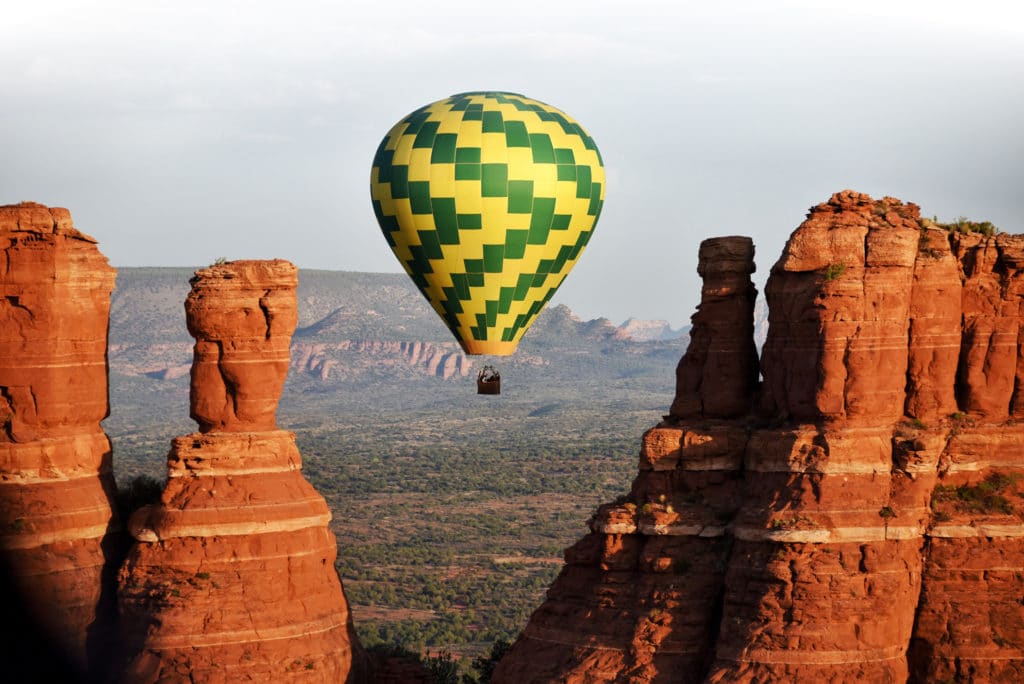 The view from above is absolutely stunning! You can see for miles and miles with nothing to block your vision. There are mountains in all directions and you get to see them up close without having to hike up any of them.
You can see the red rocks and how they change color depending on the angle of light hitting them. You can see how the wind has shaped these rocks over thousands of years and you can imagine what it would be like if this land was still covered with water instead of desert sand dunes (which it once was).
You will get great views of Jerome which is a fun little town that has some great artwork as well as shops and restaurants. After seeing all this beauty from above, I wanted to walk around in Jerome for hours just looking at everything!
Go Shopping in Uptown Sedona
---
Imagine a town with a vibrant arts scene, delicious restaurants and mouth-watering desserts. Now add the most beautiful scenery you can imagine, and you have the perfect setting for shopping in Uptown Sedona Arizona.
There are so many reasons why you should visit Uptown Sedona, Arizona. The shops are filled with unique items that you won't find anywhere else. There are stores that sell everything from jewelry to clothing, home accessories, art and more. You can even find some great deals on items like antiques and vintage clothing.
If you're looking for something special for yourself or someone else, then this is the place to be!
West Fork Trail
---
The West Fork Trail is a great hike for families or anyone looking to get some exercise while enjoying the beauty of nature. It's located in Sedona, Arizona at the end of Airport Road, just past the USFS headquarters. The hike has two options: a short loop and 1.5 mile loop. Both trails are relatively flat with some gentle inclines and declines that make for an easy walk through beautiful red rock canyon.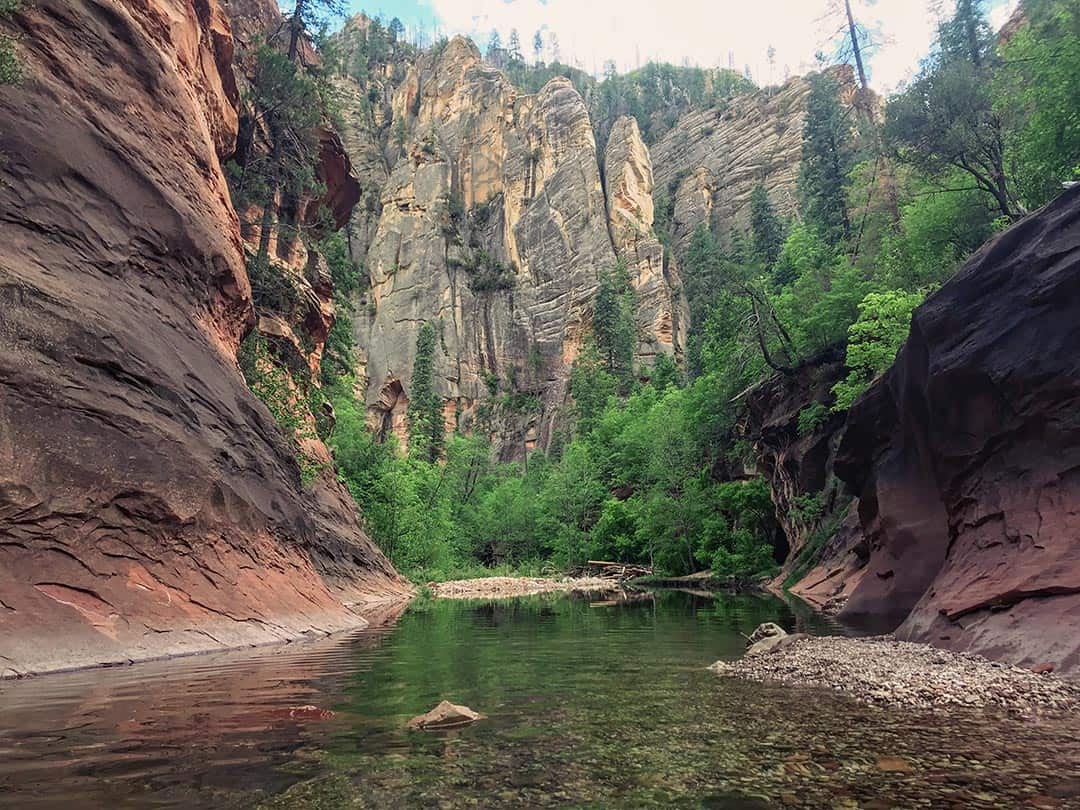 The trailhead can be found on Airport Road, just across from the USFS Headquarters building. When you arrive at the trailhead there will be a sign directing you to take either Left or Right fork trails, which both lead to the same spot (the sign will also list a distance).
The Left fork trail is slightly longer than Right fork trail but it is less steep so if you have small children or are not up for a big workout this is probably your best bet! Once on either path you will quickly come across your first junction where you need to head left to continue on West Fork Trail or right to go onto Peavine Trail (which is another great option if you want more hiking).
Go shopping at the Tlaquepaque Arts & Crafts Village
---
Tlaquepaque Arts & Crafts Village is one of the most popular places to shop in Sedona. The village features more than 200 vendors, art galleries and craft stores. There are also several restaurants and cafes located throughout the village, as well as a convenient parking garage.
Tlaquepaque Arts & Crafts Village offers something for everyone! Whether you're looking for handmade jewelry or pottery, there is something special here for everyone. You can even find some unique items from local artists that are sure to be conversation starters when you get home.
The shops here are open daily from 9:00 am until 6:00 pm. If you're planning on visiting during the off-season months (November through March), it's best to call ahead before heading out because some stores may close earlier than usual because of low attendance.
Have a scenic lunch at The Hideaway Restaurant
---
For the best views in all of Sedona city, look no further than having a lunch or drink at the Hideaway restaurant. Located in the middle of town on the main street, this is the perfect place to go after a morning hike. The views of the nearby Cathedral rock is absolutely amazing and you can't help but admire the surrounding landscapes.
The food is also delicious and well priced.
Visit the Grand Canyon
---
The Grand Canyon is probably the most iconic of all the American National Parks. It's almost like a right of passage to visit this park for all park enthusiasts. It is the largest canyon in the world at almost 2000 square miles. The next largest canyon is the Fish River Canyon in Namibia, which seemed huge at the time, until I came to the Grand Canyon. The Vikos Gorge Canyon in northern Greece is the deepest canyon in relation to its width.
While not one of the things to do in Sedona itself, The Grand Canyon is a very easy day trip from Sedona Arizona. It's only two hours by car and you can see plenty within the Grand Canyon in a day.
South Rim
There are two sides to the Grand Canyon, the North Rim and the South Rim. They are 4 hours away from each other so doing both in the same day is tough. The north rim is only open during the summer season which means I could only go to the South Rim.
The South Rim is the much more popular of the two and offers the most breathtaking views. Like most of the other parks in the area, sunrise/sunset is the best time to see the Canyon. As the sun comes closer to setting or rising the sun will illuminate off these canyon walls in an array of colors. The golden hours of the desert are truly golden, and the Grand Canyon is no exception. The Grand Canyon reminded me in some ways of my trip to Cappadocia in Turkey. The rock formations are similar in color and design (minus the rock chimneys of course!)
The Grand Canyon is highlighted by numerous viewpoints all around the park. They are all located within a few miles from each other and a car is perfect for this purpose. Like the other parks, there is a free shuttle bus that goes through the park. Each viewpoint is just exactly that, a viewpoint. They give different perspectives of the canyon but they're all similar to each other so you don't need much time at each place. There is no hiking involved at the viewpoints but some viewpoints have areas where you can go off trail. I ended up driving to most of the viewpoints but my favorites were Lipan Point, Grandview Point, and Mohave Point.
Where to eat and stay
There are a handful of accommodation options within the park itself. They are mostly expensive and are booked up well in advance. We stayed at a hotel just outside of the canyon in the town of Tusayan. We had dinner and brunch at the El Tovar hotel in the Grand Canyon. Excellent food with great views of the canyon (almost made me want to pay the $300 a night to stay at the place).
Continue Reading: