Albania is full of amazing places and Berat is one of the highlights. Whereas Tirana didn't have really any "old town" areas to speak of due to Communism, Berat is exactly what you're thinking of when it comes to old European villages. This UNESCO world heritage site is known as the city of a thousand windows and it feels exactly like that.
 The old town is built along the face of a hill and its history extends thousands of years. The houses with the numerous windows were built during Ottoman times resembling architecture you may find in old Turkish towns. Picturesque stone houses with dark mahogany stucco roofs are built along the hillside. Don't forget the fortress at the top of said hill just to add perspective. The town is incredibly photogenic and you will get some of your best pictures of the country here.
Berat lies on the sides on the Osum River with a backdrop of Mount Tomorr, elevation 2,416m/7,927ft. Additionally a 2,500 year old castle overlooks the city with numerous, high architectural and historical stone neighborhoods below.
Getting to Berat from Tirana
---
Getting to Berat is quite simple from Tirana. It is only 100km from the capital and there are numerous ways to get here.
If you are on a road trip through Albania with your own car, then a stop here is a simple stop on the way south from Tirana to the coast.
By Bus:
From Tirana, you can reach Berat by bus. The bus from Tirana to Berat costs 400 LEK (3.50 euros) for a single journey and it takes 2 hours and 45 minutes. It's the most convenient way to get to Tirana and a day trip is totally possible.
The bus leaves at various times throughout the day as this is a common connection. There is no set schedule or set bus company that I know of. Simply arrive at the bus station and tell people where you are going and you will be pointed in the right direction. It's similar to the bus stations I experienced while in Tunisia where it felt like complete chaos but you still got where you needed to go.
You can take the bus around 8:00am, arrive by 11:00am and have the entire day before coming back to Tirana.
How long to spend in Berat?
---
Berat is a city through and through with over 100,000 living here. However, the town is separated in different areas with the old town and new town firmly apart. The old town is where you will spend most of your time.
As beautiful as it is, there isn't that much to see in Berat. It is great to relax here but a day is really all you need. Two days maximum if you want to relax as well.
For the best views, visit the new bridge and take the photo head on. In addition, the views from the main town square that is adorned with numerous cafes is amazing.
Last but not least, if you just have one night here like I did, make sure to absolutely go eat dinner at Homemade food Lili located right in the old town. The owner is incredibly energetic and I've never seen a happier soul. Coupled with some of the best Albanian food you'll find and this is a must visit.
What to do in Berat?
---
There are only a few things to do in Berat, inside and out. Again, you don't need more than a day in Berat to see the highlights.
Eat at Homemade Food Lili
If you only needed to have one meal. Make sure to eat at Homemade food Lili located in the small streets of the old town. It's someone's house where they make homemade food and that someone is Lili. He had the most character of any restauranteur I've seen and made the meal so enjoyable with his hospitality. The food of course was out of this world delicious as well. The food looked delicious and thankfully I met another traveler who ended up sharing dinner with me so I could try more things!
You won't go wrong!
Take pictures of the old town from the new bridge
The best part of Berat is simply admiring its natural beauty, meander through its cobblestone streets, and just appreciate the beauty of such a historic town. This is a special town in that you could feel like you are somewhere in Turkey instead of Europe which I'm sure does not exist in too many other parts of the continent. The houses are virtually built into the stone facade and their walls are painted white which contrast with the reddish-brown roof tiles. Not to mention the hundreds of windows.
From the Gorica Bridge (the new bridge), you will get the best views and best picture opportunities of the old town. If you walk across the bridge to the Antigona restaurant, you can have a cafe overlooking the river and old towns.
Rafting in Osumi Canyon
Arriving in Berat, Osumi Canyon was right at the top of my list. Ochre cliffs draped in vines, veils of water cascading into a brilliant blue river and the thrill of hurtling down rapids between the soaring canyon walls.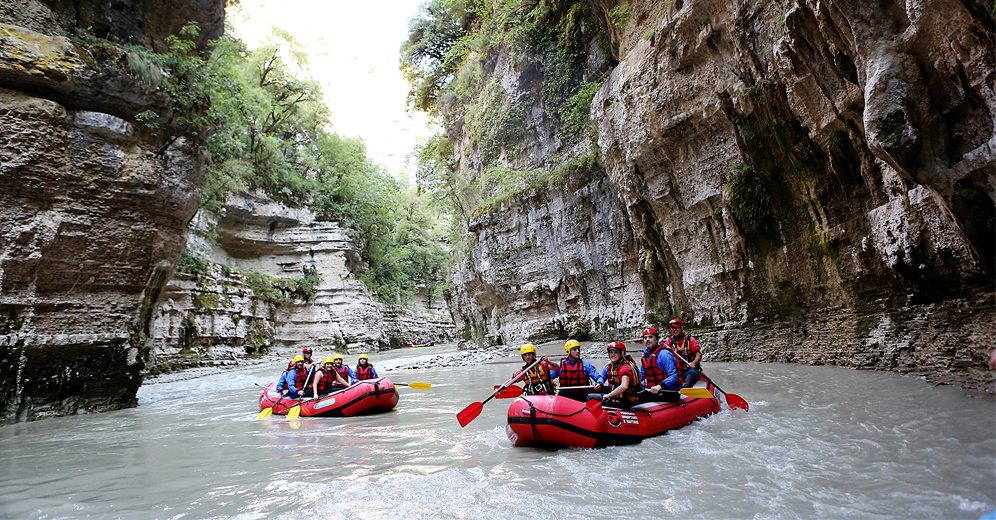 Rafting along the turquoise water of Osumi Canyon is an activity that's gaining some momentum, while hiking along the rim or through the river water are just beginning to be recognized for their adventure potential. The rafting here is not that extreme unlike my near death experience at white water rafting in Victoria Falls but it gives you something more to do if you are staying for more than a day.
It's also worth noting that the water levels vary dramatically throughout the year, being highest in spring and dropping rapidly by late summer.
HIKE UP TO KALAJA E BERATIT, THE CASTLE OF BERAT
What's an old town in Europe built into the face of a hill without a giant fortress at the top of it? Don't worry, Berat has one of the better ones and it is absolutely worth a visit. You'll get panoramic views of the valley and mountains nearby.
The walk is steep but easy to get to the top. Once you reach the inside of the fortress walls, you'll notice that it feels like another mini old town itself. I was expecting a museum and some monuments but it turns out there are hotels, restaurants, and people living here as well1.
The castle remains open 24 hours a day so it's a great place catch a sunrise or sunset. Between 9 a.m. and 6 p.m. visitors do need to purchase a ticket for 100 lek (€0.80), but outside of these times it's free to enter.
Have a coffee at the BULEVARDI REPUBLIKA
Bursting with cafes and bars that gaze across the leafy park, Bulevardi Republika is the main tourist strip that was only occupied with locals when I went (probably because there were no tourists during COVID).
There are endless cafes here where you can enjoy a delicious glass of Albanian wine and enjoy the views of the town. I found that you could take some fantastic pictures here in the early morning before it gets crowded.
Gorica Hill Hike
While I did not do this, it was recommended to me by my guesthouse for some serious hiking and even more serious views. Located at the top of the mountain directly across the river from the old town, this hill will afford you a much better view of the town than from the fortress. However, it's a muh longer hike up here!
Rising steeply beyond the twisting streets of Gorica, this forested hill serves up excellent views as a reward for those that make the steep and rocky climb.
Emerging between the trees, high above the rubble walls of Berat Castle, the scene opens up to reveal an ocean of rust-red rooftops that melt into endless folds of verdant countryside. It's undoubtedly one of the best views in Berat.
The start of the path can be a little tricky to find, but if you turn up the small alleyway beside Hotel Muzaka and keep heading uphill and up a few stairs you should be heading in the right direction.
Wine tasting at Cobo Winery
You will need a car fo this but 20-minutes from Berat, Çobo Winery is the area's most famous offering. With a lovely open-air terrace overlooking the river and a long-held family tradition of winemaking, tours here include a walk through the vineyards and winemaking facilities before a thorough tasting of their locally grown vintages.
The wine in Albania is surprisingly delicious. They share the same climate as with southern Europe and is only across the sea from the beautiful area of Puglia, Italy.
They make delicious red wines here at very affordable prices.
Where I stayed in Berat
---
There are countless places to stay in Berat and all for very affordable prices. I stayed at Guesthouse Arben Elezi which had comfortable rooms and modern finishings. However, the best part of this guesthouse was its rooftop terrace with dead on views of Berat's old town. Having breakfast here with these views was an absolute treat.
Continue Reading: