Amorgos is one of those places that you've probably never heard of, but will instantly be intrigued to visit once you hear about it. Amorgos is a relatively large island in the Cyclades Greek island group with only about 2000 residents. It is a long and thin island that is almost 50km from north to south and measuring only 10km from east to west.
It's a very special island with what is in my opinion the most stunning old town in the Cyclades. The landscape also offers some of the most dramatic views with towering mountains high above the sea. Amorgos is devoid of the huge crowds that you can expect in other islands which makes this an extra special place in my opinion.
Santorini was one of the islands I visited on my month long trip island hopping through the Cyclades. If you're also planning a multi-island trip through the Cyclades, make sure to read my itinerary and guide to planning your own Greek island hopping trip!
How to get to Amorgos
---
Amorgos is not the easiest island to reach. It is less popular (which is good) and does not have a big population. Nevertheless, in the summer months, there are still ample ferries servicing the island. Usually, you'll take a ferry that passes through Naxos with Seajets and Blue Star ferries both having daily boats to the island.
There are no airports on Amorgos but there is a helipad so if you are very much a high roller, you probably are not reading this blog but if you are, there is a helipad. 
For a comprehensive guided on Greek ferries and navigating your way around the Aegean, make sure to read my Greek ferry guide.
Two port towns in Amorgos: Aegiali and Katapola
Amorgos is a very long and thin island and it has two fully functional ferry ports. There are two port towns, Aegiali and Katapola. Both towns are like your typical port towns with restaurants, hotels, scooter/ATV rental places and a nearby beach.
Make sure you know which ferry terminal you're getting into so you can plan how to get to where you're staying. The two towns are very far from each other (about 30km). Even though there is a bus that goes from town to town, it does not run often. A taxi between the two towns can be €40-50 so make sure you don't book a hotel in Aegiali and then book a ferry arriving in Katapola without knowing this before hand.
Visit the Chora of Amorgos
---
The Chora of Amorgos was the medieval capital of the island. In olden times, the inhabitants preferred to move their capitals from the seaside to high up in the mountains to avoid pirate attacks that were all the rage. You can find the same trends happening in islands like Sifnos, Milos, Folegandros and more.
The Amorgos Chora is without a doubt one of the, if not the most beautiful old towns in all of the Cyclades. It is the most rustic and authentic looking of any island I saw as you could see so many buildings that still had its original stones in tact.
The beauty of the Chora is absolutely enchanting and walking through the old town was like walking through some sort of Cycladic fairy tale. There is one main street where all the restaurants, cocktail bars, and cafes are so simply walk down this street in the mid morning for an empty tour of the town.
I particularly liked the area by Apospero cafe which had the most perfect tables set out on the most perfect white cobblestone streets with the most vibrant Bougainvillea trees. If you want the cutest towns in the Aegean, look no further than Amorgos.
During the day times, it's very quiet and devoid of people for most of the day. In the summer nights, the town fills up with people enjoying some of the top notch restaurants operating in the Chora. I visited during Coronavirus times and while the typical nightlife was a big no no, it was still very lively with mainly Greek tourists.
There are few side streets as well that you'll want to explore with more cafes, rustic whitewashed houses, doors painted in a variety of colors like blue, green, and red, and so much more. I thought I saw the most beautiful villages in the Cyclades, but was blown away by the Chora in Amorgos.
Make sure to also walk up to the Venetian castle sitting on its rocky peak. You'll find absolutely beautiful views of the Chora, sea, and the surrounding mountain scenery.
And of course, make sure to take many many photos of yourself doing your finest Instagram vanity pose. I mean, I'm a guy without long blonde hair and a flowing white dress and even I could get myself into the swing of it!
Enjoy the stunning landscape of the island
I've visited countless islands in the Cyclades and have enjoyed all of them immensely. Each island has something to offer and something that stands out above others.
Amorgos is a very special island in that the scenery is absolutely just breathtaking. While most of the other islands are mountainous to a degree, Amorgos is much more mountainous than others. The whole island being long and thin, you can see the mountains from every part of the island especially as it dramatically descends steeply into the ocean.
It has some of the tallest peaks in the Cyclades behind Naxos and Paros. The difference is Naxos peak was in the interior of the island whereas Amorgos' peaks can be seen from the ocean. The contrast is absolutely stunning and reminds me of driving through the Western cape on my way to Cape Point.
There are so many heart-stopping viewpoints on this island that it's best just to pull over on the ATV/scooter/car at times and just soak in the views.
Panagia Hozoviotissa Monastery
---
This is by and far the most amazing thing to see on Amorgos. The Monastery of Panagia Hozoviotissa in Amorgos should be much more famous than it is. In fact, I barely even heard people really talking about it while I was in Amorgos.
Nevertheless, this 1000 year old Monastery is built into the mountain wall hundreds of meters above the sea, facing the sea. The all white facade is visible from the sea. This architectural marvel immediately brought me back to my time visiting Petra in Jordan with its mind boggling buildings carved into the face of the mountains.
The monastery is close to the Chora and is an absolute must visit. Don't skip this one!
History of the monastery
The monastery was built over a thousand years ago when monks escaped from persecution in Palestine and found refuge with the people of Amorgos island. They were allowed to construct this Christian monument which started sometime in the9th century.
The monastery began to be built near the ocean where the icon had been found. Yet each day the builders came to work, whatever they had done the day prior was mysteriously knocked down by mother nature. This happened for a few days. Finally, the master builder lost his tool bag. It was found hanging off a nail on the cliff above. They all believed this was a miracle and a sign from Panagia to build the monastery up higher.
Funding ran dry for the construction numerous times and was left untouched numerous times. It wasn't until 1088 AD when Emperor Alexios Komninos of the Byzantine Empire was informed that there was a monastery unfinished in Amorgos that he sent the necessary funds and finally completed it.
All in all, it took 250 years to finish building this structure! Really crazy to think that it took the entire history of the United States to finish the construction of this church.
Walking up to the Monastery
From the entrance of the Monastery, it's possible to walk up to the church and visit. There are a few hundred cobblestone steps to climb all while enjoying breathtaking views of the sea. It's not a difficult hike and takes roughly 15 minutes to reach the top.
The picture opportunities here are endless so make sure to snap some photos of this magnificent white structure. Once at the entrance, it's possible to enter the monastery for a quick tour of the inside. Men have to wear pants and a shirt but they had random offerings available. Women also can't wear pants or shorts but they have shawls available.
Once inside, I climbed to the top for a short tour given by one of the workers which was very interesting before going into a room to sample the local Raki made by the monks that still live there.
All in all, a very great experience!
Visit the Beaches of Amorgos
---
Amorgos is packed with numerous beaches for the sun starved out there. It doesn't have the best beaches in the Cyclades I'm not going to lie, but it's definitely serviceable compared to other islands.
Agia Anna Beach
After a visit to the monastery, make your way down the road to the famous Agia Anna Beach which is home to the famous church that was in the movie "The Big Blue". Everyone talks about this movie when talking about Amorgos but I have to admit that I had never even heard of it before visiting Amorgos.
Nevertheless, this is one of the famous beaches in Amorgos with very stunning views. The water is also a bright shade of turquoise and the sea is calm. There is no sand at this beach so it's back to the rocky Greek beaches I've also become accustomed to.
Mouros Beach
Mouros beach is one of the best beaches in Amorgos. It's home to multiple caves, and fantastic snorkeling. It's located near the southeast of the island and easily accessible by car.
It's one of the most popular beaches on the island and was very packed when I visited in August.
There is also a nice taverna here with views of the sea which serves delicious Greek food.
Levrossos Beach
This beach, located near to the town of Aegiali is probably the best beach on the island. I feel like it's less known and thereby draws less tourists which is surprising considering it's one giant sandy beach with crystal clear water.
Olympia Shipwreck of Amorgos
---
After the famous Hozoviotossa monastery in Amorgos, the Olympia shipwreck is probably the only other thing I had ever seen that was from Amorgos.
It's located near the southwest tip of the island and is a giant freighter capsized off the coast of the bay. It reminds me of the shipwreck at Navaggio beach in Zakynthos although not quiet as perfect and turquoise.
The boat sank in 1980 when the crew ran into heavy winds. They tried steering it away but failed as it took them into the Bay of Liverrio. Thankfully, all the crew was rescued.
It's a short hike from the parking lot but it is well worth it for the pictures and views!
Where to eat and drink in Amorgos
---
Amorgos, like every other Greek island I've been to is blessed with top quality Greek food that is readily available and for a very cheap price (except Mykonos and Santorini of course).
Since I stayed in the Chora, I ate most of my meals in the restaurants in the main town. Most of the best restaurants are the Chora anyhow as you see buses full of people pull up to the entrance starting in the late afternoon.
Upon first glance at the Chora, it looks like the perfect romantic getaway for couples looking for that ultra picturesque Cycladic backdrop. However, it's clear that Amorgos is not just a lovers paradise but rather a very vibrant island with a Chora that likes to stay up into the early hours. The parties aren't crazy like in Ios or Mykonos but there's more than enough to keep it going well into the morning hours.
Jazzmin
Jazzmin is the go to breakfast and morning coffee spot. It opens at 9am and is bumping from open to closing as people come here to nurse their hangovers from the previous evenings. They serve a variety of different coffees and breakfast/brunch items, all with a nice view of the valley.

Kamara for sunset
Kamara is the absolute must go to spot for the sunset. Whether you want to just have drinks or eat dinner, this is a must visit place with the best views in the island. It's located just outside the town of Aegiali in the hillside town of Potamos.
You need to walk a little bit to reach the restaurant after parking but it's well worth it. The views are stunning as you can see all of Amorgos and the nearby islands.
The food here was also delicious with all the goodies you can expect like Greek salads, lamb chops, etc.
Transistoraki
This was one of the most highly rated and most recommended restaurants I came across. It's located right on the main strip of the Chora restaurants and serves some of the best Greek food the island has to offer.
Transistoraki is a meze style restaurant with all the Greek goodness I've become accustomed to. Their pork neck dish and octopus were absolutely delicious.
Kaotavus
This was another restaurant I went to. Located next door to Transistoraki, this Greek taverna had an amazing lunch with some of the best Greek salads and souvlaki i had. 

Botilia for cocktails
Botilia is a nice cocktail bar in the Chora that had some delicious drinks. They don't have a view of the sunset but it is pretty lively at night time after people have finished eating. They also make some of the best negronis I've had!
3πορτο, Τριπορτο
I'm not sure if this place has an English name but this is what it shows on Google Maps! This is another cafe/bar/restaurant on the main strip in the Chora that serves great cocktails at night but delicious breakfast in the morning. They also have a rooftop deck with ample seating that is perfect for that morning coffee and omelet.
When is the best time to visit Amorgos?
---
Amorgos is the furthest east island in the South Aegean. The climate in the cycladic islands are pretty much all the same. It enjoys a mild and pleasant climate all year round.
In the summer months, temperatures are highest around 30 degrees or so during the day and dropping to 24 or so at night. The days are normally sunny for months on end. I spent all of July and August traveling around the Cyclades and it was only cloudy or rained one day. Every day is paradise in the summer months.
The shoulder seasons from Sep to Nov and Apr to June and also quite pleasant but you will see some days of cloud and rain, albeit still not that bad. However, I have heard that November can be particularly bad with the rain/clouds.
The winter months or off season is usually colder but temperatures never really drop below 10 degrees. These months between Nov to Mar are the slowest months and tourism usually grinds to a halt.
When is the best time to visit Amorgos?
So what is the best time to visit Amorgos? It really depends on what you're after. If you want non stop hot sun, then you will need to visit in the summer. These are the best months to swim in the ocean as the water temperatures will be a pleasant 24 to 25 degrees. However, this is also when all of Greece and the rest of Europe also choose to visit Greece so the crowds will be at their peak.
Prices will be the highest between June and Sep (particularly July and August). I visited the Cyclades during Coronavirus times so even during the peak months it was not overwhelming but there were still a good amount of people. I can only imagine what Amorgos and other islands would be like during a typical summer.
If I were to return to the Cyclades, I would come during the shoulder months, particularly May or October. These months, while not as hot as summer months, will still be very pleasant in the 20-25c range. I'm not crazy about the beaches in the Cyclades as I don't really find them to be that beautiful so I can deal with not swimming in the ocean. However, the prices for accommodation will be 30% lower, and the crowds will be at least 50% lower.
Where to stay in Amorgos
---
Amorgos is a big island but sparsely populated. There are not many accommodation options on this island compared to neighboring islands like Naxos or Paros. There are a few hotels scattered around the island but most of it will be guesthouses and B&Bs. It's all a part of the charm that makes Amorgos such a special island in my opinion.
Most of the accommodation options are centered around the two port towns of Katapola and Aegiali. There are a few guesthouses scattered around the Chora but the options there are slim. If you're not planning to stay in the Chora, I'd recommend picking a hotel near your ferry port as it will save on time and money!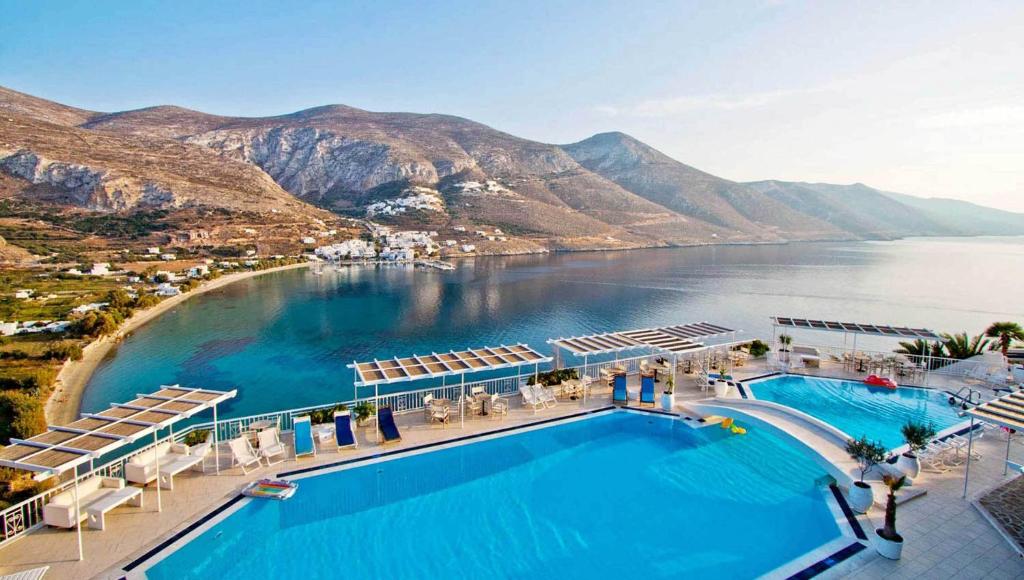 Hotels in Amorgos
Guesthouses, Apartments in Amorgos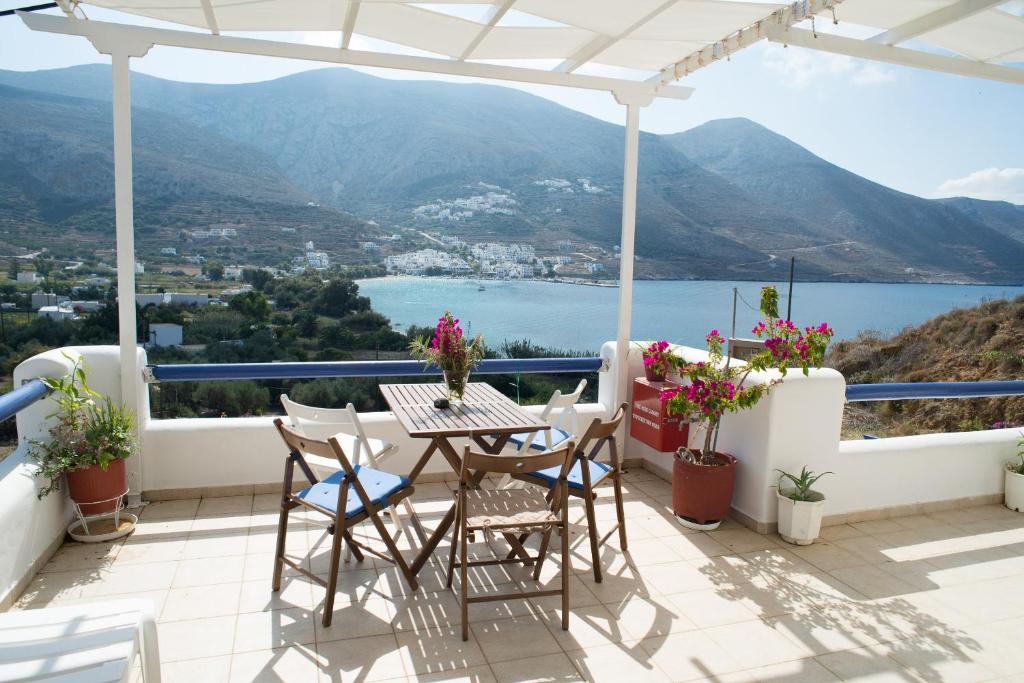 Getting around Amorgos
---
Amorgos, like pretty much every other island in the Cyclades is really meant for a DIY type of adventure. While there are cabs you can take, they are not cheap and not easy if you're looking to explore multiple places. If you're staying in the Chora and just want a cab ride to the nearest beach, then that will suffice but otherwise it's best to have your own transportation.
In Amorgos, the best way to get around is by scooter or ATV in my opinion. Cars are also an option but I always prefer a good scooter as it's more interesting. Amorgos is a large island so if you're not really a fan of scootering, then I'd recommend renting a car since you'll need to cover more distance.
Rent an ATV or Scooter
Renting an ATV can be done pretty much anywhere on the island. There are countless shops in the port towns of Aegeli and Katapola that have scooter/ATV rentals so there's no need to book before hand. Prices are mostly set but there is always some negotiation room but do not expect to get huge discounts because the shops work with each other to form a minimum price.
ATVs can be rented for around €30-40 depending on the motor size. Gas is not included in the price but they do not take much. Scooters can be had for around €20 for a 125cc engine.
You will need an EU Drivers license or international drivers license to rent a scooter or ATV
Greece is famously strict about adhering to the drivers license rule. If you have an American drivers license, they will not rent you anything unless you have an international license to go along with it. I did not find anyone that would skirt these rules, even with the shadiest looking of places. Thankfully, living in Europe and having the right US drivers license, I was able to convert mine into a EU license quite easily. 
I will be back Amorgos!
---
Few places are as beautiful as Amorgos in my opinion. It's just a quick ferry ride from Naxos, Mykonos, or Santorini so it makes for an easy second or third island on an itinerary. When I do return to the Cyclades for my next adventure, Amorgos will without a doubt be a repeat visit!
Amorgos Travel Guide: Frequently Asked Questions (FAQ)
---
What is Amorgos Island known for?
Amorgos is an absolutely stunning Greek island in the Cyclades. It's known for its dramatic scenery with some of the highest mountains in the Aegean. The views from the top of these islands over the Mediterranean will be something you'll never forget. In addition, Amorgos is known for its incredible Monastery of Panagia Hozoviotissa which is one of the most impressive churches I've seen anywhere in the world.
How many days do I need in Amorgos?
Amorgos can be explored in 2-3 days but I always recommend at least 3 nights in a Greek island to really explore it properly. Amorgos is no different as I stayed here for 3 nights. If you want to party and go to beach clubs, Amorgos is not the place for you. If you want a stunningly beautiful island with authentic Cycladic charm, then you've come to the right place.
How long is the ferry ride from Athens to Amorgos
Amorgos can be reached by ferry from Athens in about 7 hours. You'll stop through Naxos on the way. Alternatively, you can fly to Naxos or Mykonos and take a ferry to Amorgos island. There are two ferry ports in Amorgos (Aegaeli and Katapola) so make sure your accommodation is booked with the right ferry terminal in mind!
What is the best time of year to visit Amorgos?
Like all Cycladic islands, there is a season for the tourism. The tourist season in Amorgos kicks off around Easter and ends around late September. As Amorgos is not a popular island like Mykonos or Santorini, the season ends earlier here. After October, many of the hotels and restaurants will already close so even though the weather is still great, you won't have much to do.
July and August are the busiest times of the year to visit Amorgos but it never gets overwhelming like other islands in the Cyclades. The best time for me to visit the Cyclades is May and June as well as late September when the crowds are dispersed.
Continue Reading: