Raja Ampat, translated to the "Four Kings" is one of the premier and most beautiful dive destinations in the world. It's the stuff of bucket lists and dreams. Raja Ampat has long been on my list of places to dive ever since I learned about it. I had dived previously in Indonesia in Komodo and Nusa Penida which are also incredible dive destinations but Raja was always that last frontier.
It's no wonder Raja Ampat is named the Last Paradise. Located in Indonesia's eastern most province of Papua, you feel like you're traveling to the edge of the world. The feeling of vast remoteness, incredible beauty, and stunning diving makes this one of the most sought after dive destinations. Papua is so off the beaten track that many of the tribes in the province are still so cut off from society that they don't even know they are Indonesian citizens.
I came here in April 2022 on a liveaboard dive safari with Tiger Blue Liveaboards. I spent 8 days/7 nights visiting Raja's central and southern regions scuba diving as well as doing many above water activities. It was an absolute magical experience that hopefully this post will capture.
Some things (most things) in Raja are too beautiful to put into words so that's why you should prepare for many photos and videos!
Liveaboard versus land diving in Raja Ampat: Which is better?
---
This is one of the most difficult questions I had to answer when visiting Raja Ampat in 2022. There are really two ways of scuba diving in Raja Ampat: by liveaboard or via a resort/homestay.
Raja Ampat is huge
Raja Ampat is a huge national park. It's multiple times larger than Komodo which was already really big and impossible to visit all the dive sites in a day. A liveaboard will ensure you can visit multiple areas (north & central or central & south etc.) in a shorter amount of time.
If you do decide to dive from land, you'll be mostly restricted to the area that you are staying. Of course this isn't a bad thing because the diving will be incredible no matter what. However, if seeing multiple areas is an important thing to you, then the liveaboard is the best way to go.
You will stay on the islands, not Sorong
Again, Sorong is a complete dump and you'll spend no time here. All of the amazing things in Raja Ampat are in the marine park. There are hundreds of islands within the national park with various homestays, eco lodges, and local villages.
Costs between land diving and liveaboard?
Staying at a eco-lodge or a homestay is generally much cheaper than diving with a liveaboard in Raja Ampat. There are budget liveaboards in Raja but generally the boats here skew to the higher and more premium side. Expect to pay $3k-4k per person on a decent liveaboard.
If you stay in a homestay (literally someone's home that has been turned into guesthouses), you can stay for very cheap. The facilities are incredibly basic but you can be in one of the most beautiful places on Earth for a bargain. You'll have to organize diving separately with outside providers but generally the costs are reasonable.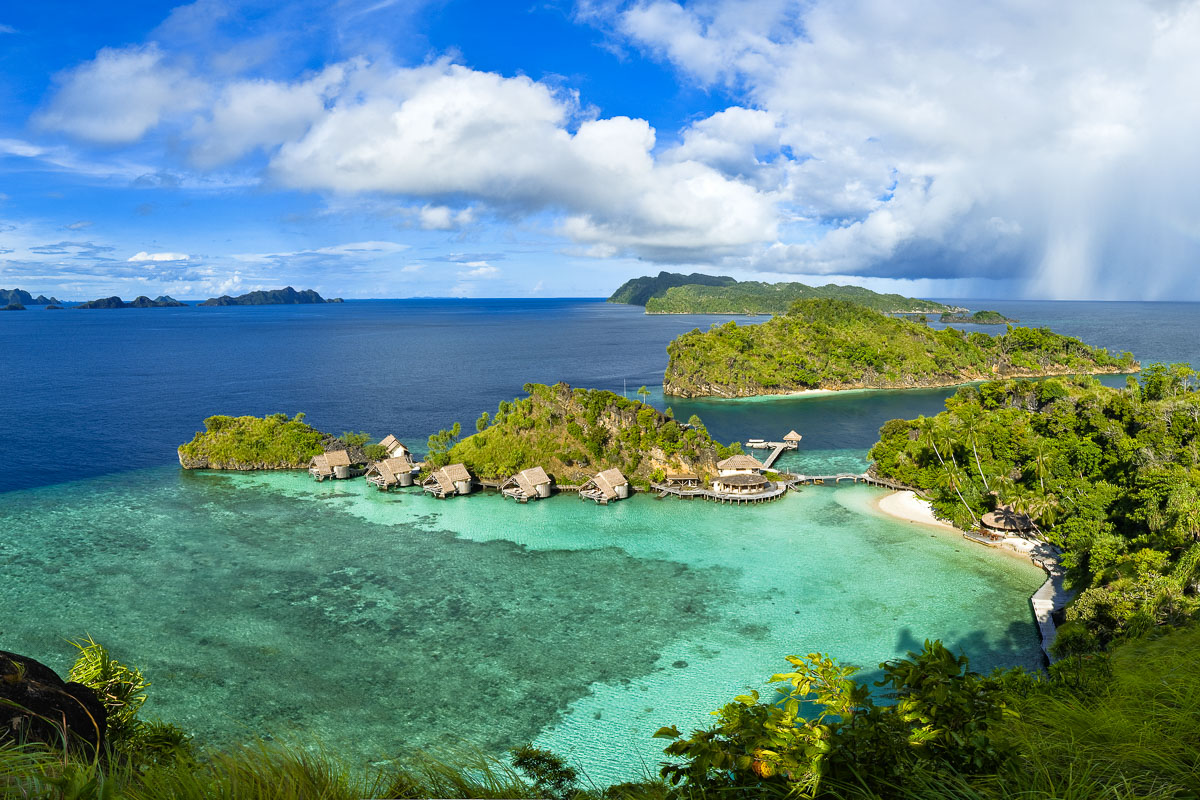 You can also stay at various eco-lodges and higher end resorts where the price per night will be $150-$300 a night which offers a more refined experience. Places like Biodiversity Eco Lodge and Papua Paradise offer a whole resort experience with a dive shop on site.
Finally, if you want to spend the ultra big bucks, go to the Misool Eco Lodge where you can expect to pay $1k+ a night before even adding up the cost of diving!
Why I chose a liveaboard in Raja Ampat?
In the end, I opted for a liveaboard. The reasons are not so straight forward however.
I lived in Bali for much of 2022 and Indonesia tourism was incredibly impacted by COVID-19. No tourists really visited Bali or Indonesia until the latter half of 2022. Therefore, all the resorts in Raja Ampat were open, but mostly were empty. I could have visited many of the nicer resorts or homestays in Raja Ampat but I would have been the only guest. This might sound cool but it would get incredibly boring very quickly and it's just not my thing.
Liveaboard boats also felt the economic ramifications of COVID. Most boats barely left the port for months at a time. They only sailed when they had enough people to fill the boat. Prices were at minimum 50% off which made for incredible deals but even so, boats couldn't be filled. In the end, I found a luxury liveaboard boat after staying at the same villa complex as the owner and they decided to run a trip in April. Prices were about 1/3 of what it was normally so I couldn't say no!
In addition, I absolutely love being on a liveaboard. My experiences in the Maldives and in Egypt were just surreal and Raja Ampat is sort of the last frontier when it comes to diving. We were the only boat in the park for most of the entire trip which was just magical.
When is the best time to visit Raja Ampat?
---
Raja Ampat has two seasons like most places around the equatorial belt, the dry season from Nov-Apr and the rainy season from May to Oct.
During the dry seasons, you can expect less rain, calm conditions, and is generally the best time to dive in Raja Ampat. In the rainy season, you can encounter storms but they typically don't last the whole day. Raja Ampat enjoys a milder rainy season than the rest of the West Papua province. It is also windier during this time which does have an impact on the diving.
Nevertheless, Raja Ampat operates year round because the conditions are always favorable for diving. Great visibility, warm waters between 28-30c, and amazing underwater life makes it the place to be.
The only thing to keep in mind is that the liveaboards tend to stop running after May. Many of the boats sail to Komodo and spend the Raja rainy season in Komodo as it is the dry season there. Eco lodges and homestays will still operate year round and you can definitely find better deals during this time of year.
Raja Ampat Dive Conditions
---
Raja Ampat enjoys mostly wonderful conditions year round. Water temperatures are among the warmest temps I've ever experienced. Throughout most of my week diving the south and central Raja Ampat we had 28-29 degrees the entire time.
Raja Ampat is not as well known as Komodo for its currents but you can still expect to experience a lot of them during your dives. Depending on the dive site, there are currents galore going in all different directions. I had many dive sites where I had to hook into the reef at times. Overall, it is not nearly as crazy as Komodo but this was just one week of diving vs months of diving in Komodo.
Raja Ampat is not as well known as other areas of Indonesia for the big fish life. There are reef and oceanic mantas in Raja Ampat but it's not always possible to see them. Certain times of year mean better chances to see mantas (Nov to Apr) but it is not guaranteed like Komodo is during their wet season. We did not see any mantas on our dive trip even though we tried looking for them.
Nevertheless, the natural beauty of the area and the incredible density of fish in Raja Ampat means you have plenty of things to keep you busy.
Tiger Blue Liveaboard day structure
---
The Tiger Blue liveaboard operated in somewhat of a hybrid between a chartered boat and a regimented liveaboard. The day to day plan was always to have 3 dives per day but unlike other liveaboards I've been on which followed a schedule to the minute, the Tiger Blue was much more of a do what the guests want type of experience.
The Tiger Blue is a beautiful Phinisi style Indonesia boat. It's 34m in length with 5 cabins holding up to 12 guests. The boat has that old school pirate boat style vibe especially once its crimson sails are unleashed. The boat has plenty of lounge space in front of the boat and on the upper deck which was perfect for surface intervals in the sun.
The Tiger Blue liveaboard boats
The Tiger Blue and every other liveaboard boat in Raja Ampat operates with a big main boat, and smaller speedboats used for the diving itself. We would have the dive briefing on the main boat before making our way to the smaller dingys with our dive equipment ready to go. One thing I loved about the Tiger Blue was that they always had water bottles for us with our names on it in the boat. It would always be filled up for us throughout the day and the crew made sure to always carry it on to the dingy right before the dive. I always forget to properly hydrate myself during my dives but this ensured I always had plenty of water to drink.
After every dive, we were greeted with warm scented towels and fresh juice. I've never had the experience of a warm towel post dive before but I can say for certain this was life changing. On days where it was cloudy or even raining, the fresh hot towel as soon as we got back to the main boat was everything I wanted. In fact, I was always looking forward to that hot towel as soon as I started my dive!
Food on liveaboard
As I've experienced with my other liveaboard experiences, the food on the Tiger Blue did not disappoint. The chef ensured we were well fed with a delicious mix of Indonesian and Western food every day. Breakfast consisted of pancakes/French toast and nasi goreng/mie goreng. Fresh fruits, eggs, and everything in between were on offer.
Lunch would be a family style buffet experience with fish, chicken, rice, and other dishes available. Dinners were served as a three course meal of various cuisines. I would have preferred just eating Indonesia food all day every day but had to cater to the other less adventurous guests on the boat. Finally, sambal was always on offer so my spice cravings were always satisfied.
Day 2: A morning hike to the Kalibiru Blue River
---
The first day started off with a bang. The morning was dedicated to visiting the beautiful Kaliburu Blue River.
Morning trip to the blue lagoon in the forest
We left early in the morning for the blue lagoon. We took the smaller speed boat through the inside of the main island of Waigeo. The boat snaked through the inlets and channels between the islands and eventually we were led to a short walking path to this beautiful river.
This river was absolutely stunning and a bit magical being placed in the middle of the jungle. The locals believe this river to be a sacred area.
There are platforms to jump into the river which is not cold but super refreshing.
Diving was not impressive as visibility was not good
Diving was not great on the second day. The visibility was very bad and I couldn't see much. This was very unusual according to the crew but in normal times these dive sites would be spectacular.
I did see an incredible amount of fish in these first few dives so I definitely could believe how amazing these sites would be if the visibility was better. Unfortunately, they didn't photograph well so no point to post a picture here. One of the highlights was seeing wobblegong sharks for the first time!
Thankfully, the rest of the trip would not be like this!
Day 3: Amazing diving in the central of Raja Ampat
---
The third day of diving started off with a bang. This is what I came to Raja Ampat and it was as amazing as I thought!
First dive at Cape Kri
Cape Kri is located at the north of Mansuar island and one of its most famous dives. The fish life in Raja Ampat is ridiculous and has been repeatedly ranked as the area with the most fish species ever recorded. In fact, it's been hypothesized that the first non-bacterial life originated in the waters of Raja Ampat, and therefore all animals came from this region!
Back to the dive, this dive site is known for its beautiful school of sweetlips that congregate around a few coral balmy at 35m. There are multiple schools spread over multiple coral patches. Sometimes, they come together to form a mega school that makes for incredible photos.
Second Dive in front of Mansuar Island
The second dive was in front of the well known Mansuar island. This island has a local Papuan village that you can visit (we did not visit this one) but the diving just in front of the jetty is very special.
As soon as we descended, we swam towards a large coral fan that was absolute fish pandemonium. There was an insane amount of yellow snappers, fusiliers, and jackfish that engulfed us throughout the entire time.
This fish tornado was incredible and made for some insane videos and photos.
Third Dive at Pretty Shallow
Raja ampat is just insane. The fish life up until this point was out of this world and it would only stay that way for the rest of the liveaboard trip.
The third dive at the Shallows was yet another one of these dives. The Shallows is blessed with incredible coral formations and a fish soup that accompanied it. We saw numerous cuttlefish here as well which is one of my favorite underwater creatures.
We also did a night dive at this same site a few hours later.
Day 4: More amazing diving in Central Raja
---
On the morning of Day 4, we moored at the famous Piaynemo island for our morning hike. Piaynemo is the most famous island in Raja Ampat because it is home to the most iconic viewpoint in the archipelago. Piaynemo island is blessed with numerous smaller rock islands with vegetation near the top, almost like a mushroom.
These islands are strategically distributed, along with crystal clear turquoise waters, makes for an amazing view. The walk up to the top of Piaynemo island is only 10 minutes through newly minted stairs. Once you reach the top, you are immediately greeted with these views. It's better to just let photos do the talking with this one!
Melissa Garden
Famous dive site with so many fish everywhere. Incredible hard coral gardens that are probably the biggest I've ever seen. Located near the Jet Fam islands, Melissa's Garden shows just how amazing mother nature can be when she has all the tools she needs to craft one of the most beautiful underwater topographies in Raja Ampat.
My Reef
Absolutely insane amount of fish. A complete tornado of silverfish that was seemingly never ending. The duration of the dive had this huge school of fish follow us. There was just too much fish everywhere that I couldn't focus on spotting anything out of the ordinary. A few black tips also showed up from time to time. Reminded me a bit of the huge sardine run I experienced in Moalboal, Philippines.
Day 5: First day of diving in the South
---
Our boat sailed overnight to the south of Raja Ampat to the famous Misool island. We would spend the remainder of the trip here!
First dive in the south – No contest
The fish life was once again insane with schools of barracuda, jackfish, triggerfish, silverfish, yellow snappers, bumphead parrotfish, and everything in between. The corals were absolutely stunning. There was an abundance of soft corals and fan corals that seemed to be endless in its number and vibrance.
The currents were strong on this dive and seemed to be going in every direction, up, down, and all around. At some point, I had to hook into the reef and just enjoy the ride.
Surface Interval – Kayaking to the nearby island and beach
During the surface interval, we took the kayaks provided by the liveaboard to visit the nearby beaches and islands. The views of the small islands protruding from the ocean are just mind-blowingly beautiful. The views from the beach were even more beautiful as it really felt like we were in the middle of nowhere on our private beach.
Love Potion – Second dive
For the second dive, we went next to the first dive site around another small island. The Love Potion, as the site is aptly named promises you'll fall in love with the natural beauty of the underwater landscape.
 It didn't disappoint.
This dive site had perhaps the most vibrant and largest fan corals I've ever seen. I'm a big fan of fan corals and this site had more than I could count. Fan corals in white, yellow, green, purple, and every color in between were on full display.
In true Raja Ampat fashion, there were your typical huge schools of triggerfish, bannerfish, snappers, silverfish etc. encircling us the entire way.
Heart Shaped Lagoon
After the second dive, the crew let down the sails of the Tiger Blue liveaboard boat which was the ultimate view. The boat looks a million times more cool when the tiger striped sails are let down. Essentially, this is was only for photos as sailing through Raja Ampat with the tight schedule isn't really realistic.
Nevertheless, I felt like I was on a pirate boat and it definitely made for amazing photos from the drone!
We did another hike before sunset to the love lagoon. From the top of this island, you can witness the beautiful lagoon that is perfectly shaped like a heart. It looks totally fake as it resembles a perfect heart, like it was specifically created this way!
Day 6: Raja Ampat South Magic
---
On the last day of diving, we went to some of the most popular sites in Raja Ampat. This dive packed day was full of incredible corals and fish life. At some point, you have to ask yourself does it get old seeing just endless school after endless school of fish?
The correct answer is no.
First dive: Magic Mountain
Magic Mountain is perhaps the most popular and craziest dive in Raja Ampat. Located in the middle of the ocean nearby to the luxurious Misool Eco Lodge, this dive site is the stuff of legends. I thought previous dive sites were fish pandemonium but I was wrong. This site rules them all.
 At one point, I could see Barracuda, jackfish, batfish, giant trevally, white tip sharks, moray eels, fusiliers, bannerfish, napoleon wrasse, bannerfish, yellow snappers, and countless other reef fish in one dive. A tornado of fusiliers was constantly zooming in to my line of sight. There is also an abundance of beautiful fan corals like I had seen in the rest of Raja Ampat.
To top it all off, this site is also a manta cleaning station. There are reef and oceanic mantas that frequent site as there is a cleaning station right next to all the madness. Sadly, there were no mantas during this time. It was already crazy beautiful enough without a manta but if an oceanic manta showed up, I might have just hung up my fins on the spot and called it a life. No need to dive after that.
Second Dive – Boo Windows
It's hard to top the first dive of the day but the next dive still did not disappoint. We descended and immediately saw an enormous family of batfish escaping the currents. These batfish congregated near the rock spire and strategically found an area without currents. There must have been a few hundred of them just grouping up together.
This made for some fantastic photos and videos which
Baby Shark Island surface interval
After the third dive, we stopped at an island nearby that is famous for its baby sharks that swim through the shallows. There were dozens of baby black tip sharks on this beach that could be seen swimming all around us. I never knew how cute a shark could be but these baby black tips really won the day. It's hard to imagine how people could be scared of sharks if they saw these baby black tips!
Dinner on the beach:
Finally, for the night's dinner, we took the small dingy to a nearby island with a beautiful sandy beach. The crew of the Tiger Blue set up a tent and proceeded to cook a feast of grilled seafood for us. Lobsters, red snapper, chicken sates, and numerous sambal was on order.
 After dinner, we were treated to a huge bonfire under the stars. I had something similar on my Maldives liveaboard but we shared the beach with multiple other liveaboards. We were the only people on this island and it really felt like we were on a paradise at the end of the Earth. Truly a special experience!
Day 7: Last full day of land activities
---
We spent the last day doing various snorkeling activities and hikes. I would have preferred to just dive more but there weren't many good dive sites in the area.
Dolphin Snorkeling:
We woke up early in the morning of day 7 to swim with a school of dolphins nearby. If you're lucky (unfortunately we were not), whale sharks can also be seen here!
Jellyfish Lake:
After lunch, we visited the famous jellyfish lake on one of the numerous spire shaped islands of Raja Ampat. This jellyfish lake is famous for its non stinging transparent and brown jellyfish. The lake is actually not a salt water lake that flows from the nearby sea.
The hike to this Jellyfish lake was intense. It wasn't much of a hike but more of a rock climbing adventure through the island. The stalactite in Raja Ampat is intense so if you miss a step, you're in for a world of pain.
Once we got to the lake, it was incredible. So many jellyfish everywhere you looked. As alien and creepy looking as the jellyfish are, it was a surprisingly calming experience after getting settled in.
Heart Shaped Lagoon #2
Finally, after lunch we went to another hike to witness yet another beautiful viewpoint of Raja Ampat. The above water landscape fo Raja Ampat is truly special and nowhere was it more beautiful than this hike. We had done two hikes previous this at Piaynemo and the heart shaped lagoon but I think the view here was the ultimate.
The hike was steep and intense but once you get to the top, you're greeted with stunning views of dozens of littel island spires, turquoise waters, and the open ocean. It's hard to describe and pictures can only do so much but it really hammered home just how remote and special Raja Ampat is.
An amazing experience in Raja AMpat
---
This was the last activity of the trip! Following the second heart shaped lagoon, we sailed overnight to Sorong and caught our flights out the same morning back to Bali.
Overall, we did 14 dives which was bit on the low side but a wonderful experience. Being able to see the central and southern part of Raja Ampat was incredible and would not have been possible without the liveaboard.
If I was to visit Misool in the south without a liveaboard, I would have had to take a 4-5h speedboat ferry from Sorong!
Getting to Raja Ampat
---
Raja Ampat is located in the West Papua province of Indonesia. This province is the furthest east province in the country and shares a border with Papua New Guinea. I had always thought that Papua New Guinea and West Papua had a similar shared language and culture but that actually isn't so much the case. Nevertheless, West Papua is about as different from areas like Jakarta or Bali as Germany is from Turkey. It's fascinating they're all part of the same country!
The main city in West Papua with an airport is the town of Sorong. This is where everyone will have to fly into before embarking on their epic dive liveaboard of Raja Ampat.
Sorong is connected via Jakarta and Makassar, and there are no direct flights from Bali. If you're staying on the island of Bali, you'll have to transit in either of the two cities in order to get to Sorong. As of the time of writing this post in 2022, there are two reasonable flights to take in order to get to Sorong from Bali:
Bali to Makassar to Sorong, departing Bali at 7am and arriving in Sorong at 4pm. This flight will ensure you arrive in Sorong in the same day.
Bali to Makassar to Sorong, departing Bali at 4pm, and arriving in Sorong at 6:30am the following day: This is essentially a redeye flight. You will have a long layover in Makassar with the second flight leaving at 3:30am.
There may be a direct flight from Bali to Sorong in the future but for now, these are the only options.
Sorong is not worth any time at all
Sorong is a bit of a hell hole. THere is absolutely nothing to see in Sorong and there is zero reason to spend any time in this city. It's like Labuan Bajo, the gateway to Komodo National Park, before its incredible transformation in 2021.
There are no sights in and around Sorong besides Raja Ampat so really there is no reason to even spend a night here if you can avoid it. The hotel choices are all awful anyway.
I would in fact, recommend the overnight flight. Yes this means you will lose some sleep, but you can spend more time in Bali and arrive in the morning and go directly to the liveaboard boat.
Continue Reading: