Ljubljana, the capital city of Slovenia's, is moments away from its European spotlight. It's not as popular as nearby hotspots like Dubrovnik, or Prague, but it deserves to be. I spent a few days in the capital on my road trip through Slovenia and absolutely loved it. After all, the word Ljubljana means "beloved" in Slovenian which is how I and all Slovenians feel about it. I visited Slovenia as part of my week long trip through the country. 
It is often compared with Prague due to its beautiful architectural appearance, which is the result of the legacy of different periods in history. Buildings are beautiful with different colors and ornaments. There are fountains and statues around almost any corner you turn. There are shops, cafes and restaurants for you to stick your head into and decide if it's somewhere you want to go in. The Ljubljanica River runs right through the middle. The whole area is a pedestrian zone, so you can walk around without fear of getting run over by a car. Walking along the Ljubljanica River with restaurants, shops and a lively outdoor market is a pleasant way to spend a few hours. There are squares where people gather and musicians play. Plus, there's a castle that overlooks the entire Old Town that you can see from anywhere you go.
Slovenia and the Balkans
Slovenia is considered to be part of the Balkans and was a part of former Yugoslavia. It was the one country that left relatively unscathed from the conflict as its population was small and there were really no ethnic Serbians living in Slovenia. It declared independence before the war even started in 1991.
Slovenia is also the only Balkan country to not have been occupied by the Ottoman empire. Therefore, its architecture, food, and culture is more similar to neighboring Austria which did have control over the country under the Hapsburg empire. The language however is of slavic origins and similar to its Balkan neighboring. All in all, quite a fascinating history.
What to do in Ljubljana
---
Ljubljana is a small city by all measures, but it packs a lot of things into a small old town. With one day, you could probably explore all the main sights. However I'd recommend at least two nights as there are so many cool restaurants, cocktail bars, and it's just an overall very charming town.
Ljubljana Old Town
Ljubljana is a lovely small capital and its Old Town is one of the most visited tourist destinations in Slovenia with more than one million visitors a year. It's a mix of stunning architecture, a lovely river littered with charming bridges, plus heaps of nice restaurants, bars and cafes.
It's likely that most of your trip will be centered around the Old Town and that's how it should be. A few years ago, the city imposed a controversial decision to make the old town completely car free. Nowadays, that decision is celebrated as it's one of the few capitals in Europe with pedestrian only old towns.
The only cars you will see are these golf cart taxis that will take you anywhere around the old town absolutely for free.
Join the free walking tour
I'm a big fan of the free walking tours in every city that I visit. Ljubljana is no different and offers a fantastic daily free walking tour. It meets at 11am every day at the steps of the Franciscan Church. It gets quite busy as it is the only walking tour in town, but they have multiple guides and split the groups accordingly.
They do a great job of explaining the history of the city and taking you to the main sights. Most of those sights are listed below. The tour lasts just over two hours and I would highly recommend it!
Ljubljana Castle
The next attraction to see is the Ljubljana Castle. Take time and visit it since you will be surprised how many exciting things are there to see and hear. You will have an opportunity to have a guided tour named Time machine, where costumed characters show you how it was to live in medieval times.
With audio tour you are able to hear the history of the Castle, the architectural data and the stories of the people who had an important influence on the development of the Slovenian capital symbol. There is also a movie about the Castle's history till today which you can see in a 20-minutes movie.
You can download a mobile app Nexto that works on iOS, and Android platform. It will locate you at the Castle and guide you to see all of the attractions on the castle.
Triple Bridge
The bridge is located in the centre of Ljubljana. It connects Ljubljana's historic old town on one bank and the modern part of the city on the other. The bridge was designed with a lot of Italian influence and has a Venetian look to it. It's small yet charming. There are often buskers and other street entertainers on the bridge creating a nice atmosphere.
It may seem a bit unusual to have three bridges sitting side by side, but there is a good reason for it. In 1842, the central bridge was built to replace the original wooden medieval bridge. A little less than a hundred years later, pedestrian bridges where constructed on either side of the central bridge, forming what is now the Triple Bridge. All three bridges are now pedestrian only.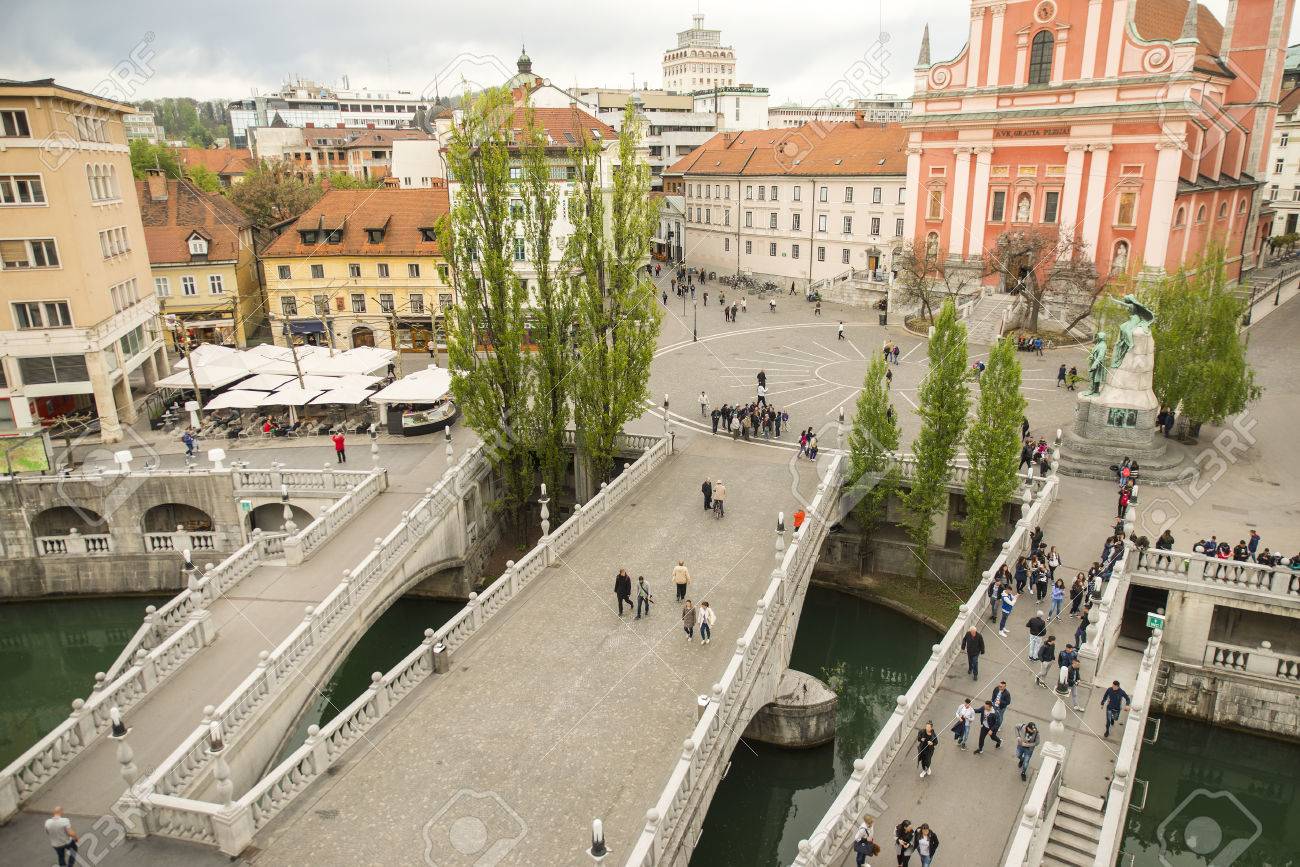 Butcher's Bridge
Ljubljana's Butcher's Bridge is one of the more interesting ones in Slovenia's capital. It'ss a footbridge that spans the Ljubljanica River between the Central Market and Petkovsek Embankment. It was built more as an art installation than anything, and features glass panels near the edges and some unusual sculptures. All along the steel wire railings, couples have attached padlocks etched with their names and clasped with their love.
Ljubljanica River Canal
The canal splits Ljubljana's historic old town from the modern part of the city. A paved path exists along the entire way. The river's banks are lovely and you can spend a few hours just wandering along and enjoying historic buildings and architecture and many lovely outdoor cafés and restaurants. It's an excellent place to get a perspective on what living in Ljubljana is all about.
You can also join a tourist boat cruise along the river. There are many boats offering a commentary in English and other languages. The 45 minute trip is well worth the price paid (the fare is €10 including guided commentary). A trip is really a lovely way to see Ljubljana. In the summer you can hire a canoe and paddle through the city.
Ljubljana Cathedral
The Cathedral of St. Nicholas in Ljubljana is the main church in Slovenia's capital city. It is not very impressive from the outside, but when you go inside it is breathtaking. The fantastic artwork adorns pretty much every inch of the inside of the cathedral, with magnificent paintings (the cathedral has recently been refurbished so the colors are vibrant), lots of gold leaf, intricate frescos on the ceiling and a striking pipe organ.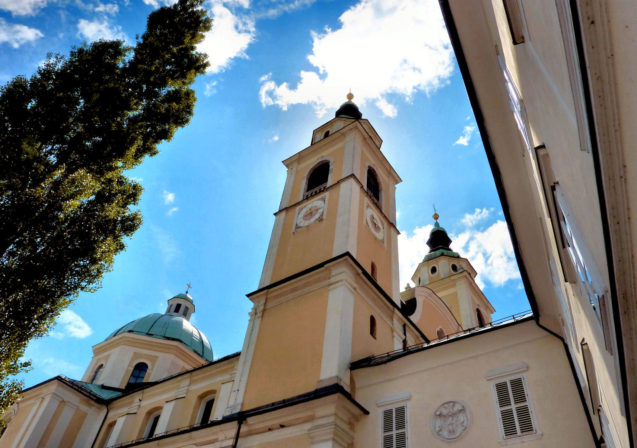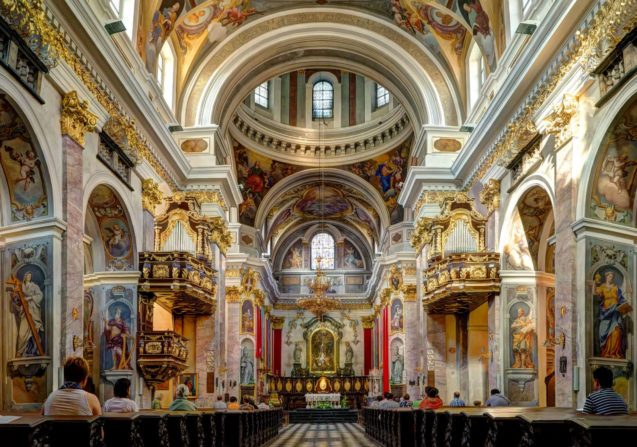 Franciscan Church of the Annunciation
The church is located in a prime position in the heart of the Old Town. It's impossible to miss this lovely salmon-pink church as it provides an beautiful backdrop to the main Preseren Square at the end of the Triple Bridge. The inside is worth a look for the painted ceiling and walls and the main altar, which was executed by a famous Italian sculptor Francesco Robba.
Central Market
It's located just west of Dragon Bridge. It is filled with vendors selling every kind of fruit and vegetable imaginable. Prices are a little higher than your average supermarket prices, but it's worth the atmosphere and feel of the market to make a stop. Opening Hours: Open everyday but Sunday until 18:00 in summer, 16:00 in winter. The best time to go is probably Saturday morning.
What to eat and drink in Ljubljana
---
My favorite dumpling (Struklji)
No that is just the name of the restaurant! But it actually is probably my favorite dumplings I've tried in Europe, and I've had many dumplings in Kiev, Ukraine, and the pierogies in Poland. The Struklji is a traditional dumpling only to the Slovenia. I have not seen it anywhere else but please let me know if it exists because it was amazing!
It is located nearby to the central market on the river and is an absolute must visit for everyone. I had a meat and cinnamon roll dumpling and while they don't look particularly appetizing, they were some of the best foods I ate in Slovenia. To me it is like a cross between a crepe and dumpling but all delicious.
Drink Craft beers at Lajbah Craft Brewery
The craft beer scene in Ljubljana is quite strong. They're very much into their craft brews and there is no better place than to have a delicious beer than at Lajbah. It's located just south of the old town on the Ljubljana river.
They have lots of craft beers from Slovenia, as well as from all over Europe. I'm a huge fan of New England style hazy IPAs and for the first time since I was in the Baltic countries (Estonia and Finland primarily), I was able to have a delicious citrus-y IPA. The vibe here is also very fun and they serve a good menu of local foods.
Balkan Food at Sarajevo 84
If you want the best Balkan food, look no further than the Bosnian restaurant at Sarajevo 84. It's located in the old town in a cute building underground. This was high on my list because I just had to have some of my favorite food, aka cevapcici. Little grilled sausages made from ground beef/lamb with various spices, served with delicious bread and ajwar sauce.
This place brought back memories of when I was in Bosnia and is the perfect meal if you want something delicious, filling, and cheap.
Jakob Franc gostilna
For a delicious local Slovenian meal, come to Jakob Franc. It is located just south of the Old Town along the water. They have lots of local dishes and specialize in pork. During our visit, they were roasting whole pork as the special of the night. Of course, i could not turn down whole pork because there really isn't anything better. The meat was incredibly flavorful and the skin was juicy and crispy. Highly recommended!
Le petit Cafe – Okrepčevalnica
For a delicious brunch or lunchtime meal, look no further than Le Petite Cafe. It's a quaint French style restaurant with a huge outdoor space that serves delicious items. I had the truffle omelet as the country is famous for its abundance of truffles (yum delicious).
We arrived at 10am but the place was getting packed by the time we left around 11:30am.
One Day Itinerary For Ljubljana
---
For a one day itinerary, I would recommend the following:
09:00 – Brunch at Le petite cafe
11:00 – Walking Tour which visits the main sights in the old town
13:00 – Have lunch at My favorite dumplings and try out the Strukjli
14:30 – Visit the Ljubljana Castle
16:00 – Visit the Tivoli Gardens
18:00 – Enjoy sunset drinks somewhere on the riverfront for the views
Two Day Itinerary For Ljubljana
---
For a two day itinerary, I would space out the sightseeing as you have more time. For accommodations, I stayed at the City Hotel in the old town which had spectacular views from the balcony of the Ljubljana Castle.
I would mostly follow my itinerary for the first day as I don't think it is overwhelming. I would spend the second day enjoying the various wine bars, cafes, and restaurants the city has to offer. In addition, if you only have 2-3 days in all of Slovenia, then I would definitely recommend a day trip to Lake Bled or Predjama Castle. More on that below!
Visiting Lake Bled and getting out of Ljubljana
---
Slovenia is a small country and many of its most popular sights are located in and around its capital. The most popular of all is definitely the impossibly picturesque Lake Bled.
This is located only 40 minutes from the capital and is easily accessible by taxi, bus, or rental cars. If you can't dedicated a few nights to it, it is still very much worth the day trip to Lake Bled. Buses leave multiple times a day and is cheap.
Simply take a 8am bus to Bled and spend the day exploring the fairy tale landscape of the lake! Make sure to also read my experience visiting Lake Bled filled with stunning photos and videos!
Continue Reading: