Nedile Lodge is a beautiful 5 star game lodge located in the beautiful Welgevonden game reserve in the Limpopo province of South Africa. The Welgevonden game reserve is located roughly 3.5 hours from Johannesburg airport which makes it a much easier place to reach than a game lodge in the Kruger National Park for example.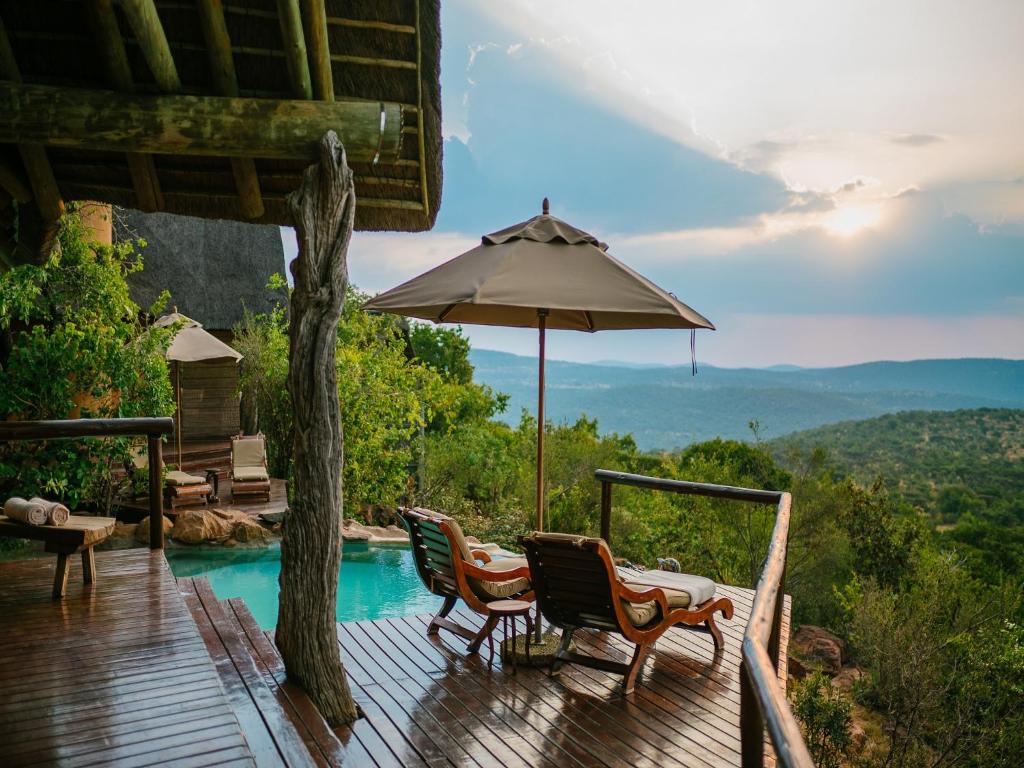 The Welgevonden game reserve also features other 5* resorts like the Mhondoro, 57 Waterberg, Clifftop, Ndlovu, and many more. The game parks in the Welgevonden offer beautiful landscapes at a price that is slightly cheaper than Kruger National Park as it is not as well known. I planned this South African honeymoon for my friends Anooj and Amanda and this is their review!
Booking a stay at the Nedile Lodge
I always like to book my stays in South Africa with booking.com as I get very advantageous discounts through my Genius discounts.
Click here to book your amazing stay at the Nedile Lodge!
Arriving at the Nedile Lodge
---
We are extremely grateful that Johnny recommended staying at Nedile Lodge to complete our dream of going on a South African Safari. We arrived at the lodge's West Gate around 12pm and we were quickly greeted by our ranger, Barend.  He was very polite and explained the entire process to us while we waited for more guests to arrive.
After being picked up at the main gate, we had a 30 minute drive to the lodge, during which we got to see a buffalo! It was then that we knew we were going to be in great hands because Barend explained how the buffalo's mom had recently passed and that he was starting to associate with a pack of wildebeests. Barend and the other rangers have extensive knowledge and hands-on experience with the reserve.
It was very evident how passionate they are about the animals and your experience at Nedile. Once we pulled up to the front of the game lodge, we were greeted by the entire staff with welcome drinks. The check in process was very smooth as Dominique provided us with a tour of the grounds and explained the rules/schedule for our stay. The lodge grounds have lots of amenities including indoor/outdoor dining options, firepit, a small gym, outdoor pool, bar, and a main lodge that provides wifi.
Rooms at the Nedile Lodge
---
The entire reserve is a non-gated area so guests are escorted to and from their villas by staff after sunset. The rooms were very spacious and well kept. We had plenty of closet space, comfortable and clean sheets regularly, and an outdoor patio we could enjoy drinks on. There were plenty of USB outlets so we did not need to worry about an adapter.
There is no wifi in the individual villas which we actually enjoyed. We were pleasantly surprised when the staff secretly decorated our room/bed with flowers and candles one night to celebrate our honeymoon. They also leave little notes about the lodge and animals that we looked forward to reading each night before bed. There are wake-up calls every morning around 5am (30 minutes before the game drive) and the staff brings coffee/snacks to your room to help you prepare for the drive.
Food and Drinks at the Nedile Lodge
---
We were treated with one of the best fine dining experiences we had on our two week vacation. Our chef came out prior to each meal and explained the 3 to 4 course dining options that we had for the day. Being a selective vegetarian, he prepared a special menu for me everyday which did not compromise on the flavor or quantity! Some of the meals I ate included a fresh spring roll, stir fry, pasta, avocado tartare, etc.
The deserts were phenomenal – my favorite was the mousse pictured below. After getting to know him after a few days, it was so refreshing to have a conversation with our chef prior to each meal to recap the day. He gave us insight into his background and where his passion for cooking came from. It was incredibly impressive that he prepped, cooked, and made desserts for all of the guests just hours before service time. All of our plates were clean, tasty, and left empty!
Daily Game Drives at Nedile Lodge
---
The game drives were scheduled twice daily at beginning around 0530 and 1600. Each game drive lasted about 3 hours and included a rest stop for coffee/snacks and happy hour in the evening. Prior to the morning game drive, lodge staff would provide a wake up call at 0500 and bring coffee/snacks to your room.
What to wear during our game drives
All of the guests would climb onto the safari jeep (which seats about 10 guests) and we would begin the game drive promptly at 0530. In terms of clothing, we recommend packing sneakers/gym shoes that you aren't afraid to get a little dirty and a light pair of pants/jacket as it can get breezy on the jeep. In case of rain, the lodge provides warm ponchos and there is storage room on the jeep to fit your camera bag and binoculars if needed.
During each of the game drives, our rangers had a plan in place for which parts of the reserve we would be going to to seek out animals on our list. There is quite a bit of variety in each game drive as you never know what or who you are going to expect so we do not recommend skipping any drives! For example, on one of our evening game drives – we were able to see a rare civet cat.
Morning game drive
After embarking on the morning game drive, we would make a 15-20 minute stop at a scenic location to stretch our legs, use the bathroom, and have coffee/rusks. One of our favorite drinks in the morning was having amarula (cream liqueur) coffee!
Barend would always provide a great depth of knowledge about each of the animals we encountered and would stop to explain tracks if we saw. As aforementioned, the rangers have known these animals for nearly their entire lives and the mutual respect between ranger/animal is quite evident when you approach the animals.
Lunch in between game drives
After returning from the morning game drive, we would have a 3 course breakfast prepared by the chef which was always fantastic. After breakfast (~1130 pm) we were free to enjoy the amenities of the lodge or take a nap until lunch time which was at 1400. Shortly after lunch was completed, we would be asked what drinks we preferred for our evening game drive since the team packed coolers to take with.
Evening Game drives
The evening game drive would start at 1600 and our rangers made sure to take us to a different part of the reserve each time. We recommend dressing a little heavier in the evening in case of rain/wind with decreasing temperatures. Again, we would stop for about 30 minutes at a different scenic location to have happy hour and snacks.
There are a variety of drinks you can choose from including beer or hard alcohol. The happy hour snacks changed daily and featured a variety of samosas, nuts, and local biltong (dried cured meat similar to jerky). The evening game drive would typically end between 1900-2000 and we would return for another amazing 3 course meal and drinks.
During this dinner time, we had the opportunity to get to know everyone more personally and discuss our game drive, animals, conservation, etc. This was one of the most memorable times for us as we were able to create new relationships over cocktails and learn from each other.
Overall Customer Service at the Nedile Lodge
---
This was another category that Nedile gets a five-star rating for. Our service during the entire stay (drinks, meals, room, bills, COVID-19 testing) was flawless. The management staff at Nedile was always so kind and made you feel at home. The crew – Barend, Marne, Dominique, John and the rest of the staff were always approachable and easy to have a conversation with.
We felt like we had known them for years by the time we were leaving. Given that we were traveling during COVID, we had to obtain PCR tests prior to our departure from South Africa to Tanzania. Dominique made it incredibly easy to collect the PCR prior to a game drive and get results within 24h.
We made it a point to have discussions with the rangers about conservations and current measures that are being taken to protect wildlife. Barend and John were very honest, genuine, and provided great perspective on reserve conservation. Lastly, the attention to detail at Nedile is unmatched. The entire staff knows your name within the first few hours of checking in, are always treated like family, and your meal/drink preferences are quickly noted.
Our entire experience at Nedile Lodge was a dream come true and we are planning on returning again soon!
Continue Reading: