Dublin, Ireland's energetic capital is a historic and absolutely beautiful city to visit. It's full of history and iconic buildings like the St Patrick's cathedral, Trinity college, the Guinnness Storehouse and much more.
I spent three full days here in January and absolutely loved it. The Irish diaspora of the mid 19th century has ensured that Irish culture spread to all corners of the globe. It's hard to not find an Irish bar of some sort in every major Western city nowadays. However, visiting Irish culture at its source was an amazing time. This post will talk about all the places to visit while you're in Dublin, as well as how to plan a one, two, or three day itinerary!
How to get from Dublin Airport to Dublin City
---
Before you start your Dublin weekend you have to get there! If you've flown in there's a high chance you've come with Ryanair. Whatever carrier you've flown with, getting from Dublin Airport to the heart of the city is easy as pie with the AirLink. It stops at the main bus station before making its way to one of the major train stations via O'Connell Street. The cost is €9 for a one way transfer.
OR, if you're on a budget, you can hop on the number 16 Dublin bus which leaves from outside terminal 1 and drops you off at several points in the city centre. It costs €3.30 for a single fare into town.
If you're not on a budget, take a Dublin city taxi for roughly €25-30 into the city.
Getting around Dublin
---
Surprisingly, Dublin is one of the few European capitals without a true mass transportation system. There are no underground subways to speak of but rather buses and overground trams.
If you're staying around Dublin city center however, you'll likely never need to take any public transportation as all of the sights are within walking distance from each other.
If you need to go somewhere far, I'd recommend using a ride hailing app like FreeNOW which has an abundance of local taxis ready to serve. There is no Uber in Ireland to speak of.
A standard taxi from the city center to say the Guiness Storehouse is €8-10. No tipping is expected!
Later on, we've strolled around the city, trying to feel it's spirit more. Dublin has some great examples of Medieval stone architecture (mostly churches), anyone is probably imagining when thinking of Ireland. Then, there is a historicist architecture of mostly old residential buildings in the city centre. And industrial, late 19th Century brick buildings, that reminded me of London and even Hamburg a bit. It's a city where you can feel the high culture in combination with the working class and industry.
Guinness Storehouse Museum
---
Without a doubt, the Guinness museum is Dublin's most well known and sought after attraction. In fact, the Guiness Storehouse is the most visited sight in all of Ireland, with the Cliffs of Moher a distant second.
The Guinness Storehouse is on the site of St James's Gate Brewery. This is where Ireland's legendary drink, Guinness, has been brewed since 1759. It's quite the success story, with over 50 million barrels of Guinness being produced annually at St. James Gate brewery. The Guinness Storehouse itself is a huge seven storey visitor attraction arranged around a central atrium. The Storehouse was built in 1904 and used for fermentation until 1988, but is no longer part of the active brewery.
The Guinness Storehouse is a self-guided tour. It costs a whopping €26 which includes a pint of Guinness at the famous Gravity Bar which has panoramic views of Dublin.
Lots of blogs out there recommend skipping the self guided tour and just taking the elevator straight up to the Gravity Bar to get the good stuff. This is of course an option but I actually enjoyed walking through all the areas dedicated to all things Guinness.
For starters, the Guinness Storehouse is not a brewery. It is more of a science museum dedicated to the history, production, and distribution of everyone's favorite stout beer. There are thousands of people that come through this every day so it would be impossible to actually give a tour of a real brewery.
There are 7 floors to walk through starting with the life story of Arthur Guinness and how he came up with this famous beer.
All in all, it took me just under 1 hour to walk through the Storehouse before getting to my favorite part of the tour, pouring out your own Guinness!
Pouring your own Guinness
On the floor right before the Gravity Bar, there is a big bar room where you can have a go at pouring your own Guinness straight from the tap. We learned earlier on the tour that there are 30 million bubbles in each pint of Guinness and their draft machines have something to do with it. In fact, the tap has everything to do with it because if you drink Guinness from a bottle, it is never the same as from the draft.
We were brought into the bar room in groups of ten and a guy demonstrated how to properly pour a Guinness beer.
Take a Guinness glass, tilt it at a 45 degree angle, and pour the beer while simultaneously straightening out the glass. Stop pouring when the beer is near the top of the harp picture of the Guinness glass (this is key!).
Then you need to wait for 90 seconds, and finally topping it up to get that world famous head of foam. Waiting 90 seconds is very important as it gives the beer time to settle and you'll see it turning from a light shade of brown to almost black.
Every single bar in Ireland will do this religiously. They will never serve you a Guinness straight poured like they do in the US. To be honest, Guinness tastes better in Ireland in all facets!
And finally, you can take your beer up to the Gravity bar which has 360 views of Dublin!
Main attractions in Dublin
---
After the Guinness Storehouse, there are still many things to see in Dublin. Often times, it is just advisable to simply walk around Dublin and take in its picturesque stone streetsHere are just a few of the options!
Trinity College
A gorgeous, prestigious campus right in the heart of the city. It was founded in 1592 and is Ireland's oldest university. You can visit the Book of Kells here in its world famous library.
It's absolutely massive.
Visitors enter through the Library Shop and proceed to the Book of Kells "Turning Darkness into Light" exhibition; then to the Treasury where the Book of Kells and other related manuscripts are on view; then proceed upstairs to the magnificent Long Room which houses 200,000 of the Library's oldest books in its oak bookcases.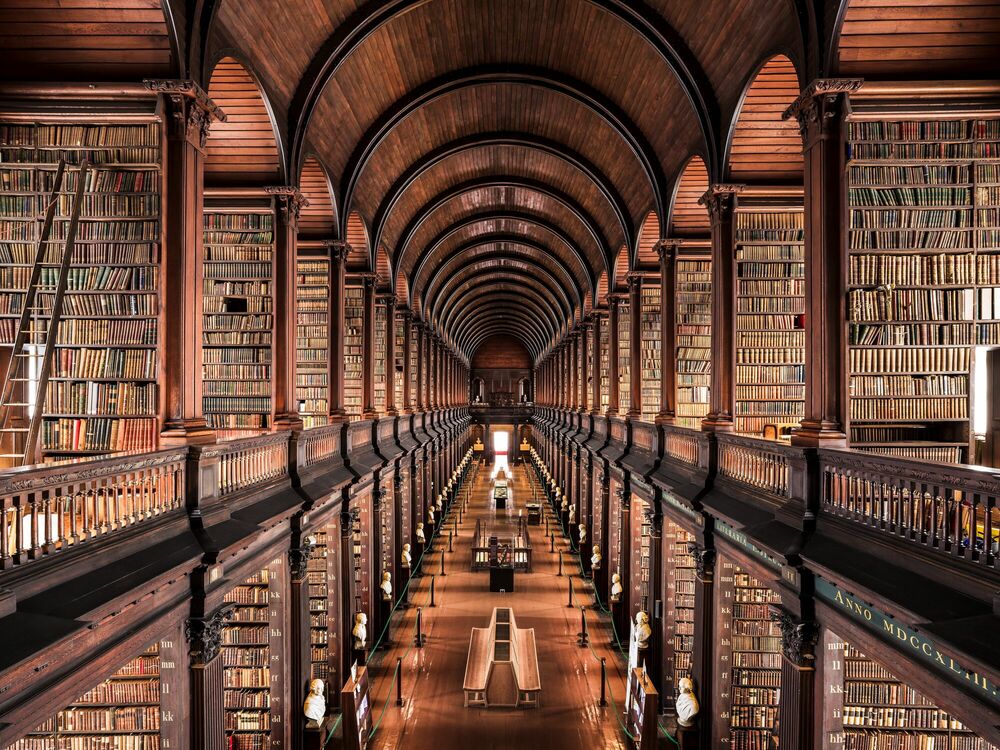 It's perhaps one of the most photogenic libraries in the world.
Explore Temple Bar
An essential part of any Dublin mini break is the nightlife! Temple Bar is the must-visit spot for first-timers experiencing a weekend in Dublin. Well, if you want to be the quintessential tourist that is.
You'll find very few local people in Temple Bar. But it does have its charms. The cobblestone streets are quaint. Personally, I'd only ever spend time in Temple Bar shopping, eating or to check out photography exhibitions during the day. Definitely head there a bit earlier if you're not a huge fan of raucous merriment. Have a few drinks to settle in, and you'll likely be singing and swaying along like everyone else before you know it.
Just be aware that the price of a drink in Dublin is quite high in comparison to most parts of the world. Pints are probably at their most expensive on Temple Bar as it is primarily tourists. Expect pints to be €7-€8 which is pretty ridiculous but to be expected for this part of town!
Molly Malone Statue
No visit to Dublin would be complete without a visit to one of the city's most famous inhabitants —Molly Malone. Or at least, her statue. Molly Malone, as you are likely aware, is a fictional character who features in one of Ireland's most well-known songs, which tells the story of a fishmonger plying her wares in Dublin.
Like other famous statues that are just…statues, *cough* mermaid statue in Copenhagen *cough*, loads of people visit and like to touch the statue. In particular, it would be this statue's breasts which have led to the bronze fading away slowly!
The statue of Molly Malone was historically located on Grafton Street, but due to construction work on Grafton Street at the time of writing, she is not on Suffolk street until further notice.
Church of St Patrick
If you are interested in visiting another cathedral, you can also visit the nearby St. Patrick's Cathedral (fee*). Dublin is unique for having not one, but two cathedrals and both date back to the medieval period. It is believed that St. Patrick's Cathedral (fee*), founded in 1191, was initially intended to replace Christ Church but for whatever reason this did not happen and the two cathedrals have had to learn to co-exist together. Like Christ Church, it is part of the Anglican Church of Ireland.
St. Patrick's Cathedral is the National Cathedral of the Church of Ireland and its spire makes it the tallest church (but not cathedral) in Ireland and the largest. It is said that Saint Patrick used a well on this site to baptize people in Dublin approximately 1,500 years ago. The author of Gulliver's Travels, Jonathan Swift, once served as dean of St. Patrick's and is buried within the cathedral. It is an impressive cathedral and the church can be visited on a self-guided visit. An audio guide is available for an additional fee.
Dublin Castle
As far as castles go, Dublin Castle didn't really lift me off my feet like it did with the insanely beautiful castles in Germany. Here's looking at you Burg Eltz!
However, Dublin Castle is rich in history and was the actual site of numerous important moments in Irish history.
Before it became the castle you see today, it was once the site of a 930s Danish Viking Fortress, then a 12th Century Norman Fort. The newer, stronger Dublin Castle was created by England's King John and completed in 1230 as a city defence, Royal Treasury and administration of justice. The courtyard featured a central square, defensive walls and four round towers, only one of which – the Record Tower – survives to this day.
St Stephen's Green
Formed in 1664, St Stephen's Green is Dublin's oldest public park.
The park is packed with all types of trees, meadows, a central fountain and several monuments built in honor of important Irish citizens. One of the most curious parts of the park is a garden for the blind with richly scented plants, all labelled in Braille.
It's located right in the center of Dublin city and offers a calming getaway from the rest of the city. It's not as large as other city parks, but at 9 square hectares, it offers plenty of space to relax.
Jameson Distillery
See where Jameson Whiskey was made until the 1970s and sip on some of the legendary fire water. It'll put hairs on your chest! This is one of my favourite tourist attractions in Dublin. The staff are incredibly knowledgeable and it's great value for money. Try the Jameson and ginger complimentary cocktail at the end of the tour, it's delicious.
Where to eat in Dublin
---
Ireland is not known for its foods and the Irish will be the first to tell you that. They don't have a lot of inspiring dishes to say the least but let's be honest, who comes to Ireland for the cuisine? If that's you, I'm sorry but go back on a Ryanair flight and go to the south of Italy!
Dublin is a very international city however so there is every cuisine you can think of. But if you're here for a few nights, then you may as well sample what local Irish food there is because when else are you going to bother?
Since it was our last evening in Dublin, we wanted to visit a few more pubs that night. We first went to infamous Old Storehouse restaurant and had a dinner there. It was founded back in 1198, and I think the oldest pub/restaurant I've ever been to. They are saying they're the oldest pub in Ireland, and although there are some debates about that, it's old enough for me. Tables are close to each other in it, so it's also quite nice for meeting people around you.
Day trip to Cliffs of Moher
---
I think you could probably see all of Dublin's main sights in one full day. The city is quite small and there are not a TON of things to see and do like if you were visiting Rome, or Vienna.
If you have two full days in Dublin, I'd recommend spending one of those days away from the hustle and bustle to see the stunning western coast of Ireland.
A day trip to the Cliffs of Moher is my preferred method as this trip will pick you up from Dublin, and take you to the Western highlights like the Cliffs, Galway, the Burren, and more.
Worried that there's no way you could make such a long tour after spending time in Dublin? Power through it. I met three girls on my day trip that had stayed out in Temple Bar until 3am the night before. This tour leaves at 7am so they were absolute machines. They loved the day tour as well, and somehow had the energy to go out afterwards.
One Day Itinerary of Dublin
---
If you only have one day in Dublin, don't worry, it's enough to see the majority of sights. You'll be speed walking through a lot of it but I'm sure you're already up for that. If you visit in the summer months, you'll have a better chance of seeing everything as the sun won't set until 10pm at night.
Anyway, this is how I would spend a full day in Dublin
9:00am – Have an Irish breakfast with eggs, bacon, black pudding, white pudding and the likes. Black pudding is essentially morcilla or blood sausage. It is a very traditional item in Ireland and is worth a try!
10:30am – Arrive at the Guinness Storehouse. I recommend getting to the Guinness Storehouse first thing in the morning before the crowds come. And they will absolutely come. I would say a storehouse tour and a pint or two at the Gravity Bar will be about 2 hours
12:30 – Walk towards the old town and visit St. Patrick's Cathedral. It's a cathedral at the end of the day and if you elect to pay the entrance fee, it shouldn't take you much more than 15-20 minutes.
13:00-17:00: Walk in the old town visiting Trinity college, Dublin Castle, Molly Malone statue etc.
18:00 and onward: Numerous pints of Guinness at one of the many classy establishments in Dublin. Temple Bar for one pint just to check it off the list.
Two Day Itinerary of Dublin
---
If you have two full days, I would copy the above section for the one day itinerary and make sure to hit up all the important sights.
For day 2, I would book a day trip to the Cliffs of Moher which will last the whole day (from 07:00 to 20:00)
This way you'll get to see Dublin city, as well as the beautiful Irish countryside.
Continue Reading: