One of the most amazing tours I've ever done in my life has to be visiting the Chernobyl exclusion zone just outside of Kiev in Ukraine. Like many others I'm sure, I've always been fascinated by the history and events of this extremely tragic accident. On a recent trip to the wonderful city of Kiev (totally amazing and underrated city), I booked a day tour to visit Chernobyl and Pripyat to see first hand what an abandoned city looks like 30 years on.
This post will go into detail about everything you need to know before visiting Chernobyl, as well as the tour itself. Expect many eerie photos and hopefully lots of inspiration for your potential trip to the exclusion zone!
History and Background about Chernobyl
---
On April 26, 1986 at 01:23am local time, Chernobyl Reactor #4 located nearby to the town of Pripyat, exploded. The scientists working at the time were conducting a routine safety test meant to develop safety procedures in the event of an electrical power outage.
The scientists on shift were younger as the more experienced scientists already went home for the night. As this was a routine safety test, no one had planned for what would happen next. An unexpected energy surge in the main reactor coupled with a lack of sufficient cooling to the core caused a huge explosion that completely blew open the reactor. Radiation was spewing out in full force at this point along with a raging fire.
Local and surrounding fire brigades responded to the scene to battle the flames not knowing what they were getting themselves into. Everyone thought it was a routine fire. However, many firefighters collapsed while battling the flames not knowing they had exposed themselves to extreme radiation and almost certain death. After being rushed to the hospital, 31 firefighters died from extreme radiation poisoning.
The pictures our guides showed us were extremely disturbing as well. People's heads were deformed exposing the skull, and flesh was ground down to expose the bone. Definitely one of the worst ways to die.
Pripyat Town was hit the hardest
The Chernobyl power plants are located next to the town of Pripyat, which at the time was the most modern, fanciest, and the most desirable place to live in the USSR. The town of Chernobyl itself is actually located 20km south of the power plant. Unlike Pripyat which was newly created to house the engineers and their families, Chernobyl has a history extending back to medieval times. The reactors should have been named Pripyat nuclear reactor, but they kept the Chernobyl name that we all know today.
Pripyat town is only 2-3km away from the power plant and the radiation spillage from the power plants hit it the hardest. People had no idea what was going on as they did not even hear the reactor and of course news did not travel fast back then.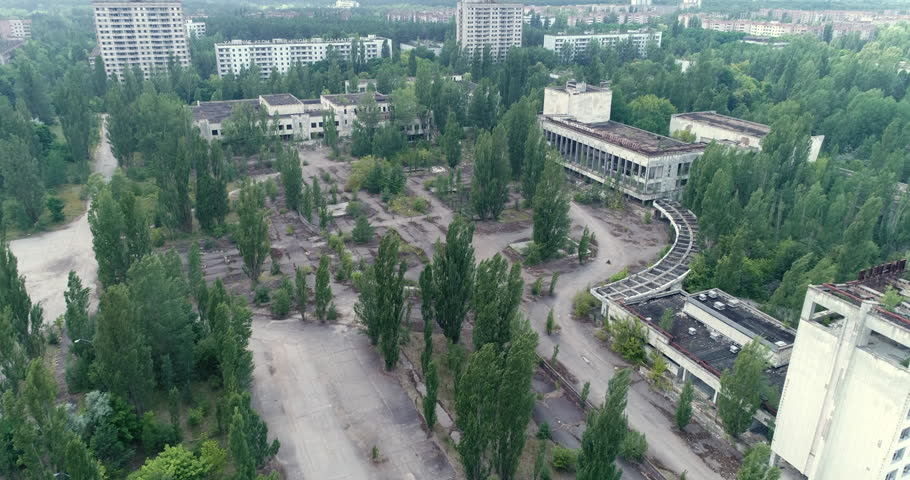 Evacuating Pripyat Town
36 hours after the disaster, the Soviets enacted the 10-kilometers zone which meant that all 50,000 people and their animals living in Prypiat were evacuated. It is said that the delay in the evacuation was due to the favorable wind direction, which meant that it was actually safer to wait rather than evacuate. Eventually, the Soviets increased the zone to 30km which meant also evacuating the residents of Chernobyl Town upping the count to almost 70,000 people.
The Soviets brought in 1,200 buses from Kiev on April 28, 1986 at 14:00. They told the residents to grab their documents, cash, and pack for three days worth of supplies as they would return in such time. By 17:00, there was not a single resident left in Pripyat. 50,000 people were evacuated in three hours and Pripyat was effectively a ghost town.
Of course those residents did not come back in three days, but rather had to wait one year before they could come back to Pripyat. They were given two plastic bags which was all they could have to collect their belongings.
Chernobyl Town
While Pripyat remains a ghost town and will be so for many more generations, Chernobyl Town was not as badly affected. By not as badly meaning you are still exposed to unhealthy amounts of radiation but not the extreme amounts in Pripyat. Many people opted to return to Chernobyl many years after the disaster as this was their ancestral homeland. However, the Government required that those wanting to return not to have children as the radiation levels were still unhealthy.
Nowadays, only 400 of those 3000 that returned are still alive, and other than these people, the only ones around are those who work at Chernobyl Power Plant, which is currently under decommissioning and scheduled to end in 2065. The residents of the town (not working at the power plant) range in age from 70 to 90. There are no schools of any sort. The town is essentially a last resting place for the former residents to eventually die. A bit somber without a doubt.
Wildlife return
Nowadays, wildlife has returned in significant numbers to the area. While radiation levels remain higher than normal, trees, fish, and other wildlife has been able to prosper. I went on a summer day and there were plenty of trees and flowers that you would never know it was the site of such a disaster. There are also deer, foxes, beavers, moose and wolves that call this area home. Even a few brown bears have migrated from Belarus. perhaps this is what happens when you have no humans to interfere with their habitat!
Booking a tour to Chernobyl – It's mandatory
---
Chernobyl was once a adventure junkie's dream. Nowadays, thanks to shows like Chernobyl on HBO, popularity has skyrocketed and there are so many different tour companies. In fact, two German guys on my tour had watched the HBO series earlier in the week, booked the tour Wednesday, booked a flight Thursday, came to Kiev Friday, and joined the tour Saturday.
In order to visit Chernobyl, you must book a tour. There are checkpoints all over the exclusion zone and unless you want to sneak through military barriers, you will need to book a tour. They run every day and are offered either as a one day tour, or overnight tour. I only had 3 days in Kiev and decided to opt for the day tour. You can also book it as a group tour or you can opt for a private tour which will cost more. If you are 4 or more people, I would definitely recommend the private because the costs will be roughly the same and you can see so much more when you have a private guide. More on that later in the post.
In total, I paid about €90 for my tour in 2019. This seems to be the going rate for a group day tour. You can pay with a credit card beforehand as well. I would highly recommend you book this tour in advance. During peak months, I would recommend at least a week in advance but those two German guys on my tour were able to find a tour almost last minute.
When booking a tour, make sure to read the itinerary and make sure it covers Pripyat town because that was by far much cooler than just the Chernobyl reactors. Also see if the price includes lunch which is nowadays served in a cafeteria inside the exclusion zone. If not, you can expect to pay about €8.
Booking with Chernobyl Travel
After doing lots of reading on TripAdvisor and other blogs, I opted to go with Chernobyl Travel. I wanted a company with solid reviews but one that also kept the group size small. I did not want to be on a mega tour bus with 50 other people. This is extremely important in my opinion. You make many stops on the tour and having 50 people get on and off a bus would be miserable. Our group was 13 people which was a perfect size for the day.
As for the tour company itself, I really liked our guide Yevgenia. She was very informative and easy to talk with. The bus was also comfortable enough for a two hour drive, although I was suffering from a long night partying in Kiev the night before.
It it safe to visit Chernobyl
---
The answer is yes, it is safe to visit Chernobyl. It's been more than 30 years since the explosion and there have been many efforts by the Government to control the radiation levels of the area.
While the radiation levels are still higher than where you normally live, it is not life threatening at all. In fact, we were given a device that we wore around our necks at the beginning of the tour that tracked our entire radiation exposure for the day. The reading came out to 3 mSv or 3 milli Sieverts which is equivalent to flying for a few hours. In comparison, the residents of Pripyat likely experienced radiation of up to 500 mSv.
You can rent a Geiger counter for the day that tracks the radiation levels in a mSv per hour basis. There were some areas like the Red Forest where radiation levels were much higher (up to 15 mSv per hour) and we only stopped in these areas for a few minutes. The highest reading we had for the day was on the ground near the boat dock area where our Geiger counters reached 40 mSv per hour. I asked the guide if I just took a nap on the ground here would that be bad? The answer was a definitive yes (so don't do that😂).
What to wear
---
You don't need to wear hazmat suits or wear a gas mask unless you just want it for the pictures. All you'll need is to wear long pants and long shirts. They recommend covering as much of your skin as possible but long shirts and pants are a requirement.
We had an old American guy on the tour that was a complete idiot and did not even know he had to wear long sleeves (how is that possible?). He also had an attitude about it and myself as the other American guy on the tour couldn't help by shake my head in shame. People always hate tourists from their own country and that was not more true than this day. Eventually, they forced him to buy a hazmat suit and he had to wear this ridiculous white jumpsuit for the rest of the day while it was 35 degrees outside. I don't feel bad about that.
When to visit Chernobyl
---
Chernobyl is open to visitors all year round and is open every day. This is probably generating big tourism bucks so the Government will ride this train for as long as they can.
In the summer months, it can be very hot and uncomfortable. I went at the end of August and it was almost 35 degrees which made for a hot and sweaty day. Our guide recommended we visit in the winter months, especially if we're after the eerie and creepy feels. With no leaves on the trees, and overcast skies, I could totally see Chernobyl being haunting.
Let the Tour begin
---
Upon booking your tour, you will get a confirmation email with your meeting point and pick up time. Almost all tours meet around 7:30am somewhere in central Kiev and make sure to read carefully where your location is. Plan this well in advance.
My meeting point was right across the street from the St. Volodymyr Cathedral (which is a stunning Orthodox church by the way). Upon arrival, I found the bus right away (a red Mercedes van), and proceeded to check in. I handed him my passport, and paid the remaining balance on my bill as I had only paid a deposit to secure the booking originally. The van is relatively new, comes with A/C (which is key in the summer), and was more comfortable than I thought. I was hoping for the seat to recline (which it didn't) as I had a long night.
After a slight briefing, we left the meeting point shortly before 8am to make our way to Chernobyl.
After 30 minutes or so, we stopped at a gas station to pick up supplies for the day. Absolutely make sure to buy some water and/or snacks while you're here. I bought 1.5L of water and a sandwich as I had not eaten breakfast and lunch wasn't until 2pm. You don't need to worry about carrying your supplies with you as you'll leave them all in the van when you are exploring Chernobyl. You only leave the van for 15-30 minutes at a time so you don't need to carry water with you.
As we neared the entrance, they played a Nat Geo Chernobyl documentary for us on the TV inside the car. This was actually quite interesting as it broke down exactly what happened on that fateful night in 1986. At roughly 9:45am, we were at the entrance to Chernobyl
Checking into Chernobyl
We arrived at the entrance gate and you could see the swarms of other tour buses. There were hundreds of people there in at least 10 other vans/buses. The guards checked our passports and scanned our tickets before we entered the gates. Afterwards, we all received a radiation counter that we wore around our necks for the entire day. This measures your exposure to radiation throughout the day and you will be able to see the result at the end of the tour.
Our guide wanted to get a move on quickly to avoid the crowds which was fantastic. We had about 20 minutes until our first stop and she gave us a briefing of what to expect for the day and more background about Chernobyl.
Duga Radio Station
---
Our first stop of the tour was to the Duga Radio Station. We parked our van and walked through some forest to get to this massive communications tower. To be honest, I had no idea I was visiting this place and had never even seen it in pictures before, but it was one of the most impressive things I've seen.
The Duga Radar was a Soviet over-the-horizon radar that is part of the early-warning missile defense system built to detect a missile attack from the US. It was so secretive that they grew tall trees around the area to prevent people from spotting it from afar.
This construction is so massive and used so much power that they had to build the grid within the range of Chernobyl nuclear power plant. The reason why they call it the "Woodpecker" radar is because of how sharp and repetitive the broadcasted radio wave was. It also appeared without warning and can be heard by many amateur radio operators who then dubbed the signal as the "Russian Woodpecker".
A tourist snuck into the Duga Tower years ago and attempted to climb to the top. He slipped and fell to his death which prompted officials to chop off all ladders to the structure. Before that, a few tourists snuck in and did manage to climb to the top where they base jumped. The video is still on YouTube now.
The structure is just so incredibly massive that pictures do it no justice. I don't think I've ever seen anything like it before. Our guide said they will tear the entire structure down for scrap metal to the tune of 20,000 tons or so in the next 5-10 years.
Chernobyl Reactor 4
---
The second stop for the day was the famous nuclear reactor that blew up. There were 4 in total with plans to build up to 10 reactors supplying all the energy for the USSR. They were in the process of building out the fifth reactor not too far from #4 before the disaster occurred.
The reactor was a completely blown to pieces in 1986 but as nowadays, they've built a new confinement (sarcophagus) with the help of many European nations to help trap in whatever radiation is left to the tune of €2.15bn.
Nowadays, it looks like a functional reactor and you'd have no idea that such a catastrophic disaster had occurred. Even more chilling is the fact that the reactor is closed for the next hundred+ years and all the bodies that died including those from the downed helicopter will forever be trapped.
Red Forest
We stopped at the Red Forest next which is an area of high radiation concentration. The name comes from the vast number of trees that died in this area surrounding the reactor due to high radiation absorption. The area was completely bulldozed and there is not much life even to this day. Our Geiger counters were much higher here as well.
Pripyat Town
---
As mentioned above, Pripyat Town is where all the Engineers and their families lived. It was a modern city with modern amenities that was the envy of all. Engineers were well paid, and were given housing for themselves and their families.
Along with many others, I found Pripyat Town to be the most interesting. You can only see the Chernobyl reactor from afar, and there is a newly constructed sarcophagus enclosing the structure so it actually looks like a functioning nuclear plant. Pripyat is where you can see how people lived and what 30 years of decomposition has done to the buildings and all the possessions that were left behind.
Upon arrival, our guide Yevgenia showed us pictures of what Pripyat looked like before the explosion and it really did look like the happening city to be at the time. We stood at the same area that the picture showed and the contrast was super eerie.
Visiting the Elementary School
Our first stop was to the elementary school. This was the first building we visited where you can see the inside of it. We walked along the facade of the building while our Geiger counters were all beeping to let us know that it is above the recommended radiation levels. The desks were all still neatly arranged since people were evacuated on a whim. There are glass shards all around the building from years of decay so make sure you wear good shoes so not to get cut.
All of these buildings are a photographer's paradise and you are allowed to shoot to your heart's desire.
Going inside the buildings
Officially, the policy is you're not allowed to walk inside the buildings. This is not because of radiation levels as those are mostly fine, but rather the neglect and lack of upkeep in the buildings mean they can collapse at any time. However, we were able to walk into some of the buildings for a short amount of time even though this is technically not allowed. I'm not sure if anyone checks and certainly did not see any guards walking around during our day tour.
I suspect if you book a private tour with fewer people, you can probably get away with spending more time inside the buildings.
The Hospital
Our next stop was the hospital. This is one of the most interesting buildings in Pripyat because it housed the firefighters that battled the flames from Nuclear reactor #4. The firefighters were all taken here for radiation treatment before being evacuated a day later and subsequently dying horrible deaths. They were all treated in the basement of the hospital where their possessions and firefighting outfits were left. Radiation levels are much higher in the basement of the hospital so unfortunately it is no longer allowed for visiting.
We did walk around the first level which was very interesting. Walking inside the buildings is the most creepy especially when you get away from the direct sunlight and see long dark corridors with rubble all around you. I kept thinking of the movie Chernobyl Diaries the entire time and was a little freaked out even during the day so could only imagine how much more dramatic this would be if it was cold and dark out.
Grocery Store and Restaurant
Our next stop was to the grocery store and restaurant. The grocery store was open for less than a month and was the first grocery store in all of Ukraine. You can still see the signs in Russian spelling out the fruit and meat aisles.
The restaurant was also open for a month before the disaster occurred. We also saw one of the hundreds of stray dogs still in the park while we were here. This dog followed us around the rest of the tour. Although his radiation levels are higher than normal, it seemed to be perfectly well fed and healthy, albeit a bit sad.
Football Stadium
Few minutes away was the Football and track stadium that never was. This was scheduled to open later in 1986 after the explosion. You can barely make out the track that is no covered in trees and dirt. However, the seating stands are in good condition and the seats that are under the covers unexposed to the elements look almost new.
kindergarten school
A lot of the iconic pictures from Chernobyl come from the Kindergarten school. I'm not going to lie, but this was one of the creepiest places I saw. Whether it is the clothes of young kids leftover, or the chucky-esque dolls that are everywhere, this place was very creepy. We did not go into this building but you could see everything from the outside.
Amusement Park
The last stop in Pripyat was the most famous sight of them all, the amusement park. This park was slated to open on May 1, so just a week before the accident. They had bumper cars, a merry go round, and the iconic 26m ferris wheel that still stands to this day. The rust and decay are noticeable here. The ferris wheel still moves with strong winds and we could hear the metal clanking as it very eerily rotated.
And some more photos for good measure.
Breaking for lunch
---
After spending a solid 4 hours exploring the Chernobyl reactors and Pripyat, it was time for lunch. Nowadays, there is a large cafeteria for all the workers, as well as tourists inside the zone.
Upon entering, you will have to go through a Soviet-style radiation detector where you put your hands on both sides of the machine and it will you if you're radiation levels comply with the standards. If it does, a gate will open where you can pass through and walk towards the canteen.
The food was better than I thought including grilled chicken, borscht, rice or potatoes, salad, juice, and breads. This lunch came with the tour but otherwise, it would be roughly €9 or so. Don't expect fine dining here but considering we were in Chernobyl, this lunch will do.
Visiting Chernobyl town
---
After lunch, our next and last stop for the day was the town of Chernobyl. Chernobyl town is one of the first city to be evacuated during the 1986 nuclear disaster. Over 14,000 inhabitants of Chernobyl city were evacuated 30 hours after the explosion which left the city abandoned until now.
Nowadays, the workers of the clean-up initiative and small numbers of locals have moved into Chernobyl city and are currently living there. This will also be the place you would stay if you chose to do a multi-day Chernobyl tour.
When you arrive in Chernobyl City, you will still be able to see the remnants of its past but you will also be able to see life striving with locals living in their homes like nothing happens, general stores packed with supplies and hotels for daring tourists.
After exploring Chernobyl town, we returned to the entrance gates where we went through another radiation machine to make sure our levels complied (similar to that at lunch). Our guide then took our radiation monitor to calculate how much radiation we accumulated throughout the day. In about 6 hours, we accumulated 2-3 mSv which is about the same radiation as a 2 hour flight. Not much at all.
We then drove the two hours back to Kiev to our initial meeting point. We left at 8 in the morning and were back in the city by 6pm.
All in all, a fantastic day and definitely one of the best day tours I've ever taken. Highly recommended!
Continue Reading: